The Indian women would love to wear sarees in which ever pattern they might be in according to the occasion which they need to attend. Here in India you can find number of top designers who can provide you with unique, latest and the most attractive saree collections which you might have never seen before. The Indian film industry popularly known as Bollywood always loves to go for the designer sarees and most of them do opt for Sabyasachi's collection of sarees. Sabyasachi Mukherji is an Indian stylist who is in the Indian fashion since several years and had successfully created his own standards in Indian as well as international fashion level. With his creativeness and unique ideas he is able to deliver excellent quality services in the Indian fashion industry. Keeping the Indian tradition in mind he had created wonderful pieces of fashionable sarees that most of the women do prefer to go with the Sabyasachi sarees collection.
He managed to create a wonderful platform for himself where he can deliver the unique and most amazing saree collection that would meet the needs of varying customers. He is not just the past, but a present designer and is sure to be one of the top leading fashion designers in the world. Most of the Indian women do love to wear his great collection of sarees for their bug fat wedding so that they could look the most beautiful bride ever and not less than a princess. He provides you with most beautiful collection of sarees which also contain the Indian tradition and culture embedded in it. When we see the cultural based sarees these are not like that of old types but he even adds some modernity and fashion in to it so that it would look great on whoever would wear the sarees.
History of Sabyasachi sarees:
When you want to know how Sabyasachi sarees had actually evolved you need to know about the person Sabyasachi Mukherji. He is the person who had actually started his own designing studio. He was actually born in the year 1974 on 23rd February. He was born in a middle class Bengali family in Kolkata. He was having keen interest in art and designing clothes. When he was about 15 years old his father lost his job and was difficult to pay for his studies. Though he had expresses his interest to his parents they couldn't support and afford to pay for his further education in fashion industry. Then Sabyasachi had sold all his books and joined the college of fashion schools i.e. NIFT which is one of the best colleges which you can find. Once he had finished his education with number of awards while studying he had started up with his own workshop.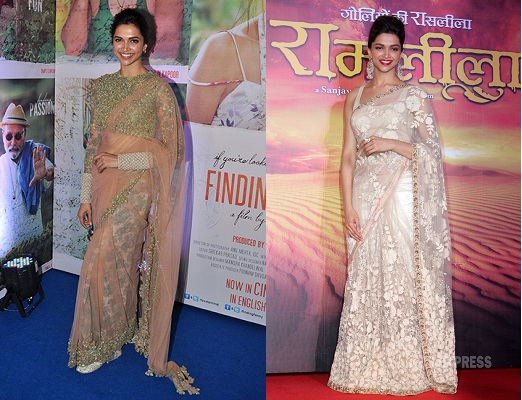 Primarily he had just started with about 3 workers with him and now he had set up a huge designing company where the top most Bollywood actresses would wish to buy their sarees from Sabyasachi. Now he had made a great mark in the Indian fashion. There might not be a single Bollywood actress who would has not tried the Sabyasachi's saree. He makes sure to provide you with the most comfortable and best clothing which you might have never experienced before. He has the capability to deliver the best to best designed sarees according to the occasion which you might need to attend. You can even check out the online collection which he has to know how he exactly works in delivering you with the most amazing saree collections in varying color combinations that you love the most.
About Sabyasachi's sarees:
The Sabyasachi sarees are known for their uniquely designed and stylish look which it can deliver to the person who is wearing the saree. He draws most of his ideas on various patterns and designs from the surroundings and from his childhood experiences. In his creations you can see the natural beauty of Kolkata that had made a remarkable impression in his mind. Though he makes the traditional and Indian style sarees those would be unique and the best. He mostly uses the antique style of designs, colors, fabrics for his sarees collection so that you would love to wear those unique sarees which you might not be able to find anywhere else. He is not just in to designing of sarees but you can find a huge collection of lehengas, salwar kameez with the best embroidery designs over them. The most important thing which you can notice in his collection is the unique blend of colors which he uses.
Sabyasachi has the capability to put four different colors in four different designs in a single saree which no one would expect to be possible. But once if you able to see the final result of the saree you would be totally convinced with the uniquely designed clothing of Sabyasachi. Another important trade mark which you can find in his clothing is that he comes out with vibrant colored fabric with different patch works which would be a complete fusion. He even describes the Indian charm of clothing as international styling with an Indian soul. Though all the latest designers go with the modern and latest techniques Sabyasachi always believes and goes with the Indian culture and what the Indians really need. When you look at his works you could actually see that he uses the popular Bhandari work, gota work, block printing as well as hand dyeing as well.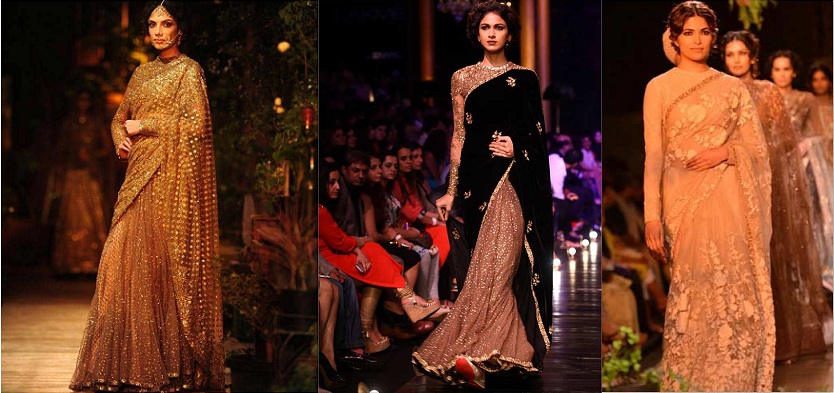 Where to find Sabyasachi collection:
Earlier if you wanted to buy anything you used to go to the market and visit the various stores where you can find the products or clothes that you are looking for, compare the prices and choose the one where you would get good quality products for the best price. But now with the latest developments in technology and increased use of internet people can now buy anything online from where ever they are. Before the internet has become so popular you used to get the Sabyasachi collection only at their designer stores but now you can find Sabyasachi collection over the internet at various online sites providing great opportunity for any one from any part of the world to buy and explore his collection. His collection is not just pertained to India but people from different places do show keen interest in buying his amazing collection.
The internet has made it very easy that you can now buy the best suit or saree of Sabyasachi that you are looking for your wedding or any special occasion though online. Here you can find number of online stores of Sabyasachi collection who can provide you with the same quality and beautiful pieces of Sabyasachi for the best price in the market. So no more you need to worry of visiting the various local stores to find the best attire that you are looking for. Though online it would be very easy for you to shop your most favorite designers clothing such as Sabyasachi who is one of the most famous and popular Indian designer. Everyone would like to try his outfits that he had designed. He is not just a specialist in designing for women but he designs for men as well.
Conclusion:
With the rise in demand for the designer clothing all over the world, you can even find that the numbers of designers are also increasing as well. It would be really confusing for those who are new to designer wear to find a good designer. If you are looking for the best Indian designer who can deliver the Indian culture and add some pinch of style to clothing then you need to go for the one and only Sabyasachi Mukherji. He is well known for the beautiful and stylish clothing which he designs and that would always show the Indian ethics. It is always better to choose the best designer so that they can deliver you with the most uniquely designed clothing that would add more beauty to the wearer and make their day as well.
If you are interested in buying the designer clothing of Sabyasachi Mukherji then it's the time for you to check out the best online source where you can find his huge collection of latest designer clothing. There are number of online sites where you can find the list of designers and their clothing as well. Before you choose one you need to make sure to choose a reliable and genuine online source so that you can be sure of buying the actual clothing designed by Sabyasachi Mukherji. Depending on your budget you could checkout the huge collection of uniquely designed sarees, lehengas, salwar kameez and much more. This is not just for women but you can even find ethnic designer clothing for men as well. Gift yourself the best and most amazing designer clothing for your big fat wedding day with the right and most popular designer i.e. the Sabyasachi Mukherji. You can even visit the various online sources to know more about his collection.