Punjabi women are one of the most fashion conscious ladies in the world but together with this they are also one of the hardest working women that you can come across. So as a matter of fashion coupled with comfort, Punjabi women like to wear Salwar kameez. This salwar kameez can be said to be brought by the early Muslim invaders and later adopted and promoted by the Mughal rulers of India.
History of Salwar Kameez
Initially salwar kameez was prevalent in the Punjab region of North India and included the part of Punjab that is in today's Pakistan. This traditional outfit is worn by both men and women though their style and cut is very different from each other. In addition to this, the style of salwar kameez worn in Punjab is cut differently to the styles worn in Baluchistan and Afghanistan and is known as" Punjabi suit" or simply suit.
The Punjabi salwar is cut straight and gathered at the ankles with a lose band reinforced with coarse material and kameez being cut straight and flat with side slits. The use of slits in straight cut kurta can be traced to 11th century and is very much like the modern straight cut kurta worn by women today. The salwar kameez or the suit emerged as a mainstream fashion garment in 1980's and during the early part of the 21st century when it started to get worn on the streets and in the catwalks held in London and Paris. It became a rage when the fashion leaders like Princess Diana, Duchess of Wales and Cherry Blair, the wife of British Prime-Minister Tony Blair wore it.
Salwar Kameez in the West
The suit is worn by women across ethnic and racial lines in many parts of the globe as the migrants from Punjab in India and Pakistan continue to move to different places in the world along with their culture and clothing. Black women in London were amongst the first to adopt these suits, much before they were worn by the fashion icons and the upper class of Britain and continue till date to wear these suits due to their comfort and all season wear-ability. However, in this complex world of fashion and culture change, the real heroes of keeping the Punjabi suit alive are the older Punjabi women that despite the cultural and racial odds have continued to wear their classic salwar kameez and have in fact promoted these suits to their next generation.
Advantages of Salwar Kameez
There are a whole lot of advantages that attract women of Punjab to like this dress. Apart from being the traditional dress of Punjab, this is extremely gracious clothing that can be worn both in formal outings as well as in day to day working with the difference being in the cut, style and material.
India is a hot country where temperatures cross 40 degrees Celsius during summers and it becomes imperative for people to cover themselves up completely to avoid getting tanned further.  Salwar Kameez offers great comfort as they cover almost the entire body. It also offers the option to the fashion conscious to get it custom stitched with modifications to suit their taste. Also India is a traditionally conservative society that wants their men and women to present themselves in a very sophisticated manner. While other dresses do not offer the same maneuverability, with salwar kameez women can easily sit or stand up in a relaxed manner without the fear of their body parts being exposed or visible.
Good for All Body Types
The structure of Indian people and especially men and women from Punjab is on a healthier side with many of them being on the plus side. Most of the Indian or western dresses suit women with good figure and look very odd when they are worn by overweight women or slightly short women but salwar kameez is one outfit that looks gracious on women of all sizes and age groups.
In today's world emphasis is majorly on comfort with style and women being more fashion conscious than men look to wear only those clothes that look good on them and are comfortable irrespective of their economic status.
Today most of the Punjabi women are working, whether they work in the fields, go to offices or work in any other domain. Therefore, they require outfits that not only look gracious and comfortable but also are low on maintenance as they are now short of time and cannot spend time on their maintenance. Secondly, as compared to other dresses like a saree or a lehnga that requires extra care and precautions such as they need to be properly folded and ironed before keeping them in the closet and even before wearing, office wear salwar kameez requires no such care and can be handled like other casual clothes.
Types of Salwar Kameez
Today's women require change very often and tend to get bored with wearing the same outfit after a certain period of time. Other outfits like sarees, lehngas, denims, pants etc offer very little variations but with salwar kameez women get 'n' number of options and variations to try. Salwar kameez comes in various permutations and combinations and can be worn by women that suit their mood for the day. If a woman feels like wearing a tight lower, she can opt to wear a churidar instead of the regular salwar with the same kurta and if she is looking for something more comfortable than a salwar, she can opt for a Patiala salwar that is more voluminous on the top and gets narrower at the bottom.
Patiala Salwar Kameez
The variation of Patiala salwar suit comes from the princely state of Patiala in Punjab and is worn by the women of the state regardless of their caste, creed or religion and is being worn there from many years. The Patiala suit has a kameez that is knee length and a baggy salwar that is more voluminous than the regular salwar and can be worn with or without a chunni or a head scarf to suit the style and comfort of the person.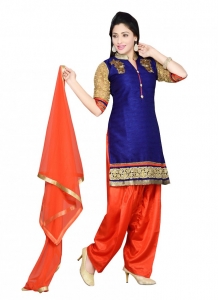 Parallel Salwar Kameez
The world has become a small place to live and cultures have started to intermingle so much so that every man and woman wants to experience the dressing style of other culture. So women that do not want to expose their bodies while at the same time wish to experience the comfort and style of wearing pants can easily opt for a westernized look of the salwar in a parallel suit. The straight cut salwar suit is very much the same with the upper remaining same or almost the same and the salwar being replaced by a lower cut in the style of a trouser. This trouser type of look has become very popular amongst the women of younger age and even this comes in two options with one in which the entire lower till the bottom is straight cut while in the other option, the top is cut straight through the hips and thighs and is slightly flared at the bottom just like a boot cut pant. The women opting for a flared option can have one more variation that they may have embroidery at the ankle or can leave the ankle plain.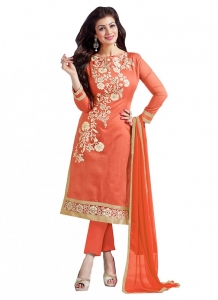 Variations in Kameez
It is not only the bottoms that have gone in for a change but also the uppers or a kameez. Kameez come in a variety of variations in lengths and cuts. Women can opt for a shirt style cut that the western women wear or the kameez that is longer than the usual kameez or a kameez that is much shorter in length as compared to the regular kameez. Then again women can try an "A" line cut that is fit at the top and has a little flair at the bottom or can opt for a slim cut kameez very much like the fitting western shirt that looks very sexy with the parallel pants.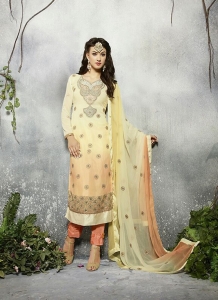 Sharara  Kameez
Another variation of salwar Kameez that Punjabi women like to wear is the Sharara Salwar Kameez. This variation of salwar kameez has been a very popular outfit in the early 1960's in the Indian movies and was worn by many celebrity actresses and film personalities. Not only was it worn by the actresses and film personalities, but also by prominent personalities and top notch socialites. The top of this outfit is similar to a short kurti while the salwar is very much similar to the full skirt. The salwar is designed in a manner that it is fitted like a pant till the knee and beyond the knees it is like a lehenga with a smaller circumference. The outfit can be worn with or without a dupatta to suit the style and comfort of the wearing lady. The Sharara salwar kameez has now come back again in the fashion world and is being worn by many youngsters.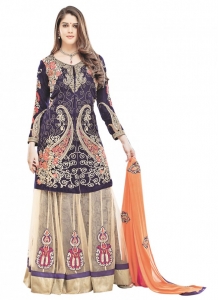 Salwar Kameez Creates Sense of Belonging
One of the big reasons why Punjabi women like to wear Salwar Kameez is the fact that the outfit creates a sense of belonging amongst the Punjabi women because the same outfit is worn by most Punjabi women starting from the lowest strata to the highest echelons of civil society with the only difference being the quality of material used and the work done on the suit. The same suit can be got from a local tailor for as low as $50-60 and a similar from a high end boutique with an expensive fabric and good cut for $ 500.