Office parties happen a few times in a year, but every time they happen it becomes more of a problem for women rather than men for they have to think many times before finalizing their dress about what to wear in the party. This is primarily because you not only need to show your class, dressing style, choice but also have to look gorgeous and glamorous because glamour and style often takes you places that you don't even expect.
There are many dresses that you can wear for an office party. Most parties even have dress codes for such but when there is no dress code the best dress to wear for an office party is always a sari. Sari is an Indian traditional dress that is being worn by both the upper class and the lower class women as it is not only the national dress but also the beauty quotient of Indian women. Office parties are the place where you come across a wide variety of sarees, some of which are traditional, some good but not classy while some are so classy and elegant that you cannot just take your eyes off those sarees and person wearing them.  And this is exactly that you want while choosing your dress for the party.
Different saris for different Body Types
Saris are no doubt the eye catchers in an office party because every woman does not enjoy wearing a saree and nor are many concerned about making an impression amongst their peers in a party. Secondly many are dressed in such a manner that they don't look worthwhile to be looked upon what to say of taking notice. This is all because many women do not give importance to wearing proper fabric for their type of body and just pick up the latest dress in the market and don it. In order to look the best you have to wear a sari that goes with your body type and complexion. Here are different sarees for different body types:
For Slim Body
If you have a slim body the best saree to wear would be a brocade, Tussar or silk with designer blouses like the halter neck, cut sleeves, tube blouse because all these fabrics are a little thick material and will give your body some width. The richness of the fabric and the exclusive design will give you the desired look and attention.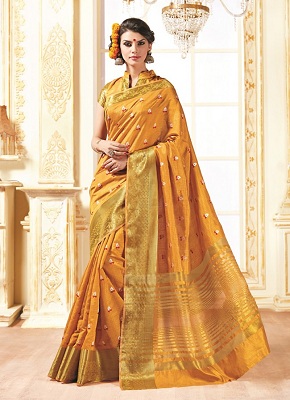 For Plump Body: 
Those with plump body should try to wear sarees in relatively thin and flowing fabrics like georgette, crepe; chiffon etc. as they will make you look thinner. The fall of the material together with the designs and prints will make you look beautiful.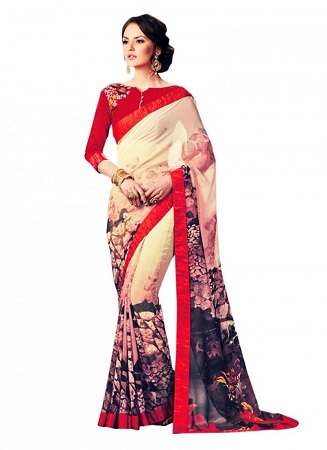 For Tall Body:
If you have a tall body frame you can wear almost any saree but Kanjeevaram sari will look the best on you because Kanjeevaram is longer than all other sarees. Although designer sarees are made for women of all body types however they look best on women with tall and slim frames.
Bollywood Sarees:
Imitating the sarees worn by Bollywood actresses has been a very old age passion amongst women. In the yester years sarees worn by Bollywood actresses were tough to imitate and were not very readily available in the market. However, now a sari worn by a Bollywood actress is readily available both on the offline as well as the online market. These sarees are a huge craze amongst the younger generation women and if you are in the young bracket and have the confidence to carry the sari, this saree can definitely bring you to the center stage of your office party.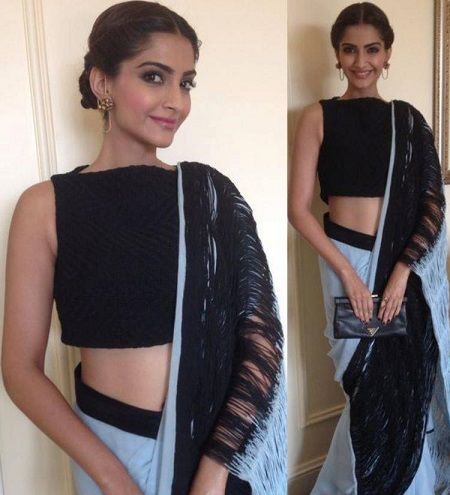 You can try to find fancy sarees for offices parties from any of the several websites on the internet where the image of the sari is clearly shown along with the photograph of the actress and the caption mentioning the name of the movie where the sari was worn. You can pick sarees from any of the websites and you have the choice to get the sari in exactly the same color or in a different color if you desire so. Also since the demand for the sari is very high and the material used in the imitation is not as good as the original, these sarees are very cheap and you can easily afford to buy a sari even for a single function.
Branded Designer Sarees:
Designer branded sarees are a big rage amongst the elite in India and other places as well. Branded women sarees not only bring in the latest trends but also the trust of quality that is associated with their brand. There are several brands of sarees of which a few brands are very popular in India and are available offline and online to the customers. Some of the brands bring in their own collection of designer sarees that are their trademark and cannot be found elsewhere and are so mesmerizing that once you get used to wearing their brand it becomes really difficult to find your choice elsewhere.
Some of the most trusted brands available in India are as follows:
Satya Paul:
He is considered one of the finest designers in the industry and has a number of items under his brand name. He has more than 40 franchise showrooms across the country and more than 250 retail points that sell his products. The sarees designed by him command great respect in the fashion circles and has his trademark style that is known by people that wear designer sarees. The sarees designed by him are mainly in silk and other products include kurtis, neckties, wallets and bags that are available in all leading online websites like Jabong, Myntra, Amazon, Snapdeal etc.
Manish Malhotra:
He is known as the Sultan of Sari in the Bollywood circle and fashion industry and needs no introduction as a designer. His designs command great respect and are adored not only in India but worldwide and women who wear designer sarees are ready to shelve big money for Manish Malhotra saree. He is the youngest designer to command such great respect and his collection include both designer party sarees as well as designer bridal wear. His designer sarees are often worn by big actresses like Madhuri Dixit Nene, Vidya Balan and are available at his franchise stores and online shopping websites.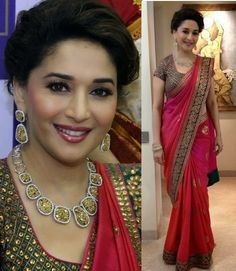 Sabya Sachi Mukherjee:
This is considered as a premium brand in the world of designer sarees and worn by many Bollywood actresses in their films and otherwise. His creations are not available in the shopping malls but can easily be got from online shopping websites and premium stores offline.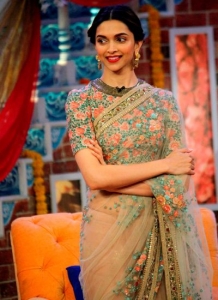 Ritu Kumar:
She is one of the biggest designers in India and held in very high esteem in the world of fashion industry and films. Her creations are adored and worn by many celebrity actresses from all over the globe and also by other celebrities. Her brand includes designer, traditional and indo- western couture for both men and women.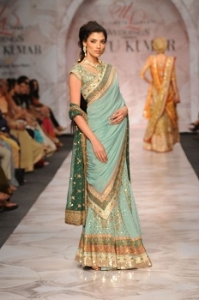 Rohit Bal:
He is a fashion designer from New Delhi and his designs include creations that are beautiful fusion of traditional attire with the present and are branded with his name itself. His designs and styling is out of box and he is also known as John Galliano of India.
He has a tie up with the upcoming brand of BIBA and his creations come for both men and women.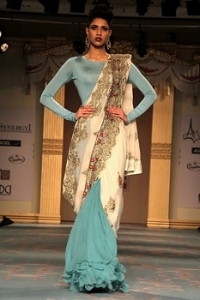 Neeta Lulla:
She is an icon in the Indian fashion industry and one can easily say that this fashion industry is incomplete without Neeta Lulla. She is such a brand in herself that even actresses feel proud to wear a Neeta Lulla creation. She is the woman behind the looks of so many actresses in the films like Devdas, Jodha Akbar, Chandni, Lamhe and many more.
Apart from designer brands like the ones mentioned above there are several other brands in the market that sell designer sarees both in traditional and trendy forms. Most of these sarees come in fabrics georgette, crepe, silk, net, chiffon, cotton etc. Some of the well known brands can help you find your choicest sari. The names of the brands are mentioned as under.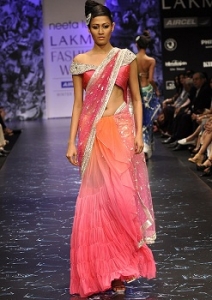 Nalli:
Nalli is one of the oldest brands for sarees in India and was established in 1928 in Chennai. This brand is famous for its silk and Kanchipuram sarees all over the country and its collection include both formal and party type wear.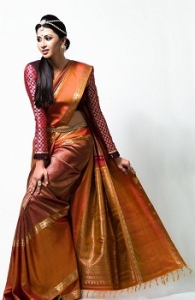 Meena Bazar:
This is a Delhi based brand and a hub for traditional and modern clothing for women. The brand has in its collection a wide variety of kurtis, lehngas, salwar suits, sarees at most reasonable prices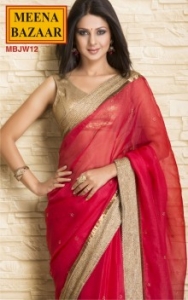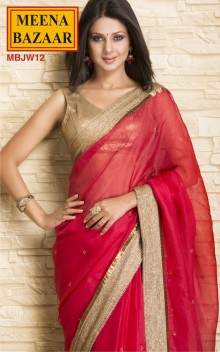 Kalanjali Sarees:
This is a Hyderabad based brand and its collection includes sarees for both formal and casual wear. The collection includes varieties like Banarasi, Kota and Gadwal sarees.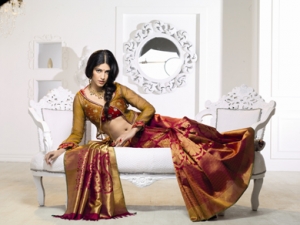 Kalamandir:
This is one of the most trusted and leading brands in designer and traditional sarees which manufactures its sarees using fabrics Chiffon, georgette, bandhej etc.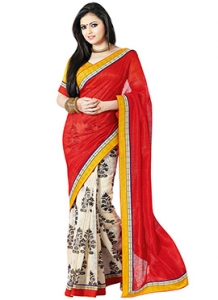 Kalaniketan:
Kalaniketan is one of the oldest and one of the most trusted saree brands in India. The brand was established in 1942 and its collection includes both traditional and party wear sarees.
Therefore, with such a wide variety of saree choices, you can easily find suitable fancy sarees for office parties at rates that suit you.