The square neck blouse is one of the most popular blouse styles and after the round neck style, this is considered as the second most versatile style of blouse. This is also one of the blouse designs, which has been there in the fashion industry for a long time like from the 60's era and even today this is a popular option chosen by a number of women.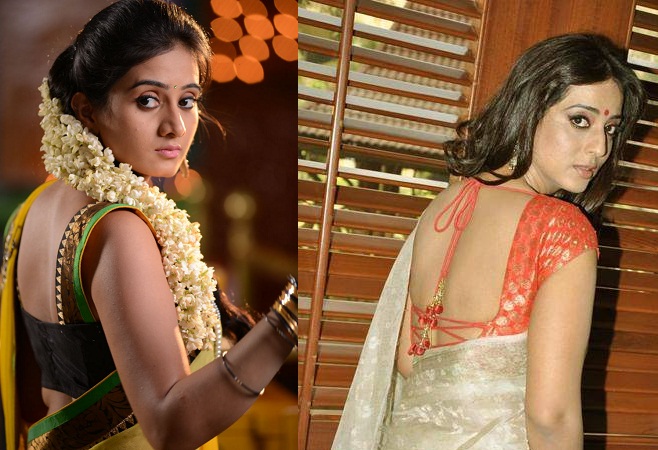 This design looks best on people, who have lean shoulders or narrow bust frames along with good heights. This blouse pattern actually looks stylish and this is also one of the simplest types to look beautiful and gorgeous. In case you have thin shoulders, narrow bust frame and collar bone to kill for, then this blouse style is perfect for you. In India, a large number of women prefer to wear this blouse style for regular fashion wear.
In the square shaped blouse, both sides of this blouse are clasped together at the middle of the back. Therefore, the square shaped opening created by both sides of this blouse style sits right at the middle part of the back.
Styling the square neck blouses:
Though this design is really simple but it is one of a kind and is available in different front and back open patterns. The square neck blouses can be worn both with sleeveless or short sleeve pattern. Depending on your preferences, you can actually make the front or back of the square neck blouses to enhance the beauty. Besides, you can even create a serious appeal with this style by adding dori knots or laces to it. This style is very much in fashion now. Another different style that you can try out is deep square neck, which is stylish yet really simple. Depending on the preference, the users can also choose to have intricate embroidery or zari work done on the back of the blouse along with the sleeves. But before you experiment with different styles, make sure that you have a good knowledge about fashion.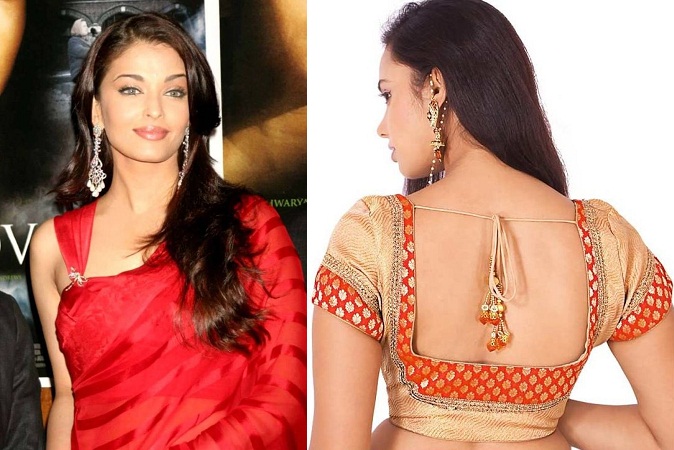 So, by choosing innovative sleeves and backlines, it is actually possible to customize the square neck blouse designs in the way you prefer. But whatever style you choose, do it carefully. In case you are flat chested or a heavy busted woman and if you love to wear sheer sarees, then choosing this blouse style is a complete no. As a whole, there are numerous designs available on this blouse neck pattern. You can search on the web to get information about the designs.
Square neck blouse designs for your wedding attire:
Square neck blouse designs with curved edges and little detailing look really smart and sophisticated. Besides, you can also opt for customized embroidery on this blouse style. In case you have a blouse piece as part of the saree, then you can let the border of the saree run in the square neck blouse to maintain symmetry of the blouse with your saree. Therefore, this blouse design can be a part of the bridal collection of those women, who don't like to experiment much. This blouse style looks great with both sarees and lehengas.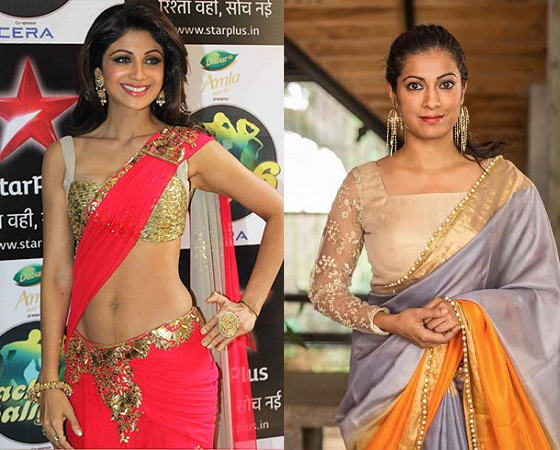 This blouse style also looks great in case of Indo western attires, but not with completely western attires or traditional half sarees.
Accessorizing the Square neck blouses:
If you want to go for the right accessory to wear with the outfits with square neck blouses, necklaces with angular pendants will be the best option. Accessorizing the square neck blouse this way will give you an elegant and sophisticated look. Besides, you can also opt for shorter necklaces, which fall directly on the collarbone with this neckline.