If you want to create a sexy and bold avatar with your saree, then nothing can be sexier than combining your saree with a tube style blouse. Or in case you want to have an elegant yet sensual look even in a plain saree, then pairing up the saree with a tube blouse will probably be the best choice.
Whether you choose to wear an embellished one or just prefer to accessorize a plain blouse heavily, you will be ready to rock the world. Besides, if you have the perfect figure to flaunt, then this exquisite blouse style will allow you do so. But before you choose this blouse style, you need to be confident enough as this blouse style can highlight your gestures in the most perfect manner. Because of the sultry style, this blouse style is only ideal for women with lean arms and shapely shoulders.
Details of tube style blouse:
A tube blouse is a type of off-shoulder blouse that can entice the neck area of a woman while revealing her collar bones. Even while paired with a simple saree with thin pleats, this blouse can give the wearer a diva like look.
The tube style blouse actually showcases a vehement pattern located at the upper bust line. And it is also important to hold the weight while wearing this blouse. As this style is completely body fit, therefore it reflects the entire body sassily and smartly. Here the blouse design also matters as the inverted triangle style at the blouse ending helps the wearer to get a perfect hourglass structure.
One of the most eminent features of this blouse is that this eliminates the need for a bra as it comes with a back opening and padded style. Besides, these blouses also come with low back feature, which allows the wearer to flaunt their sexy back. While designed with heavy embroidery or patches, these blouses look even more elegant.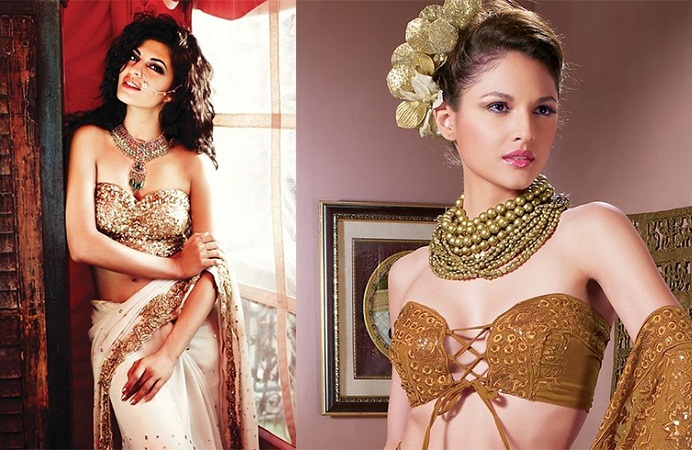 Tube and corset style blouse-the similarity:
This style is quite similar to the corset style blouse. In fact, this style is a perfect amalgamation of both the styles and the style speaks everything. Being a little well fitted at the bust line, this type of blouse looks great while being teamed up with darker shade sarees or lahengas. As these blouses are sleeveless, therefore it is necessary to be careful about the fittings as well as about the jewelry pieces that you want to adorn your attire with. Important tip to remember in this case is the fittings of the blouse must not be too loose or too tight; otherwise it can create a fuss. So, choose the tube style blouse really carefully.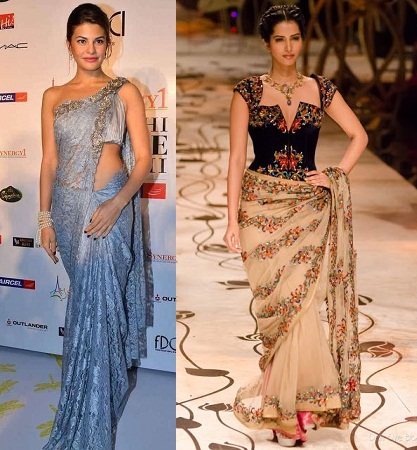 Bollywood celebs in tube style blouses:
At the present time, the tube style blouses have got immense popularity among the Bollywood celebs as this style flaunts the nude-style with strapless appeal and zero appeal. Celebs like Aishwarya Rai, Deepika Padukone, Jacqueline Fernandez, Madhuri Dixit, Kareena Kapoor, Twinkle Khanna are a few names of the Bollywood beauties, who have seen flaunting beautifully worked tube style blouses with matching sarees in different occasions.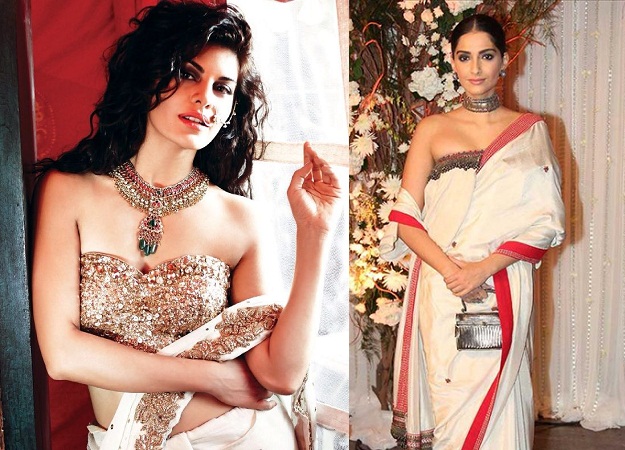 Conclusion:
So, if you want to wear any of your favorite old sarees in a completely new style in any special event, then by pairing the saree with a tube style blouse can add a great fun while adding new styles. But before you make the final decision, you have to be assured that you have the perfect figure like a sexy back, structured collarbone and well toned arms to carry this blouse gracefully. Being confident is the main key here. In case you are not comfortable exposing your skin, then this style is not meant for you. Apart from that, in case you have a heavier upper body, then also this style is not for you as it will only accentuate the unappealing parts of your upper body. Rather choose something that can accentuate your assets.