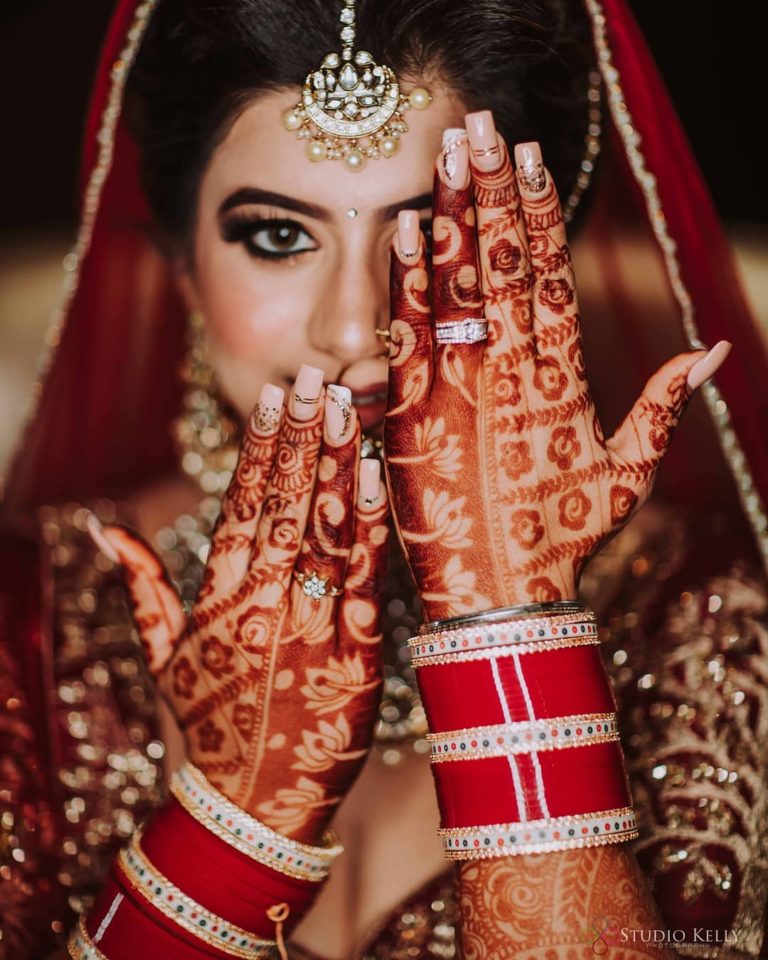 January is here and so is the wedding season. All brides are busy picking out outfits for their big day and coordinating all the accessories to go with each of them painstakingly. In all the excitement, there is one detail that might slip your eye, your nails. It's not feasible to be changing your nail art with each outfit, as there are a lot of functions and events in a typical Indian wedding. So you need to pick a style of nail art which will complement your personality, your henna, and most importantly, all your outfits. So let's get right into it.
1. Glitter Nails

The best answer to the nail style dilemma, glitter. Pick a glitter in neutral shades of golds and silvers. They will complement a wide range of clothes and accessories.
Pair with: If your outfit is red, gold, or other warm and deeper tones with gold embroidery, opt for golden glitter in a complimentary shade. If your outfits and jewellery lean to cooler light pastel shades with silver embroidery, opt for silver glitters. If you have a mix of both, opt for rose gold glitter as it will go well with both, cool and warm tones.
2. Embellished Nails

A truly extravagant nail design. Bedazzled nail arts use rhinestones and other accessories placed strategically to create designs of your liking. You can have minimal stones, or have nails as heavily embellished as your lehenga. The only slight con of bedazzled nails is that they may take some time to create, and you run the risk of losing a rhinestone or two eventually if you're rough with your nails.
Pair with: If your outfit is plainer compared to your jewellery, or if you're going lighter on the outfit overall. Bedazzled nails are also perfect if you don't intend to wear a lot of accessories on your hands.
3. French Manicure

The most common bridal nails, and deservingly so. The French nails are a classic and pair well with any outfit. They are also an easy transition to post wedding regular life. For your wedding you can jacked up versions of the basic French nail, with accents of glitter, rhinestones and various shapes.
Pair with: Pastel and lighter shades of outfits. Goes particularly well with Chikankari work and silver embroidery. If you're having a western ceremony, this style of nail art will go particularly well with a pristine white gown.
4. Classic Red Nails

The quintessential Indian wedding colour, red, looks great not only in your outfit and makeup, but also on your nails. Considered to be auspicious in Indian customs, there is a reason this colour is a bridal nail staple.
Pair with: Literally any outfit, and you can't go wrong with red nails. Just pick a shade of red that compliments your skin tone and outfits; there is a shade of red for everyone. Red nails look exceptionally great against light pastel lehengas paired with diamond jewellery. Pair it with a red lip for the perfect combo.
5. Neutral Nails

If minimalism is your thing, then this look is perfect for you. The nails take a backseat to your henna and jewellery. Instead, they enhance the shape of your hands and provide a beautiful background for your jewellery. It won't clash with your clothes or your various accessories.
Pair with: Heavily embellished and colourful outfits. If you're opting for extravagant hand jewellery, then this is the perfect nail art to balance it out.
6. 3D Nail Art

If you want your nails to stand out, literally, then this is the nail art for you. Accent your base colour of choice with 3D roses and patterns to make them look that much more interesting.
Pair with: Minimal jewellery and 3D nailart go very well, otherwise it can be a hotchpotch. Very well suited for white outfits.
7. Nail Accessories

Now you can buy jewellery for your nails too, so add that to your wedding shopping list. Similar to bedazzled nails, you can stick elaborate and cute accessories on your nails to make them look festive and 3D. More time efficient than sticking single stones, and a more uniform and precise design can be achieved.
Pair With: Minimal jewellery to maintain a balance, Works particularly well with darker shades of outfits where they can shine against.
8. Minimal Glitter Accents

If full on glitter nails are too much for you, then accents of glitter are perfect for you.
Pair with: If your henna is very intricate and your hands are gonna be entirely covered with it, then minimal glitter nails are perfect for you. If you intend to wear heavy jewellery on your hands, like bracelets that connect to the ring (haathphool), then this style would be better suited to you.
9. Custom Portrait Nails

If you want your nails to be truly unique and something that people will remember, then this is the perfect nail art for you. Hire a nail technician who specializes in this, and get a customized portrait or quote on your nails. Truly unique and bespoke to you.
Pair with: Any of the above mentioned designs.
There you have it, 9 nail art designs that you can rock on your big day and make that Big Fat Indian Wedding that much more special. Check out the blog for more wedding related inspiration for you and your bridal party. Now go rock your fabulous nails and have a happy and safe wedding!