Irrespective of the shapes and forms, lehengas are one of the most popular desi outfits that women prefer as this makes them look classy, elegant and girly. And like other ethnic wear, different types of experiments have been conducted on the lehengas. As a result, some great designs and patterns have come out, which are worth trying. This is also true in the case of wedding lehengas.
If you consider the trends of wedding lehengas, in the earlier period, women were just restricted to the auspicious red shade. But these days, brides no more shy away from experimenting with their wedding lehengas to come up with some really gorgeous styles. Starting from gold to blue and mint, the present day bridal scene depicts the colorful brigade of the gorgeous styles of wedding lehengas. So, if you are going to be married soon, then you can choose from the amazing collection of offbeat lehenga styles on your wedding day. Here are some details:
Some of the offbeat lehenga styles you can try:
Flared style of lehenga: One of the most popular trends of offbeat lehengas is to add more layers to the lehenga and to have a flaring upper layer. This is the style that makes the wearer look pretty gorgeous.

Layering the lehenga: While going thick and heavy on the borders has been the norm always to make the lehengas look pretty. But another effective method of accentuating the beauty of the lehengas is by adding a single or multiple layers at the border. This way, the lehengas look more dressy, flowy and elegant.

Opt for a color block lehenga style: This is one of the popular styles of offbeat lehengas, which are doing rounds a lot on the western wear throughout the world. And the fashionista brides are just in love with this style.

Lehengas with slit: Slitting the lehengas up is one of the most beautiful ways to make the lehengas stylish in an offbeat manner while regaining the ethnic charm of these dresses. The slits can either be in the knee-length or the slits can be up right from the waist. These lehengas can be teamed with leggings to have a beautiful look.

Lehengas with frills: Like as the frills add a great charm and beauty to the western wear, these can also be a popular choice, while it comes to the lehengas.

Minimalistic styles: In case you are having a morning low-key wedding, then you must choose lehengas, which are not heavy at all. Just remember one thing that those days are past when the brides used to be tied down with heavy clothes. The lehengas with minimalistic styles will not only help you to move freely but will also give you the comfort to twirl around. Besides, the minimal works will also help you to play around with the printed color palettes as here the colors would fill up the needs for embellishments.

Some of the offbeat lehenga colors you can try:
Offbeat shades: In most of the cases, brides like to opt for typical colors like maroons, scarlet, red and so on, while it comes to the wedding attires. These colors are actually ideal for playing safe. But in case you are the one, who want to look a little quirky on the wedding day, then choosing colorful palettes is the thing that you can consider. In this case, you can create your own fairytale by opting for colors, which have never seen before. The excellent choices for the offbeat shade lehengas include vibrant shades like green, turquoise, gray, mustard, fuchsia, royal blue, gold, orange, purple, salmon, yellow etc. Another great tip is to choose the lehenga color that matches your skin color.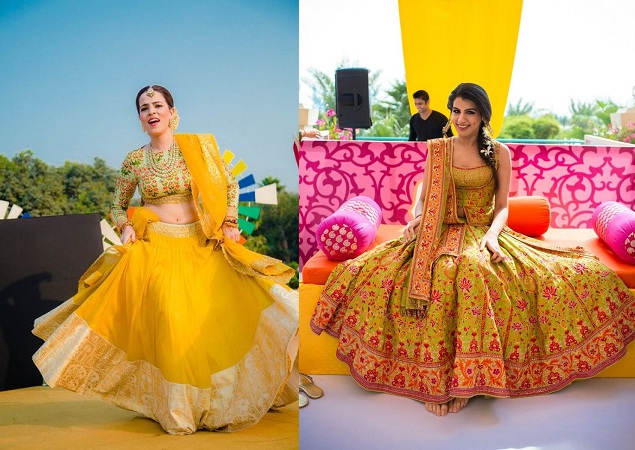 Dreamy blues: Blue is no more considered as a color, it is actually an emotion or wisdom, faith, and loyalty. Besides, blue is also the color, which can lighten up any space. Therefore, this unconventional shade is ideal for a wedding as well as for the pre and post-wedding functions like mehendi, sangeet or reception. With this attractive and unusual lehenga shade, people will not be able to turn their eyes from your look.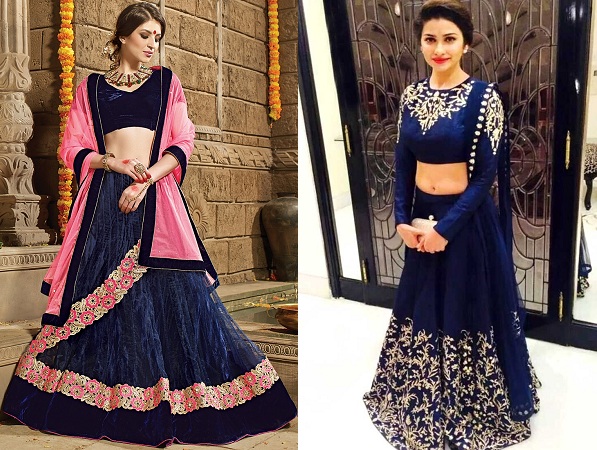 Grandeur Green: The color green symbolizes both liveliness and growth. So, in case you want to get a mesmerized look in the charm of luxe embellishment while experiencing the beautiful glory like never before, then you must choose the shades of green in your wedding lehenga.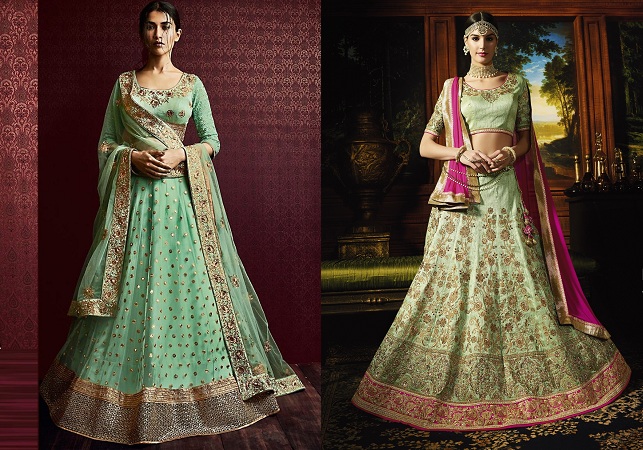 Glamorous gold: If you want to look like a diva on your wedding day with the selection of a great offbeat style lehenga, then glamorous gold is the shade that you can opt for. The pale gold color of the lehenga will perfectly highlight your bridal glow and will make you look like a star.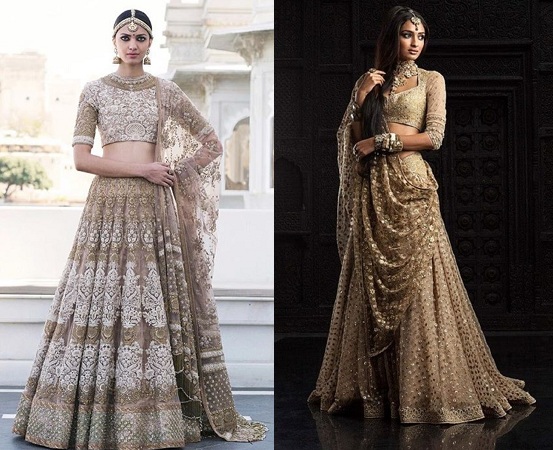 Different shades of brown: One of the best things that you can do while it comes to choose offbeat lehenga shades is to choose the duller shades like different shades of brown to look gorgeous and bright. The brown lehengas with rich detailing will definitely make you look like a queen on your special day.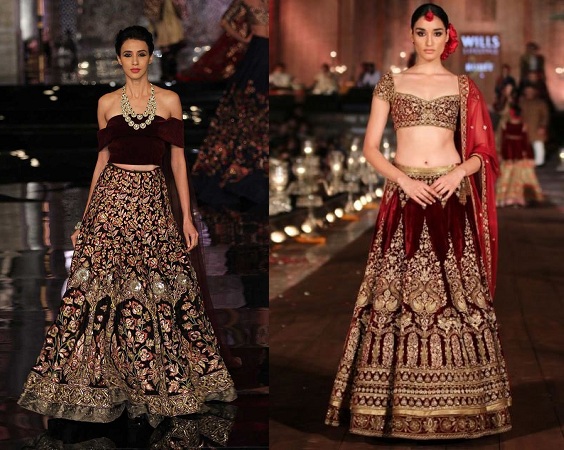 Purple and pale blue combination: Purple is known as a pretty yet underrated color, but as the offbeat color style is in rage, this color is coming up more. These colors looks great and while paired with bright or pastel colors like pale blue, this creates a great combination for the brides.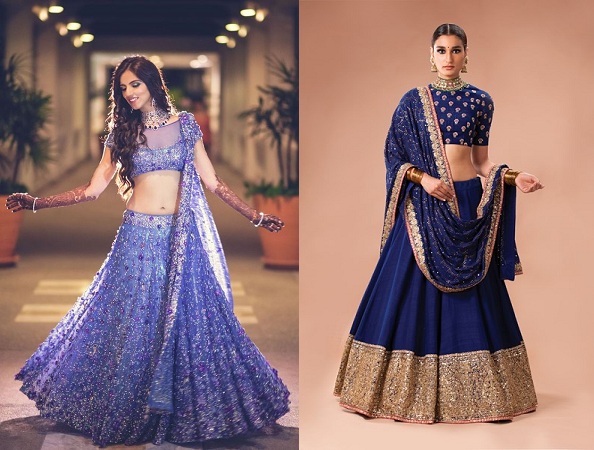 Turquoise: This is one such shade that can give relief to the tired eyes. And as the shade of wedding lehenga, turquoise is just ideal for the summer wedding or beach destination wedding. Basically, this shade is a day color.
Mustard: This is one of the gorgeous offbeat shades available in the bridal lehengas. This shade also looks really refreshing. As an offbeat bridal lehenga shade, this color is pretty effective.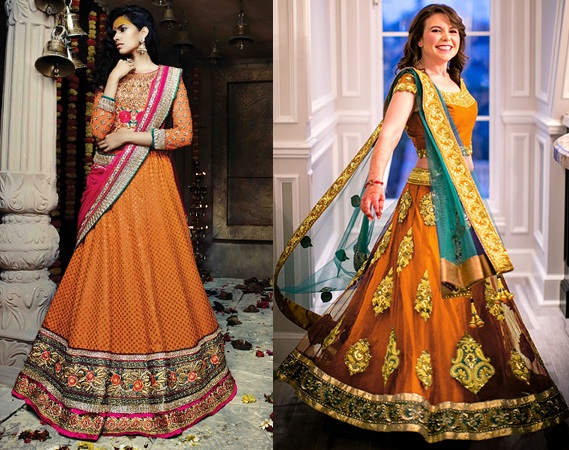 Grey: In case you want to choose gray as your wedding lehenga color, then you must know that there are different varieties from which you can choose like gunmetal gray, ash gray or soft gray.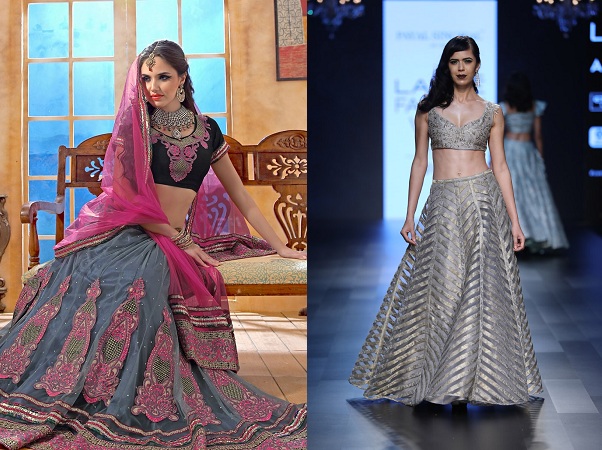 Salmon: This shade comes with a peach hue and it is ideal for those brides, who look for a softer and unusual palette as the wedding lehenga. This color looks just great on brides with duskier skin tones.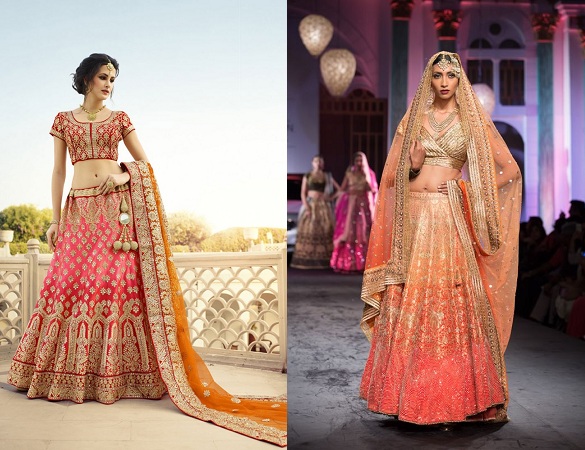 Celebs, who chose to wear offbeat style lehengas on their D-day:
These days, a number of celebs are opting for offbeat style lehengas on their D-day while making this lehenga style a highly popular one. Here are some examples:
Diya Mirza looked ravishing in a beautiful, offbeat blue lehenga on the eve of her sangeet.

TV queen Divyanka Tripathi wore a beautiful yellow and red combined lehenga on her wedding.

Geeta Basra chose to wear a bright yellow and pink combination lehenga on her mehendi ceremony.

TV celeb Ankita Bhargava opted for a minimal style by choosing a classy white lehenga with red velvet work done on it.

TV celeb Aamna Sharif looked drop dead gorgeous on her wedding as she wore a lehenga with the gorgeous combination of red and orange.

Bollywood beauties like Soha Ali Khan and Asin Thottumkal and TV celeb Sanaya Irani maintained the offbeat style by choosing to wear gorgeous gold sequined lehengas.

TV celeb Hunar Hale picked a baby pink lehenga with a pastel green choli to flaunt an offbeat style on her wedding.