Diwali is the biggest festival of India. It is a festival when people from all walks of life, irrespective of the social and financial situation go out to meet their friends, relatives and acquaintances and splurge on food, clothes and gifts.
Every person loves to dress in their best clothes and almost all people make it a point to buy new clothes especially for Diwali days. Diwali celebrations for many are not limited only for the grand day, but start almost a month before the actual day with late night card parties and get-together, pool dinners, stag parties and family parties.
Many groups are formed and special invites are sent by a host to the invitees. Some people that are enthusiastic even keep certain kind of theme for the party and invitees make it a point to reach the place in proper theme dress up. Usually men do not have many options to dress, but for women there are endless opportunities to dress in different styles.
Women come dressed up in various styles with some sporting a western outlook, some in casual Indian while some come in traditional Indian saris. Saris are the traditional Indian attire that looks the most sophisticated and elegant at any type of function, festival or get together whether the event is formal or informal.
Hereunder are top 10 designer saris for Diwali celebrations that are sure to make you the centre of attraction in the entire gathering and bring you the best compliments from all people present.
Cape Saris
Capes are the hottest thing in the market. Every woman wants to don a cape in some form or the other and now they have been transformed and redesigned to come in the form of cape saris. These cape saris are the latest trend amongst the celebrities and many of the top designers have come out with their cape saris to be worn in the upcoming Diwali celebrations.
These cape saris come in sheer pattern or are opaque and are designed to look like a part of the sari or may be worn as a cover up for the winters.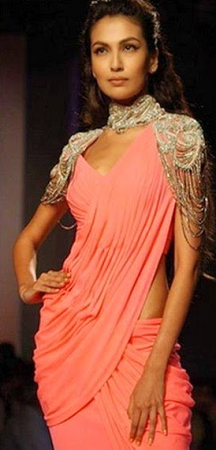 Color Pleated Saris
Color pleated saris are the latest designer saris in the market. Last year it was the different colored pallu, this year sari designers have come up with sari pleats that are differently colored from the rest of the sari. You can get these saris in plain, chiffon or heavy embellished designs.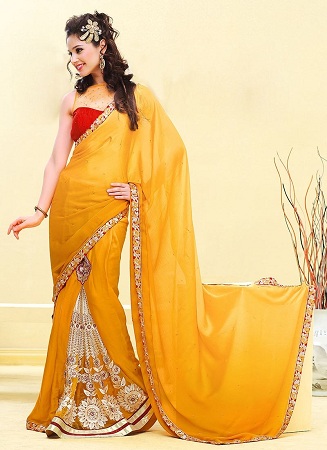 Pre Draped Concept Saris
Pre draped or concept saris are the latest trend of the year with many of the Bollywood hotties wearing them in the latest movies. These concept or pre-draped saris come in a fixed concept style and their style cannot be changed or altered. One of the most commonly used concepts is the Dhoti sari that you can see in any of the fashion shows. Such concepts are fast catching the imagination of the fashion savvy young Indian women and are a runaway success as the fitting of these saris is perfect and they do not take much time to drape as well.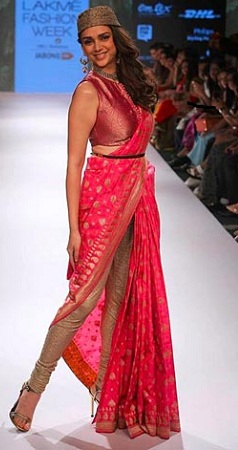 Sheer and Opaque combination Saris
Designers are working overtime to innovate and come out with new ideas to catch the fancy of young Indian women so that the interest for saris is not lost to more comfortable western outfits. The latest innovation in the line is the introduction of sheer and opaque combination saris. These saris are designed in a way that if a woman has a choice of sheer pallu and opaque sari, she can choose that design or if she has the choice of an opaque pallu and sheer sari, she can opt the other way.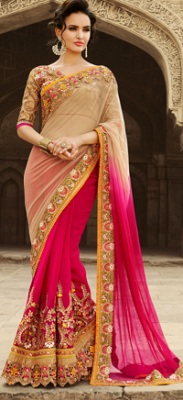 Net sari with Broad Borders
Net saris are not new for the season. They have been in the market for some time. Nonetheless net saris with broad borders are a big craze amongst the fashion conscious women. The beauty of these saris is that these saris are very light in weight and therefore very comfortable for Diwali schedule which is very hectic. Also these saris look very gorgeous on women of all body shapes making these saris a hot favorite with women.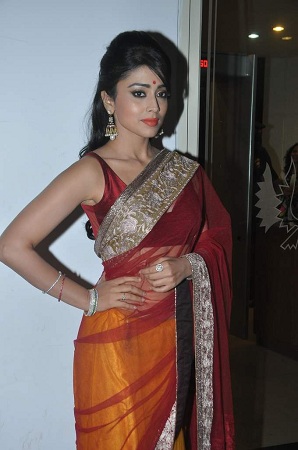 Designer Silk Saris
Although most women prefer to wear light weight printed saris for Diwali celebrations, however designer silk saris are a class apart. Designer silk saris exude the real beauty of an Indian woman and cover her with its supreme beauty. Designer silk saris are also recommended for Diwali because close to the start of Diwali celebrations, the weather becomes a little cold making these designer silks a sought after sari.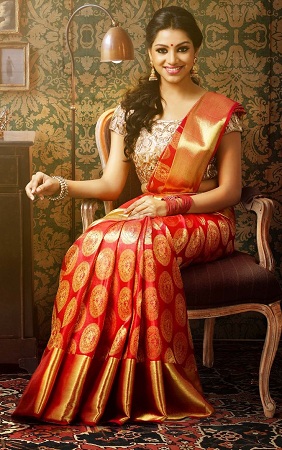 Shoulder embellishment Sari
Shoulder embellishing saris are hot designer saris of 2016. This is a design that has been popular in many of the fashion shows and has been launched by designers in their spring collection 2016. This is a very comfortable sari as it is usually made from lighter fabrics and come in vibrant colors that look so good during Diwali celebrations.
These saris are simple and have embellishments on the shoulder which may come from tassels, rhinestones or embroidery. You can try single tone or dual tone saris for the celebrations.
Pop Print Saris
For those women that want to look beautiful, elegant, and trendy and yet stay light on weight, pop print saris are the right choice. These may not be the wedding material or formal saris but they definitely add a lot of style and glamour to your personality during Diwali celebrations.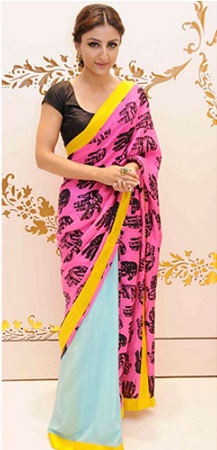 Sari Gown
Sari gowns have become a rage in 2016 with many young women selecting the design for their formal functions like engagement. This is a heavy design to be worn for a Diwali day time party but can be a perfect design for a formal evening Diwali celebration.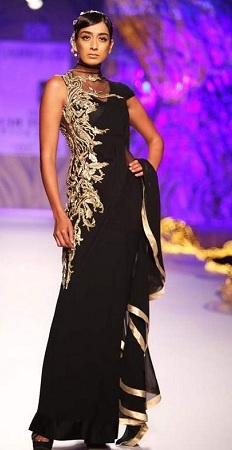 Manish Malhotra Designer Sari
He is also known as the Sultan of Saris in Bollywood circles. His creations are worn by all the top actresses for their formal and personal functions. Choose one of his creations for your Diwali celebrations and you can be sure to collect a number of compliments for the design and sari style.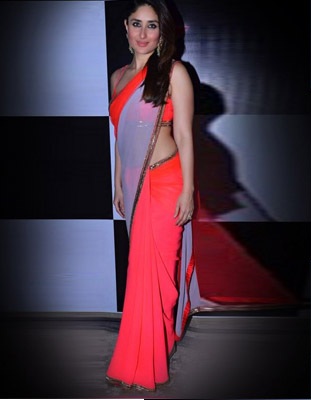 Choose any of these top designer saris for the upcoming Diwali celebrations.