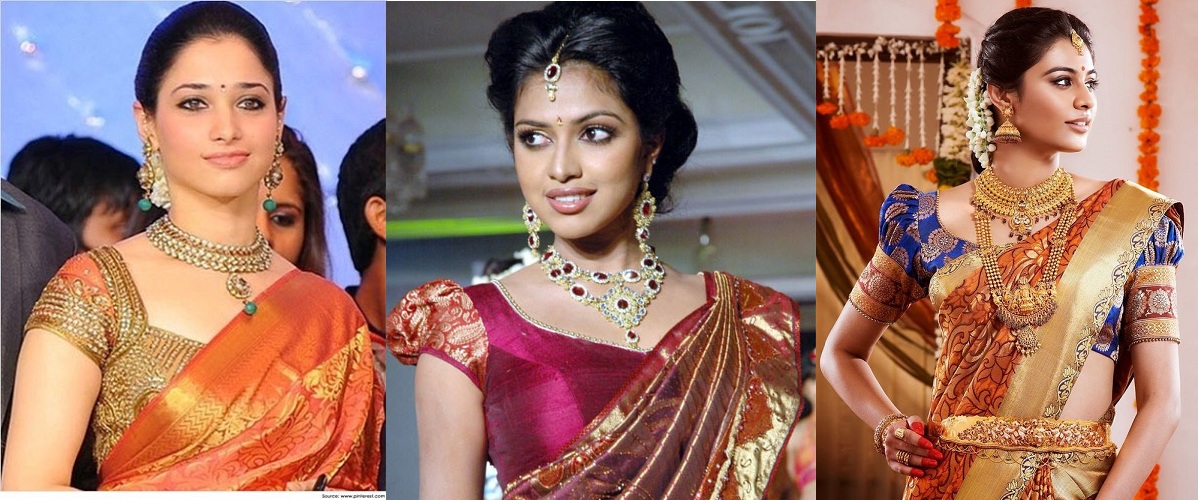 India is a huge country with a number of states having their own customs and cultures. However, wearing saree and blouse for functions and religious festivities has been prevalent for as long as one can remember. Various types of materials are used to make saris and blouses; however the most commonly used materials to make sarees is cotton, crepe, chiffon, georgette, nylon etc.
Usually the fashion for these materials come and go after a short spurt when all these materials become highly popular and women rush to designers and stores to buy them. However the fashion for silk saris continues along with other materials with slight difference in style and prints.
Different Types of Silk Saris
In India, different regions make sarees and blouses from silk in a different style according to their native customs and include Kanjeevaram silk sari, south silk saree, Mysore silk saree, Banarasi silk saree and many more. Since the blouse of a saree is made from the fabric of the saree, the blouses for these sarees are also distinct. The silk blouses are usually simple and plain made in different styles and cuts with cut sleeves, full sleeves or elbow length sleeves.
Today, silk sarees are no longer contemporary sarees that they have been for so long. With the advent of professional saree and blouse designers in the field, sarees of all kinds of fabrics have undergone a revolutionary change in their presentation and perception. Few years ago sarees were seen as a customary dress to be worn only for marriage functions as a part of rituals, but now things have changed and women look forward to wear sarees even for very small get together because saris are no longer boring and simple, instead they have become vogue and fashionable.
Blouse – an important part of Sari
Blouse is a very important part of the entire ensemble. A saree cannot be complete without a blouse and for a saree to look beautiful, the blouse has to be such that it can enhance the look of the sari and catch the eye balls of all the people present in the party or function.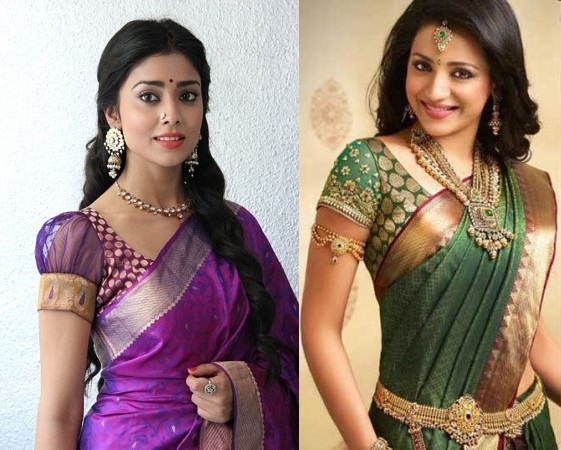 In order to catch the attention of the fashionista's of the country and abroad, top saree and blouse designers have together brought about many changes in sari and blouse designs that can catch the fancy of women. The designers are going an extra mile to explore more and more ideas that can be incorporated in saree and blouse designs to make them interesting.
In the past few years designers have brought about many changes in sari designs.  Now you don't get only the conventional silk sarees that depict the culture of the region but now you also get modern silk sarees that are made from the fabric of the region but are designed in new concepts and idea. These are the designer silk sarees and for these sarees you don't wear conventional blouses but the modern designer blouses that are very different in concept and design.
Get a Designer Blouse
Today you can get readymade silk blouses for your designer sarees as well as normal silk sarees both from offline saree stores as well as online saree and blouse stores. Although, you may not find a very big variety in an offline store, you do get the choicest collection from which you can choose your style and color. On the internet they have a huge collection of blouses from different types of silk, designs and styles from which you can choose a blouse of your style and choice which can then be delivered at your door step.
Here you can get plain blouses, printed blouses, embroidered blouses, embellished blouses in cut sleeves, full sleeves, elbow length sleeves in all the styles and sizes. You choose your style from the catalogue and get a readymade piece or you can also order a custom made blouse to your size of the same design and color of your choice which will be sent to you later.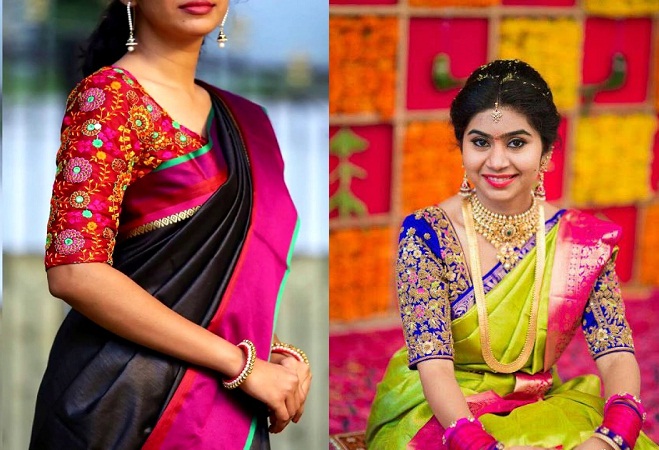 Although, online purchase is a convenient method to buy blouses, there are many hiccups in the process like quality of product and work, matching color of the blouse with the saree, fitting of the blouse etc. Another option that you can try is to get the blouse stitched by a specialist tailor. He is well versed in the trade and knows best ways to make a perfect blouse that can satisfy you in fitting. However the flaw is that he cannot give you a designer blouse, an embroidered blouse or an embellished blouse that goes with a designer saree.
Get Designer Blouses from the Designers
You can also get your saree designer to make a stylish blouse for you. He can do the best job for you as he designed the sari and knows the best style of blouse that will go with the saree. Also just by looking at you, he knows the kind of body structure that you have and the style of blouse that will look best on you. Since he has designed the saree, he also knows the best embellishment on the blouse that will compliment the saree to make the complete ensemble look gorgeous and allows you to catch all the eyeballs in the party.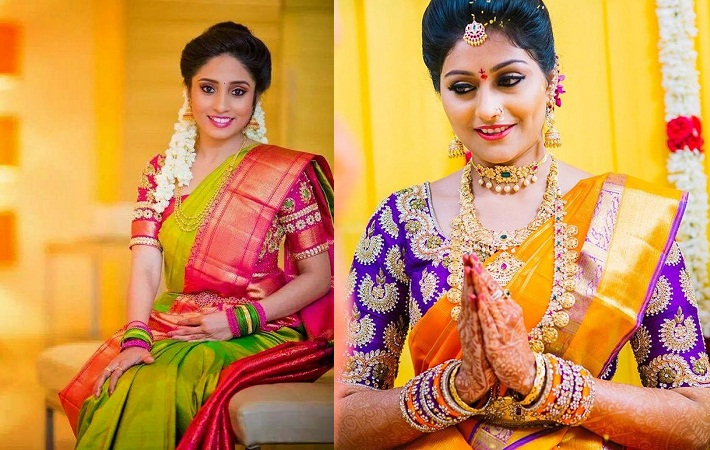 Designers are people who are trained to create new ideas and concepts of fashion. They are the people who understand fashion in the best possible sense and are those that bring about the change in which we all dress and present ourselves.  Designers, change the dressing styles every season so that we all throng for the latest and they can earn out of it.
Elbow Length Sleeves Blouses
Today the latest fashion blouses are the embellished elbow length sleeves blouses for silk saree. These blouses are a huge rage in the fashion world and every woman who is aware of fashion wants to wear this blouse for the party. The rage is not limited only till the Bollywood celebrities but is very much present in the ordinary middle class, all thanks to the online stores that are supplying these blouses to the women customers.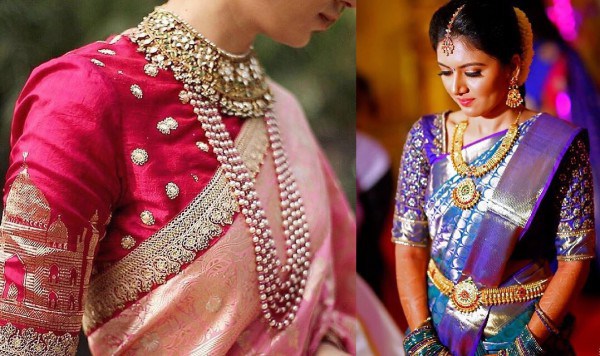 Earlier on, the fashion in silk blouses was limited to change in sleeve size or a little change in the neck style but now you can find an overall change in the style of blouses. You can get the blouse embroidered or embellished completely or partially here and there. The embellished elbow length blouse gives a simple blouse the look of a stylish party blouse without making it too heavy. The beauty of simplicity remains intact while the embellishment adds to the beauty of the blouse.
You can get the silk blouse embellished in different styles like kundan embellishment, stone work embellishment and pearl embellishment.
Kundan Embellishment
Kundan embellishment is one of the most popular embellishment styles for the silk saris today. Kundan is a popular stone that is used in jewellery designing to provide heaviness to the jewllery.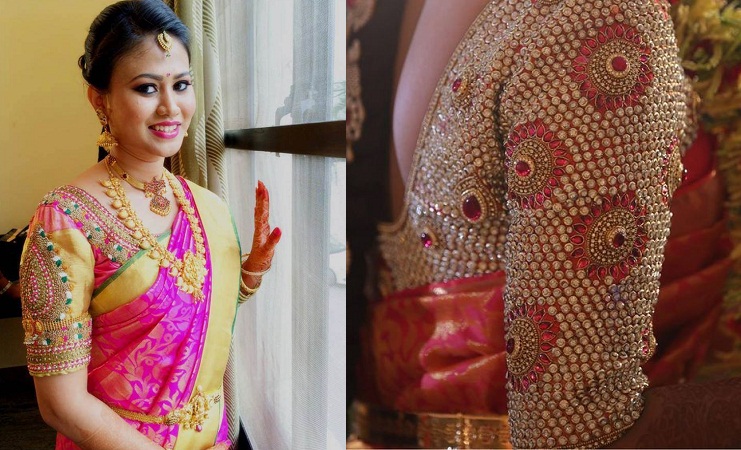 Many sari and blouse designers prefer Kundan embellishment as it looks very graceful on the sleeves and neck of the blouse. The trendy blouses like the high neck and deep cut backless blouses look so beautiful when embellished by Kundan and they also provide a contemporary look to the ensemble.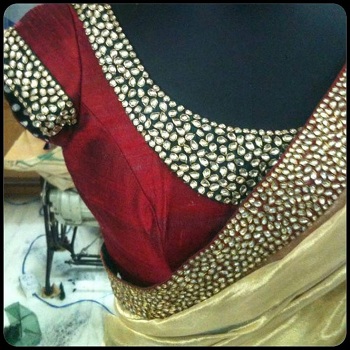 Stone work Embellishment
Amongst all kinds of embellishments on the blouse, stone work is highest in demand as the shining stones give the look of an ethnic wear while at the same time offers heaviness to the blouse design. Stone work is available in stones of various colors and shapes like square, round, oval, rectangle. You also have a decent choice of colors from which you use for embellishment like the green stone, red stone, white stone and many others.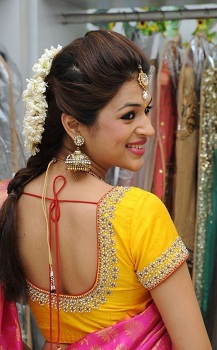 Usually green stone and red stone work is used for embellishment in wedding saree blouses while other colors are used for embellishing blouses meant for other functions. Embellishing a high neck blouse design with these colored stones give you a royal look with embellishment done both on the sleeve and the neck. However, stone embellishment is done on the neck, sleeve, back and you can also get full blouse embellishment done with stone.
Pearl Embellishment
Pearl embellished elbow length sleeves blouse designs for silk saree is very popular amongst the rich in southern India. Pearl work gives a royal look to the blouse and saree and increases the beauty of the entire ensemble multifold.  The embellishment is done with artificial pearls that are usually white in color and is done for blouse to be used in formal and marriage functions.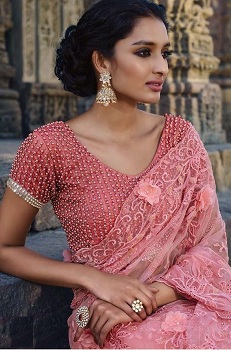 Embellishment on the sleeves gives a formal look to the blouse that you wear. However, for the entire ensemble to look gorgeous and beautiful you need to also decide cautiously on the jewellery that you wear for the function or the party. The sleeve embellishment offers style and beauty to the blouse but if you want to become the show stopper of the party and catch all the eyeballs, you have to team up your jewelry, your make-up, your hair style and your entire look in such a way that you catch the attention of each and every body present there by your grace and style.