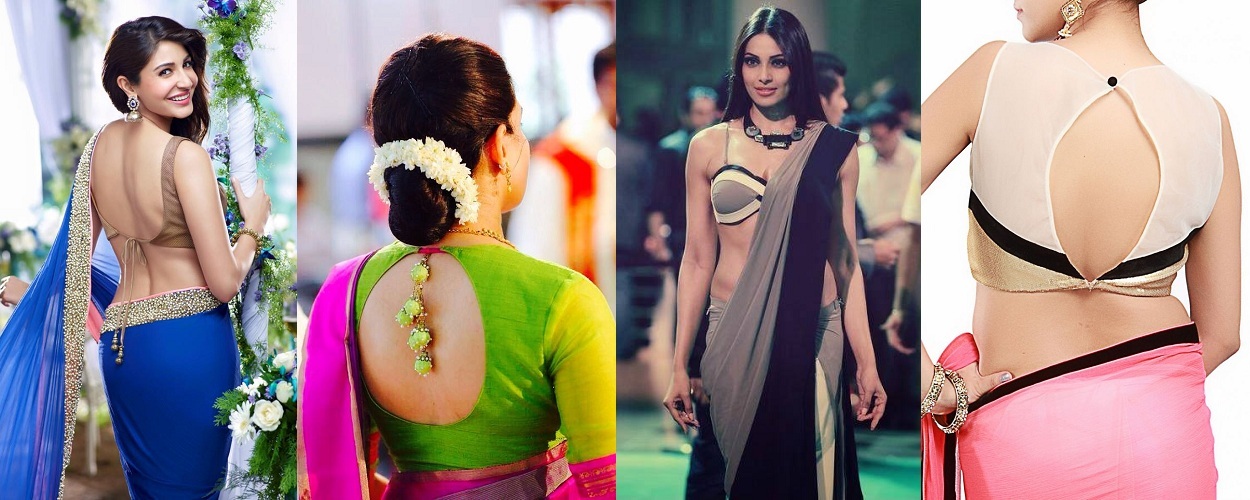 Saree is the eternal favorite attire for every woman. Naturally, they are skeptical about the design, fabric, style, and pattern. When sporting a saree they pay equal attention to pick the blouse. Now it has become a fashion to team up plain and simple saree with fascinating blouse. It adds a charm to their appearance. Stylish women of this generation try out different neck designs for their blouses and stand out distinctively in the crowd with their high fashion taste. They not only look different but classy at the same time.  If you are interested in trying fashionable neck designs for the blouse, this blog will definitely serve your purpose. Read on to check the latest designs that can give you a stylish avatar.
When designing the blouse, the first criteria is the fit. So if you are selecting any of the following designs make sure you hire an experienced tailor who can actually give you the perfect shape. Another important rule to draw attention with blouse is that always club your plain saree with embroidered and vibrant blouse and on the other hand if you are donning an embellished saree, tag it with simple but a designer blouse.
Round Sweetheart design:
This is one of the oldest designs which has made a remarkable comeback in recent years. If you have a toned figure you can opt for this design instead of plain round neck. This will be a slightly more exposed with a heart sign. This back neck pattern will certainly give you an appealing look and it is especially recommended when you are wearing a net or chiffon saree. To steal the limelight, you can even put a dazzling pendant with a long chain.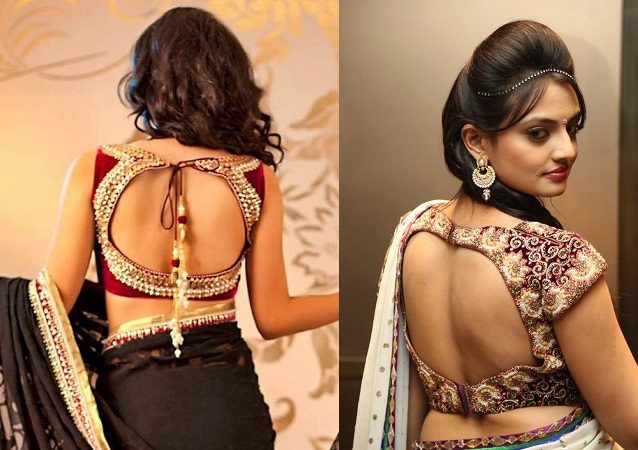 High neck zipper blouse:
If you want to go trendy, then this one is surely meant for you. The high neck zipper blouse is very popular among the stylish lasses. It adds a pinch of western touch only if you carry it with utmost confidence. The sleeveless or short sleeve will be the perfect choice for this particular pattern.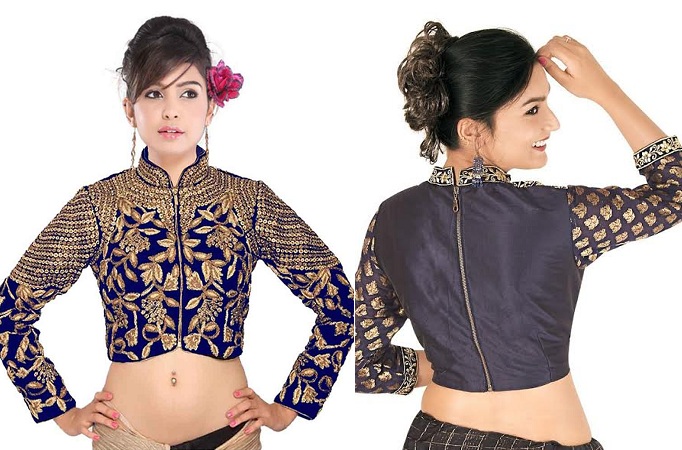 Cut out pattern:
Another eternal hot pick style is cut out design which is immensely popular among the middle-aged women. If you want to flaunt your back, go for this glamorous pattern. The back of your blouse can be of any shape depending on your choice. You can put a button on the tip of your neck to adjust the shape. Square, heart, rectangular, and triangular are a few popular styles that often catch eyeballs.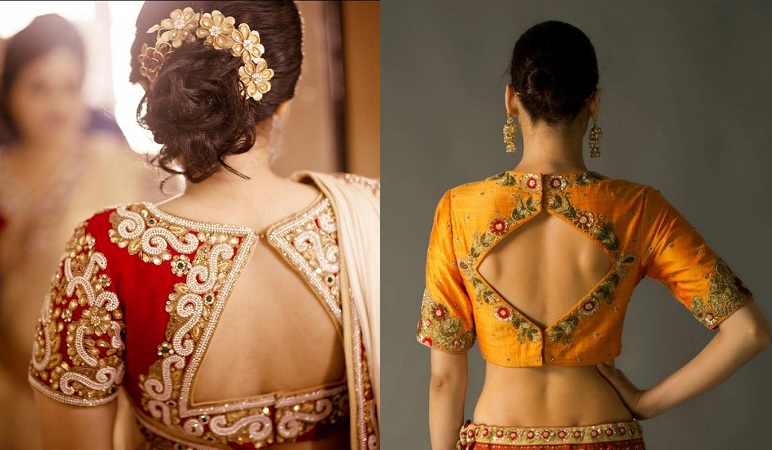 Deep neck blouse:
The glam queens prefer to make a head-turning appearance sporting the back. Deep neck blouse is meant for those confident divas who rule many hearts. You can fix a string and put a latkan to look charming. This fashionable pattern is ideal for party and wedding.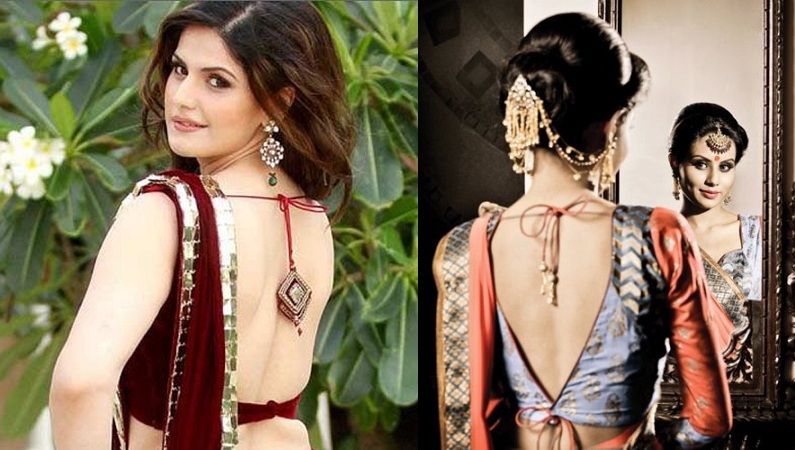 Netted back neck blouse:
Now the net is the favorite choice for all modern divas. They know how to set the temperature soaring with transparent fabric. Netted blouse is the latest fashion of this season. If you are not confident to go for backless or deep neck blouse, the net is the best choice for you.  You can also opt for half netted blouse and select any type of neck patterns like round, high neck, square, and more. Any translucent saree will be the best fit for this blouse.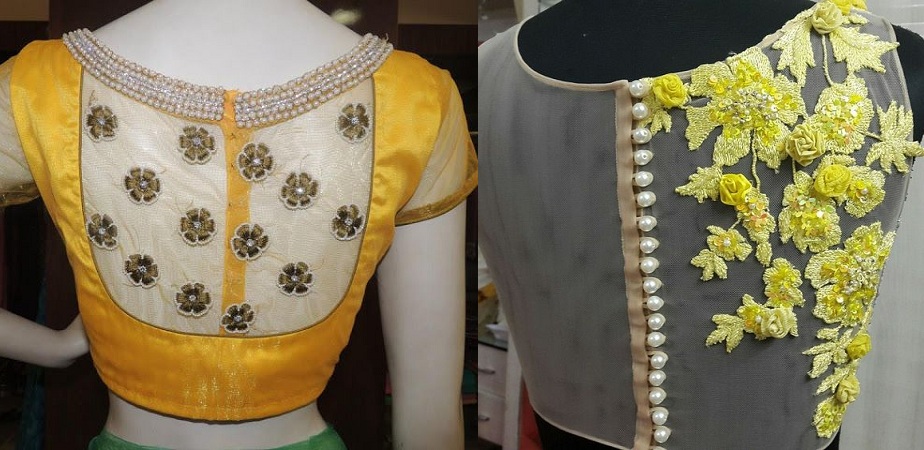 Tear drop back neck:
When heading for a party you should try something classy yet chic. Modern fashionistas are showing their love for this exclusive style. Be it halter neck or high neck; tear drop style looks amazing with any pattern. You can also add covered button at the bottom of your tear drop blouse.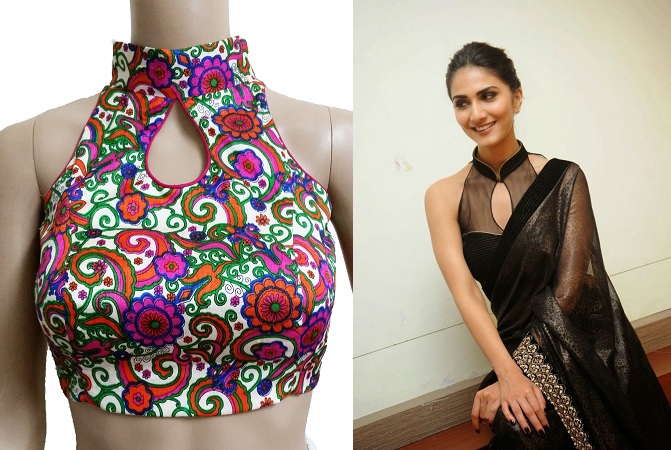 One shoulder blouse:
If you want to go bold, try this unique pattern. This filmy style can be best paired with gorgeous designer saree. You can also highlight the neck design with a sleek patch border.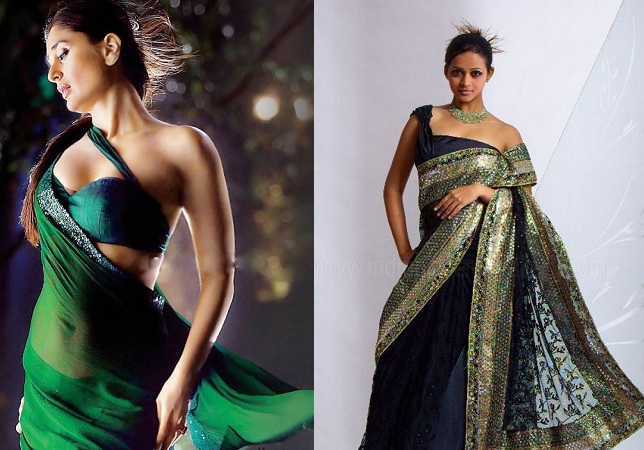 Off-shoulder blouse:
This is another contemporary design hugely followed by the stylish ladies irrespective of their age. The off-shoulder blouse is meant for those beautiful ladies who never hesitate to flaunt their smooth back. Whether it is your friend's wedding or you are attending a party, a well-tailored off-shoulder blouse will give you an attractive look. This is particularly recommended for pretty, tall, and slender girls. This is a funky choice for those who don't like straps.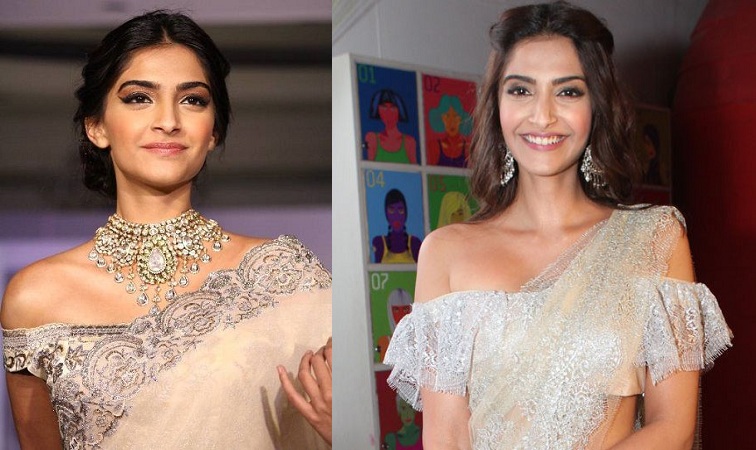 Boat neck:
This stylish neck design pattern goes perfectly with sheer net saree. You can also opt for embroidered blouse with boat neck. It adds an elegant touch to the beauty of the style icons. This fashion is also trendy for lehenga cholis.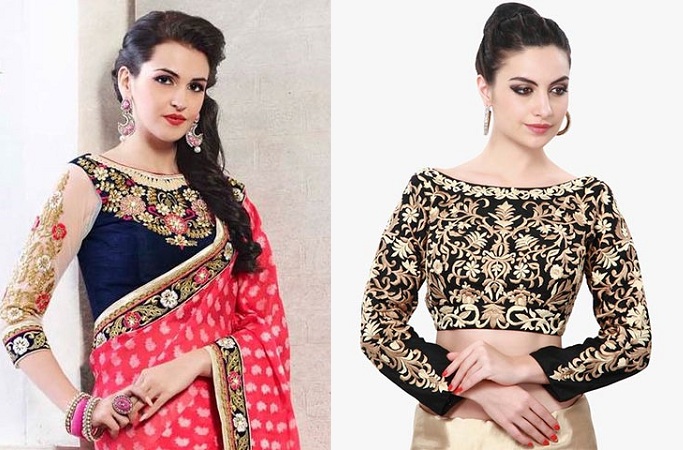 V-neck blouse:
The pointed V-neck blouse may seem very cliché but you can give it a unique style by adding back button. Deep V back also goes well when you have a toned back. When going for this classy pattern make sure to team the blouse with a traditional saree. It will surely accentuate your effervescent style.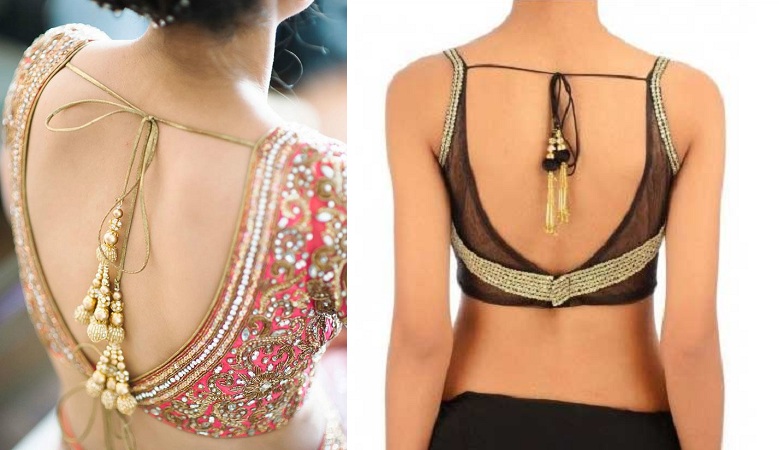 U back neck blouse:
This is another conventional type of design which has been evolved by the contemporary designers. Now if you are donning a U-back neck blouse, tie it with a lace for better fittings. You can make it even more gorgeous by adding dazzling latkan. This sort of blouse design is apt for the Indian brides.
Pot neck design:
This design is commonly found in three types of traditional attires which are blouse, choli and kameez. You can also shift the focus from your back to latkan which has to be tied with strings. If you want to set a trend, add zari as the border in your blouse.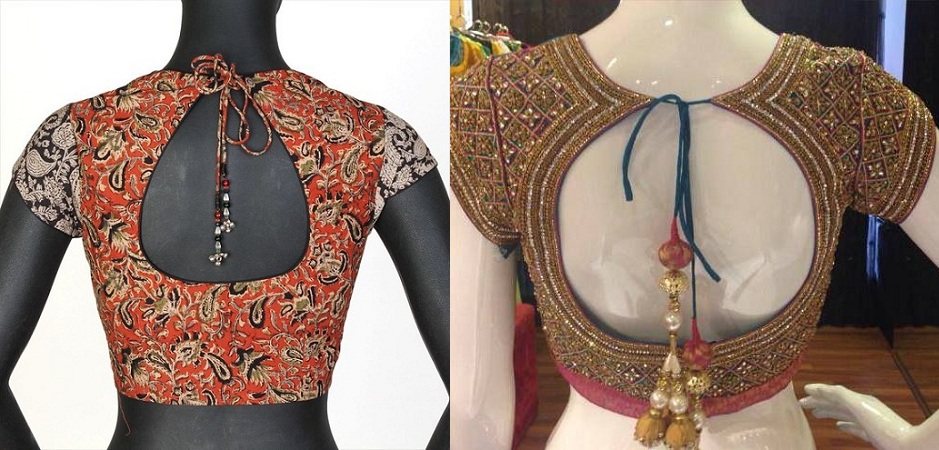 Round neck blouse:
Although this is the simplest form of neck design still it is commonly worn by the women from all regions. Lace and latkan are two charming additions to this ethnic pattern. This particular style never goes out of fashion. Many women find it comfortable and classy to team up with traditional South Indian saree. This can be your perfect match for the D-day or any corporate parties.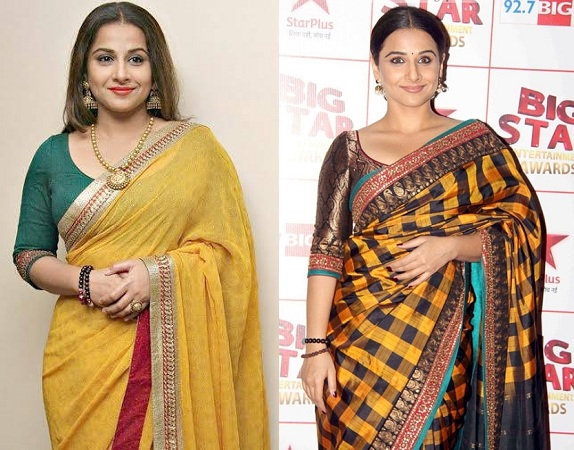 Asymmetrical back neck:
If contemporary round neck or V-neck is no more attractive for you, try this funky style. The asymmetrical back neck can be of many types starting from pattern to sleeve.Here, you have the liberty to pick any random cut and curve for your blouse.  However, this unique style better goes with sleeveless blouse.  You can search out many trendy designs on the internet and get an appealing look in the traditional wear.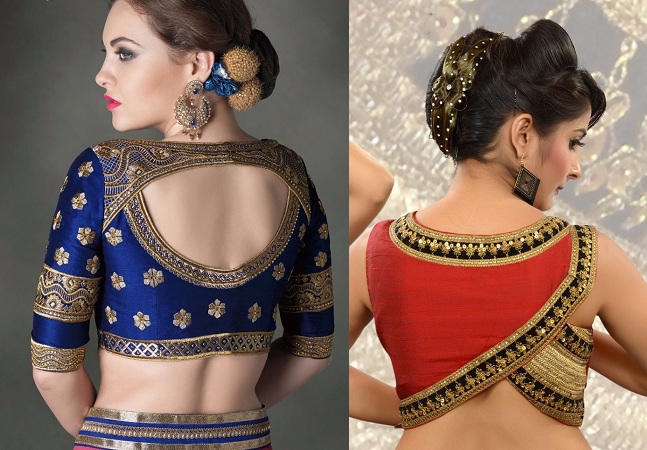 Butterfly back neck design:
This is comparatively a new addition in the blouse design category. Short sleeve or sleeveless blouse is the right match for this particular design. The butterfly shaped back will definitely draw the attention of other guests at the party. You can also create a drool-worthy design by adding borderline lace. It can also feature latkan in the middle of the butterfly design.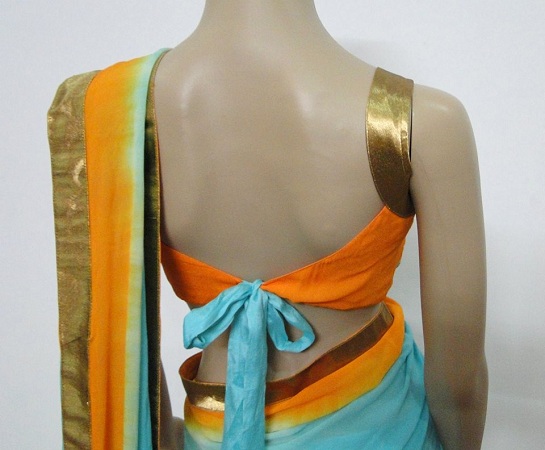 Chinese collar neck:
The Chinese collar neck blouse gives a corporate look and it is considered as a formal style of fashion. To get a semi-formal look for any casual party or soiree you can go for sleeveless Chinese collar blouse. The high neck blouse can be of many shapes depending on the cut and the work on the back.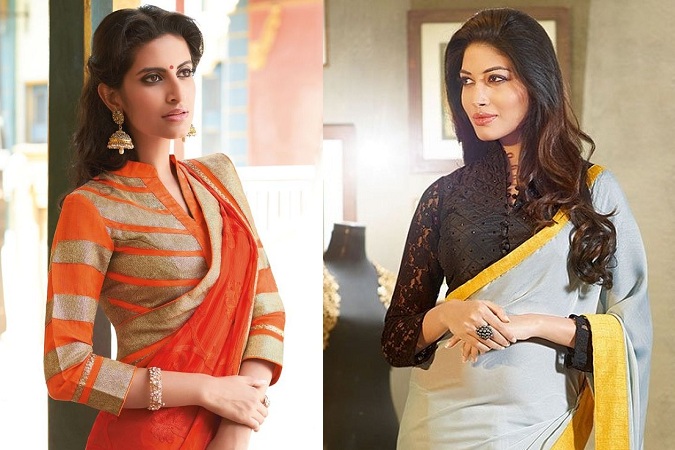 String style back neck blouse:
This is one of the filmy styles which was more popular in the 90s films.  The multiple strings have to be tied in the back to adjust the fitting. Needless to say, this pattern is a bit clingy but rural women still find it appealing. This is also a popular style for choli back design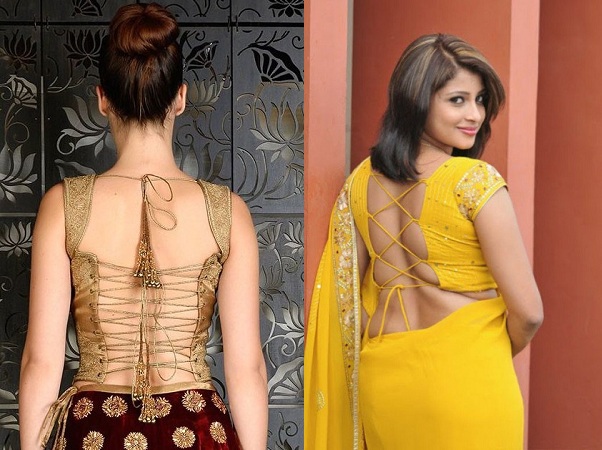 Square neck back:
Another typical neck design is square neck pattern which is commonly worn by many lasses. The easy to carry design can be modified in many ways. You can add lace or embroidered border in the borderline including the sleeve. Short sleeves look good on the square deep blouse. To get the best fitting, you must ask your tailor to attach strings in two sides and tie them according to your comfort.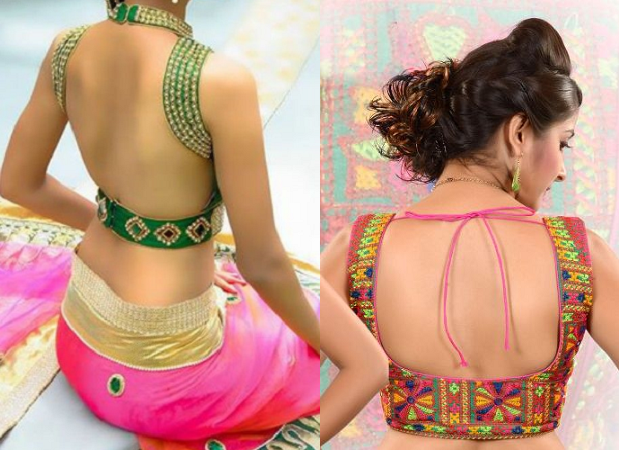 Knot on the back:
This is a classic yet bold style sported by the confident lasses. In most cases, women prefer the low cut blouse and tie the knot at the bottom. This style is applicable for a plethora of back neck patterns.  Check out the options available on the internet and slay the glam look with great panache.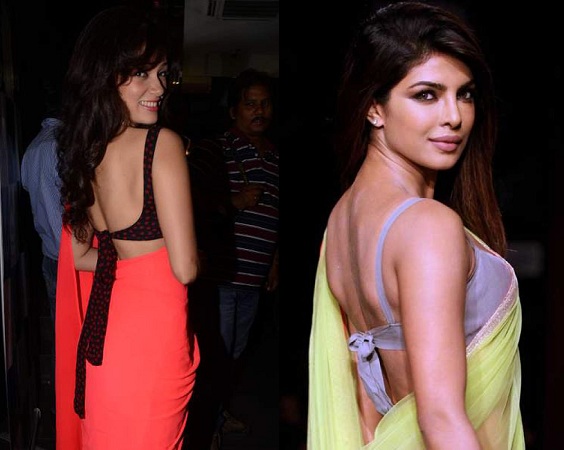 Oval shape back neck:
When it comes to traditional attire there is no dearth of options in terms of style and pattern. Oval shape style is one of the exclusive designs that you must try to look fashionable in the upcoming parties. You can add stylish laces to highlight the oval shape in your blouse. Some also opt for mirror work to look even more traditional.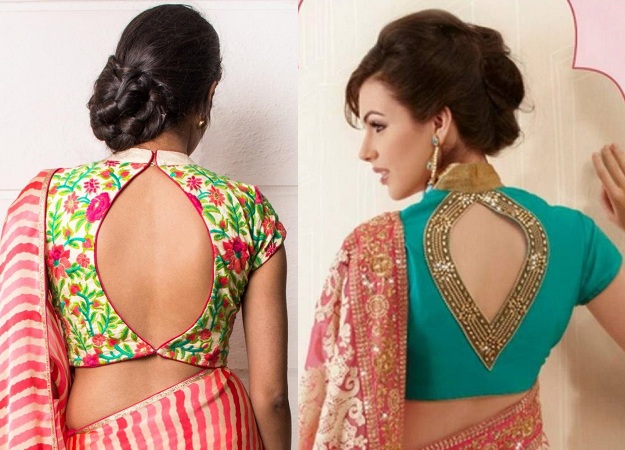 Triangular back neck:
The inverted triangle shaped blouse is now high in demand as it offers a chic avatar. A plain saree can also look beautiful if you drape it with a classy blouse like this. All you have to do is add a dazzling stud at the top of the triangle. Make sure to wear light saree with this blouse pattern. It will be easy to carry while flaunting your toned back.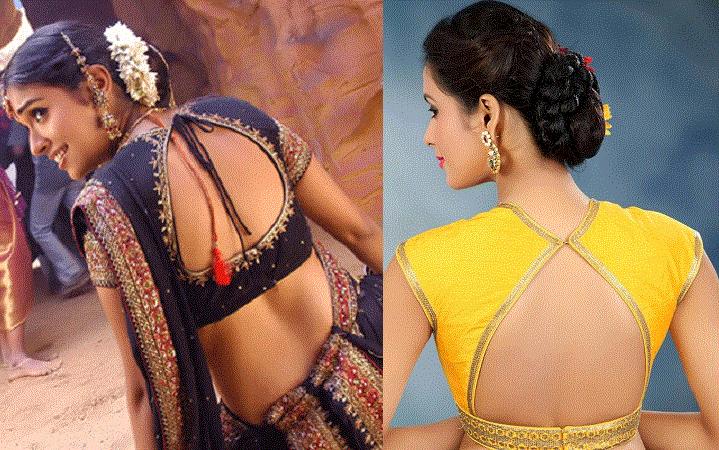 Pointed U neck:
Instead of focusing on the back design, some girls prefer to make their front more appealing. Pointed U neck blouse mostly comes with a striking pipeline and you can go for both full-sleeve and short sleeve pattern with this. If you are not conscious about your cleavage then you must try out this trendy neck design. This particular design is not limited to blouse anymore. You can ask your tailor to make a kameez or a choli with a pointed U neck.
High neck blouse:
Another formal blouse neck design is high neck which is commonly worn by the hospitality professionals. You can try this for any official party or event. It mostly suits the tall and slender girls. When you are settling for high neck blouse, make sure to keep your sleeves short.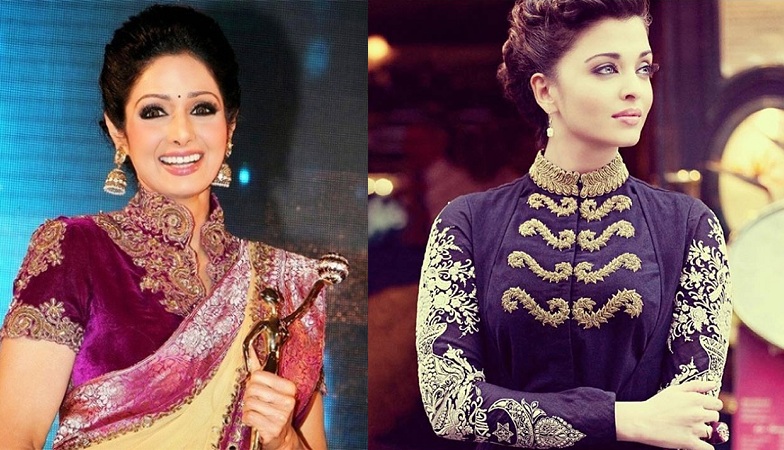 Spaghetti design:
This is a common and bold pattern immensely popular among the young girls. However, it looks good when you have a perfect figure with a broad shoulder. It is not recommended for girls who have a heavy bust. Try this style only if you are comfortable showing your shoulder, back, and arms. Make sure to sport this bold style in a party.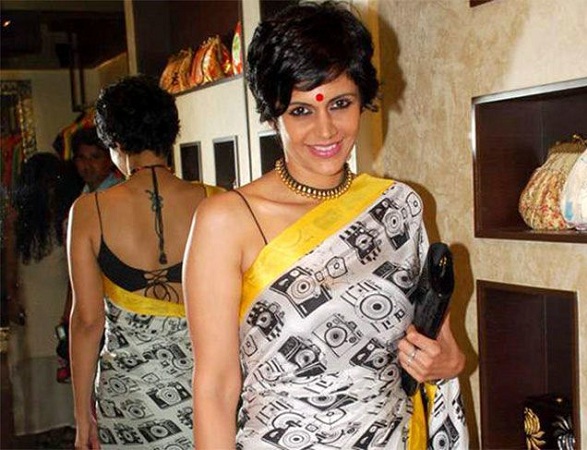 Butterfly neck design:
The butterfly collar neck is a hot pick design of the season. Here, the collars will be like butterfly wings which can modify with lace and embroidery work. The blouse can be short sleeve or sleeveless according to your choice. This will certainly give you a semi-formal look and you can carry it in any big events.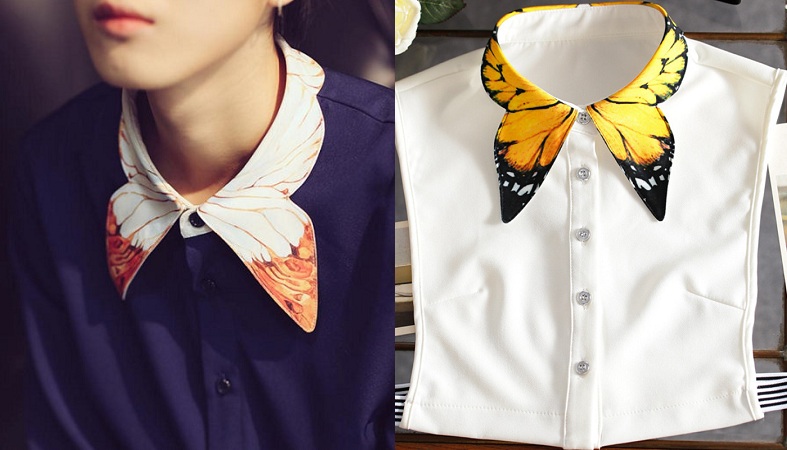 Halter neck blouse:
When talking about fashionable blouse design how can anyone miss out halter neck design? Halter neck style is not limited to blouse but rather it is derived from the western attire and nowadays, modern divas are making a fusion style statement wearing a halter neck blouse. This style can be pulled off at any age only if you have the perfect figure. It offers a classy yet trendy look depending on your overall appearance.
A blouse can change your total appearance and a well-tailored blouse can help you grab some extra attention too. So why will look settle for a normal and plain round or rectangular shaped blouse? This blog is written for the fashionistas who are ready to nail the traditional look with utmost stylish appearance. When you are going to pick any of the mentioned styles, make sure that you are comfortable with it. The unique blouse neck design will complement your modern look. So get ready to get a distinctive look even draping a simple cotton saree. One thing that you always have to keep in mind is that a designer blouse has to be accompanied with dazzling jewelries. So bedecked yourself with swanky accessories and keep shining everywhere you go.