Saree is a classical drape – a garment which found place in our wardrobe ages ago and still is an essential part of it.
As the most basic style statement for today's women, we can't overlook the various blouse designs and patterns which completes the saree
From the high neck to deepcut neck, sheer to highly embellished blouse , full sleeves to sleeveless, blouse designs have evolved and is still changing, to complement your persona and promote femininity.
Accessorize your saree and blouse with a good hairstyle either leaving your hair down or making a bun to look graceful and to add charm to your look.
Designer saree blouses are a new trend and taking the market with a storm. Today every online store sell designer blouses in India, providing an ample variety to choose from for all the occasion, weddings and festivals.
How to select a blouse
Determine the occassion where you need to wear a saree.
Go for a simple solid colored blouse or a blouse with subtle design for any casual office occasions.
Select blouse with embellishments or heavy embroidery with simple saree for festivals, parties or weddings.
Pay attention to the neck design while selecting blouses as they further enhance the beauty of blouses.Choose from high neck collar design to boat style neck design for different occasions. A wrong neck design takes away the panache of your blouse making you loose your charisma.
Let's explore the variety of blouse patterns available to try your hands on.
Simple Plain Blouse
Simple solid colored plain blouses with silk sarees imparts simplicity with elegance to your look. Go for minimum work for this type of blouse- just a contrast border to match your saree. Accessorize with just a pair of earrings to complete the traditional look.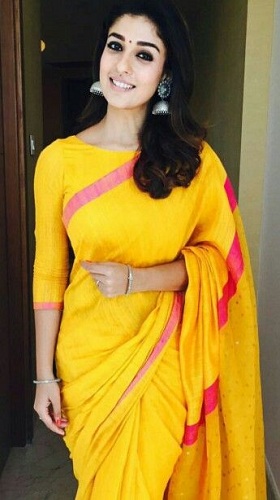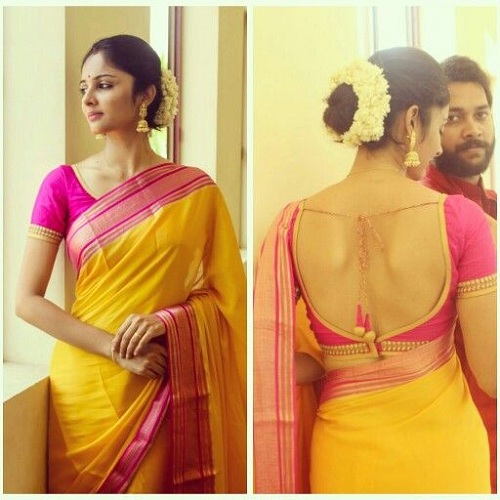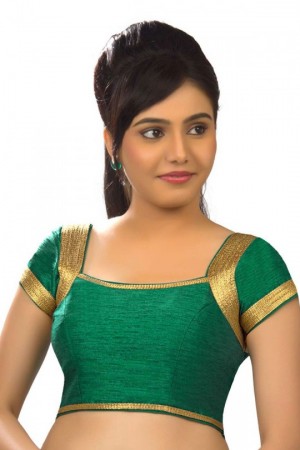 Sheer blouse
Sheer Blouses are a new fad among the females. Its perfect for parties and social gatherings and will definitely upraise your status among your female peers. Go for sheer blouse with beautiful delicate floral designs carved on it or look ravishing with a sheer blouse full of gold work around the sleeves and neck paired with heavy embellished dupatta. Try beautiful stone work, sequins and beads on your sheer blouse to make you look no less than a princess. If not comfortable with the sheer at the front. No problem, try out sheer at the back of your blouse.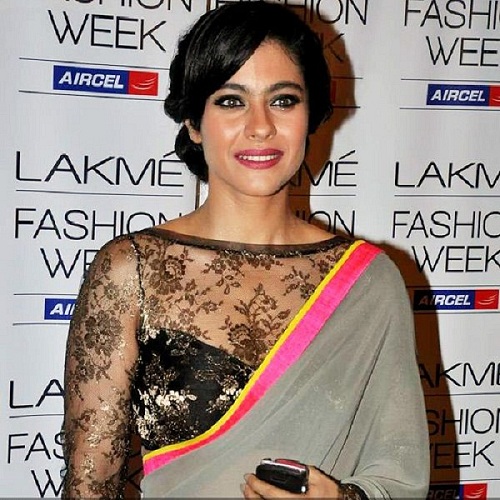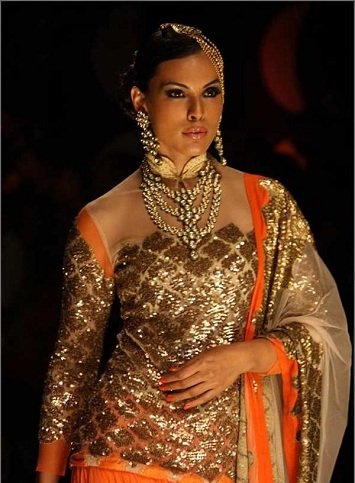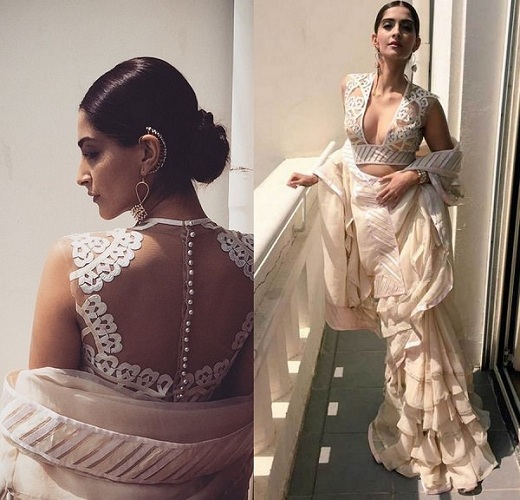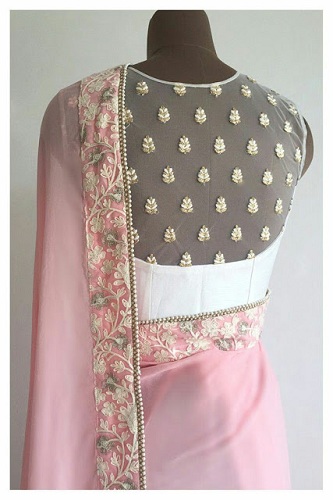 Embroidered Blouse
The best way to wear an embroidered blouse is to pair up with a plain chiffon saree .Beautiful embroidered design patterns can be created by fine thread , zari , mirror or chanderi work.The embroidered designs pattern that can be carved are jhumka or any jewelry patterns, beautiful flowers, animals making it ideal for parties or weddings.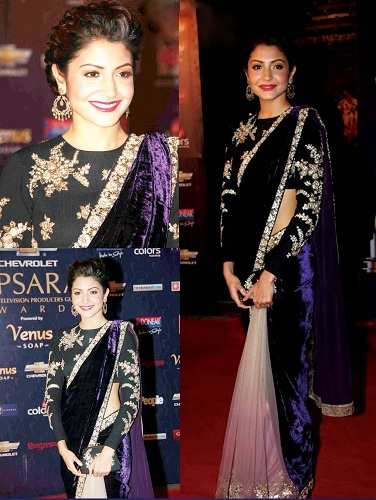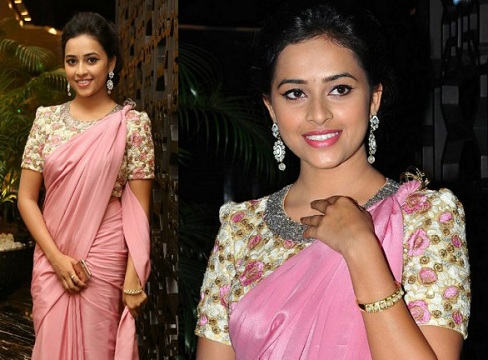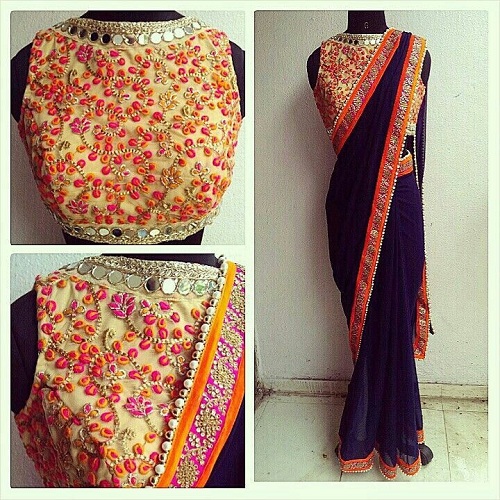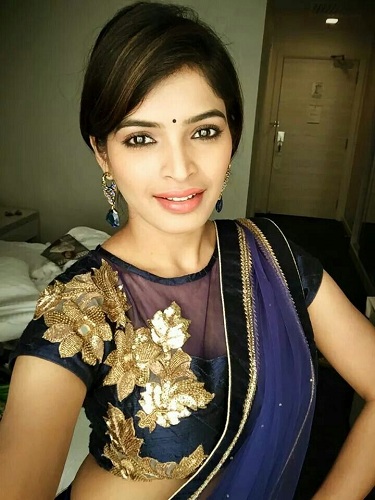 Embellished Blouse
A heavily embellished blouse paired with a heavy designer saree definitely will grab eyeballs. Bollywood loves embellished blouses . All our leading actress – Priyanka Chopra, Kareena Kapoor, Deepika Padukone, Anushka Sharma, Sonam Kapoor have always looked gorgeous in the embellished blouses. Check out heavy embellishment in pearl, zari or stones for a perfect wedding wear.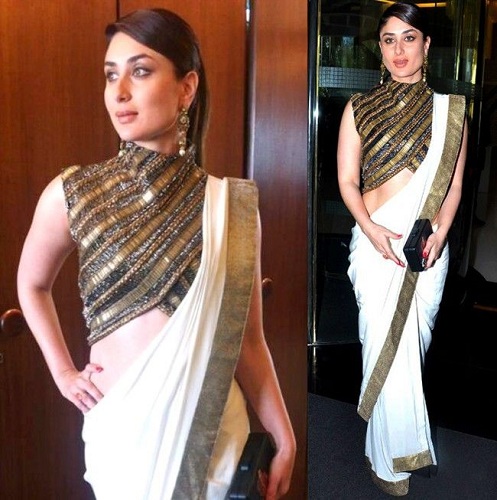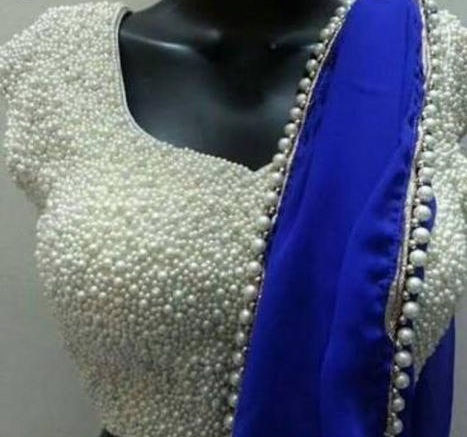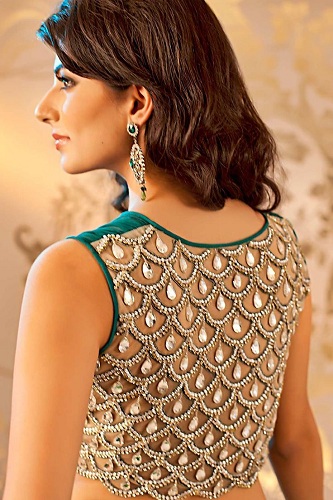 Designer Blouse
No wardrobe is complete without a designer blouse.It is one of the "must-have" blouse which can be found everywhere – online or offline stores. Infact no blouse today is sold without a designer label on it. Internet is full of designer blouse designs created by all the designers who you can think of, so just grab a style and achieve your designer look.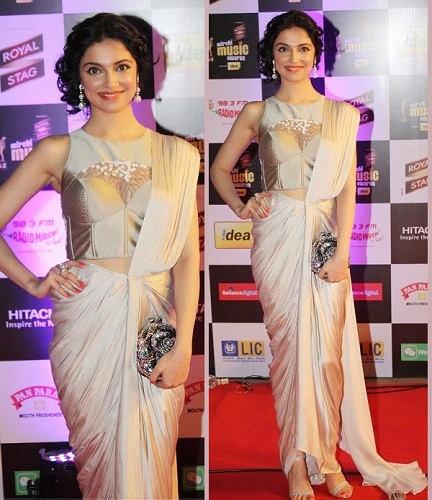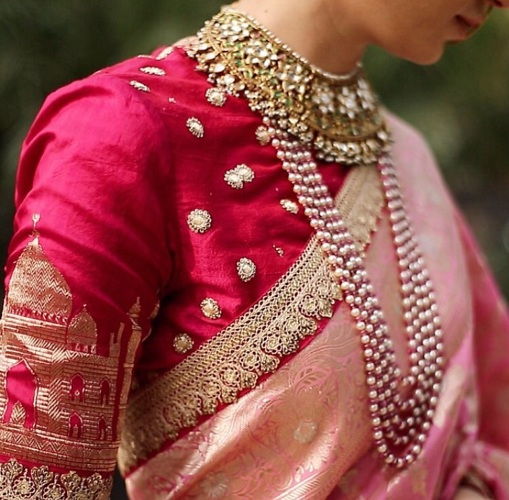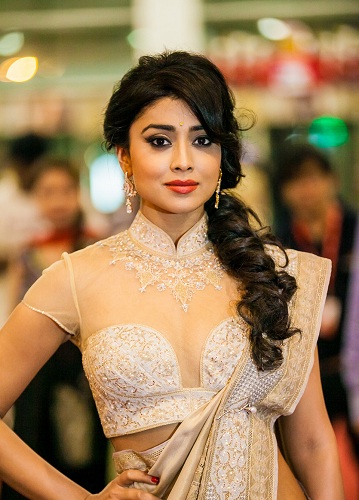 Lehenga Saree Blouse
The look of the lehenga completely changes after changes after wearing a full conceptualized lehenga style blouse. Lehenga saree blouse is easy to drape and looks trendy. Its perfect for weddings and festivals.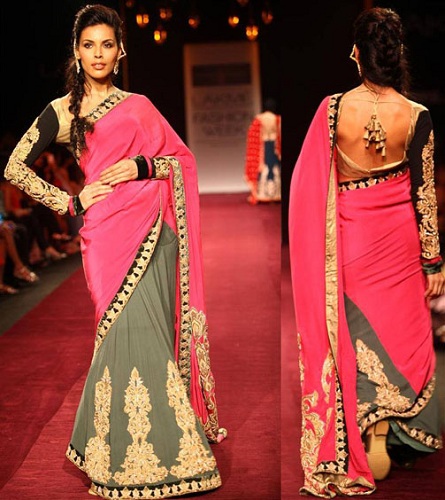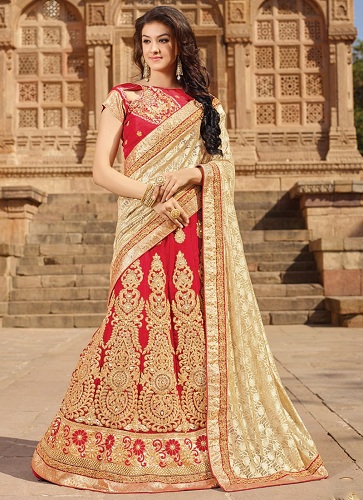 Customized Designer Blouse
A new rage among females now-a-days is to have a fully customized blouse design that will match your body shape. Customising the blouse as per your comfort and choice is easier and just looks fab. Bollywood actress flaunt out their new customized blouses than the saree.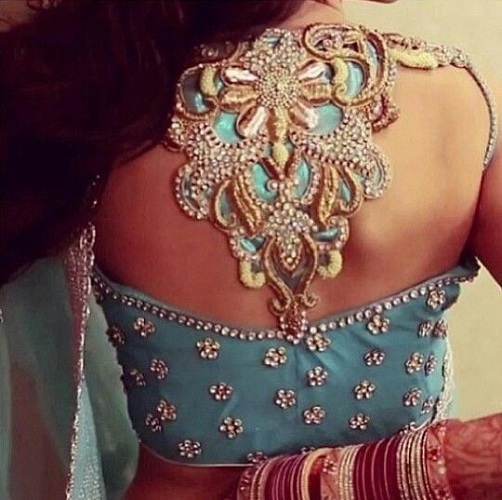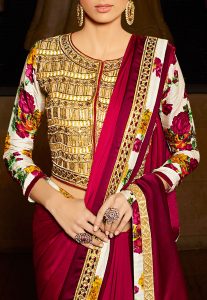 After choosing the correct blouse pattern, the next important part is to decide how to customize your blouse sleeves, back design and most important the front neckline.Take extra care while choosing the neckline as it may affect the overall.The front neckline design can be customized by adding beads, stonework, colorful shimmer work,kundan work ,zari work which further upgrades the blouse.
Let's explore some of the neckline designs below:
Round Neck design
The most hassle-free and a daily wear blouse pattern is the round neckline. Top it up with sheer full sleeves to complete the look.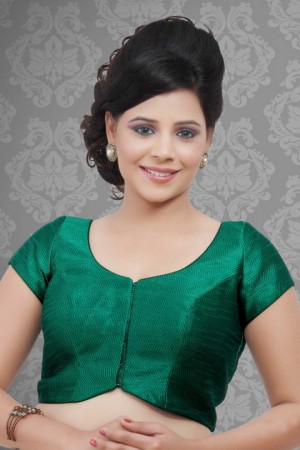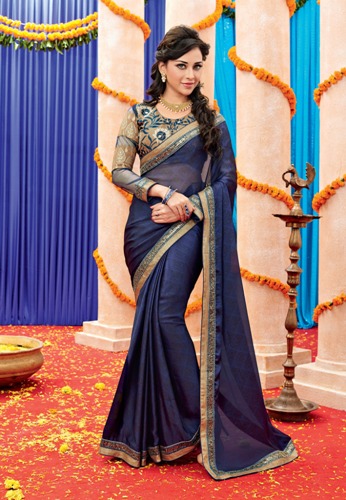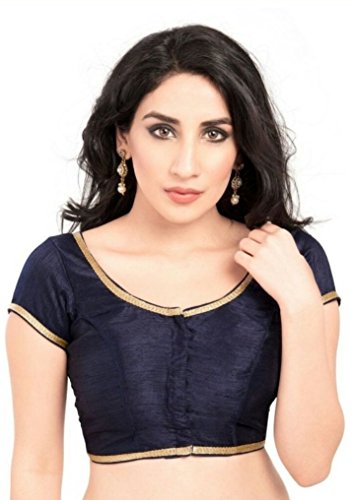 V-Shaped Neck Design
V Shaped Deep neck is bound to make you look and feel sexy. Compliment this neck design with a knot at the back.Best for parties and social events.Chiffon, georgette fabrics will be perfect for knots.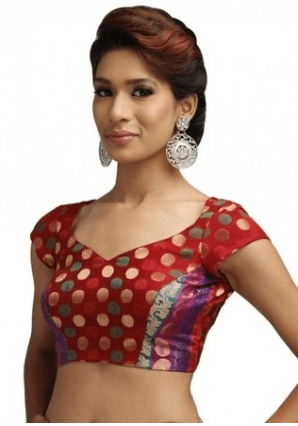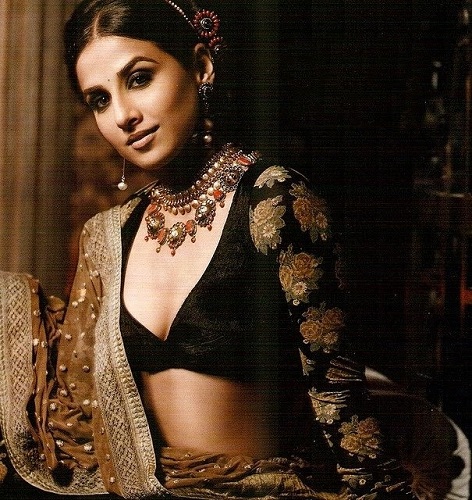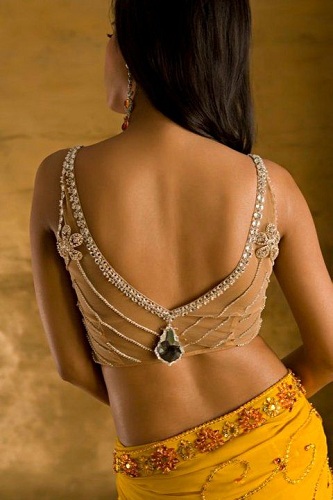 Square Shaped Design
Most popular choice of women is the square shaped blouse design.Easily customized with different sleeves and looks great with variant colors.Suitable for all occasions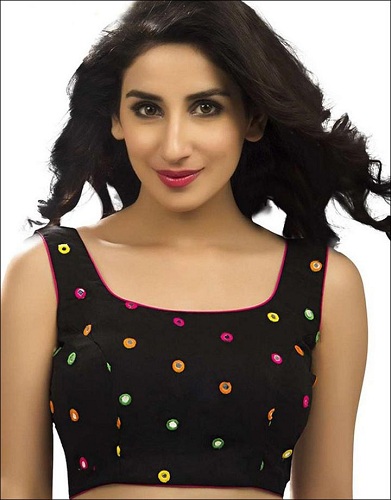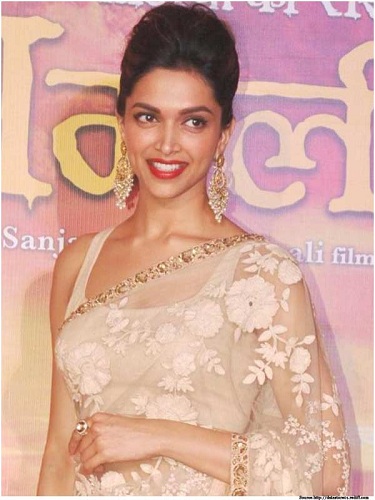 Collar Blouse Design
Ideal for both offices and parties. Gives you stylist yet formal look. Prefer this neckline design if you have a long face or narrow shoulders.Tune up with embroidery work near the collar to make you look more stylish. Wear it with net lehengas, chiffon saree in fact with any type of saree.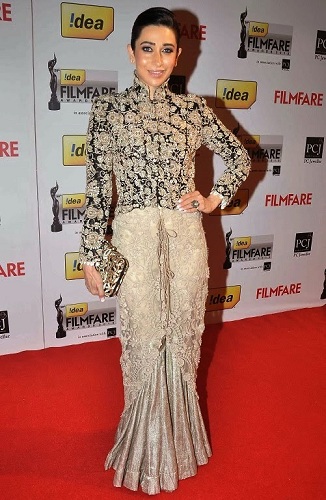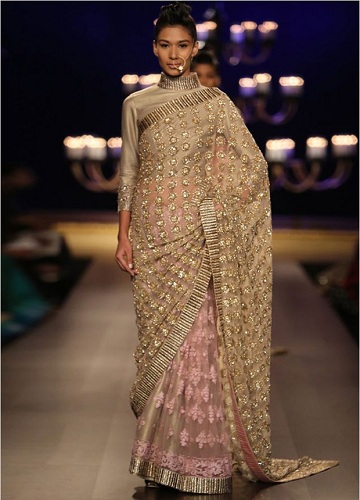 Boat Neck design
Boat neck design is ideal if you worry too much about your cleavage show. It's comfortable and still makes you stand off the crowd. Quite popular among our Bollywood celebrities. Customize your boat neck design blouse pattern filled with floral embroidery all over or with a net around the upper part of your neck or with mirror work which looks heavy or with cut work around your neck. Pair up your boat neck with princess cut to make you look more glamorous.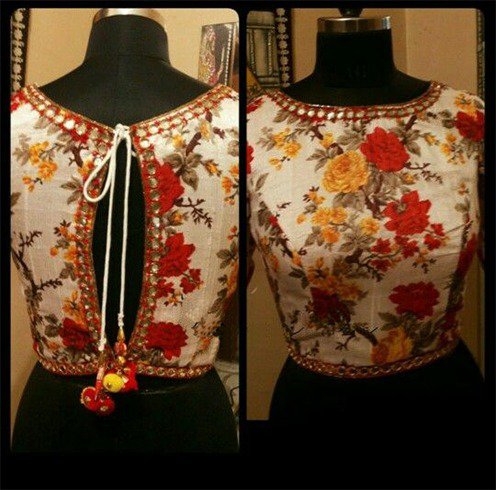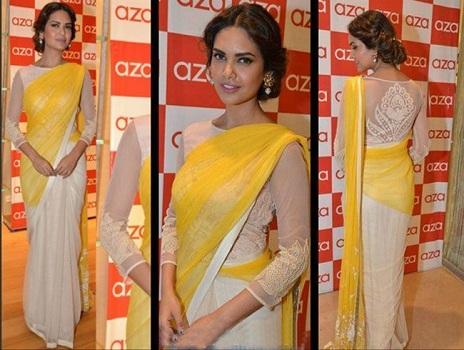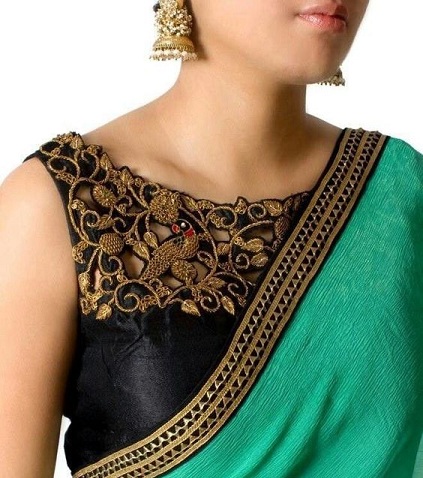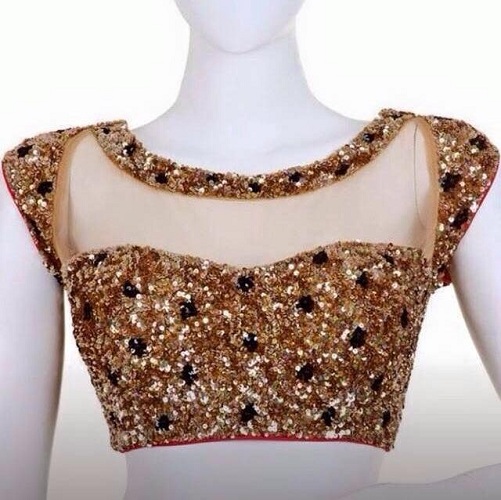 Cape Style Blouse
The cape style blouse has revived from medieval times and is taking a rage among females. The cape can be short, long, floor-length – all adds up to your fashion quotient. Go for embellishment with collar over your cape to make it look more ravishing. Try it with sheer to make you look gorgeous.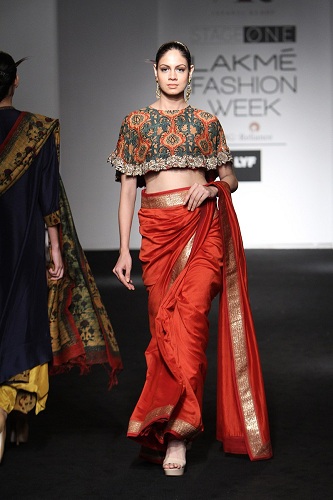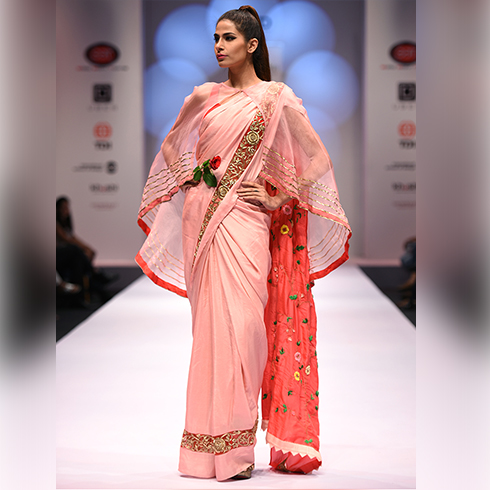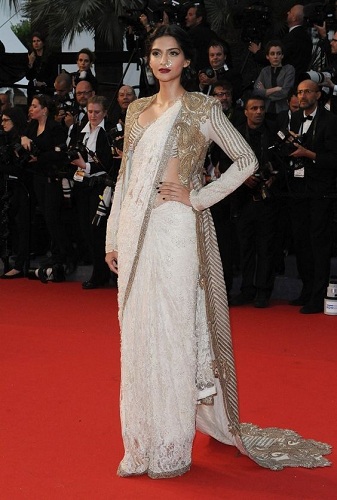 Shirt Style Blouse
A successful fusion created by combining western style blouse and traditional Indian wear which managed to grab attention in a small amount of time. The material of the blouse need not be specific just it should be well-fitted. Designers like Masaba Gupta, Sabyasachi have also tried their hands in customizing this style and achieved a lot of appreciation for it. So girls, just find a plain or a funky t-shirt and pair it up with your casual saree.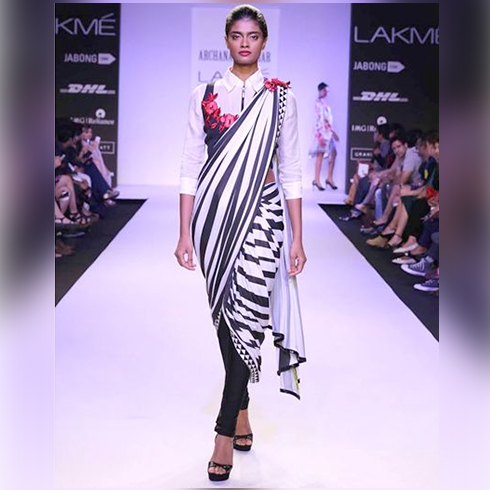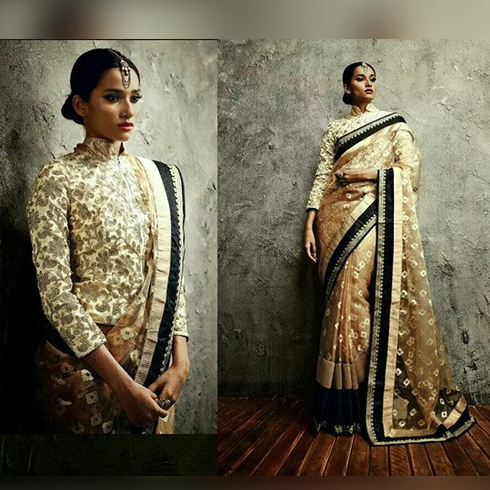 Jewelled Blouse
The jewelled blouse is a blingy invention which adds an oomph factor to your look -thanks to the embellishment done with stones, pearls or beads. The embellishment can done all over the neck or deep cut back.Great for parties, housewarming parties or any social events.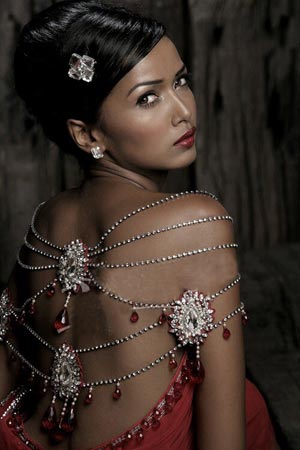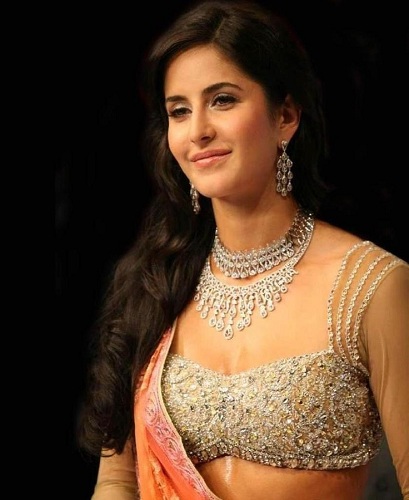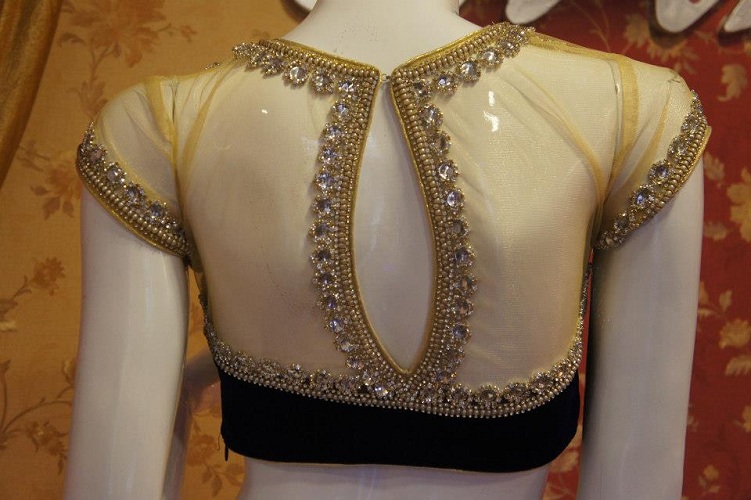 Jacket Style blouse
Jacket style blouses are sure a delight to your eyes as it further enhances your style quotient when you wear a saree. The Jacket can be short, vest-like collar or a long jacket that you can wear at different occasion combined with different drape.Top it up with a metallic belt to give you a classy look.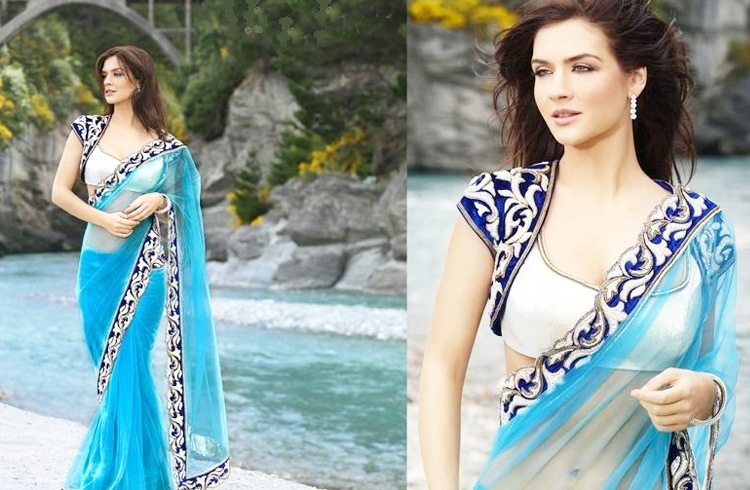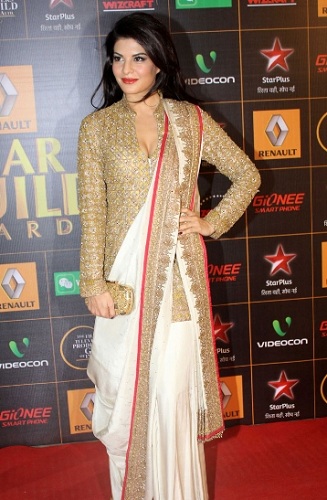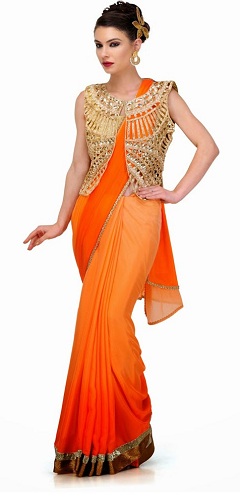 Peplum Style Blouse
Another new fusion blouse design which is garnering popularity is the peplum blouses. Try your old peplum shirt and combine it with any contrasting saree to complete this look. Go for embellishment done with sequins or any mirror work to achieve a festive look for any wedding, parties or social events. Still wanna look more stylish and modest, accessorize with a belt at your waist to rock the look.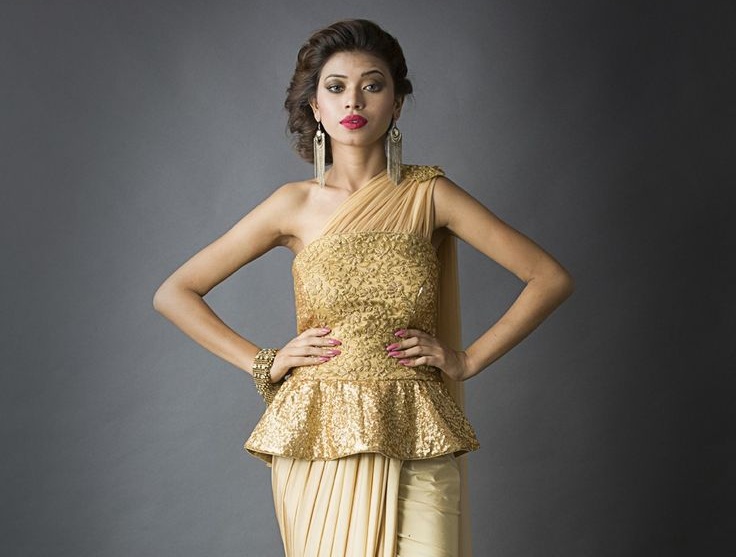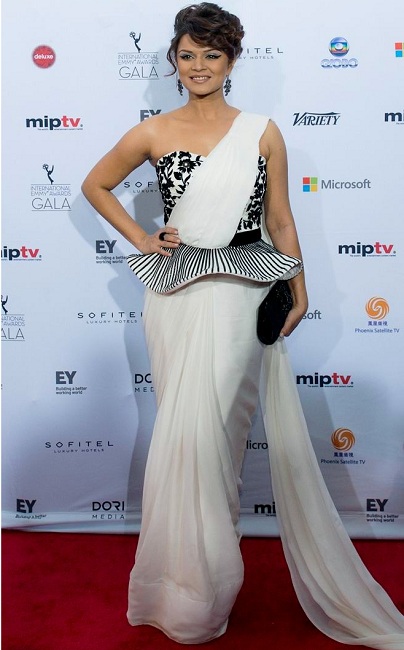 Let's explore some of the blouse designs which will surely increase the temperature around you.
Tube Style blouse
Tube style blouses were worn by our Bollywood celebrities at different occasions. Flaunt your zero covered neckline and go strapless with this almost nude style blouse. Try embellishing the blouse to make you look sexier among your peers.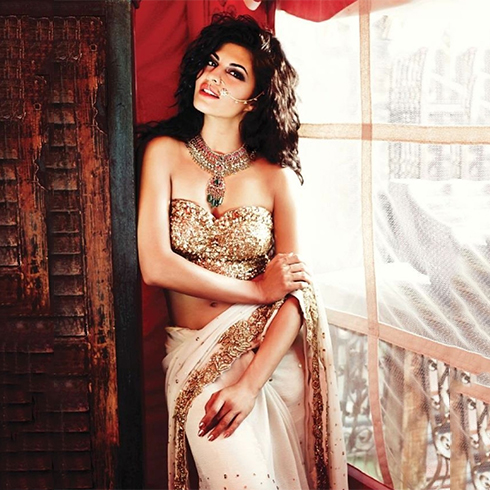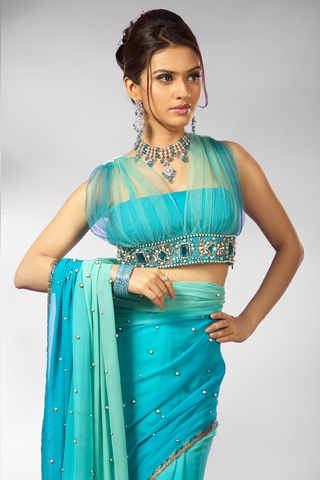 Bra Style blouse
Bra style blouse is another version of the strapless blouse. Have a well-toned body, go for this blouse design and it will definitely make people go red around it.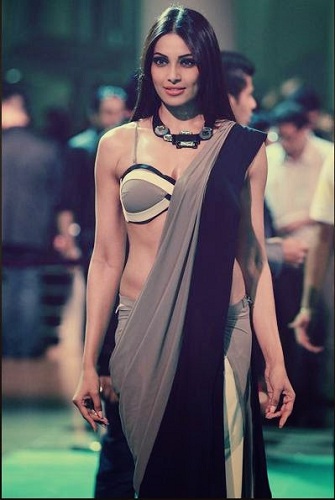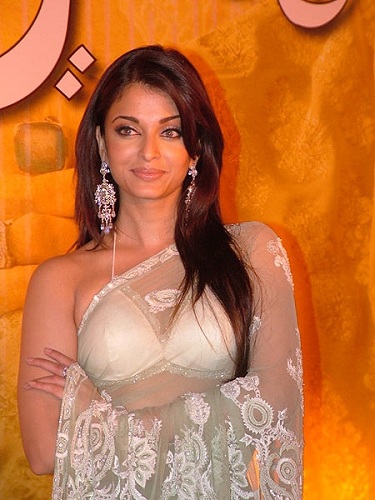 Backless Blouse
The next bold blouse design which is immensely popular among females are the backless blouse. Backless blouse combined with low navel sarees look fascinating and sexy and soar the hotness in any party. But before proceeding for a backless blouse we need to take care about below points: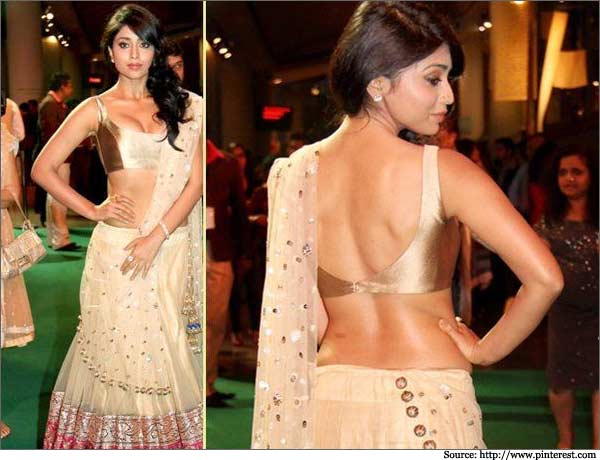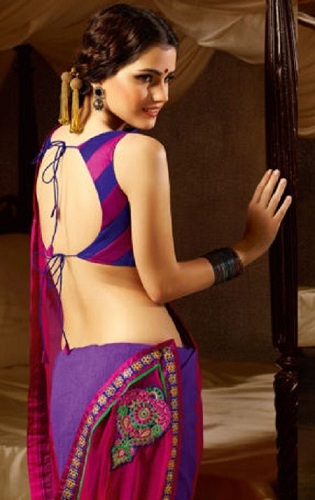 Backless blouses stand out sexy if your back is completely waxed and highly polished.Take care to moisturize and exfoliate your back too.
Be careful while wearing bra under your blouse.The bra straps should be perfectly fixed and not popup out of your blouse black strap. Avoid removing bra completely as without it the bust shape loses order and makes you feel uncomfortable.
Make sure the blouse is fixed properly – the knots at the strap are closely clasped, all buttons are hooked or the tassels/latkans are tied up.
Avoid leaving your hair down as it will sway away your sexy backless look. Tie your hair up to make way for your glamourous back.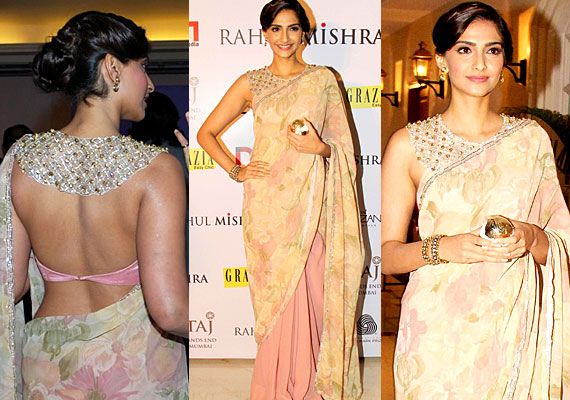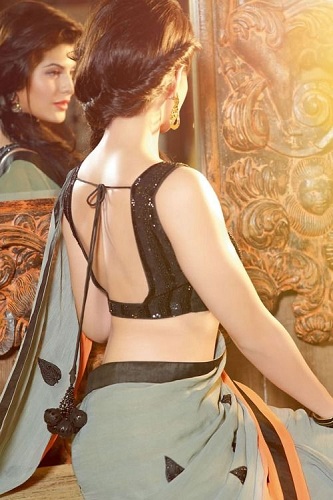 Blouse Fabrics
The fabric for the blouses largely depends upon the body shape.Each fabric has its own specialty and its reflect on the person wearing it. A correct fabric should be chosen before any customizations, embellishment or embroidery is done on it to make sure it doesn't wear out after first use.Choose from wide range of fabrics -cotton, blouse .crepe, georgette, net, chiffon, raw silk, silk, brocade, sheer to make light-weight or heavy embellished blouses as per requirement to look gorgeous and stylish.
[wonderplugin_slider id="2″]
Type of Sleeves for Blouses
After blouse neck and back design patterns, the next important factor is the sleeves which add to the beauty blouse.The sleeves should be chosen with great care as the wrong sleeve will spoil the look. Sleeves should be chosen based on the body type to look more fashionable.
Quarter sleeves
Quarter sleeve is popular among women of all ages. This sleeve can be worn in wedding functions, formal parties, social events. There are different colors and patterns to choose from. Keep the sleeve simple or have some embroidery work on the sleeves or mirror work border to look fab in this sleeve.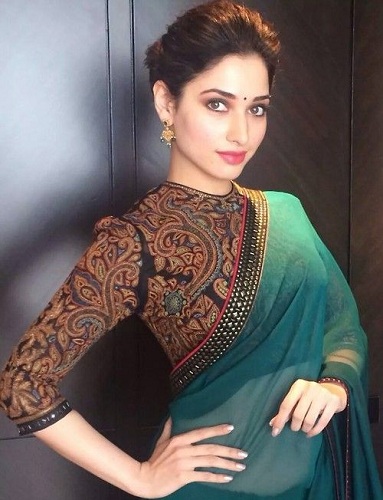 Full sleeves
This is a classy piece as it goes with all body types. Try this sleeve with any fabric from brocade to net and with any neck design to emphasize your beauty and elegance.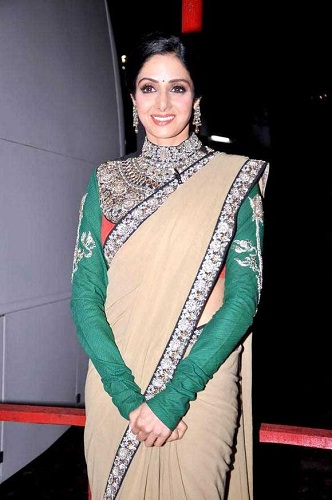 Cap sleeves
Cap sleeves looks good on well-toned women and with lean shoulders. It's a small sleeve like a cap attached to your blouse but still makes you like a diva.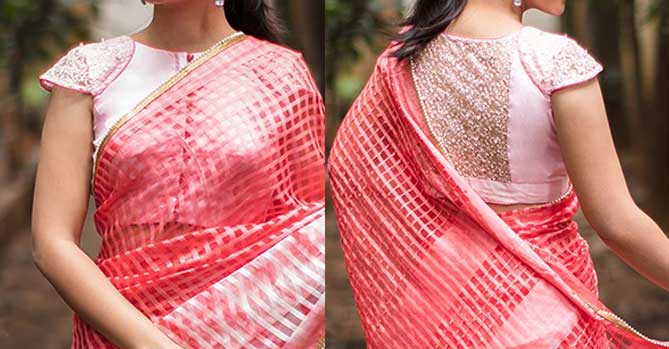 Half sleeves
Half sleeves are few lengths shorter than quarter sleeves. It's highly comfortable and hence its the number one choice for office going women and housewives.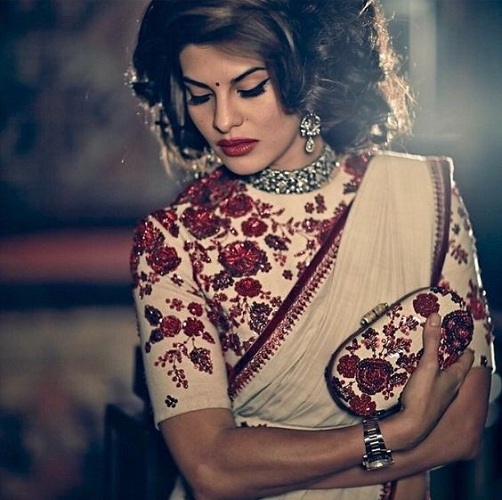 Spaghetti
Inspired from spaghetti tops, it makes you feel comfortable and sexy at the same time. The straps can be simple, or embellished with beads, pearls or stones. Choose the strap based on your saree style and fabric and the occasion you need to wear.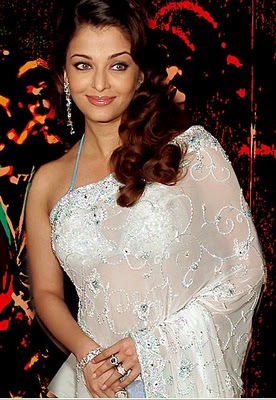 Puff Sleeves
The puff sleeves are the evergreen sleeves running through ages and have come back with a bang. Multitude of designs can be created with puff sleeves to make your saree look royal and elegant.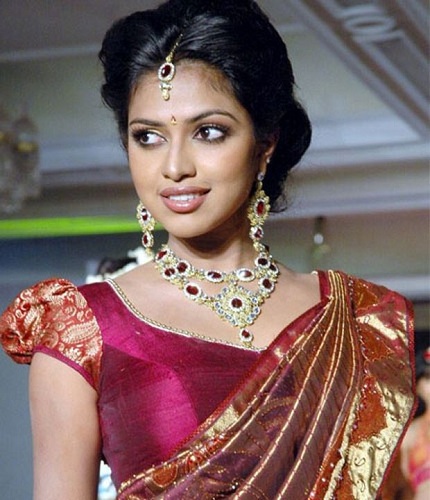 Off shoulder
Adapted from the western wear, this type of sleeves comes slightly down the shoulder. It adds a trendy and a sassy look to your saree.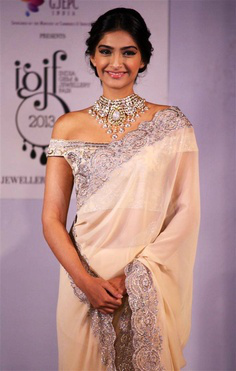 Accessorizing your blouse
The blouse can further be accessorized by adding latkans/tassels at the back the blouse . A wide of variety of latkans are available in the market made of ay material you can think of. Use your imagination to create an intriguing tassel and add charm to your blouse.
[wonderplugin_slider id="1″]
So ladies, buckle up and add some twist to your regular blouse to make you look gorgeous and carry your confidence with grace in your desi avatar!