Dressing your daughters can be fun. Choosing a stylish and trendy dresses for girls along with matching accessories and classy shoes can be an exciting job. However, the same task can be challenging when you need to hop from one store to another to get the best. In such a scenario shopping online presents the perfect solution for buying exciting stuff for your sunshine.
Whether looking for a perfect dress for girls or pretty accessories, you can find a plethora of options online. Especially when you wish to buy party dresses for your daughter, you look into every minor detail to make sure your little girl looks beautiful and feels comfortable.
So, if you too are looking for stylish and beautiful dresses for your little princess, then we have picked some trendy and comfortable dresses to help you get started.
Little Red Riding Hood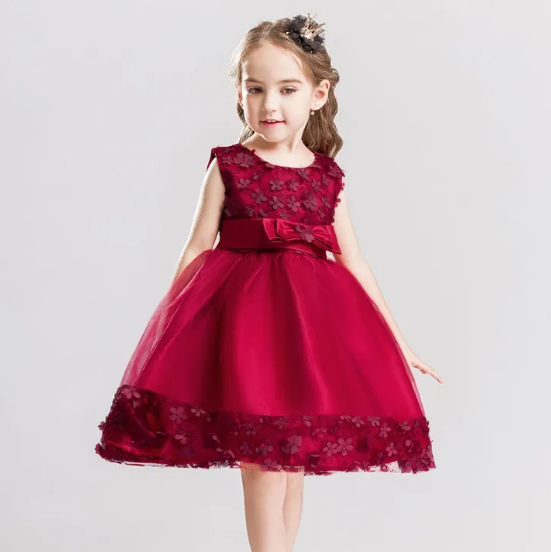 Elegant Maroon Bow Applique Knee Length Party Dress
This elegant maroon bow dress will make her look like a little princess. We are sure she is going to love it the moment she wears it. The flowery detains on its chest, and the bottom gives a charming look. This dress for girls will be an excellent addition to your daughter's wardrobe and will make your little diva look super adorable. When your daughter wears this for an evening party she is going to be the cynosure of all eyes.
Little Pink Fairy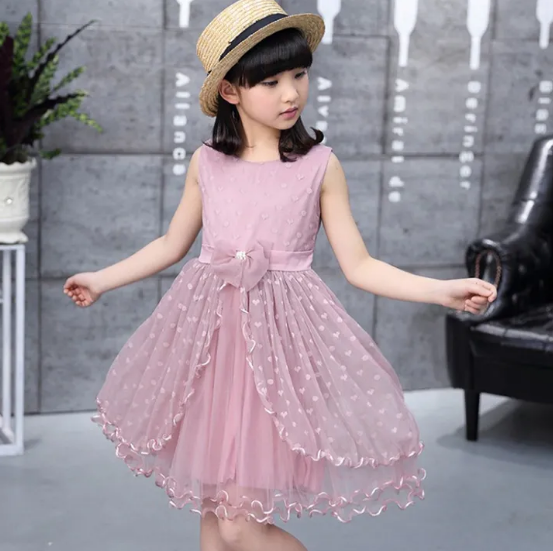 Heart Print Sleeveless Party Dress
We know your little fairy wears her heart on her sleeves. This pretty dress that comes with printed hearts and frills will complement your daughter's charming persona. Guess who will be most happy about it? Well, it's going to be both you and your daughter, especially when people will shower her with compliments and affection. You can pair it with a hairband or a ponytail along with white shoes, and she'll be all ready to enchant everyone.
Stars of Wonder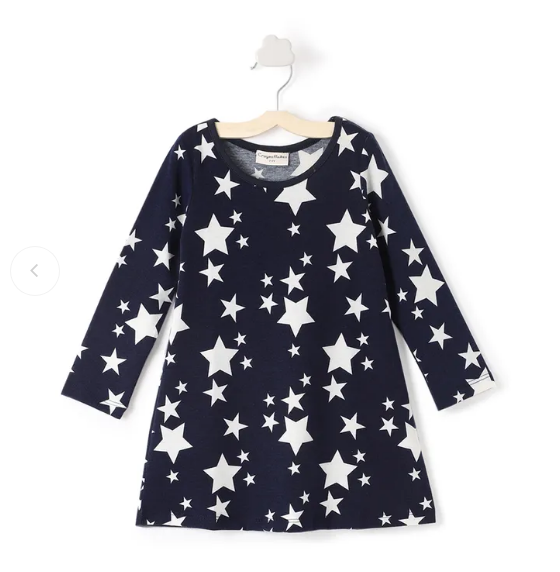 Stars Print Full Sleeves Navy Dress
We know that your daughter is the star of your life whose twinkling eyes lighten up your world. This black dress that comes with printed stars will make her look lovely as she makes her way through the crowd. This dress will go with a nice pair of bellies and a headband with a white flower applique work. We are pretty sure your cutie will be all set to rock and roll.
Sequin and Stardust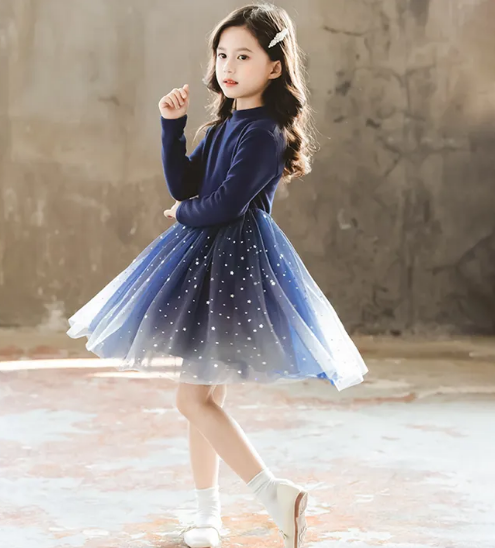 Blue Full Sleeves Dress
One glance at this beautiful dress for girls will make you want to buy this outfit for your little darling. What makes this dress attractive is the glittery star work on its frill, which will add a lovely touch when she swirls and twirls. Your daughter can wear this with white socks and bellies or white shoes, along with a tiara on her head. Without any doubt, your darling will look no less than princess Elsa.
Little Jane Austin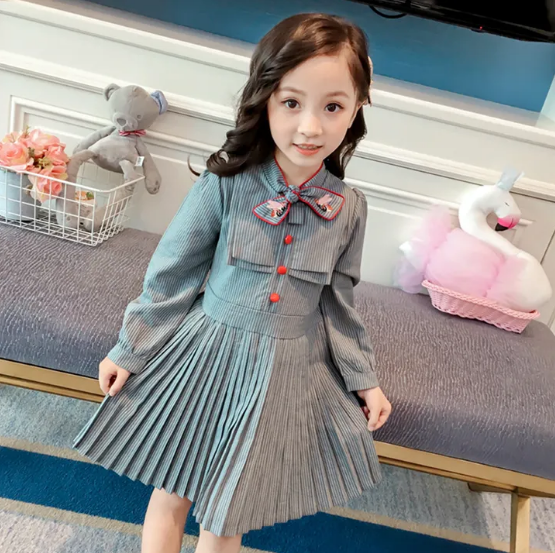 Green Solid Full Sleeves Applique Casual Dress
Classy is always in fashion, be it for you or your little one. We know you secretly adore your daughter a little more when she carries herself with confidence and cuteness. This ladylike dress will make your little darling look adorable and a smaller version of Jane Austin. The bow on the collar and the pleated flow down the waist will give her an elegant look. Pair it up with a lovely hat and a pair of ballerinas and hand your daughter a cute jute bag of her size to round up her look.
Shop Until you Drop
Christmas is almost here, and you may be planning to take your daughter places to enjoy the Christmas vibe. So, if you are looking for a perfect and trendy dress for girls that you can purchase in the comfort of your home then kid's fashion portals like Hopscotch can be the best bet for you. Here, you can find various styles in everything ranging from dresses to tops to nightwear. Not only that, but they also provide stylish outfits for boys and cute clothing for newborns and babies all of which are comfortable and of the latest fashion. You can buy the clothes at your convenience and then choose a payment option that suits you. Your purchased items will get delivered to your doorsteps in about a few days.
So, this year-end shower your daughter with gifts and goodies.