Many may think why it is necessary to try different nighties when you just have to sleep wearing it. But for a fashion freak, who eats, sleeps and live for fashion can definitely understand how much it is important to use the right nightwear. Undoubtedly, you may opt for the nighties that are comfortable, soft and don't hinder with your good night sleep. As the season changes, you should change your nightwear so that it suits the climate. And at the same time, it should be fashionable too.
If it is summer, transparent, lace and cotton nighties are the most comfortable ones. While during winters, you must wear warm fleece for the cozy sleep. And if you are a would-be bride then the sexy, fashionable, and revealing nighties are the best pick for your first wedding night. But if you are confused which nightwear to pick for different seasons or for your wedding night than just follow this article as we are going to brief about the different types of nighties.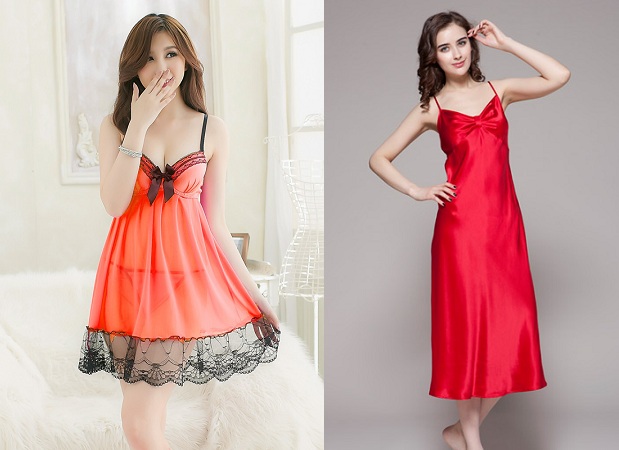 As the summer has just passed and winter is approaching, let's us first have a glimpse on the types of winter nighties.
Winter Nightwears
During the winter season, everyone wants to stay warm and cozy under the blanket especially at night. So to stay comfortable, you need to wear comfortable and warm clothes. Winter nightwear comes in different styles and fabrics. Listed here are some of them: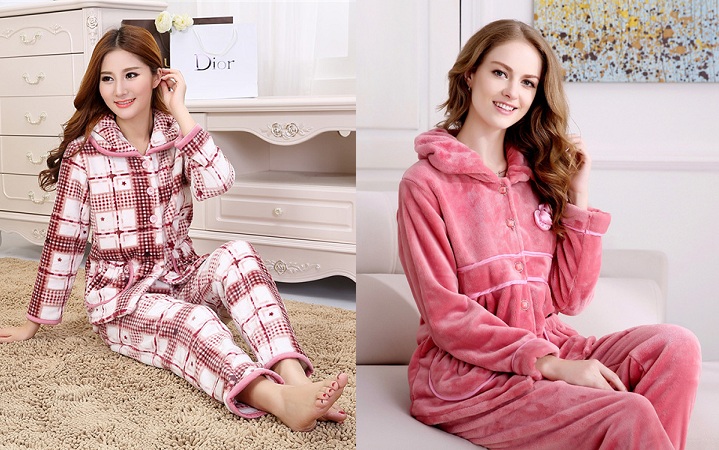 Regular Long Night Gowns
Long and full covered nighties are the most common and comfortable ones. This nighty sometimes comes with front zip for extra comfort. They come in full, half or sleeveless designs. They are available in the variety of colors, vibrant prints, and cotton or synthetic fabrics.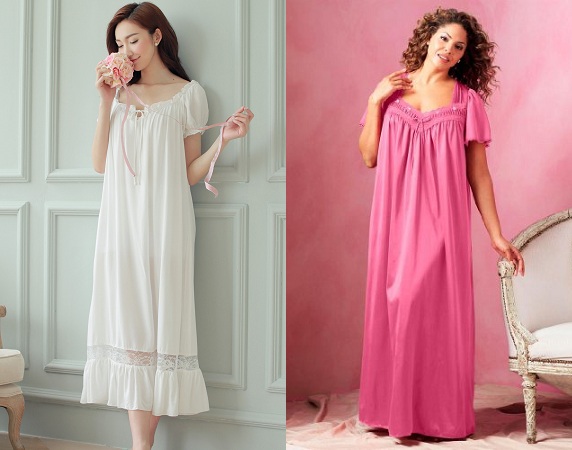 Fleece Nighty
Fleece nighty is one of the most popular winter nighties. They are warm, comfortable and cozy. Actually, it is best for the winter season as the fabric keeps your body warm while sleeping. So, even your blanket slipped away, you don't get cold while sleeping as your body is warmly wrapped in fleece nighty. Fleece nighties are available with appliqué patterns and adorable designs. Pick one for this winter season to stay warm as well as fashionable.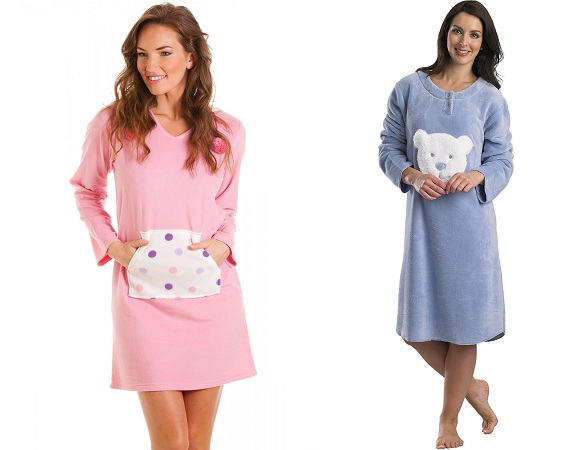 Lace Nightwear 
Lace imparts a feminine look to any piece of cloth. It is no different for nighties. Lace winter nighty not only reveals your impeccable taste for clothes but also makes a style statement. Frills around the neck and at the bottom of the dress make it look very unique and stylish. What are you thinking then, go and buy a lace nighty for the coming winter season.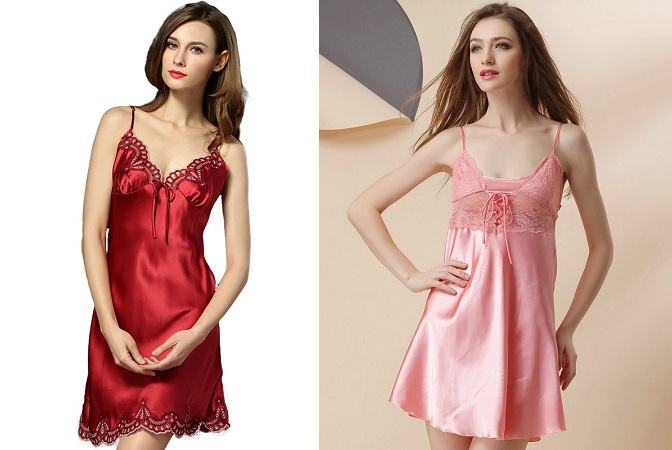 Velvet Nighty
Though velvet is not much in fashion right now, you can still opt for it if you want to stay away from the fashion crowd. It is needless to mention that velvet nighty is very soft, comfortable and helps to keep you warm during terrible winter nights. Velvet nighties are mostly available with a robe which can be closed with a belt. It is also available in happy colors and prints. So, go for the one that suits your body and taste.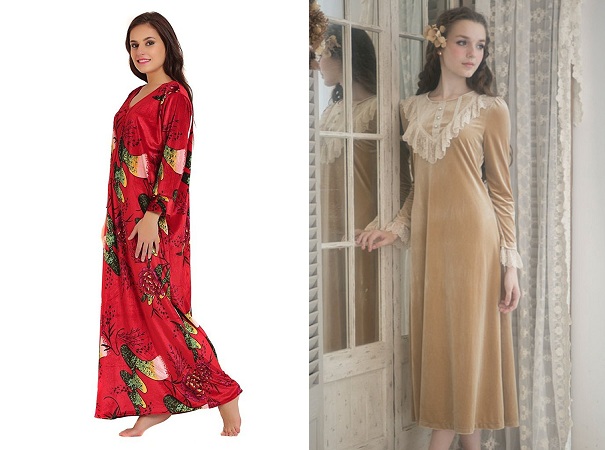 Pleated Bodice Nightwear
If you like traditional styles then pleated bodice nighty would be the best pick for you. This style got small pleats around the chest which gives the whole dress a flare look. It has buttons on the chest for easy wear. And the full long sleeves is best to keep your body warm during long chilly winter nights.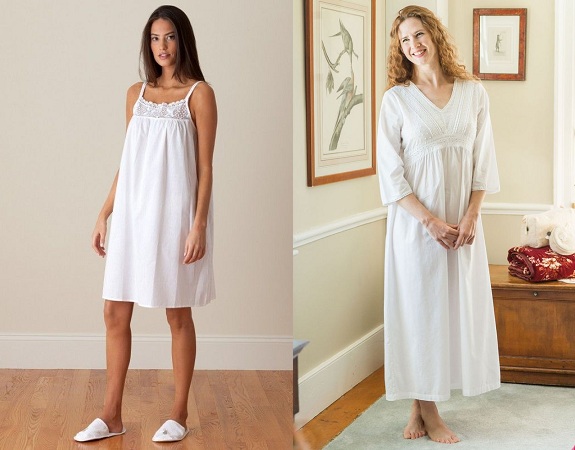 Victorian Style Nightdress
Victorian style nightdress also comes under the traditional style. It is basically an English fashion nightwear. You might have seen this style in old English movies. It has loose puffed sleeves with frills at the end of the sleeves. The frilled neck collar also boasts the traditional English design. So, if you want to go back to the Victorian era and live it then this style is a must for you.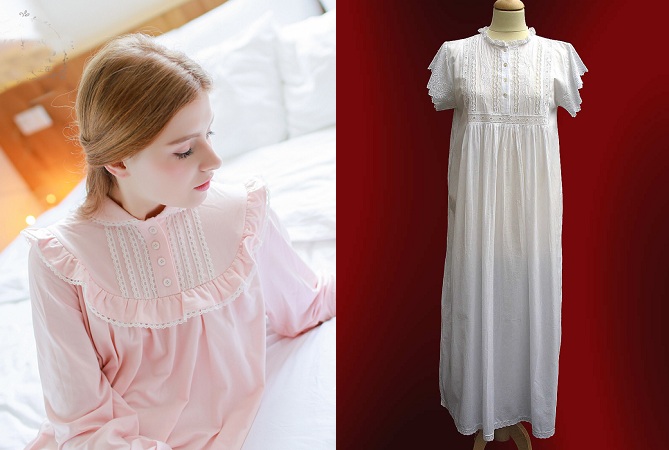 Shirt Style Nightwear
Here is another stylish nightwear for you. If you want to look stylish and unique even in your bed then you must have shirt style nighty. This nighty has the shirt like a collar with full buttoned till the end. The sleeves are long with buttoned up for a warm comfortable feel.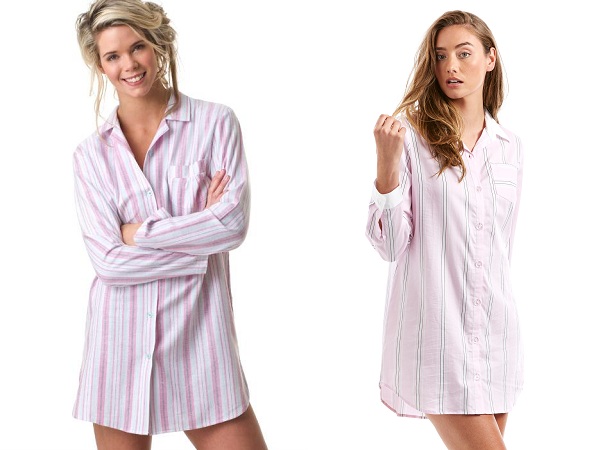 Quilted Nightwear
Quilted nighty is the best option for winter cold nights. It is made of the quilt material that provides comfortable and warm feel just like a blanket. It feels like that you are wrapping up a quilt around you. So opt for this nightwear and say good bye to cold.
Blouse Style Nighty
This is a full-length nightwear which provides all the comfort and warmth needed during the cold winter months. Available in soft and warm colors, it has a blouse style bodice.  It had full sleeves with a pull string neck opening for easy wear in and out. The front look is complimented by the buttoned blouse and the little waist cutouts. Overall, the design looks very eye-catching and beautifully accentuates the beauty of a women body.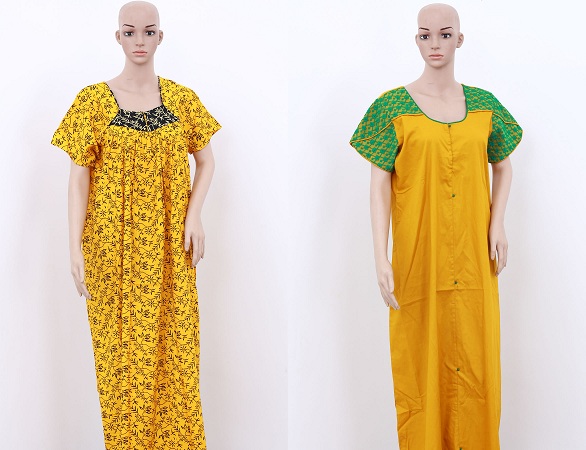 Summer Nighties –
Well, summer is the time when you all want to stay as cool and comfortable as possible. And if you ask any woman about the dress they are most comfortable in summer. The answer would be definitely nighties. They are loose, airy and comfortable like no other attire. Summer nighties also come in a different pattern, style and fabric. Listed here are some of them for you.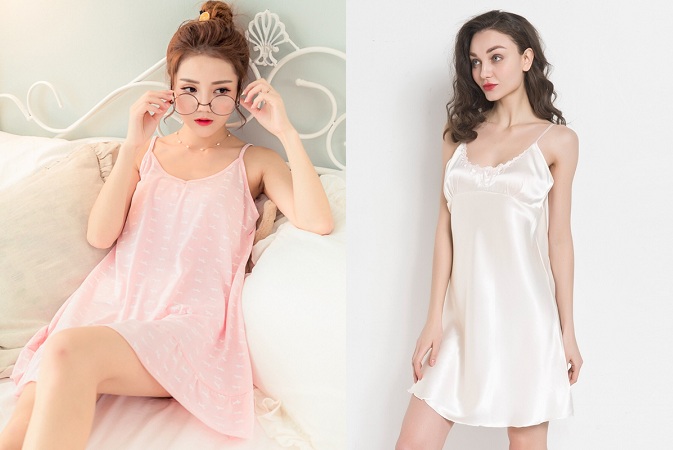 Cotton Nighty
Cotton is a natural fabric and best for the summer season as it is soft, airy, and suits the body temperature. Another best thing about cotton nighty is that they are loose and free style. When you wear cotton nighty you don't feel any burden of wearing a cloth and feel very comfortable. They are available in many styles and patterns.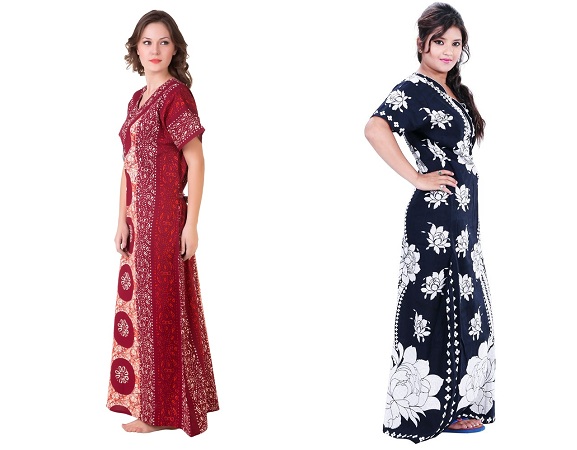 Sleep Shorts
Sleep short is the favorite nightwear among young ladies. If you love short attires than sleep short is the best nightwear for you. They are available in many pattern and designs. You get short sleeves, sleeveless, and beautiful floral designs. Flaunt your slim and trim body and well-shaped thighs in this nightwear and look beautiful even on your bed.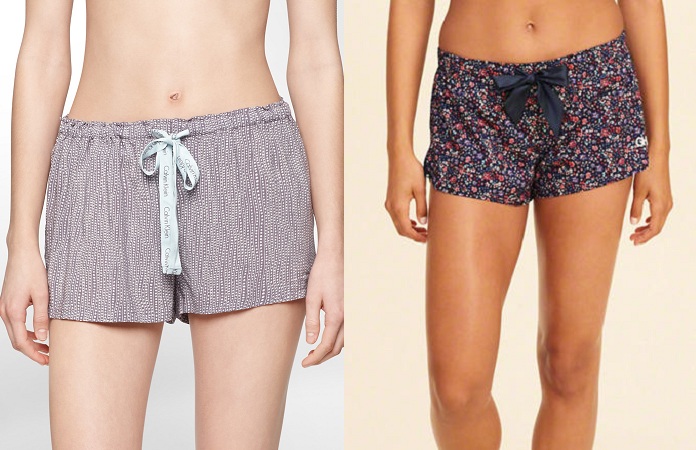 One Piece Nighty
One piece nighty looks very trendy and at the same time, it is very comfortable too. This nightwear looks very attractive on young ladies. It looks different due to its length which is up to the knee. You will feel comfortable in this nightwear due to its short length and airy loose cut. Just try this attire to boost your feminine side.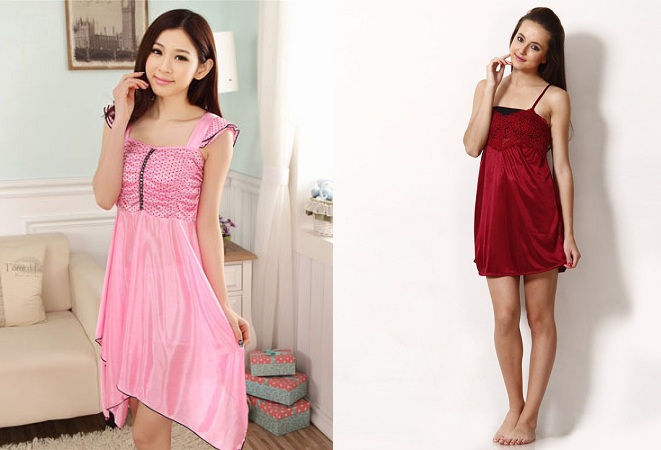 Side Slit Cotton Slip
Side slit cotton nighty is the comfiest nightwear you can ever have. Impressive neck cut and sleeveless sleeves make you feel super cool in the hot summer season. The best part is that it adjusts to the shape of the body and fits any body type as it comes in the elastic fabric. Though sleeveless, the stripes are broad and comfortable on the shoulders.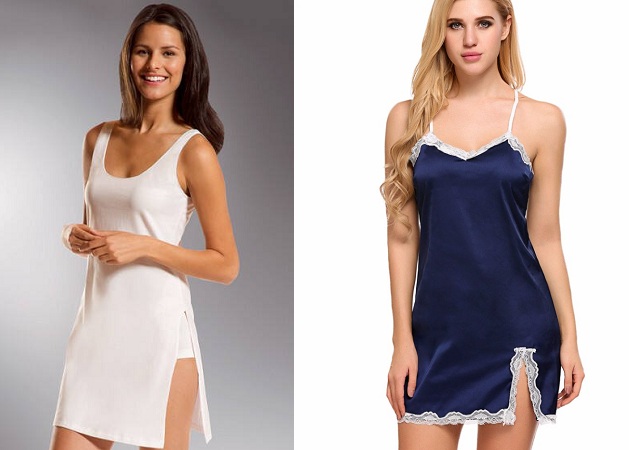 Jumpsuit
Not only as casual wear, jumpsuits also in fashion as nightwear. They are very popular among young ladies both as casual wear and nighty.  It is one piece of dress that perfectly covers you from neck to toe without any elastic belt to hang the pajamas. It comes in hosiery stretchable material for a soft and comfy feel.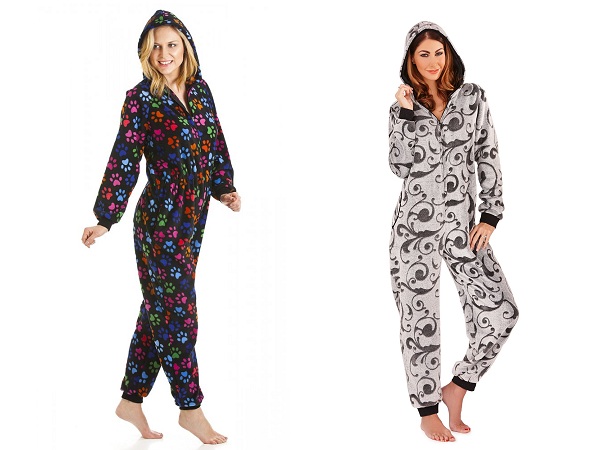 British Night Pajamas
This nightwear is English style attire. It usually comes in checkered print which looks classy and attractive. It mostly comes in shirt style top and loose pajamas as a bottom. If you are looking for something exclusive in nightwear then go for British night pajamas.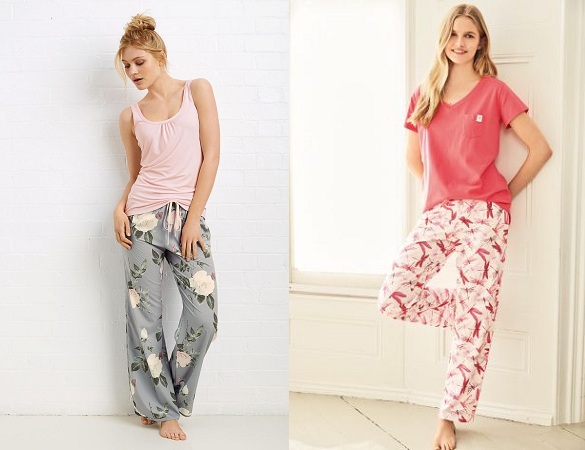 Kaftans 
Kaftans are also very much in fashion nowadays. It provides a unique look to the wearer with its loose and oversize design. Therefore, it is a very comfortable nightwear. Kaftans come in two different styles: one is gown style and the other is bottom two paired kaftan. Gown kaftan is just like loose cotton maxi nighty, the only difference is the loose and flowing sleeves.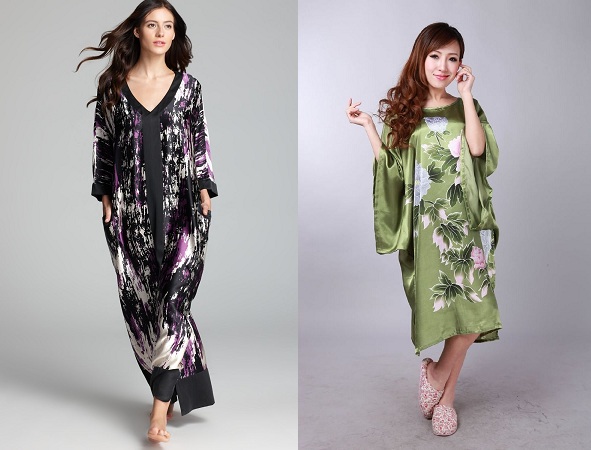 Bridal Nighties
First wedding night for every bride is special. Any bride wants to look her best on her wedding night and so it is very important to choose the right nightwear. Like bridal makeup, attire, and jewelry, bridal night wear is also available in many varieties. From two piece night gown to transparent nighty, there are some many options to choose from. Not only first wedding night but it also makes your honeymoon a memorable one with the sexy and attractive nighties. Here is a list of best bridal nighties for a new bride. Just go through the different types and pick the one that perfectly suits your body.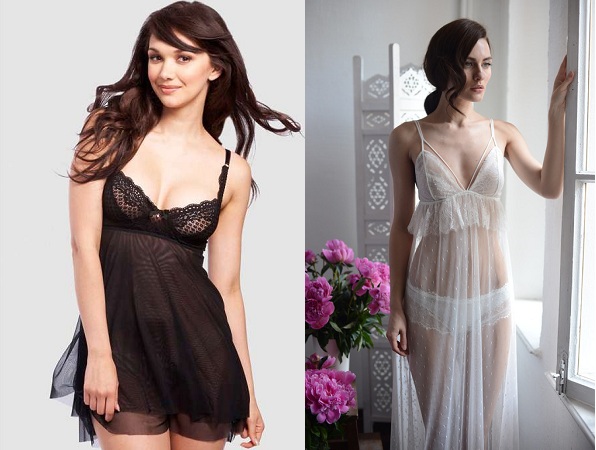 One Piece Nighty
You can opt for a one piece glamorous nighty for your first wedding night or honeymoon. They are sexy, comfortable and the best pick for any new bride. They are available in laced shoulder strap and a knee length. The curvy cut and slick look are sure to allure your love for the romantic night. These nighties are available in vibrant colors like red and pink which are the colors of love. Make your special night even more romantic and memorable with this attire.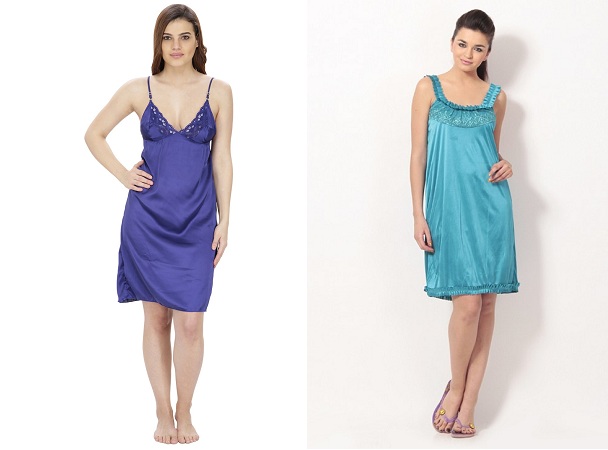 Two-Piece Bridal Nighty
This two piece nighty is all you want to have a romantic first night. The silky satin fabric gives you a lovely feeling and makes you ready for the much awaited first night. You can also stock it for your honeymoon trip to seduce your husband. The two piece nighty comprises a backless stripped slip knee length short or until thighs and a robe king to cover the entire body.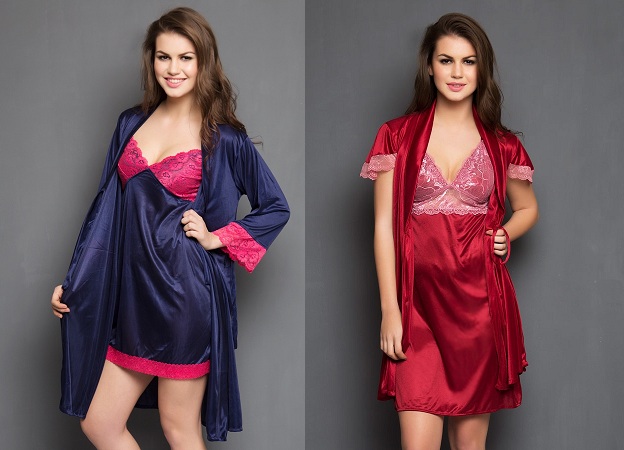 Three-Piece Bridal Nightwear
The three piece bridal nightwear is also an alluring choice for your first night or honeymoon nights. As the name suggests, it has three pieces of cloth. It has a short beautiful attractive top with lace border, a short, and a robe that covers the whole nightwear. They are available in dark and enticing colors making you look even more seductive like red and black.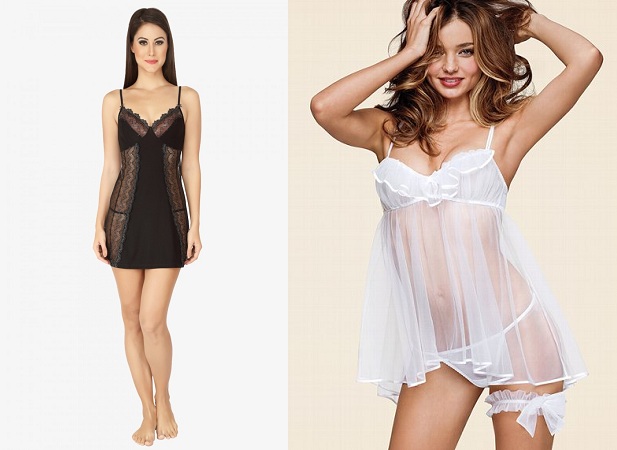 Four-Piece Wedding Nighty
Make your first night special with this four piece wedding nighty. Yes, four piece! This is the best surprise you can give to your partner on your wedding night. Open one piece after another to seduce him, allure him and enchant him with this nighty. The four piece of cloth that come with this nightwear are a pair of lingerie, a pair of short and top, a lace bra shaper, and a laced robe to cover the entire body. This nighty is also available in bright seductive colors like red, black and deep purple.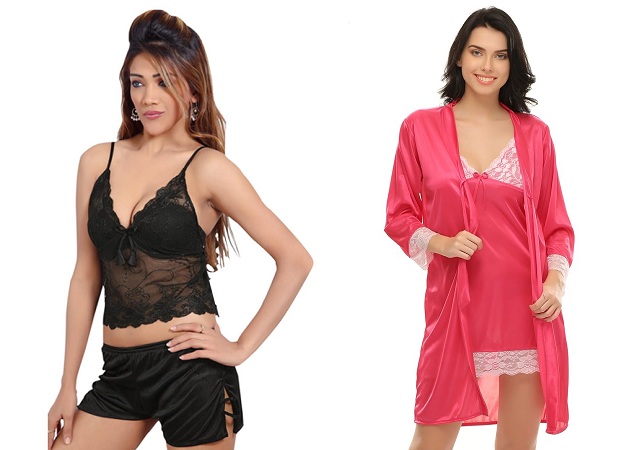 White Laced Nighty
Though white is a color of peace at the same time it is a color of romance when clubbed with lace motifs and wore during a full moon night. Your white laced nighty will complement the romantic moon light and make your night a memorable one. Go for it if you want to make your first night a classy and romantic one.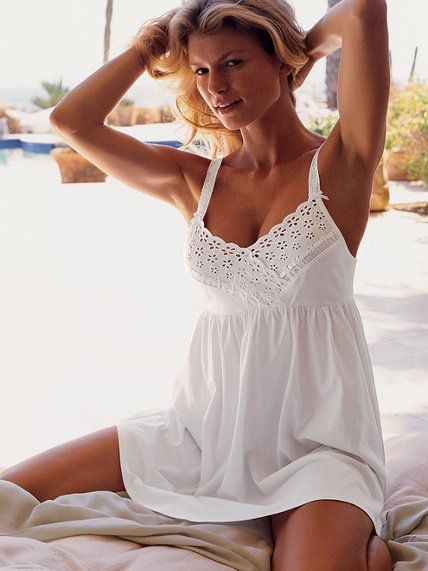 Transparent Nighty
If you are a bold type and want to make your first night and honeymoon as special as your wedding then transparent nighty is for you. Boost your perfect sculptured body in a glamorous transparent nightwear to enchant your partner. A good news is that transparent nighties are available in a wide variety of styles and designs like lace transparent nighty, two-piece silk transparent nighty, mermaid style transparent nighty, frock style transparent nightwear, bow knot satin transparent nightwear, lace cup transparent nighty, and plunged neck transparent nightwear.
Three Quarter Sleeves Nightwear
This style in woman nightwear is rarely found. But the three-quarter sleeves are a classy and elegant design that looks just stylish on any young lady. The lace border along the sleeves, neck, and bottom imparts a sophisticated look to the nightwear. This nighty is available in soothing pastel colors like peach, pink and lavender.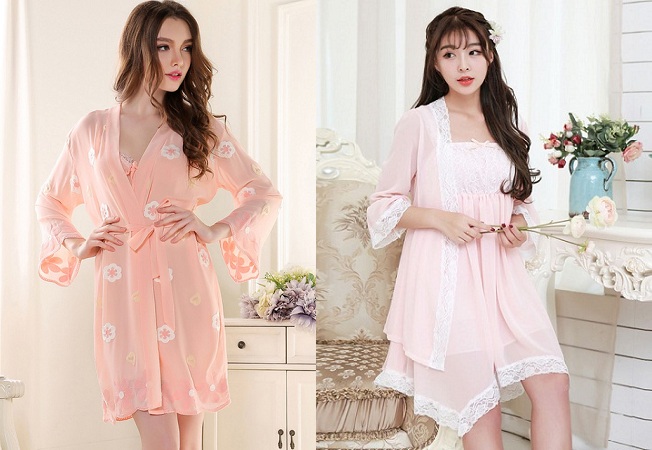 Other Types of Nighties
Now that you know about the common summer, winter, and bridal nightwear, let's have a look on some of the regular night wear designs that are good for every occasion. Here is the list of casual nighties for any mood and occasion. Include them in your wardrobe and be the style diva.
Drawstring Hoody Nighty
Hoody dresses and tops are very much in fashion nowadays. It is no different in the case of nightwear too. Drawstring hoody nighty is a favorite nightwear of high society women and celebrities. The style is also catching up with the modern and young girls. The best thing about the nighty is that it is cozy, warm, and comfortable. The fabric of this nighty makes you feel cozy as if you are wrapped in a blanket. The high neck and hood keep you warm on a windy winter night.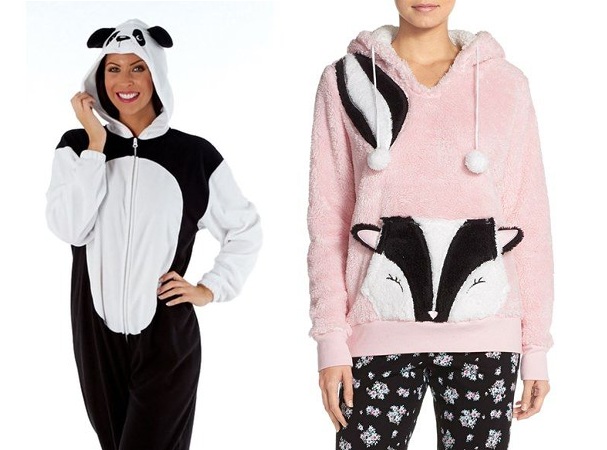 Splits Pajama Nighty
Split pajamas are not only a fashion for regular dresses but also for nighties. They are quite comfortable for bed too. It is mostly worn with a short top that fits perfectly to the body. These pajamas are available in soft silky and nylon fabrics which give a silky smooth feel to the wearer. If you are looking for something stylish as well as comfortable then splits pajama may be the best for you.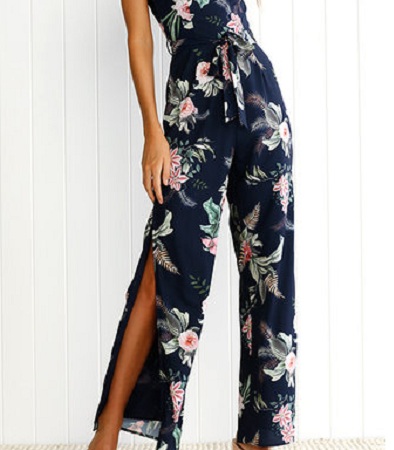 Plus Size Nightwear
When we speak about night wears, the only thing that comes to our mind is a comfort. So, body hugging and tight night wears will never give the comfort. The plus size nightwear is the best option both for thin as well as bulky women.  It fits well in any type of figure. It is available in nylon and silky material which makes you look appealing and attractive.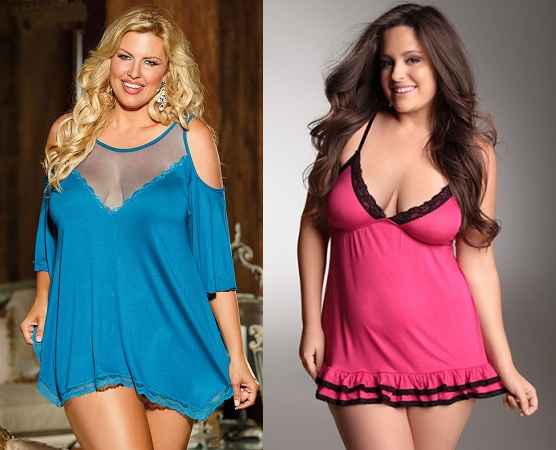 Maternity Nightwear
Motherhood is another special moment after marriage for any woman. But during pregnancy, a woman body goes through several changes and mood swings. Blame it on all the hormone changes that occur during pregnancy and post delivery. So, you should feel comfortable all the time to fight the changes in the body. A comfortable nightwear is essential for pregnant women. Long shirts made of comfortable hosiery or cotton cloth is the best for pregnant women. It comes with adjustable belts to suit the body.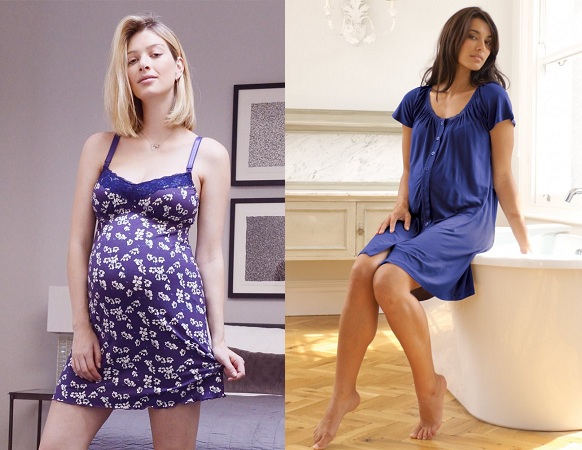 Oversized Quoted T-Shirts Nighty
Quotes and cartoons on t-shirts are the latest trends among young girls. Quotes and cartoons on nighties are also loved by ladies of all age. Quotes on nighty actually reveal about your mood and bed time. Long T-shirt with adorable cartoon and quotes look very trendy and chic. It is one of the best choices for daily and casual nightwear.
Stripped Capri Nightwear
Stripped Capri nightwear is another good choice for casual nightwear. Available in dark colors and prints, this nighty looks stylish and attractive. Capri is well-known comfortable attire and the comfort gets doubled when it is clubbed with a short sleeve less top. It may be with sleeves or sleeve less, it is available in both. After all, it is your call which one you want to wear.