Black hair color is the evergreen color and it never goes out of fashion. Natural black hair is like a boom to any woman. Actually, it naturally looks so beautiful that you don't need to experiment with artificial colors. And if you have a black color than it acts as a base color for any other color that you may want to try. But everyone is not so lucky to get a long and black hair color by birth. Some may have it but it gets faded away due to continuous exposure to pollution, sun rays, and heat or due to nutritional deficiency.
Therefore, many of you are there whose tresses are no longer as attractive as it was earlier. You might have used many expensive cosmetic products and hair treatments. But they hardly work you must have noticed. And the top of it, they are all very expensive. In contrast, there are many home remedies which work like a wonder to improve your hair color. Clubbed here are some of the home remedies to get black hair. Try them and witness shinny black hair like never before.
Amla
Amla is the Indian gooseberry which is widely used in Ayurvedic medicine. As it is highly loaded with vitamin C, it is very good for the health of skin and hair. Besides, it is also used in the treatment of the many health problems. You can exploit the goodness of amla to improve the color of your hair. You can use amla or gooseberry in many ways on hair. Dried amla are easily available in the market. You can get them from the market and soak a little quantity of amla overnight. Next morning, boil the soaked amla for 10 minutes, blend it in the blender and strain the clear liquid. If you want you can directly apply the liquid the on the root with a cotton ball or add few drops of lemon juice with the liquid and then apply it.
Leave the amla juice on the scalp for around 20 minutes and then wash off with plain water. Alternatively, you can also buy alma powder, mix it with water to make a thick paste. Apply the paste on the hair and scalp. Leave it to dry until 20 to 30 minutes. Then rinse with tap water.


Ghee
Ghee is considered as a healthy alternative for oils. It is found in every Indian house. Ghee is used to prepare many ayurvedic medicines considering the nutrition and health benefits. It is also found to improve the hair color. You can use it by making a mixture along with amla juice and mulethi. Take 1 kg of ghee, 1 bottle amla juice (easily available in the market) and 250 gm of mulethi. Heat all the ingredients in a bowl. Boil the mixture in a low flame until the water evaporates leaving behind the thick paste. Use this paste on your hair every day before bath. Store the paste in a glass container for future use.


Mango Karnel
Mango karnel contains nutrients that help to gain back the black hair color. Mango karnel oil is used to improve hair color. You can use it along with other ingredients. You need to make a paste with other ingredients. You need following ingredients to prepare the paste: 30ml mango kernel oil, 30 ml amla oil, and vinegar. Mix both the oils in bowl. Then add little quantity of vinegar. Leave the oil for 12 to 15 hours for infusion. You can use this oil mixture every alternate day before bath for better result. And rinse your hair.


Orange Juice
Like amla or Indian gooseberry, orange juice is also rich in vitamin C which is good for regaining hair color. Orange juice can be used along with alma powder. You need to take an orange, peel it and remove the pulp. Smash the pulp and make a thick paste using the alma powder. Apply the paste on the hair using a brush and spread evenly. Let the paste dry for around 30 minutes. Then rinse off with tap water.


Coconut oil & Lemon Juice
It is no secret that coconut oil is very healthy for hair. Coconut oil is used to treat almost all hair problems whether it is hair fall, dandruff, fizzy hair, or hair color. Coconut hair is good for skin and hair alike. You can use coconut oil for black hair in the following way. Take enough quantity of hair oil as per the length and volume of your hair and add 3 tablespoons of lemon juice into it. Now with the help of your finger tips gently massage your scalp and leave the oil to get absorb for about an hour. Then wash your hair with a mild and herbal shampoo.


Onion Paste
Onion imparts a delicious flavor to every dishes and salads. So, it a staple grocery item of every kitchen whether Indian, Chinese, American or European kitchen. And the good news is that you don't have to spend money to make prepare this home remedies as it is already there in you r kitchen. You just need to crush an onion and squeeze its juice. Apply the juice on the scalp using a cotton ball. Leave it for around 30 to 40 minutes and then wash off with a mild shampoo.
Alternatively, you can also make a paste of onion juice along with olive oil and honey. And apply it on the hair from root to tip. Leave the paste for 30 minutes and then wash off with mild shampoo.


Carrot
Carrot is loaded with vitamin and nutrients. As we all know that it is good for health, surprisingly it is also very healthy for hair especially for retaining and regaining hair color. You can drink carrot juice every day in the morning before breakfast for black hair. You can also apply the juice on the scalp directly on the roots and hair. But drinking carrot juice is much more effective.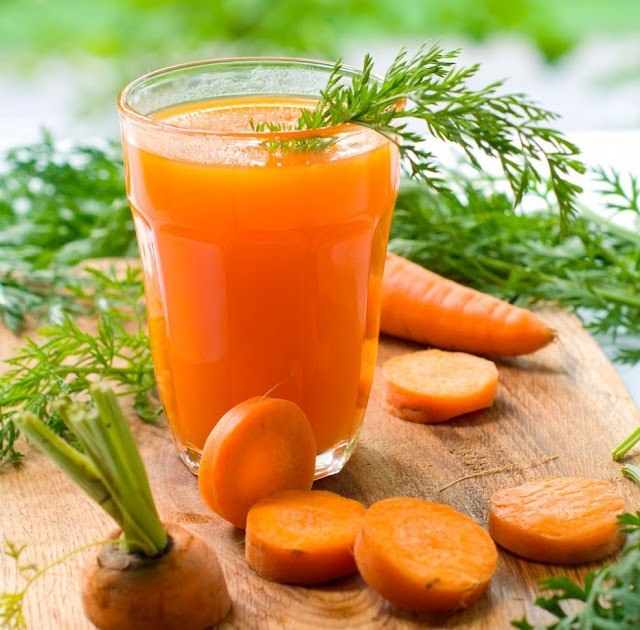 Almond Oil & Lemon
Almonds are the store house of vitamins and minerals. It is very good for overall health especially for the health of hair and skin. You can use almonds along with lemon juice. Lemon contains essential vitamins which help in regaining hair color, promote hair growth, and provide nourishment to the hair. Take almond oil and little quantity of lemon juice. Mix them well and directly apply on the hair scalp along with the shafts. Leave it for 20 to 30 minutes and wash off with tap water. Repeat this three time a week to witness the change in color after few weeks.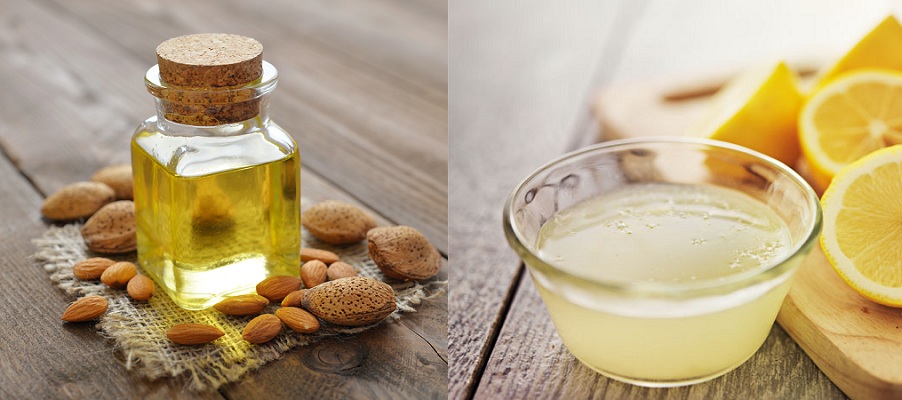 Curry Leaves
Curry leaves is another kitchen item that is good for hair health. It is rich in vitamin B. You make a hair oil infusion with coconut oil and curry leaves. This infusion works wonder to retain the hair color and regain the color as well. Coconut is one of the best oil for health. Many researches have proved its positive effect on the hair.
Take a cup of coconut oil and boil it along with a handful of curry leaves. Boil the mixture until the curry leaves turn black. Then remove the oil from the gas stove and let it cool. Once the oil turns to room temperature, apply the oil on the scalp while giving a gentle massage with your finger tips. Leave it overnight and then wash off the next morning.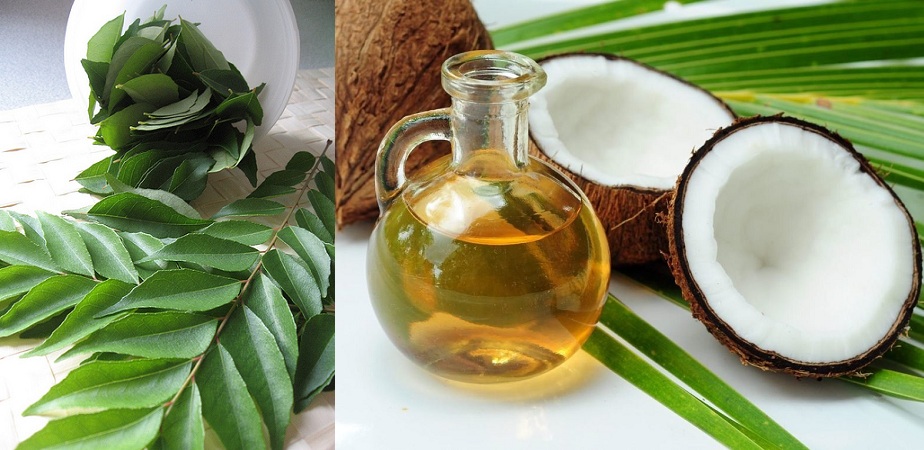 Ribbed Guard
Ribbed guard is a popular Asian vegetable. It is a nutritious vegetable that is used to make delicious curry and dishes. It is interesting to know that ribbed guard helps to restore hair color. It basically works by controlling the melanin pigmentation on the hair. You can prepare and use hair online infusion using ribbed gourd.
Take few dry pieces of ribbed gourd and mix it with coconut oil. Leave the mixture for three days. After three days, boil the mixture for 10 to 20 minute or until the ribbed gourd turns black residue. Then cool it and strain out the oil. Apply the oil on the scalp as well as on the hair shaft. Give a gentle massage and leave it for at least one hour. Then wash off with a mild shampoo. Repeat the application every alternate day for better results. Your silky, shinny and black hair is just a few weeks away.


Sesame Oil
Like coconut oil, sesame oil is also very effective in controlling graying of hair. It also helps to improve the hair growth. You can use sesame oil for controlling hair graying in the following way. Take Equal parts of olive oil and sesame oil. Add 1 tablespoon of castor oil and almond oil to the olive and sesame oil mixture. Mix the oil mixture nicely. Take enough quantity of the oil mixture, warm it on the flame. And then apply the oil on the scalp with the help of a cotton ball. Provide gentle massage to the scalp after oil application. This application will not only improve hair color but also promote hair growth and improves hair volume.


Castor Oil
Like olive oil and sesame oil, castor oil is also helps to blacken grey hair. You can add castor oil with any carrier oil like olive or coconut oil and apply it onto the scalp. It has dual effect on the scalp. It improves hair growth as well as controls hair graying. But you must add it with any carrier oil as it comes in very thick consistency.


Heena
Heena is a very good and effective coloring agent when it comes to hair. It is widely used in India for coloring and moisturizing hair. Though it imparts brown or red color to the hair, you can actually use it along with other ingredients to impart a black color to your hair. Take an enough quantity of heena powder in a bowl as per your hair length, add lime juice and olive oil. Add black tea water to the heena powder to make a make a thick paste. Mix evenly and keep the heena mixture in an iron vessel overnight. Next morning apply the paste from root to tip. Make ensure the hair is totally covered with the heena paste. Cover your head with a shower cap. Leave it on the hair for minimum 30 minutes. And for dark black color, try to keep it for 1 to 2 hours. You will be amazed to see the result just after a single application. Repeat it once a week for dark and shinny color.


Sage Water
This holy herb is popularly known to have cleansing and revitalizing properties. But very few people will know that it actually helps to turn grey hair into lovely black and shinny hair. You can use it very easily at home. Take a handful of black sage and boil it with water for at least 30 minutes. Cool the decoction and strain the liquid. Pour the liquid into a spray bottle and then spray the water all over the hair. Allow it to sit for one or two hours. Finally, wash the hair with a mild shampoo. You will notice that every time you apply the spray, your hair turns black. You can use the sage spray for once in a week for an instant transformation.


Catechu Remedy
This remedy is the magic home remedy for black hair. It is most effective home remedy for black hair. All you need to do for this remedy is gather the following ingredients: 1 cup henna, coffee powder, 1 tablespoon curd, 1 tablespoon lemon juice, 1 tablespoon catechu, 1 tablespoon, brahmi, 1 tablespoon alma or Indian gooseberry, 1 tablespoon dry mint powder and vinegar. Take all the herb powder along with coffee, curd, catechu and lemon juice in a glass or steel bowl. Mix all the ingredients evenly and then make a thick paste by adding enough quantity of vinegar.
Apply the paste all over the hair from root to tip. Leave the paste for at least one hour for a dark black color. Then wash the hair with a mild and herbal shampoo.