Applying makeup is an art. And everyone is not good at it. It needs lots of practice and determination to master this art. Eye makeup application is the toughest part of this job. And especially the application of eyeliner is the most difficult part. But if you love makeup, you will eventually pickup the trick. It is just a matter of practice few times. Nowadays many types of eyeliners are available which make the eyeliner application an easy task like pencil eyeliner. Unlike liquid eyeliner (which need little precision to apply), pencil eyeliners are quite easy and convenient to use.  So, before learning the tips and steps to learn how to apply eyeliner, let's have a look at the types of eye liner available.
Gel Eyeliner: This is the best eyeliner for drawing cat eyes. But it is little tricky to use this eyeliner. You need a good eyeliner brush to apply gel eyeliner as this eyeliner is available in pots. Maybelline's Eye Studio Lasting Drama Gel Eyeliner is considered as one of best gel eyeliner in the market.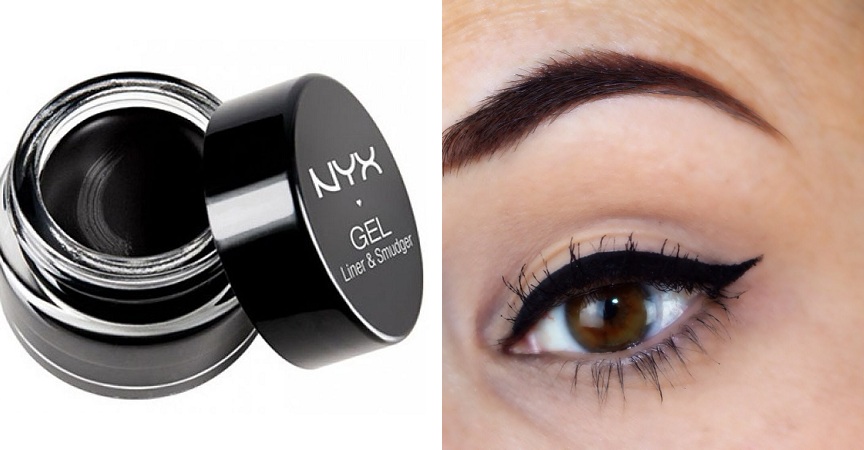 Liquid Eyeliner: This eyeliner is good for fine line application on the eyelid. So, if you are quite good in sketching lines, you can use this eyeliner for lining your eyelid. Usually, this eye liner is available in two types of packaging, in a tiny vial-like bottle along with a fine dipping brush and in a marker type pen with a tip. It is better to use the second one if you are a beginner. Too faced's sketch marker liquid art liner is a recommended brand for liquid eyeliner.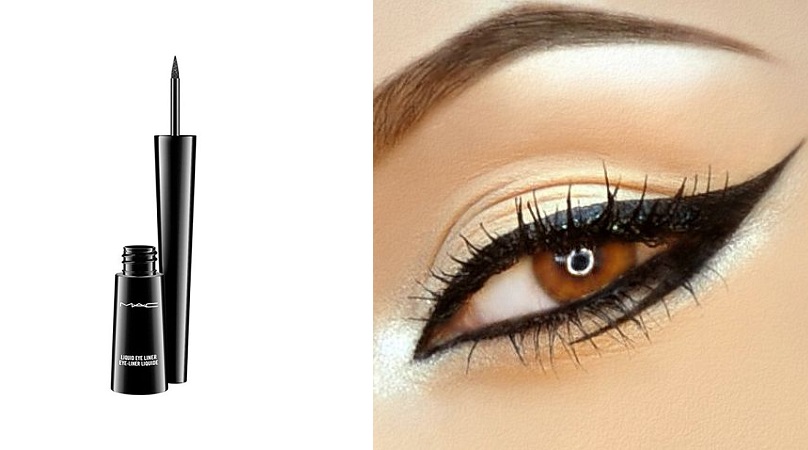 Pencil Eyeliner: This eyeliner is most commonly used as it is easy to use this eyeliner. It is considered as the best option to draw water line and to make smoky eyes. There is different brand's pencil eyeliner available in the market. Pick the one that suits your pocket and requirements.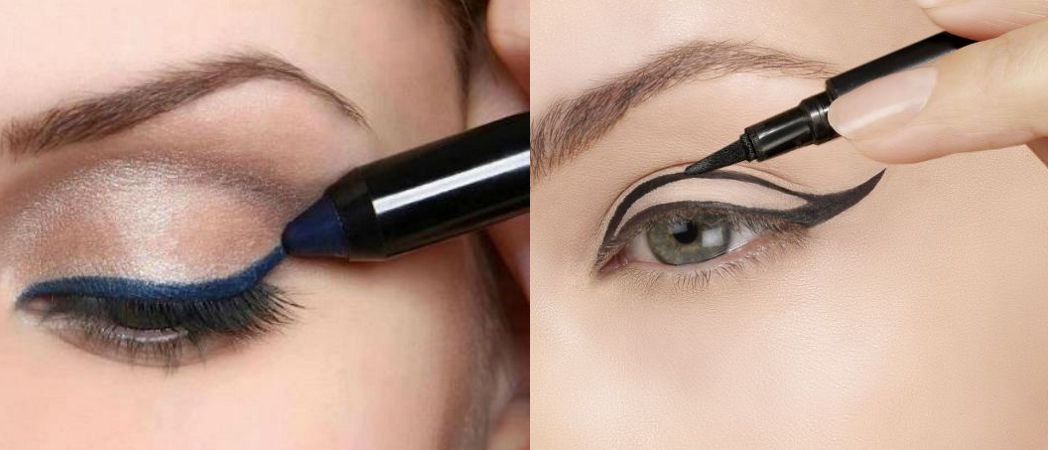 Different Colors of Liners
Nowadays, eyeliners are also available in several colors apart from traditional black color. And the different color of liners provides a different effect on the eyes. So, you need to choose the eyeliner color wisely as per your eye makeup. The colors available are as follows:
Black: It is the most common color used for eyeliner. It is most preferred for all types of makeup. It provides a striking, prominent and bold appearance to the eyes.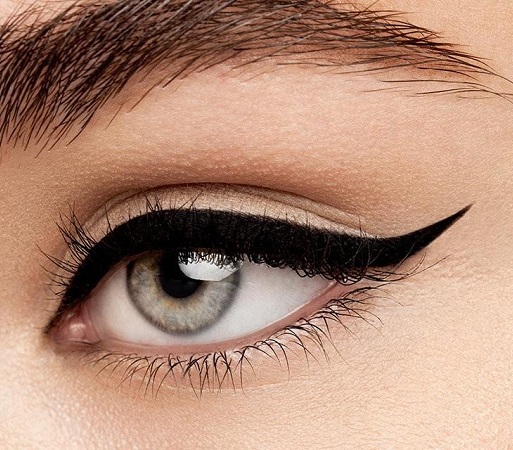 Brown: It is second most preferred eyeliner color after black. Brown eyeliner is widely used to impart a smoky and soft look.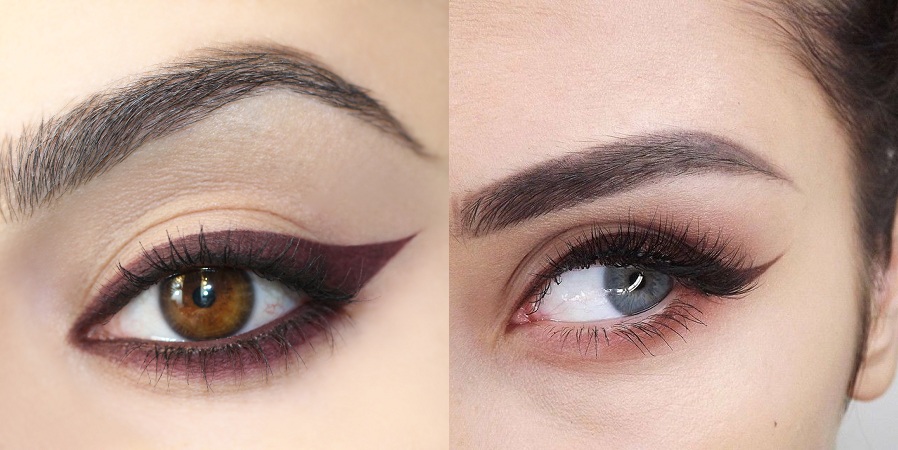 White: This color is mostly used on the lower eyelid i.e. on the waterline. It makes eyes look bigger and better.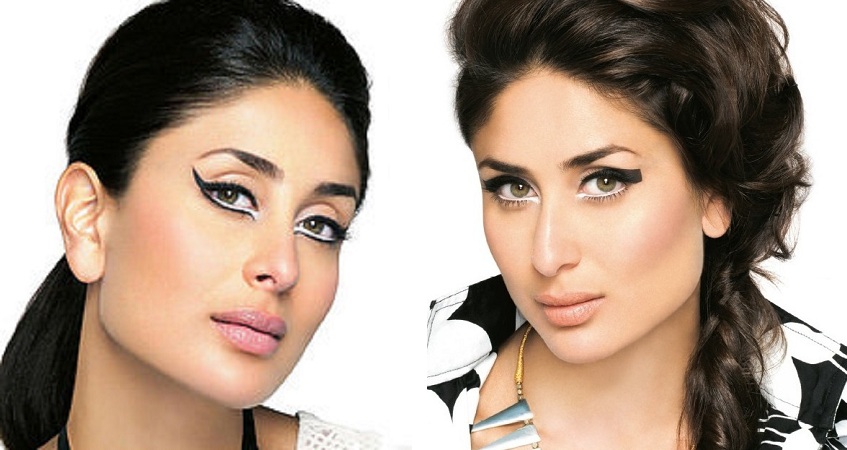 Gray: Gray eyeliner is used on the upper eyelid. It is used to create softer and brighter eyes.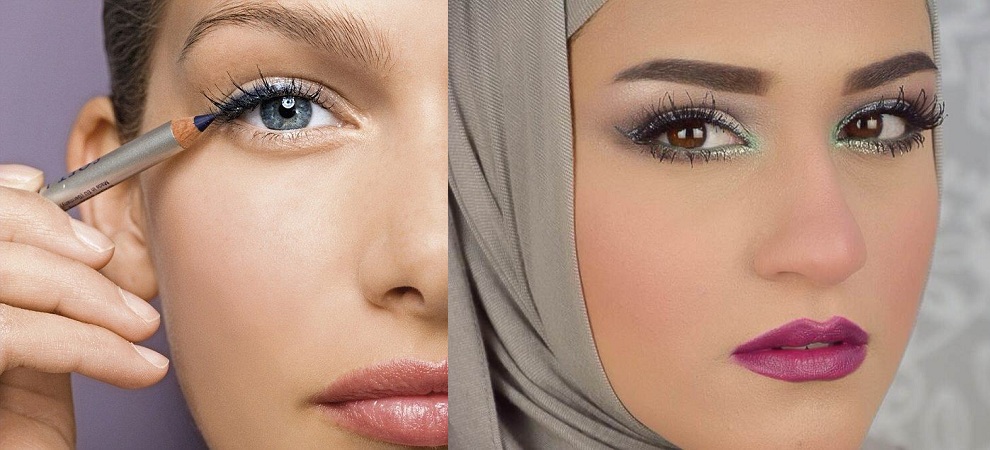 Nude: Nude is one color which everyone cannot carry gracefully. So, you need to be careful while using this color on your eyelids. It makes your eyes look awake and prevent the hungover look.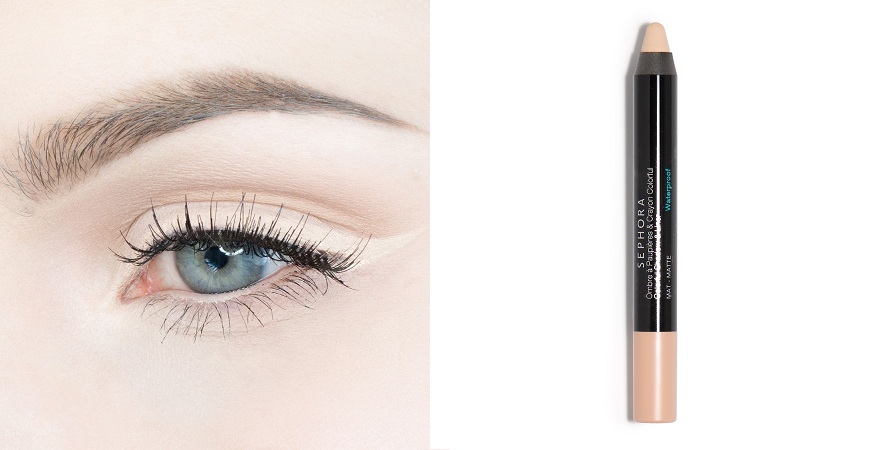 Navy, Green and Purple: Lately, theses colors are very much in fashion. You can pick any of these colors as per your dress colors. These colors make you look trendy and modern.

Glitter: You need to use glitter eyeliner wisely as they look very showy. It creates a sparkling look on the eyes. So, this color is especially good for applying makeup for stage performance or teenager party.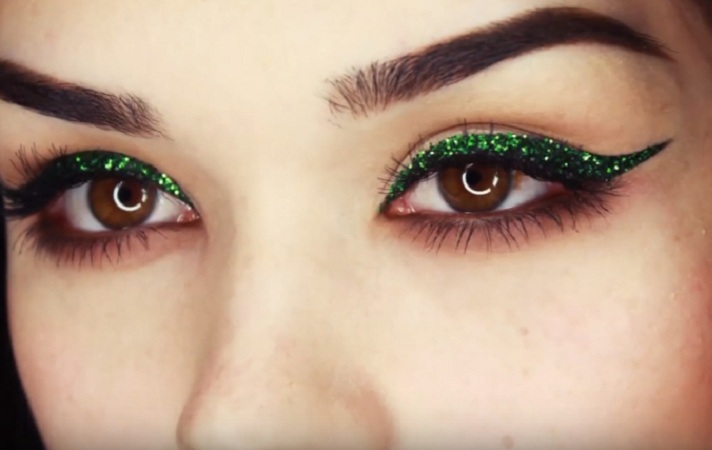 There are also several other types of eyeliner available nowadays like waterproof eyeliner, gothic eyeliner, and permanent eyeliner.
Tools and Items Required for Eyeliner Application
Eyeliner
Primer
Concealer
Cotton swabs
Pointed Eyeliner Brush
Angled bent eyeliner brush
Now that you know the basics of eyeliners, its various colors and types. Let's us now focus on the steps to apply eyeliner perfectly and professionally.
Follow the steps given below to apply perfect lines with your eyeliner:
Initial Preparation: This is the very basic step which is not always followed. But if you really want to protect and keep your skin healthy then you must follow this step before starting liner application. First of all cleanse your face, moisturise it and then apply an eye cream around the eyes area. This cream helps to control premature wrinkles and reduce any redness or uneven skin tone around the eyes.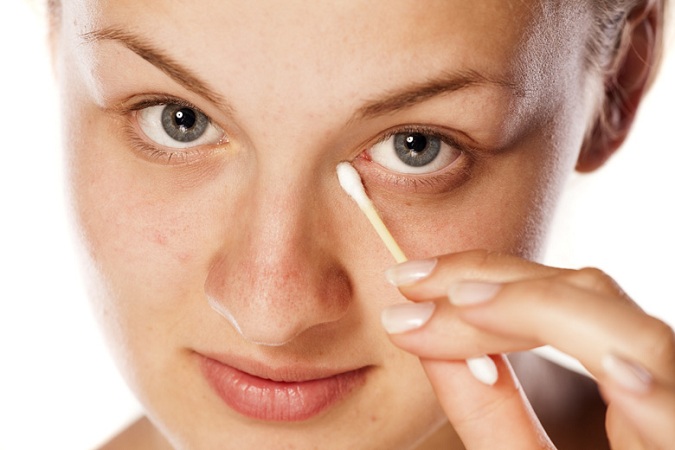 Base Preparation: For any makeup to look perfect and clean, you need to prepare an even skin base. This statement also holds true for even eye makeup. It is better to apply a little amount of eye primer on the eyelids both on under and above the eyelids wherever you would apply the makeup. The primer provides a smooth and even skin tone so that even the eye makeup looks smooth and even. It also gives a flawless finish and keeps the makeup in place for many hours. After you have applied primer on the eye area, apply a concealer on the top of the eyelid and under eyes.
Draw Line: You can draw a line using a brush that is provided with the eyeliner or can go for a more professional brush if you wish. You must start drawing the line above the lashes. But make sure you use small lines and strokes initially. You can also put dots all along the eyelid and then extend them slowly making a smooth line along the eyelid. It is important to keep both the eyes liner symmetrical so that they look identical and defined. So, now that you have drawn the base lines. Let's learn other tricks to make the line more attractive.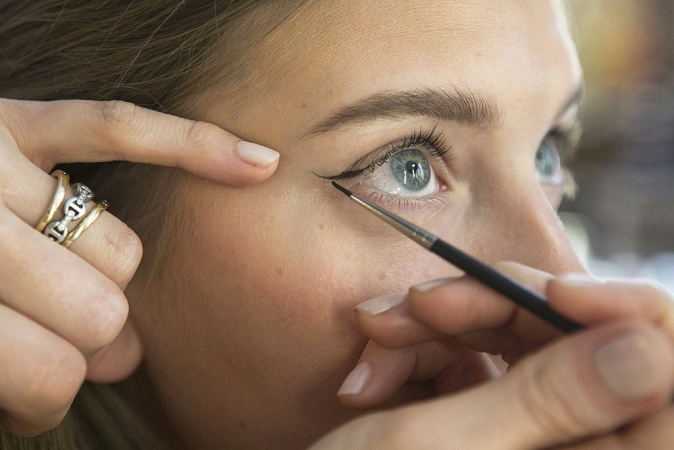 Extend the lines: After you have finished drawing the base line, you can now give a twist and turns to the lines to make it attractive. Just a straight line is old fashion and boring. It is fun to play around with strokes. So never shy away to do so, experiment as much as you can on your eyelid and choose one that looks perfect on your face. You can try making wings by extending the lower lash line or a simple small extension.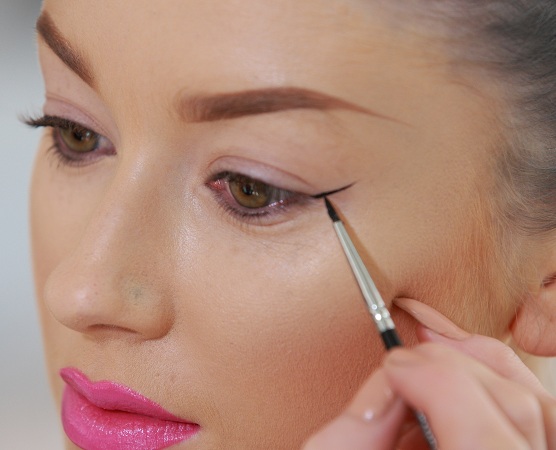 The Final Touch
After you are done with a line drawing on the upper eyelids, you should line the lower lash line on the outer half. You can easily do it with the help of a pencil liner. Now it is the time to provide your eyes with a final touch up. Do this by applying black mascara, and you are good to go!
Some More Tips and Tricks
Before starting the stroke, ensure that you have space to rest your elbow primly for balance. It helps to prevent shaking of hand while application and gives a smooth stroke. It is best to use a table for eyeliner application.
The mirror is very important in any makeup. And it is no different in the case of eye makeup. Use a cosmetic mirror to view the makeup. Cosmetic mirror is double sided, it has a normal mirror at one side and a magnified one on the other side. Magnified provides a closer view of the eye makeup and prevent any mistake while application.
It is recommended to look down while you apply eyeliner as looking up may destroy the shape of the line.
Remember not to stretch the eyelid skin while making a wing. Stretching would hinder the wing shape. So, always try to apply small strokes and don't stretch the skin too much.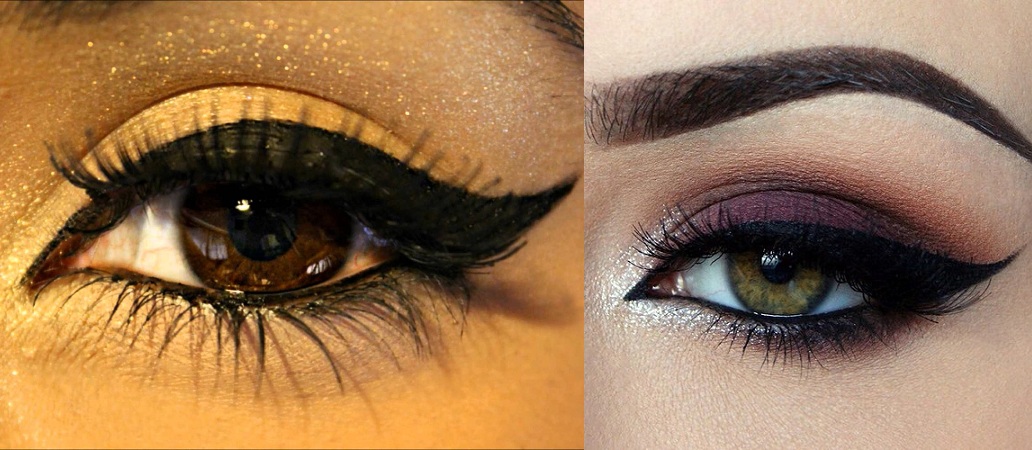 If you have difficulty in creating the wing then you can use tape to create a good shape of the wing.
It has been noticed many times that when you open your eye, the liner gets transfer to your bare skin. In order to avoid this. Try to apply the liner on a little height to avoid this.
Never color your entire eyes (lower and upper eye lid) with a colored liner as it may look bizarre.
Always try to start the line in thin strokes. Later you can make it thick or proportionate according to the thickness of the other side of the eyelid. But if the initial lines are thick than it is difficult to create an even line.
Never line your lower eyelid with liquid eyeliner as the lower eyelid is wet and it has more chances of getting the smudge. Instead, use waterproof pencil on the lower lid.
Always try to curl your lashes before you apply eyeliner. As curling your eyelashes after you have applied eyeliner can smear or smudge your eyeliner.
Make sure that you line the lower eyelid with a waterproof eye pencil and then brush a little black shadow to make it intact in the place. And then apply a clear powder on the eyelid to avoid it from dropping down your face.
While applying eyeliner, never pull your eyelid outwards as this leads to wrinkle the liner when it is dried.
Eye makeup is difficult to remove. If the makeup is left on the eyes then next time when you use your eyelid for makeup, you will have a rough canvas for drawing lines. So, the final thing would not be much attractive. You must use a precision tip cotton swab doused in an oil based remover to clear the eye makeup. This will ensure clean and makeup-free eyes.
If you have small eyes then avoid lining the entire eye as this will make your eyes look smaller.
Avoid smudging your eyeliner very low in the lower eyelid as this will make your eyes look like a black eye.
Eyeliner Colors for Different Eye Colors
Every color doesn't suits all eye colors. But more or less all colors go well with black eyes and fair or wheatish skin tone. However, you need to pick eyeliner color wisely for dark skin tone and other eye colors. Given below is a simple guide to pick the right color for your eyes.
Eyeliner Color for Blue Eyes: You should use various shades of purple, brown, grey and silver if you have blue eyes. These colors compliment blue eyes and make the eyes look attractive.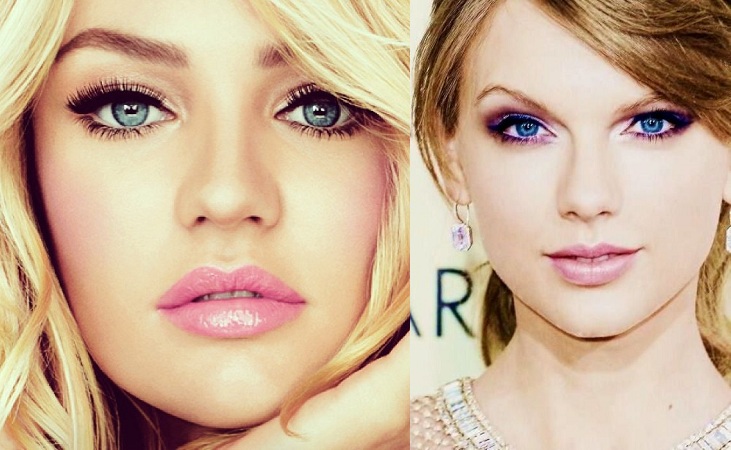 Eyeliner Color for Hazel Eyes: It is difficult to pick eyeliner color for hazel eyes. The colors that suits hazel eyes are rich autumnal colors like gold, green, and brown. Try to use these colors with a small amount of black eyeliner and mascara. The touch of black eyeliner enhances the look of the eyes and makes it more attractive.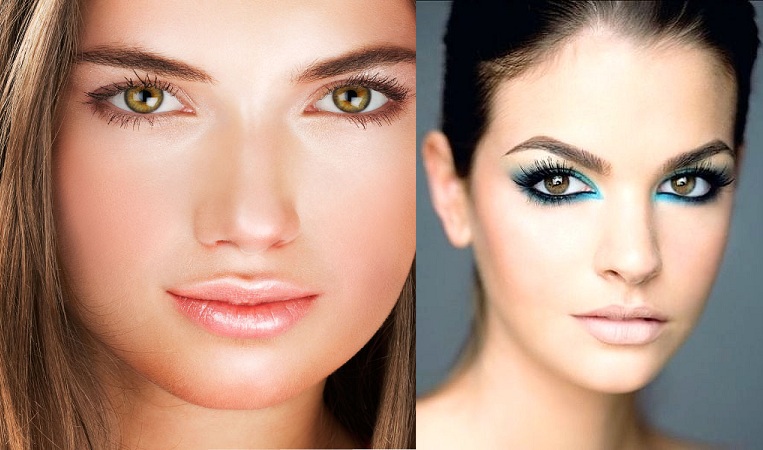 Eyeliner Color for Brown Eyes: Brown eyes are commonly found in girls. And it is also not too difficult to match the eyeliner colors with brown eye color. However, you can use the shades of blue, purple and the metallic colors like bronze, browns and gold.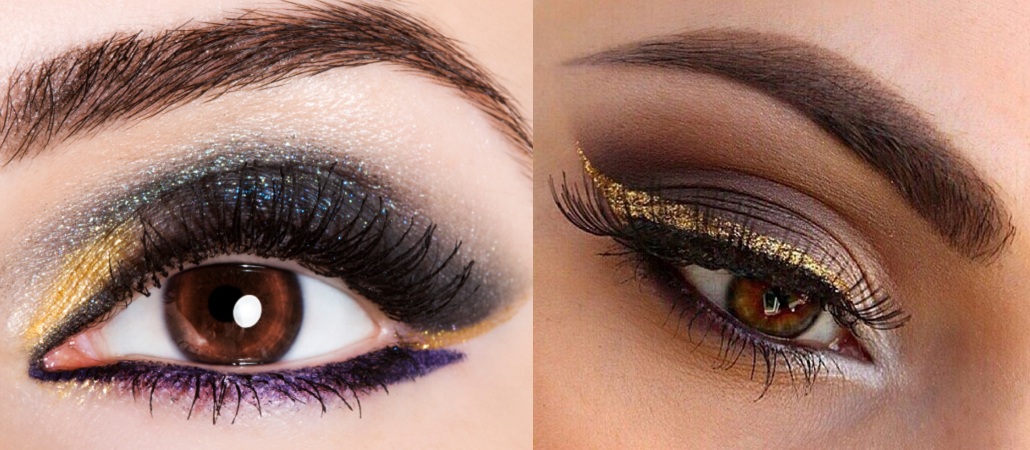 Now that you know the simple eyeliner applications tips and lots of information on eyeliner, it is now easier for you to pick eyeliner that suits your eyes. So, experiment with eyeliners as much as you can and look bold and beautiful forever!