It is no wonder that Bollywood has been a constant source of new fashion, beauty inspiration and hairstyle for women across the world. Each of the stars keeps transforming themselves to adopt new looks for various projects and hairstyle is an important part of your entire appearance. Bollywood actresses have been flaunting their exclusive hairstyles everywhere, both in their films, on the red carpets and award winning ceremonies. Some of these very popular hairstyles are here that you can easily sport in your daily life.
Here we go.
A Messy Bun
This hairstyle is often donned by the celebs, not only in Bollywood but throughout the world as well. Being too much glamorous, this messy bun style has been one of the most favorite among the stars. The more voluminous your hair is, the better your bun will look.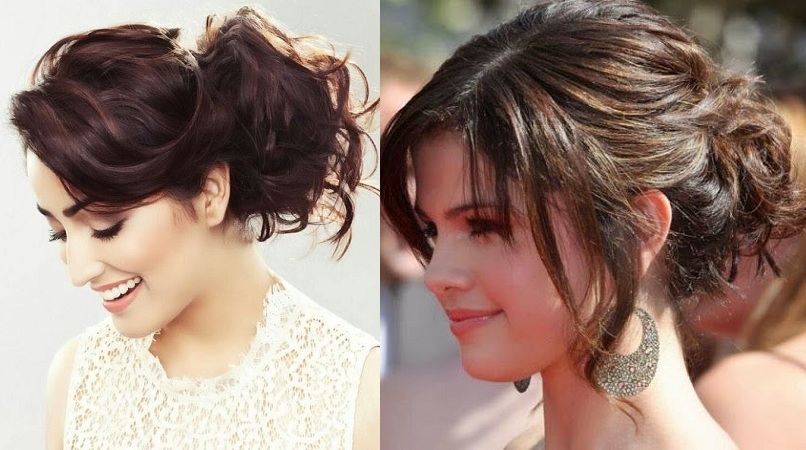 Know how to make it:
First you need to overturn your hair with its upside down. Make it straight once again and an easy illusion of volume is created instantly in your hair. Take a comb and tease the hair at the crown with small motions. Gather all hair together and tie it in a bun. Let your loose strands show the versatility and smoothness of your hair.
A Classy Half Bun
Though it is known as a very common hairstyle for traditional Indian wear, you can wear a half bun easily with any of your favorite western attire. Casual holiday look with a pair of denim and crop top can easily be turned into a 'glam queen' appearance with an effortless half bun. Just take your time to de-tangle your locks before going for this hairstyle. Don this sophisticated look and get appreciated wherever you step in.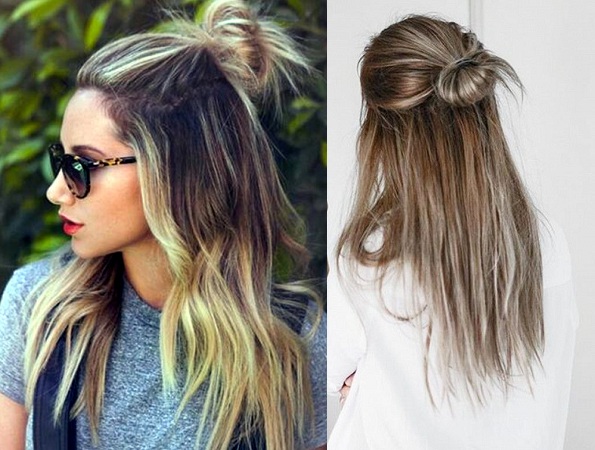 Know the trick to create this hairstyle:
Get hold of some hair that you will have to put inside the hairdo and stretch it lightly to the back. Tease it with a comb to create a fake volume and make the puff higher. Fix it with some hairpins and a little amount of hairspray. How many hairpins you would require depends on the volume of your hair. Cross them, one over the other to ensure that they don't come out after some time and your hairstyle remains intact. For a more dramatic look, add some beautiful hair accessories or a flower that matches the color of your attire.
Mushroom and Pixie Cut
Remember the gorgeous actress Kajol in her tomboy avatar in Karan Johar's 'Kuch Kuch Hota Hai'? That simple and cute mushroom haircut made her look sporty throughout the movie and became an immediate trendsetter in the fashion industry. This haircut is still considered as the simplest and most common hairstyle among the college goers and youngsters. Pixie cut, donned by Kajol in 'Dushman' can be another favorite hairstyle for those who love to experiment with their short hair. These hairstyles not only make you look cute but also help you in hiding your actual age.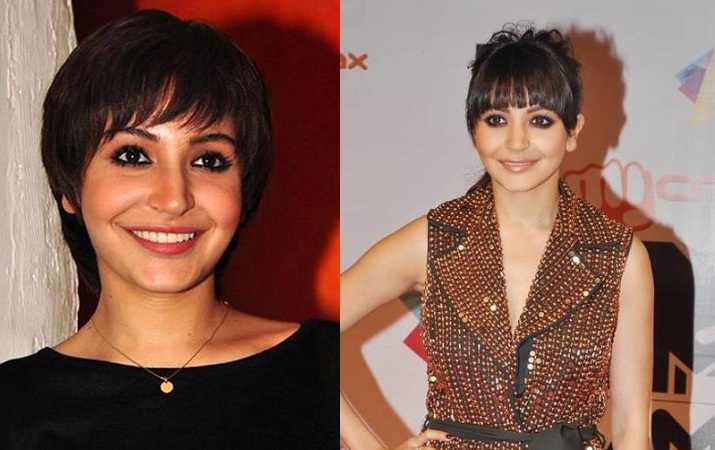 How to get this hairstyle:
Well, creating this look will require chopping off your long locks. Hire a good hair stylist and he/she will take good care of your requirements.
Long Wavy Hair
Girls with long wavy hair are truly dazzling to look at. When you have such lovely waves, no need to look for complicated hairstyles. Be it an office party, job interview, clubbing or any occasion, the long wavy hair itself is an exclusive style.
How to don it perfectly:
Comb your hair, detangle it and spread a little amount of hairspray to fix your hairstyle for all day long.
The famous Fishtail Braid
Just like its name, it's quite fishy! Braids are always so much in the trend that they will make you look too elegant every time you put it on. No, we are not talking about the normal braids, they are too conventional! Try out the fishtail braids. They look sleek, stylish and quite easy to create. If you are worried about the loose sides, tie them up with bobby pins after the fishtail is neatly prepared.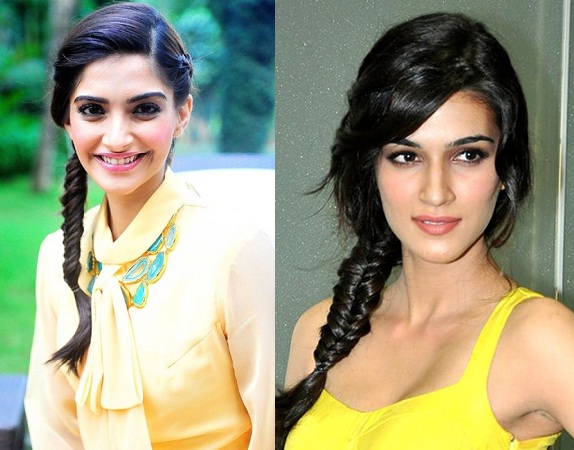 Know the best way to create it:
First, divide your hair into two sections and make sure both the strands (right and left) are evenly divided.
Take one thin strand from left section and gather from outside. Pull this strand across the same section and make it move to the right section. Now it is the part of the right section.
Tug these two sections and hold them tight. Tighten your braid first and you can make it messier later.
Now repeat this entire process with the right section and tug it onto the left section.
Keep on alternating the sides till the end and tie the braid with another hair strand and secure it with any of your cute hair accessories.
We've listed some of the very popular hairstyles among the celebrities of tinsel town. If you want to know about any specific celeb hairstyle, please let us know your requirements.