Bridal dressing and bridal makeup are an important part of wedding process. All brides want to dress and look their best on the most important day of their life. Jewellery plays an important role to enhance the looks and overall personality of the bride. Therefore, women have a jewellery piece for almost each part of the body including their hair.
One might think that there is not much need of hair jewellery and women can just hold their long hair with small accessories. However, hair does play a very important role in the overall looks of a woman and hair jewellery simply enhances their looks to another level.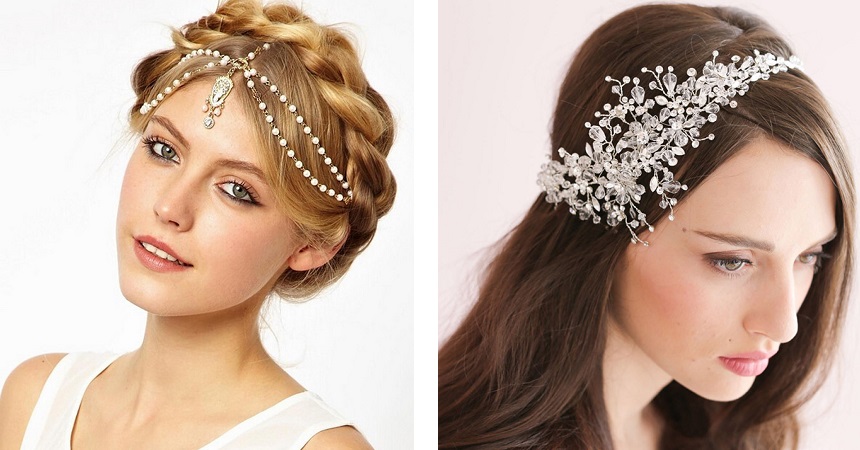 Hair jewellery can be divided into two categories. One is the modern hair jewellery which is the result of a current trend and fades away in some time. The other can be called traditional hair jewellery which has been in use for a long period of time and a current trend is not a deterrent to the people for liking that piece of jewellery.
India is the land of traditions and jewellery is no exception. People not only continue with the same process just because they have seen and known the process, but also because they love traditional ideas. Traditional Indian jewellery is famous for its style, royal looks and work. The intricate work and designs make you fall for it. The designs and style is so sleek and beautiful that people from all over the globe come to India to buy Indian jewellery of their choice.
History of traditional hair jewellery in India:
Hair jewellery has been in use by women in India for centuries. You can find its mention in Hindu religious books like Ramayana and Mahabharata. There are hundreds of carvings in the most famous caves of India with women wearing hair jewellery. Excavations of Mohenjo-Daro and Harappa sites also revealed many statues wearing such jewellery.
Prominence of hair jewellery is not limited only to the northern part of the country, but is prominent all over the country with only minor changes in style and design. Even the statues of gods and goddesses made now and in the past can be seen them wearing tradition hair jewellery.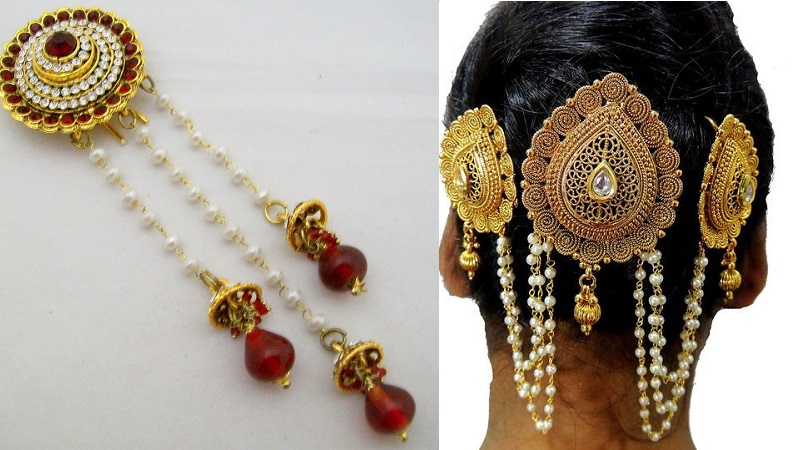 Hair jewellery comes in a number of shapes, styles and designs. The jewellery is mostly made in gold and silver which may be embellished with other precious, semi precious stones or artificial stones.
Hair jewellery is usually worn during formal and social gatherings like wedding etc and worn usually with formal Indian dresses.
Different types of traditional hair jewellery
Maang Tikka
This traditional hair jewellery is the favorite hair accessory for all the brides. This hair jewellery is common for brides in both Hindu and Muslim communities in the Indian sub continent. The hair jewellery is placed in the centre partition of hair and comes down to the forehead of the bride. The jewellery has a Tikka that comes in a number of designs that is attached with a string and a hook that holds the ornament to the head.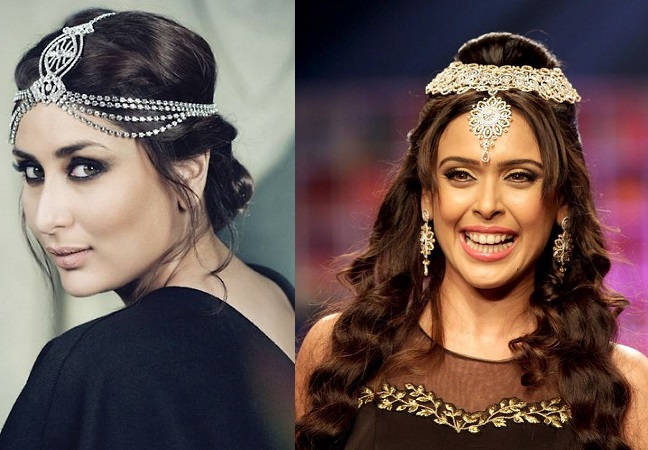 Jhoomar
This beautiful hair jewellery has been a part of bridal makeup since Mughal period. Jhoomar is available in gold, colored stones, kundan and beads.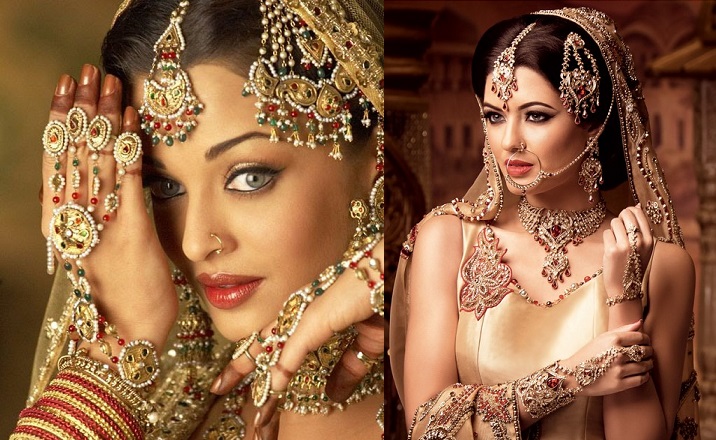 Jadanagam:
This hair jewellery is worn usually by brides in South India. This jewellery is in the form of a hair serpent that is worn by brides to decorate their braided hair. There is a rakkadi at the back of the head that is in the shape of a sun and symbolic of brilliance and power. The third piece is the thazhambu flower.
This bridal jewellery was worn by the Devadasis or the temple dancers. This tradition is continued by Bharat Natyam dancers who wear Jadanagam while performing.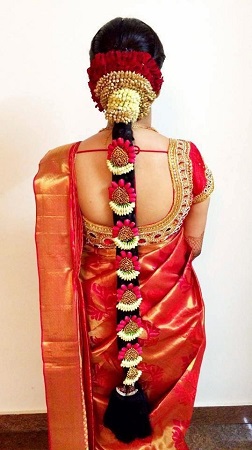 Shinka
This is ancient hair jewellery from Gujarat. It has a peacock linked by a series of gold chains. It is a very heavy ornament that is held on the hair by hooks attached to the hair. The hair jewellery is worn on festive occasions and weddings by newly married daughter in law of the family.
Peacock symbolizes beauty and grace and may be encrusted by sapphire, emerald, ruby, diamond as the centre piece.
Jeweled Chains:
This is traditional hair jewellery that is liked by many modern brides as well. This jewellery has all the style to enhance the personal looks of the bride. It is something similar to the Maang Tikka but has a number of gold or beaded chains that are strung together to form the ornament.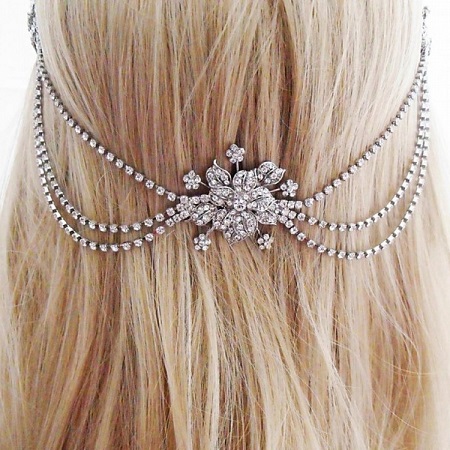 Significance of Traditional Hair Jewellery:
Traditional hair jewellery in India is not merely cosmetic. Rather the Indian hair jewellery has a lot of significance attached to its design. Traditional hair jewellery like Maang Tikka is designed to be worn in such a way that it rests in the centre of a woman's forehead.
According to ancient Hindu mythology it is believed that the sixth primary chakra that is the union of two petals in the form Shiva and Parvati lie in the centre of the head. The ornament is symbolic of the sixth chakra and therefore placed in the centre.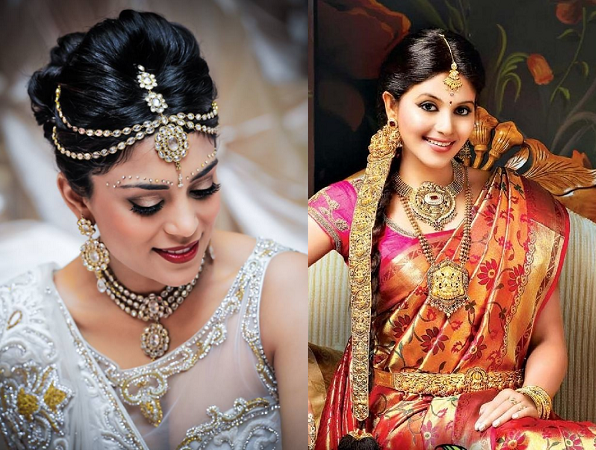 Occasions to wear traditional hair jewellery:
Traditional hair jewellery is designed in a manner that it gives out a royal and formal look to the overall personality of a woman. Therefore, this jewellery is meant to be worn during formal functions like weddings and festivals where you need to give a different look from your routine look.
Traditional hair jewellery is also worn during wedding functions you need to enhance your overall looks and give a formal look to your ensemble and personality.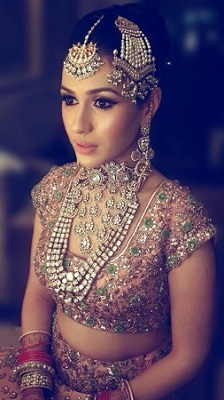 Buying traditional hair jewellery:
Traditional hair jewellery is very high on demand and brides-to-be are looking for places to buy Indian traditional jewellery. This jewellery is available in precious and artificial metals. If you are looking for jewellery made in precious metal like gold or silver, this jewellery may not be available at all jewellery stores. You should visit the renowned store of your city or buy the same from one of the many online stores on internet.
On the other hand if you are looking for an artificial piece, the best way is to look for it on the internet. Traditional hair jewellery is available on many online jewellery store which can even ship the piece to your place at a nominal courier cost.