Wedding season calls for the wish of adorning and draping something unique and different yet being able to grab all the attention of the masses. Every year, brides and bridesmaid wish for something elegant, unique and authentic that has never been tried or worn among the commonalities before. Thus, with every new season and every new year, fashion designers and artists gear up to present such designs that soon become the most wanted ones. When it comes to ethnic wear, they put all their efforts to bring out the best and become the trend setters.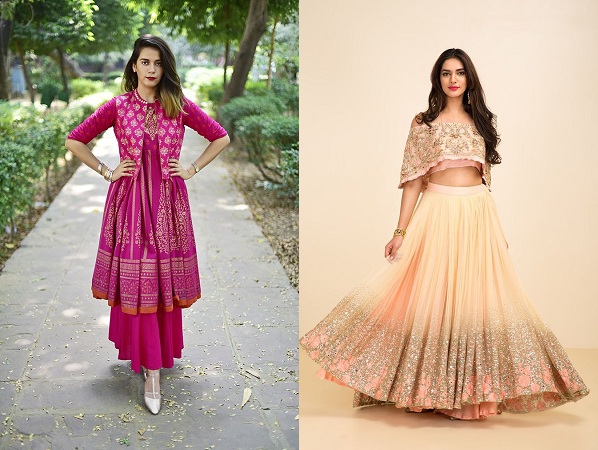 Following are some of the ethnic looks for 2017 wedding season that can be tried upon and will suit every budget:
Dhoti saree: When you want to go for ethnic and that too something unique, dhoti saree is a great style to bang upon. Get yourself a heavy blouse which may be embroidered with thread or possess beautiful sequin work and pair it with contrasting dhoti style drape saree to catch the perfect glimpse.

Lehenga with jacket: Layering makes you look all the more glamorous and pretty. Choose subtle coloured jacket with bright red or bold coloured lehenga. The jacket may be sleeveless or full sleeved depending upon the taste and preferences. This unique and mesmerizing gaze is sure to turn heads this year.

Lehenga style saree: Modern style women like to drape their sarees in the form of lehengas which gives them super gorgeous and amazing look. For this purpose, designers are trying their hands on such styles this year to add more glamour and grace among ethnic wedding designs.

Ethnic gowns: Though people have been preferring lehengas and sarees from past many years, the trend has shifted to the desire of adorning gowns this year. The watery sequin work below the bosom, covering your waistline looks amazing. When more traditional look has to be added, golden thread work over bold and dark colours give a hypnotic look to the attire. These floor-touching gowns with various cuts and unique neck styles will be a turning point in ethnic for weddings in 2017.

Different type of material: This year will call for the need to wear the ethnic ones in some different fabric or material like the one with chikan work or Lakhnavi style. This trend has already set in from the movie 'Raees' where the actress has showcased some beautiful intricate patterns to aspire the commoners to try on something different from regular materials.

Golden black combination: Ethnic always appears ravishing with a tinge of gold in it and if you are too bold to get the entire embroidery made out of gold colour then mind you, you will steal the show with your heart warming and striking look. Since black is loved by many, this combination is sure to be amongst the favourite pick of many fashion icons and bloggers this wedding season.

Ethnicity and elegance go hand in hand. Never did the ethnic wear go such wild to not soothe the eyes of the onlookers but this season has brought with it the aroma of fresh and unique designs to be enraptured at wedding ceremonies.