Since the period of 80's, the Chinese collar blouse had got immense popularity among the Bollywood beauties like Rekha, Smita Patil and Rakhi. Even this blouse style exposed less skin, but still it made the wearer look sensuous. At the same time, this blouse style was also considered as a formal style and therefore it got popularity among the working women.
The popularity of Chinese collar blouse at present:
The craze of Chinese collar blouse has not ended yet. Even today, this blouse style is preferred by women of different age groups as this style offers them a high profile look while matching perfectly with both simple and heavily worked sarees and by giving the wearer a classy look. Besides, women, who are in the fields like public relations and presentations choose to wear this blouse style as part of their office attire. While worn properly, this blouse style can offer serious professional style with complete elegance and modesty.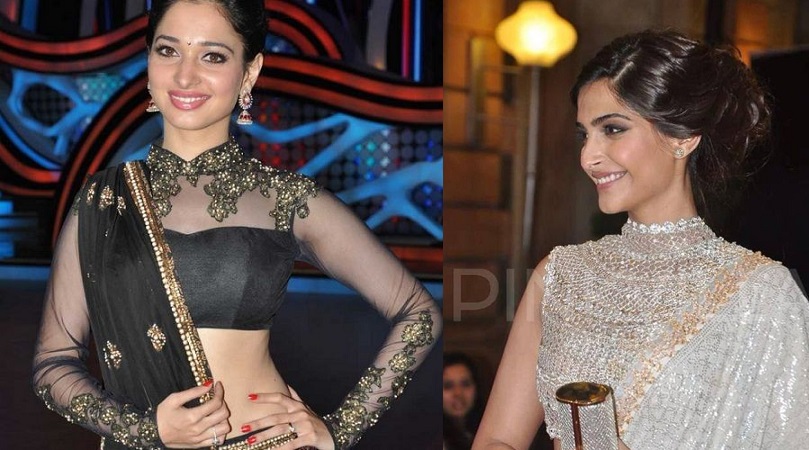 Variations in Chinese collar blouse design:
Chinese collar blouse with sequins:
This blouse style is known for the stylish design and the presence of sequins makes it ideal for both sarees and lehengas. To make a unique style statement, choose the blouse color that contrasts with the saree color or of a completely different fabric. This will help you to accentuate the overall look.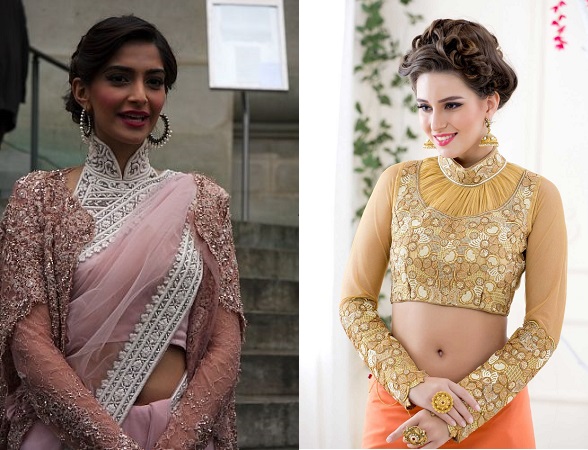 Chinese collar blouse with heavy embroidery:
In case you are a fan of embroidered blouses, then this is one of the best styles that you can opt for. This blouse style is suitable for those, who are bustier. The heavy embroidery on the chest helps to hide the extra skin on the breasts. Moreover, this blouse design offers a classical look while worn with the right saree.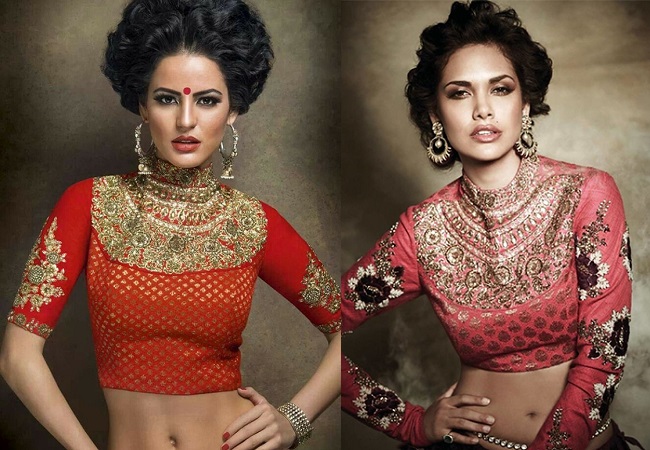 Chinese collar blouse without sleeve:
By choosing to wear this style, you can actually flaunt your beautiful arms and can look sexy even without revealing your back. The look of this blouse can be enhanced by choosing embroidered designs on back. As a whole, this style can accentuate your look even if you choose to wear a simple fabric and design.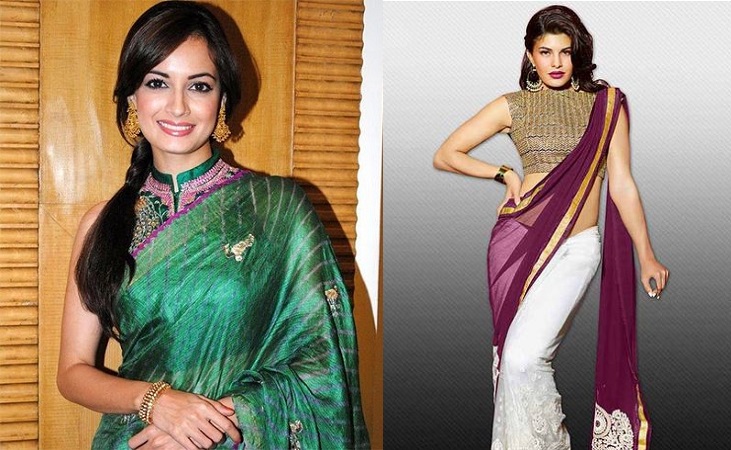 Chinese collar blouse with quarter length sleeve:
If you want to flaunt the beauty of your graceful arms and neck, then this is the right style of blouse that you can consider. This type of blouse can be both, simple looking and fully embroidered depending on the preference of the wearer. Overall the design of this blouse is done in such a way that it will complement your look.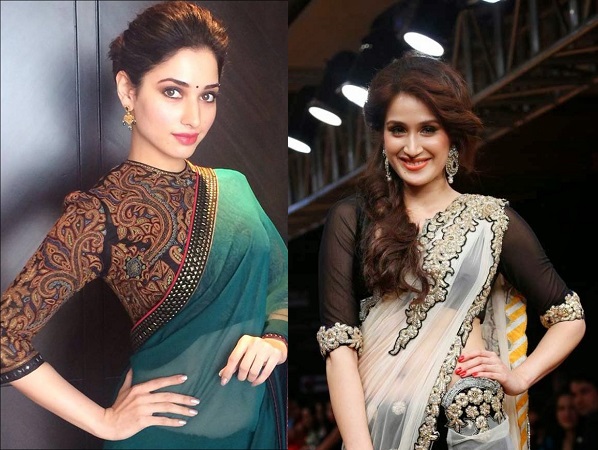 Chinese collar blouse with bell sleeves:
Blouses with Chinese collar and bell sleeves give the wearer an elegant look while covering her neck and back. It is possible to look beautiful in this blouse by pairing it with the right saree or lahenga.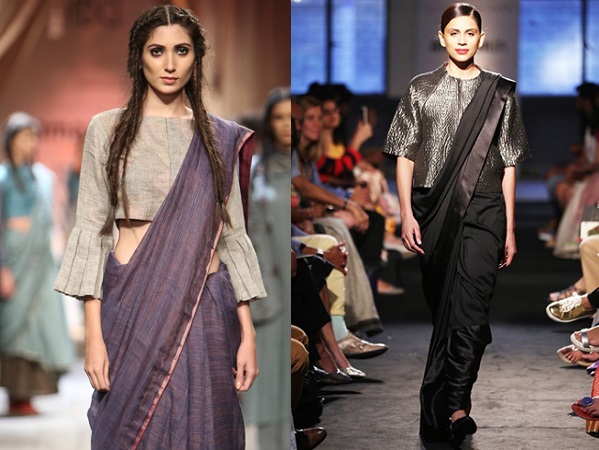 Chinese collar blouse with sweetheart neckline:
The front part of this blouse is open with a sweetheart neckline and this feature makes it suitable for both sarees and lahengas. To make the look of this blouse more appealing, decorate the sleeves, collar and the back part of this blouse with sequins.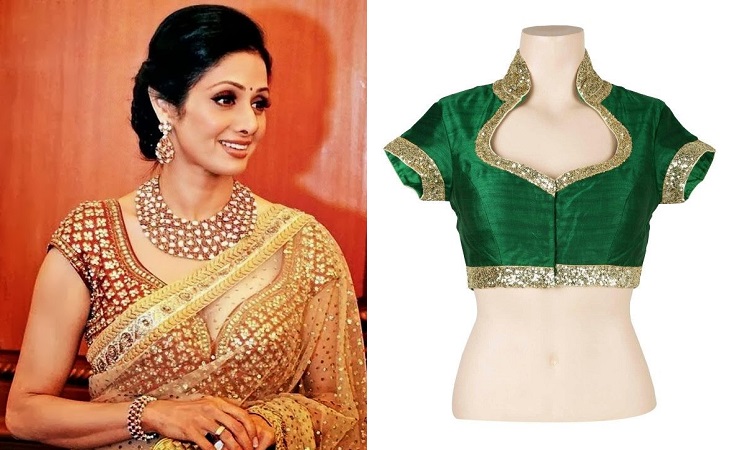 Chinese collar blouse with boat neck:
In case you want to have a vintage or classical look with your saree, then choosing this blouse style will be one of the best options. This is one such blouse style, which is ideal for both lahengas and sarees.  This style doesn't only accentuate the look of the wearer, but also makes the wearer look great even after being really simple. Depending on your preference, you can choose to have the sleeves with this blouse.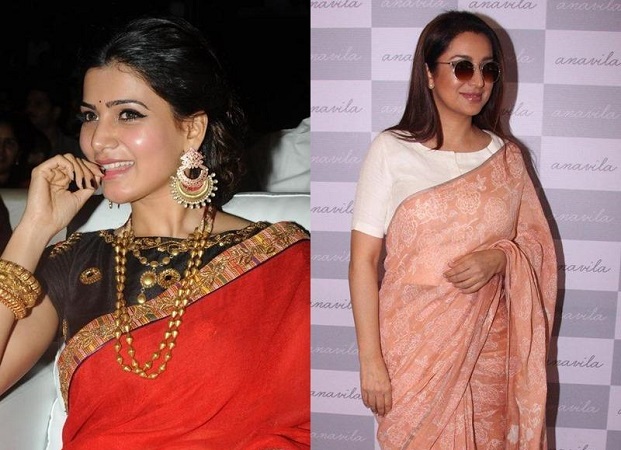 Conclusion:
With the large variant of styles available, these blouses are a rage among women of different professions. So, if you are one of those, who believe that it is also possible to look elegant without revealing much of your skin, then the high neck Chinese collar blouses can be a perfect choice.