A saree is a glamorous wardrobe inclusion. The blouse that you choose to team your saree up with renders the unique touch to it. The entire ensemble is what makes your look your own- thereby helping you stand out from the rest of the crowd. A corset style blouse with such qualities can turn out to be a timeless addition to your wardrobe. Today, in the course of this post, we will look forward to exploring more facets of this trendy fashion choice.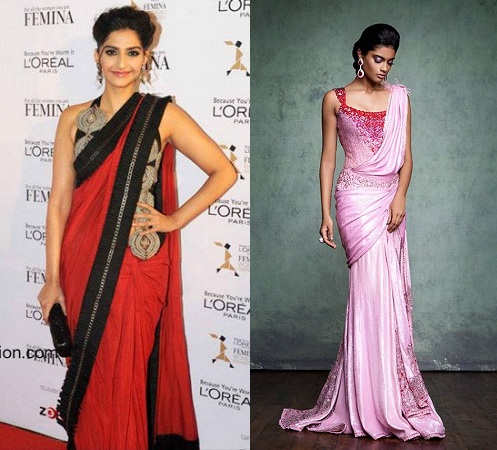 Which sarees to opt for? Are you settling for the right choice?
A fitted corset blouse teamed with a Georgette or even a cotton piece can actually work wonders for your evening party look. These blouses are particularly known for being edgy and sophisticated at the same time. The versatility of these pieces will leave you literally short of words because they can be easily teamed with sarees, lehengas or even as maxi top with skirts. What more? They can even be paired with a quirky but trendy pair of trousers today. So, if you're prudent enough to pick something up carefully then it wouldn't really be that difficult for you to utilize the same blouse in different ways.
Which designs are the hottest? Choose wisely!
A corset style saree blouse looks the best without sleeves and halter neck designs. Adding a dash of glamor to your ethnic outfit is a breeze with these blouses. However, do make sure that you have the right body to flaunt the halter neck pieces. They are best carried by women who have well toned arms, shoulder and back. It doesn't really take much to assure that. Just eating right and doing a few light exercises (under the guidance of an able trainer) will actually help you stay in shape. After all, there is no dearth of reasons for you to stay in shape. What's the harm if your dress itself is one of those reasons?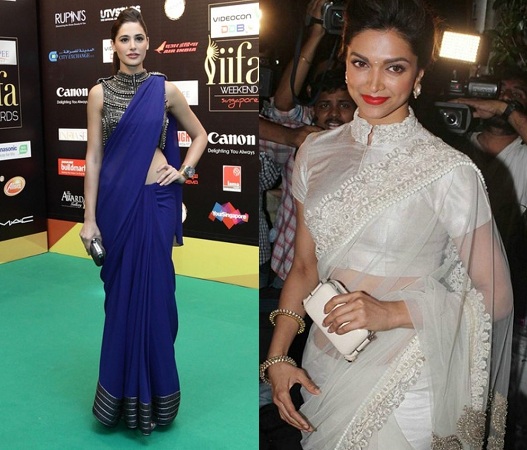 The importance of choosing the right fabric
If you are opting for full-sleeve corset blouses then make sure they are made of sheer or netted fabric. It's because of the fact that the addition of sheer fabrics to these corset necklines complements the rounded silhouettes thereby enhancing your glamour. Heavily embroidered corsets are a pure thing of joy. These blouses make for the perfect fit for grand occasions. Think about teaming up a gorgeous drape with an equally gorgeous corset style blouse and just two or three accessories like a heavy necklace, bangles and earrings – you're set for the day!
Is it a wedding? A mehndi ceremony? A happening success party? The aforementioned look will definitely keep you sorted.
… And Celebrities
How can we not talk celebrities when we are talking corset blouses? The spunky, glitzy and edgy corset blouses have been sported by leading actresses from time to time – Sonam Kapoor, Nargis Fakhri and Priyanka Chopra – just to name a few. Needless to say, they have rocked their respective looks every time they chose to flaunt this absolutely gorgeous fashion choice.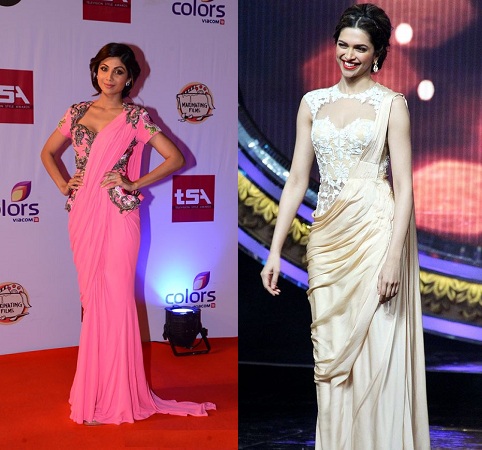 To conclude
Peplum corset blouses can be a cute addition to your ethnic wardrobe. With this you can actually "dress down" if you want to nail a look which cannot really be labeled as something absolutely grand or something absolutely casual – but somewhere in between. An interesting mix for sure – if you're actually able to carry the look off with confidence. You have to be a little experimental in order to ensure that you're on the right fashion track.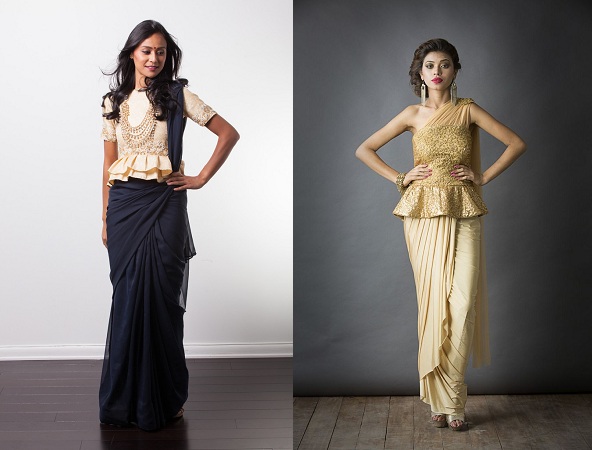 At the end of the day we can always wish that you're always making the right choices as far as fashion is concerned.