In this modern world, each and every woman gets fancied by the designer sarees and blouse designs. The women, who are simply in love with Indian ethnic wear, just love the designer blouses as well. Although these sarees age back to the centuries, they are still in fashion with a small twist only, in their exclusive designs and off course the never ending trendy superb designer blouse designs. Time and again sarees are the outfits which have completely ruled the fashion domain. In fact, an ambient atmosphere has been created by the new designer blouses for the young generation for draping these traditional wear with the fusion of sizzling designer blouses.
It is really a very difficult job to have the opening of the saree blouse at the back because it is quite easy for ruining the classiness of the saree blouse if the buttons or hooks at the back are not at all done properly. Thereby, this article post will explore all the ways of having the blouse opening at the back without simply making it look downright ugly or clumsy. Thereby, in the recent media news also it can be seen that the back opening is now really the 'In' thing for wearing when it comes to the designs and styles of the saree blouse. So why the dear readers of this article must be denied a few tips and tricks about back button designer saree blouse?
Back button blouse affair: How to use to your desire
Back button designer blouse is again back in high demand because of its unique designs, exclusive styles and definitely the classic attractiveness it offers. These blouses give an elegant, classy and a versatile appearance with every kind of designer saree, cotton saree, silk saree, and lehenga. This season, these designs are just back in the rave, as we see the well-known designers also including in their designer houses. In this article, we will showcase some nice back button designer blouse styles and designs in order to help you match and wear them with your designer sarees. So, consider this article for some fashion tips and some little inspiration as well. We hope that you will surely include some of the below-mentioned designs in your latest designer sarees.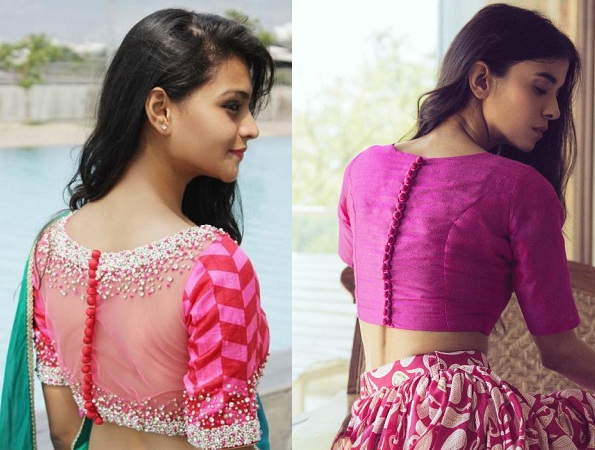 Curtained back blouse style:
Curtained backed saree blouse style is a superbly beautiful trend in blouse fashion. This kind of saree blouse unveils yet hides at the same time. It's really a sexy wear and yet this kind of blouse does not fall within the extent of vulgar. If you are in search for a saree blouse style which is beautiful as well as feminine, then simply go for this kind of curtained back saree blouse with white fabric buttons. This will surely do the trick.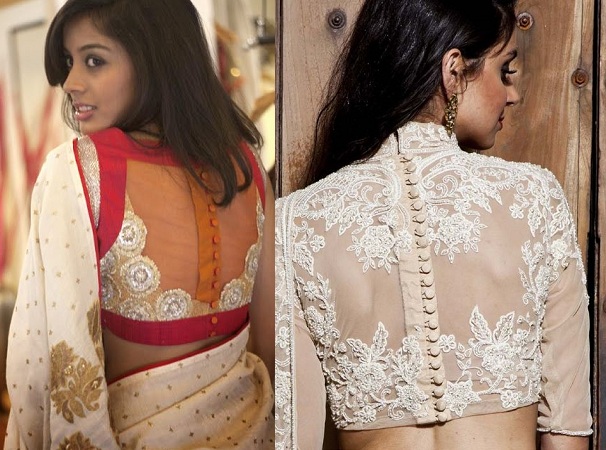 Buttons at the back of the saree blouses are the rave this season:
Sabyasachi Mukherjee has included the Potli buttons in his exclusively made blouses so what else requires being said. You can understand how trendy this blouse is. Who will not want to wear a blouse that is this kind of intricately feminine? Basically, the potli buttons are small ball type buttons filled with fabric. These buttons are simply excellent and add an exclusive classiness to the blouse.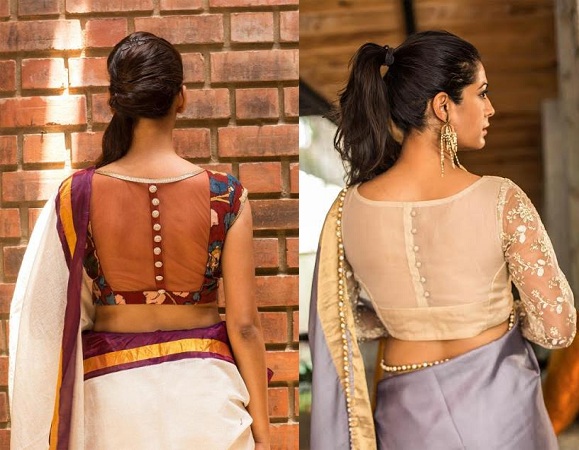 Saree blouse back for the fun loving girls:
The young generation can find these back buttoned blouses very girly as well. For those girls who look very bubbly and girly, they simply can wear these buttoned backed saree blouse which looks really girly and modern instead of sophisticated and womanly. If you want a fun look, just opt for the funky buttons and use them at the back with a French crepe floral printed saree or a soft chiffon printed saree.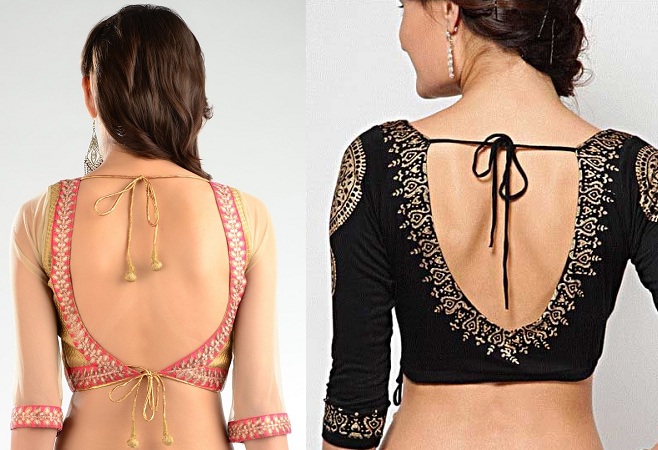 You must not forget that the most excellent thing about saree is that it is really a versatile outfit. You can wear it with designer blouse according to the situation, place, and occasion. Just decide which look you want and you will always find the best way to execute it. We hope that you are no longer confused with your saree and blouse fashion.
Hope, you have found this article really useful. If you want to get more tips regarding fashion, do not forget to shout out to us. Stay tuned for more tips on outfits which are in vogue.