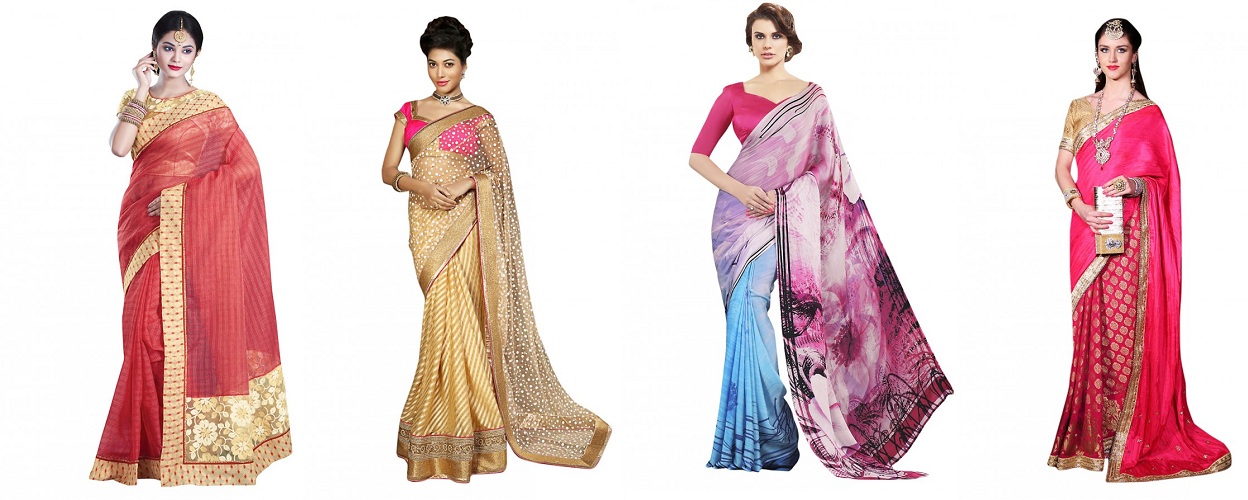 Farewell party, whether in school or in college is always exciting. It is that time that marks your transition from the school or college to the real world. The farewell day is like a landmark in every student's life and therefore, he or she wants to make it the best day of their life. While the excitement of meeting your school friends and teachers in school for the last time is evident, there is also the worry of looking the best.
For most girls, farewell is the time when they would be wearing the truly Indian attire, the saree for the first time. On the one hand there is the excitement of donning this most adaptable garment that they have seen their mother and aunts wearing at special occasions and on the other hand, there is the anxiety of picking the right one. It's a special day and no one wants to ruin their looks and appearance by wearing an inappropriate saree. So, here are some tips that can help you all choose the right saree style and type for saree day in school: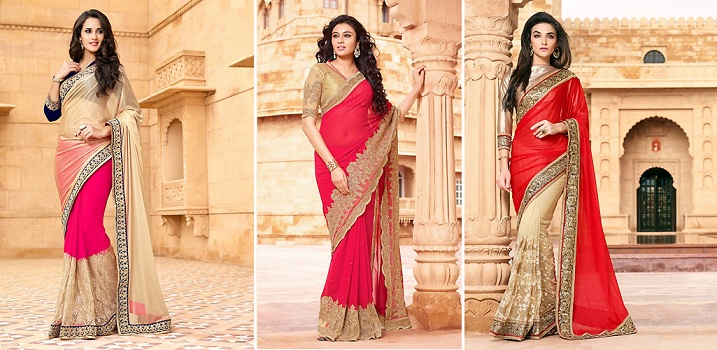 Tips to choose the right saree for saree day in school
Before moving on to the actual saree style and type for saree day in school, you need to consider the following aspects related to a saree for saree day in school:
Easy to Carry
Since you are going to wear the saree for the first time, you would not like to mess with your look or be the laughing stock by dressing inappropriately. Farewell or formal saree day at school means that you have to wear a saree that fits the occasion. Choose a saree that is light in weight as this would allow you proper movement. A weighty saree would hold you down not allowing you to move freely while you are enjoying the party with your friends.
Choice of Fabric
Sarees are available in a variety of fabrics that include chiffon, georgette, crepe, silk, cotton and net. Variants of these basic fabrics are also there. However, when you set out to choose saree style and type for saree day in school, it is recommended that you choose the lighter fabrics such as georgettes, crepe or chiffons. The reason for this recommendation is that these materials being light in weight, are more comfortable to carry off. Moreover, you can get great prints or light embroidery work in these fabrics that enhance your overall appearance.
Blouse
Choosing the right kind of blouse for your saree is very essential. Since your overall look has to be more sophisticated, you must wear a simple saree but accentuate its look by wearing a designer blouse. You can go in for an embroidered blouse with a plain bordered saree or a differently styled blouse to get the look. You must also pick the blouse as per your body structure. A halter neck or spaghetti blouse would look great on someone that has a lean body structure. However, girls with a fuller body shape should not try these blouse styles as they would expose too much skin. Instead they can go for a full sleeved blouse that covers their upper body. So, the idea is to choose a blouse that complements the shape of your body and enhances your overall look.
Colors
Saree colors should not be a deterrent for young girls. Because you are young, vibrant and full of life, you can choose to wear any color saree for saree day in school. However, if you still wish to know what colors would look good on you, then you must go as per your skin tone. Who can be a better judge than you? You must choose a color that has always complemented your skin tone and given it a certain glow. Since you are wearing the saree for the first time, you need to choose carefully.
Prints or Embroidery
While wearing a printed saree is comfortable, you can also experiment with an embroidered saree. Light embroidery work or a saree with a border and small motifs scattered all over can look very elegant. You can try sarees that have sequins work or that have thread embroidery. You can nowadays find some great prints in sarees. If choosing a print, choose one that suits your body structure because some prints accentuate your figure. Therefore, choose prints carefully.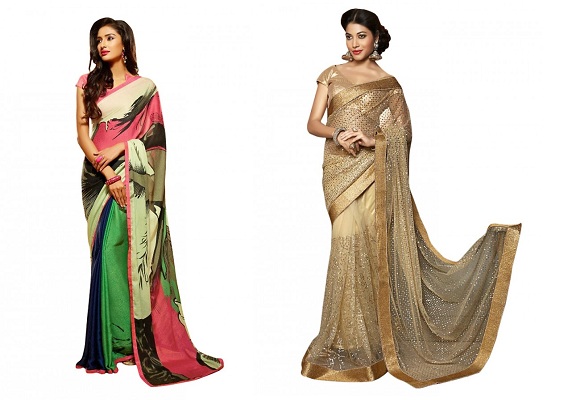 Different Saree Styles to Choose
Now that you know what type of saree and material to choose; you can choose to wear your farewell day saree in a different style rather than the regular one. Here are the different saree styles that you can choose:
Dhoti Style: This style saree is worn like a dhoti or pants of a sort. The style looks good if you accessorize it with a small clutch and a designer neck piece.
Double Drape: The double drape style of wearing the saree looks good when you choose a heavy bordered saree. The style helps to cover the flab, if you have any. It makes you look tall and thin. The style would definitely make you look stylish, elegant and yet comfortable.
Butterfly Style: One of the most styles of wearing fancy sarees for parties is the butterfly style. The style of wearing the saree helps you flaunt your thin waistline and sexy demeanor. Although the butterfly style is very stylish and chic, it is very comfortable as well. Therefore, it is best suited for a saree day in school.
Mermaid Style: For girls that are on a little heavier side, wearing the saree in a mermaid style would surely help. While you can get mermaid style sarees for yourself, you can even drape a simple saree in the said style. You can watch videos of the same online. Not only would you look the most stylish but you would also look unique and different from the rest of the crowd.
Retro Style: If the farewell day in school has a retro theme, you can drape the saree in the retro style or in the style of the 70's. The retro style of draping the saree is a bit tight, so you got to be ready for this slight discomfort, if you wish to look different.
Drape a saree on a palazzo or legging: The latest of the styles of draping a saree in Bollywood is that of draping them on a legging or a palazzo. Jackets and quirky blouses too are in. the trend is that of sleek and style and if you want to look unique and have the guts to carry it off, go for these new trendy styles of draping a saree.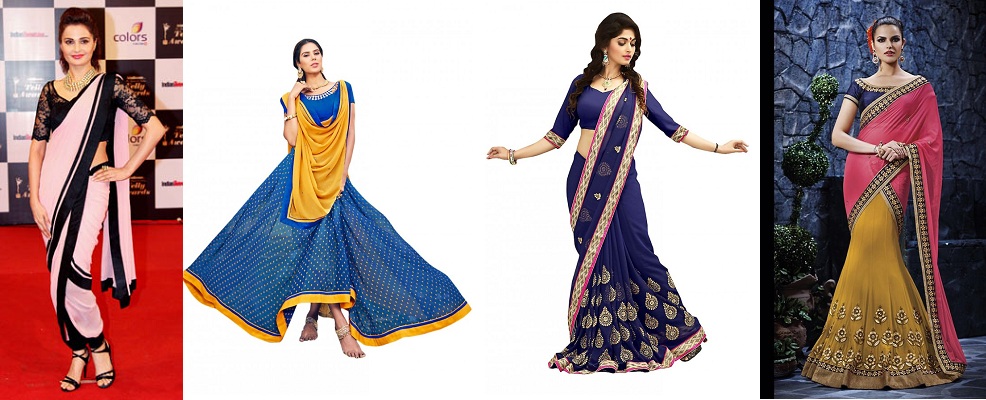 How to Wear Saree for Saree Day in School
Now that you have chosen the saree style and type for saree day in school, you need to pay attention to how to drape the saree so that you feel comfortable. Here are some tips on how to wear the chosen saree with style and how to accessorize the look:
Drape the saree properly: Whatever saree style or type you choose, you must drape it properly. You can look like a total mess, if you are unable to drape the saree perfectly as per its style. Ask your mother, aunt or a professional beautician to help you drape the saree. You must get the pleats right to give that poised look. The pallu that goes on the shoulder should be as per the design of the saree and neatly pinned to the blouse so that it is securely in place.
Accessorize with jewelry: Traditional dressing looks incomplete without jewelry. Therefore, you ought to wear some type of jewelry with your saree to get that complete look. You can go for funky jewelry with a stylish necklace and fashionable long earrings. If you do not want to wear anything heavy around the neck, you can simply wear a chain with a small pendant. Danglers too look very good with a saree. Wear a simple bracelet in one hand and a wrist watch in another to complete the look. Don't go in for jadau sets or heavy neck pieces as they look good for formal events and weddings but not for saree day in school.
Get the right footwear: Wearing the right footwear with your saree is imperative to enhance its looks. You cannot wear boots or flats with sarees. Therefore, you need to choose the right footwear to get the right look. Wedges are a good option and so are high heeled stilettos. However, you would not want to get tired on your farewell day. So choose something comfortable that allows you ample movement without making your feet tired. Handcrafted Punjabi mojris or juttis are a great choice for footwear.
Do not forget the makeup: the final touch to your look is the makeup. You need to put on the essentials that include a concealer, kajal, blush and a nice lip color. Get the elegant yet natural look by going in for colors that enhance your skin tone. Complete the look by opting for a sophisticated hairstyle as a French plait, bun or a straight cut. The idea is to get the best look so that you become the show stopper.