India is famous for its rich traditions and cultural diversity. Indians due to their distinctive ethnicity stand out from the rest of the world. The Indian women flaunting their exceptional charm with beautiful deep eyes and curvy figures always look their best in traditional sarees. That's why the popularity of Indian sarees has never gone down even during the increasing exposure to western culture.

Sarees a part of rich Indian culture
The Indian sarees happen to be a symbol of the rich culture of Indian women. These attires are simple yet mesmerizing and are available in wide varieties. Each different state in India comes with a range of sarees to offer to the world. Even Indian sarees have taken the international markets by a storm appealing lots of western women as well. Even though people of Bangladesh and Sri Lankan are known to wear this attire, but the sarees from India are still considered to be quite exceptional.
The magnificence of a saree only gets better when it's paired with a wonderfully designed blouse piece. Due to this reason an equal emphasis is now given to the design and making of a blouse as much as women focus on the saree design.
Few years ago when online world was not so easily accessible in our everyday life Indian women used to greatly depend upon the sarees which include an extra piece of cloth. They used to bring this extra piece of cloth to their local tailor to give it a desired style and shape.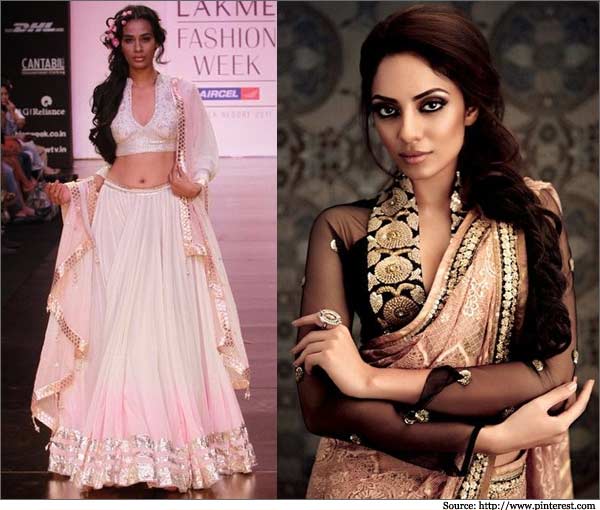 A change in trend took place
In those times, the tailor used a catalogue with some different yet repetitive designs of blouses. The women then having no better option had to choose one which they considered to match with their saree and personality.
Although the fashion and styles kept changing at regular intervals, not many people were able to catch up to the updates about the changing fashion. Hence the design of blouses they used to wear with sarees was not much exceptional.
With the advent of technology and online stores, we can now obtain information on all the most recent fashion trends with simply few clicks. Now-a-days one can buy readymade blouses ordering online just sitting at home. This method is helpful if you are comfortable wearing readymade blouses. But if there is some issue with the size then tailor-made blouses can be the only option as you can custom made the size and design according to your body shape.
This way you will get the perfect body fitting that effortlessly sits on your shoulders and flaunts all your assets without making you look weird. But many of us find it difficult to choose the best matching blouse for sarees and leave it entirely upon the tailor's discretion.
You must remember that a single change in the style of the blouse can change the entire look of yours in a particular saree. So why do not you choose your own design and make yourself look the way you desire? Here are a few tips on the most expert manner to choose a matching blouse configuration and the design to accentuate and upgrade the saree.


Factors to consider before planning a perfect blouse design:
a)First step to a nicely designed blouse
Women these days are getting extremely inclined towards the blend and match approach. They buy a simple designed saree with less detailing and pair it with a vigorously crafted blouse which totally alters the look of the plain saree. The simple idea is to improve it to a great level making it attractive attire and can be easily qualified as a gathering look. All the difference can be made by a small piece of garment.
Bollywood has a deep illicit bond with this minor piece of fashionable cloth. Actresses, be it of yesterday or of this century, the blouse is a crucial style statement to maintain their magnetism on screen. A blouse piece which is not well sewed can ruin the entire look, in spite of how stylish the saree is. So be hundred percent sure about the craftsmanship before you opt out for your local tailor.
b) The Neck Design must match with the design of the saree
The neck area is a crucial part while sewing a blouse. While outlining the shoulders as well as the neck area you must consider your face structure and the neck shape, its width and tallness. The neck area shape can feature your physical attributes richly. Round and square neck designs happen to be the most preferred shapes for both taller and shorter women. Women having short-height as well as short necks can go for a rectangular and oval neck blouse. In addition to this they can also opt for backless designs to style to their personality. Similarly tall women with long necks will appear charming with Chinese collar blouse designs. Women having huge bust line wear high necks with full sleeves to look fashionable and graceful. Similarly who have smaller bust line can choose V-neck blouses. Some people prefer to wear halter neck blouses to look chic and classy. These designs are perfect for party wear and suits women with smaller bust line. Boat neckline are outlined by the collarbones and grip both shoulders. This neckline is best for all body shape, though people with broad shoulder or short neck should avoid wearing boat neckline.

c) Whether the Sleeve will go along with the saree
Women are trying out various types of blouses with a variety of sleeves. Few years ago there was a huge popularity of short length blouses. But today, women have become far more fashion conscious and they are more eager to experiment with different designs of blouse. For example; quarter sleeve blouses are quite trendy that enhances the real beauty of the saree. Aged women with excess fat over the arm might feel embarrassed to wear short sleeve blouses. For them quarter sleeve blouses will be perfect choice.  There are different colours and patterns based on which you can select quarter sleeve blouse. Generally taller women avoid wearing full sleeves, while shorter women dodge blouses with short sleeves. The design should be chosen according to individual body shapes and heights.
Sometimes wearing full length transparent sheer sleeves offers an unmatched sense of style. If you are feel little awkward to wear sleeveless blouses, but can't resist yourself from looking sexy, then choosing transparent full length blouse will never go wrong. It will not only hide your excess flab on arms, but also make you look thinner and glamorous.
Furthermore there are mixed variety sleeves like one neck sided sleeves, sleeveless, straps and strapless, puffs and many more. If you have a slim athletic built body type then you can choose sleeveless or strapless blouse to flaunt your perfect figure.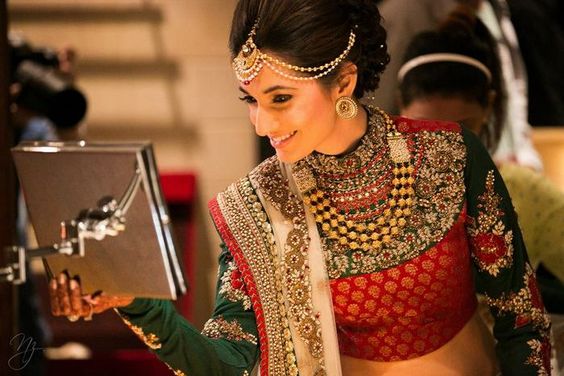 d) Whether the saree and the blouse are made from the same Fabrics
The general practice is going for a blouse with similar type of fabric as that of the saree. In most cases this happens naturally as the extra piece of cloth in most cases comes along with the saree. But many women prefer not to use the fabric to use for making a blouse which is given with the saree. After considering the body shape, height and appearance choosing the right fabric that accentuates the saree is also important.
The most used fabric is cotton that can be worn for daily use sarees; Rubiya voile happens to be another widely used alternate blouse material. Many people prefer silk, net, georgette, chiffon as well as chikan materials as a part of the making of the blouse. These fabrics are suitable for gorgeous and expensive sarees which can be worn on parties or get together.

e) Matching the Color with the saree is most important
While choosing a perfect blouse for your saree you need to focus on the shades as well. Otherwise your entire effort will be in vein. Some women prefer choosing contrast colour blouse for their sarees. In some cases the exact colour match is essential. Not only color of your saree, but your skin tone and body shape also play an important role when it comes to selecting the right attire. For example; Dark shades like black, brown, navy, and purple are known to be very flattering shades for all skin tone and body types. But it is mostly suitable for women with extra fat. Dark colors make them look slimmer. Normally, cold colours like blue, green or purple compliment pale skin tones while warm colours like brown, orange, rust orange and some shades of yellow work with dusky skin tones. But if you are fond of Neutral colours like black and white just go for it without a much ado as they look perfect on just about everyone.

Conclusion
The blouse is a favourite ensemble of every Indian woman and they fill wardrobes with the sarees. Worn by women of every body type, skin tone and class, today's blouse designs are more wide-ranging and exclusive than ever. With so many colours, patterns and sizes to pick from, it should be easier to narrow down the options on the basis of individual needs. Most women should have no difficulty to choose a blouse that looks awesome on their body shape.  You must pick the one that makes you look absolutely stunning.