Sarees are known as one of the best outfits for women. Indian women mostly prefer sarees as these are perfectly suitable for almost every occasion like for office, for travel, at home or at the time of attending some occasions like party, wedding, function or any other events. Wearing a saree in the right manner can't only hide all the flaws in the body, but also increases the beauty manifold of the wearer while making her look like a diva.
So, one just need to take care of a few things while it comes to wearing the perfect saree. One of the things is choosing the right saree. Nowadays, the market is full of both conventional sarees and modern sarees. In case you are one of those, who like to experiment with the looks and want to try new attires, then crepe sarees are a type that you can give a try. Here are some details about this saree type you must know.
Importance of the crepe sarees:
Crepe sarees are considered as one of the most preferred sarees of the modern time. Basically, these sarees are made from knitted or woven fabric in the gummy natural condition, which is mostly regarded as one luxurious material. Great fall and drapes are two things that make these sarees ideal for evening wear. Other distinguish features of these sarees are the luster and sparkle, apart from the gauze like appearance, texture and soft feel.
These sarees are alluring and unique and these come with a soft feel and these are mostly designed with block printed borders, floral block prints and elegant designer pallus. Besides, some of the sarees are also made eye catching with stylish pallus with mirror work, designer contrast borders and artistic zari buttis or patch embroidery. Apart from that, there are trendy prints in a range of vibrant colors and latest designs, which make the crepe sarees really attractive. Most importantly, these sarees are light weight and comfortable to wear for all day long.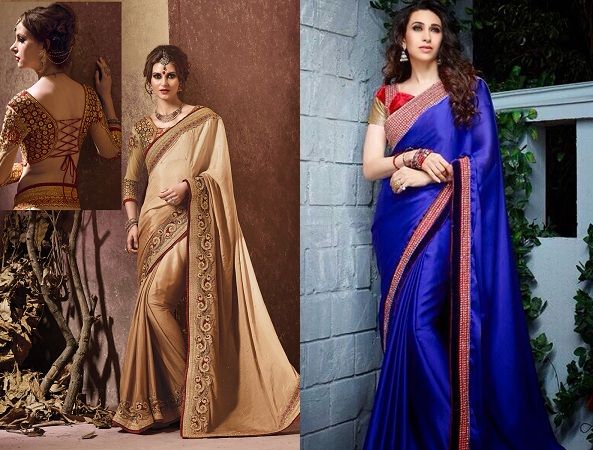 So, these are some of the features that make crepe sarees must have in every woman's wardrobe, who prefer wearing stylish, trendy and traditional sarees in the day to day purposes like pujas, office functions, bridal attire, marriages, special events etc.
Another great thing about the crepe sarees is that these are lightweight and therefore are perfectly suitable even for the overweight women. Draping these sarees in a proper way can actually make the bulky women feel slimmer and skinnier. So, they can freely experiment with the borders, works and prints of these sarees.
Types of crepe sarees:
But before choosing a crepe saree, it is advised to research well as these days the market is full of faux crepe sarees that are made to imitate the original ones. Here are some of the details about the original crepe sarees:
Soft finished crepe: Also tagged as Cantonese crepe or Oriental Crepe, these sarees are far popular than the hard finished ones because of the glamorous finish these offer in both regular wear and wedding sarees. Often mixed with silk, the wedding sarees made with soft finished crepe and finished with the woven threads are made of various wires, fabrics and colors.

Hard finished crepe: These are mostly mixed with silk material to get an authentic look. This type of crepe sarees are mainly made with hand spun yarns and therefore these are woven using the modern power looms. Though these sarees are often dyed in dark shades and also because of the availability of advanced coloring and printing techniques, crepe sarees are now widely used to manufacture exotic wedding sarees. The best things about these sarees are that these offer wonderful embroidery designs and also come in a great range of exciting shades.

Why do women prefer crepe sarees even as their wedding attire?
 These days, a number of modern women are opting for crepe wedding sarees, who want a modern look in beautiful attires. Here are some of the reasons why crepe sarees are considered as one of the best wedding saree types:
Great work of embroidery: In the field of fashion circuit, the crepe wedding sarees offer some great options. In fact, the wedding attires made with crepe sarees just go perfectly with the embroidery works.
Comfortable to wear: These days, the popularity of crepe is increasing in a rapid rate because of the advancement of method in which these are manufactured. Mostly these sarees come with irritation free fabrics that work as a revolution in the segment of designer wedding sarees. Comfort is considered as one of the major qualities that women now look for in the sarees, especially while it comes to the sarees to be worn in the most special occasions of their life. Though crepe sarees take a little long time to drape, but once you are done, you just look surreal.
Availability of fancy patterns: Crepe sarees are just ideal for modern women, who prefer to wear fancy attires. Being manufactured with both left and right twisted threads, these sarees offer great flexibility. Therefore, fancy patterns also look great on these sarees. In fact, no other fabrics offer such fancy options like crepe does.
Anti sweat properties: The crepe sarees offer amazing resistance against sweaty affairs, which mostly come with the hot weather in India. This thing ensures that no sweat stains remain in the sarees and the sarees remain bloomy and fresh even after wearing those for a long time.
Great fabric: The sarees woven with cotton or silk don't reflect much and therefore these are just ideal for the afternoon wedding affairs. Besides, these sarees are also really easy to manage and therefore these don't lose the crease and fold even if you sit in a certain position for a long period.

Care instructions for crepe sarees:
The crepe sarees need to be dry cleaned or hand washed. In case you want to consider machine wash, then only opt for cool machine wash. Besides, these sarees should only be cool ironed.