Linen is essentially a lightweight fabric, known for its versatile appeal. This textile is derived from flax plant fibers. It is counted among the oldest of textiles of the world. The name, notably, has a Latin origin with Linum, meaning flax plant. Linen sarees are almost a permanent fixture in the quintessential ethnic wardrobe – with women from 16 to 60 and above sporting them with aplomb. These sarees are a great fit for every season – especially the Indian summers. Here's more about the fabric, which is almost treasured by Indian women across all ages.
Linen sarees: A bit about its basics and origin in India
It takes a lot of time and effort to manufacture each of these pieces, but, the end product is worth raving about. The fabric is extremely soft and sweat absorbent. As such, it makes for a natural sartorial choice during the scorching summers. They render an impeccable freshness to your entire look while you step out of your homes everyday for work or just for fun with friends.
The refreshing sartorial fixture has an interesting history to boast of as well. Its origin can be traced thousands of years back when people started transforming plant fiber to string and cloth. It was during 5000 B.C when people actually started weaving this fabric from flax plant. Notably, flax plant mainly grows in Central Asia and the Mediterranean region. Since sarees were generally hand-spun in those days, they demonstrated a very different kind of finesse, conspicuously absent in the modern machine-spun sarees.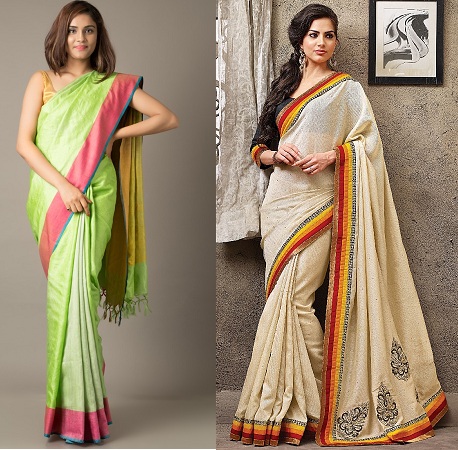 Linen Silk Sarees: Nail the ethnic look with ease
Linen silk drapes are a fashion rage among youngsters – and not without reasons. They are comfortable and fashionable at the same time. After all, it's not that easy to be at your fashionable best during summers. Indian summers are hot, humid and unpredictable at the same time. A lot of thought goes into the choice of clothing in the country. The sartorial scenario is primarily ruled by cotton, khaadi and other fabrics that are tender and comfortable. Anything which is not sweat absorbent doesn't make the cut here– no matter how fashionable it is.
Linen silk is one such rare fabric fusion which spells "style" and comfort at the same time. These sarees are unmistakably associated with slubs or small knots appearing arbitrarily along the length of the drape.
The greatest attributes of silk linen sarees
Silk appends to the natural luster of linen, rendering a very "raw" and unique look to the whole attire. Pure silk linen sarees can actually lose and absorb 20% to 25% of moisture without rendering a damp or uneasy feeling. This attribute makes these sarees a great fit for the hot and humid summers in the country. Just like their silk counterparts, pure linen is equally sweat-absorbent.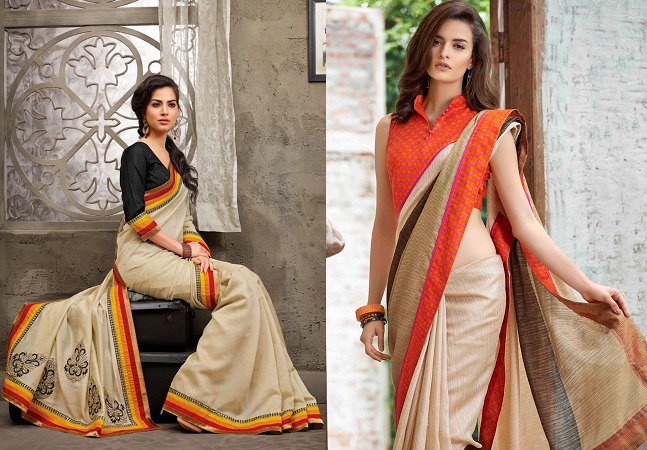 Why women absolutely love these sarees
They are known to accentuate a woman's curve not by clinging to them but by highlighting the strengths. Since they can absorb moisture they do not cause rashes. Linen is one of those fabrics that do not stretch easily. As such, it doesn't wear off easily.
Linen gets softer as you wash it. There is a variety of natural colors made available for you and these colors range from tan and ivory to ecru and grey.
Maintenance of these sarees is not really a daunting task as well. They are naturally used to resist dirt and stain and as such make for long-term possessions.
So, it can well be concluded that these sarees are a perfect blend of comfort, style and convenience. Naturally, every saree connoisseur has at least three or four different varieties of linen sarees in her wardrobe. Besides moisture, they're great at absorbing heat as well.
Linen sarees: Their versatile appeal
Quite contrary to what most of the women out there believe, linen sarees are not really designed strictly for older women. They are gorgeous, lightweight and fresh. It's a versatile fabric which enables you to experiment with diverse drapes. You can jolly well team them up with chic accessories to create a fusion look. Ladies of all ages can wear them without being skeptical about the fact that they will look older than what they are.
One of the greatest attributes of these drapes is that they fit in as blithely into your corporate look as they do in your evening look. Acquainting yourself with varied draping styles will only help you style yourself better.
Styling your look
A sober linen saree is perfect for the corporate look. A classic linen drape is a perfect fit for a corporate meeting or even for your daily office look. There is a lot of scope to experiment with your blouses when you are trying to pull off that flawless formal look. You can team up a uni-colored linen saree with a ¾ or a full sleeve blouse. What more? You can even try out the jacket blouses to complete the corporate look. Notably, jacket blouses are generally picked up by women who want to add a touch of fusion to their ensemble.
While the plain hues are a great choice for corporate ensemble, a casual day out with friends or favorite folks demands something more vibrant. Don't worry. Linen sarees offer you a lot of opportunity to explore. You can pick up the printed options with creepers, checks and other motifs. Once again, team these sarees up with trendy blouses including the sleeveless, full-sleeve the ¾ ones.
Besides the plain and printed designs, the pastel shades are a major fashion hit this season. Pastel hues are elegant and vibrant at the same time. You can use them for daily use as well as for occasions.
Style is a lot about personality, we say. The most beautiful thing about linen sarees is that they fit blithely in diverse fashion schemes. It doesn't matter whether you're trying to pull off a boho chic, or a corporate or a casual evening look – a linen saree can be your go-to choice for every occasion!