Indian women are highly fashionable these days and they want to look picture perfect where ever they go. Style is not a stagnant concept and it keeps on changing to go with a flow with the changing time. Indian ethnic wears are also getting new makeover every time and that what makes Indian ethnic dress a preferred one not only for the Indian women but also for the women across globe.
About Crop top Blouse
Crop top Blouse with different designs and patterns are now on craze and you will love wearing them not only parties and events but also in many casual get together with friends and families.  Heavy embroidery work crop top blouse will suit best on wedding receptions andso the heavy designed tops are in demand for festive seasons and wedding seasons in India. The designs are very unique and hardly match with one another. The fashion designers in India these days are concentrating really hard to come up with new trendy Crop top Blouse designs.
If you manage to attend any fashion show of India dedicated to Indian brides, you will get to some elegant Crop top Blouse matched with beautiful embroidery Lehenga. The Indian designers are well inspired by the beauty of nature and the craftsmanship of the Mughal period architecture and you can find its presentation on the crop blouses designed by them. While taking a look at the crop blouses in the fashion shows you will get a feel that they are crafted with love by the designers. Indian women are always known for their exceptional beauty and when they pair them up in beautiful lehenga with a combination of embroidery crop blouse, the beauty gets a new dimension. Crop top blouse are now in trend and you can mind at least one in the wardrobe of every stylish and fashion conscious women of India for sure.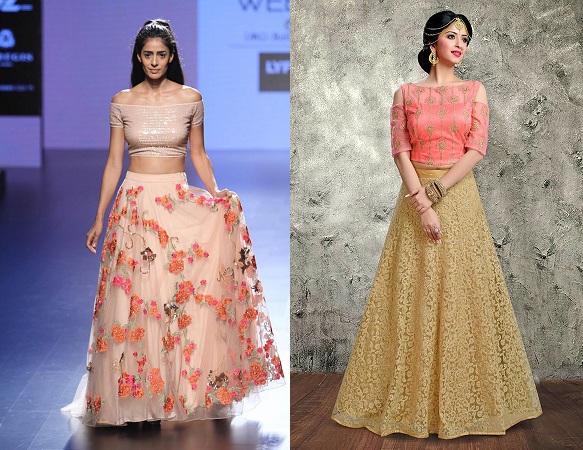 Know about the different combinations of Crop top Blouse for an elegant look
Pairing the Crop top Blouse with Pencil skirt looks perfect:Pencil skirt gives a perfect look to a slim fit body. Although skirts are western outfit , but if you want to go for a Indo western ethnic look then you can pair up a simple chiffon crop top blouse with it to get a look which will not only make you look adorable but also will make you the center of attraction for sure. Pairing a crop top with pencil skirt will give an enhancement to your silhouette making you look taller than usual. Definitely you will also look slim too. If you are having a perfect A cut figure then this combination will be a perfect choice for you beyond any doubt.
Go for Pairing of Palazzos with Crop top Blouse: If you looking for a casual yet winning combination of outfit then pair up with a velvet Crop top Blouse and a matching color Palazzos. You will not only look smart in this combination but will become the heartthrob for all. You will get comfort and style together in this combination. Don't go for any embroidery blouse in this concept as this will mess up the look. Go for a simple sober look of blouse.

Midi skirt combo with Crop top Blouse: Aha…….. A lovely combination for a lovely Indian woman to grab the attention of the crowd in any function is midi skirt and crop blouse. It will make you look more feminine and attractive. To look perfect go for a printed crop top blouse with short skirt. Pair it up with a matching high heel shoe and you don't need to do anything extra to make you visible and attractive in the crowd which you are going to attend.

Crop top Blouse with Indian Lehenga: Crop top Blouse looks lovely when combined withlong skirts or even a traditional Lehenga. Lehenga these days are worn in different occasion stating from Indian wedding to festive occasion party like holi, Diwali and many more are there on the list. You can try out high neck blouses with Lehenga as this will give you a very different look which will be appreciated and noticed by the crowd you meet.

Match crop top blouse with Indian saree: Saree is one such outfit which can make any woman look beautiful and pretty. Give your appearance a perfect Indian traditional look by selecting crop top blouse to match with. If you want to keep your mid riff remain uncovered while wearing a saree then the crop blouse will be the best choice for you. You will look quite different from the rest of the crowd when you go for this dress combo. If you take a look at the style trend of the Bollywood divas then you will get to notice that many of them are giving a very cool look in the parties they are attending.  Sonam Kapoor to Nargis Fakhri, Madhuri Dixit to Priyanka Chopra all look awesome in crop top blouse.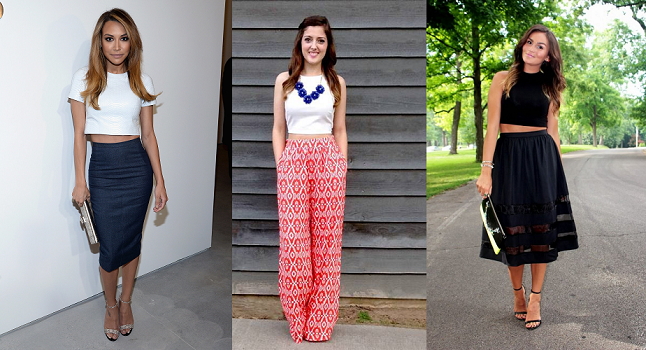 Draping the dress in style with crop top blouse
There are many ways which you can follow to give a grand, elegant, sober as well as sophisticated look to your personality while wearing a crop top blouse. Don't be too much cautious while you put on this blouse. Rather feel free and go for combining anything and everything as lower while using a crop top blouse.Keep experimenting on your look with crop top and get the chance to others envy about your look. If you are looking for the best style to match up with your available crop top in wardrobe, just pick some of the leading fashion magazines of India and there you will get to learn a lot in this regard. Even expert fashion designers also share there tips to guide people about how to dress on different occasions and what type of outfit will go with which type of figure. Follow their guidance well to get the look you desired.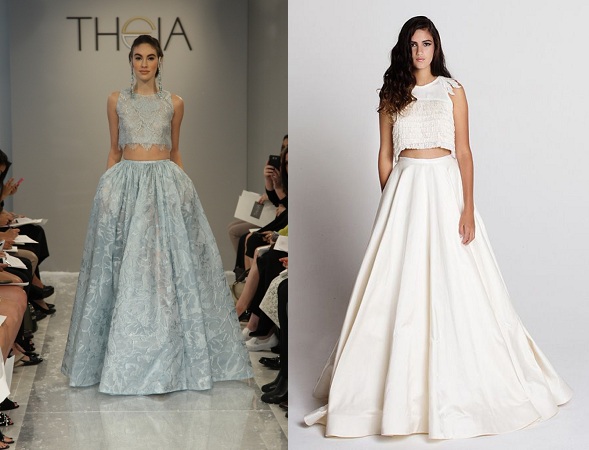 Tips for how to wear crop top in the form of Blouse
If you go for a crop top with long sleeves then that will give an ethnic look to your personality. Long sleeve crop top with saree will enhance the feminine look in your appearance completely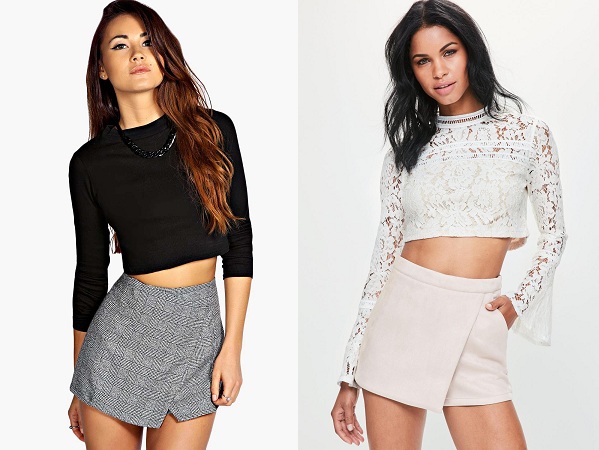 While selecting the crop top for matching with saree you will get N numbers of options in the neck shape like round neck, neck in square shape, 'V'-neck, high neck, halter neck and there are quite a good number of other options too. You need to check the length of your neck and the wideness of your shoulder while selecting the neck type. Select the neckline which goes with your saree look and personality well.
If you go for high neck blouse then add some traditional jewelry in order to give a pure Indian traditional look. Select long length earrings and wide floral neck piece to match up your look well.
When you select some ornaments which are heavy in weight as well as look then the crop blouse you select need to be heavy too. Select heavy embroidery crop top with embellishments like pearl drop and crystal line.
If you are planning to pair up the heavy work crop blouse with choli and lehenga, then make sure that the lehenga you select is sizzling heavy too. To make a look bit different you can try out embroidery jacket with high waist lehenga with a crop top blouse.
If the events in which you want to go for a lehenga with crop blouse make sure that the selection of color is bright and bold.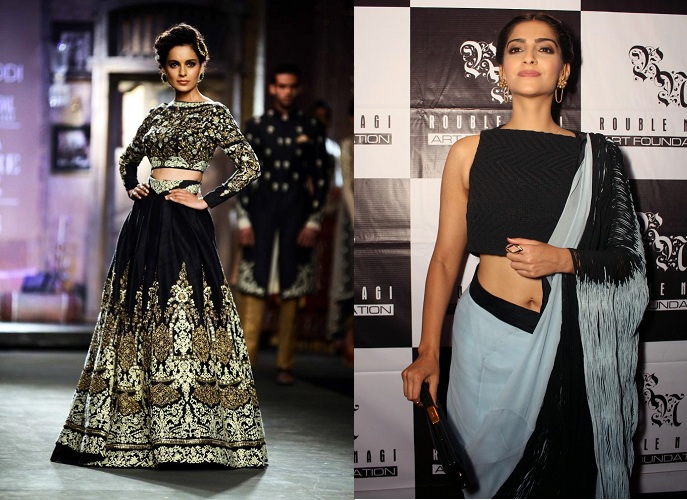 For wedding and other festive season make sure to pick the right crop top blouse for your elegant look
Crop top blouse can give you that attractive look which you desire for on your Big Day. You need to take care of your physical structure while making the selection of blouse.
Round or short figure: If in case you are not blessed with a slim trim and tall figure then there is nothing to worry as you can still look the best in Crop top blouse.  Select the blouse which ends at the mid-zone of the rib cagecovering up the naval in order to hide the short body structure.
For an athletic body: If you are a sports person and having slim toned, fat belly body then that will give you a sizzling look in Crop top blouse. Blouse of any shape and style will go well with your personality. Select structured fabric to highlight your chest zone skillfully.
For heavy weight body: Now you need to be really very careful if you want to look perfect inCrop top blouse with a heavy weight. You should not use heavy embroidery blouse. Go for full sleeve blouse to hide your weight well.
Online store for buying the best Crop top blouse
To cope up with the demand of the Crop top blouse in the fashion world the online apparel store are selling it in large numbers. If you can visit the website of the leading apparel e commerce site there you will find a wide collection of these blouses in different patterns, styles and materials. The prices are very affordable and so it will not be difficult on your part to afford it and make a good collection of Crop top blouses in your wardrobe. You need to carefully check the material used in the making of the blouse plus the size which will fit your body type while placing the order online. Once the payment is done using your debit or credit card the product will be shipped from the seller end and the same will get delivered at your door step within given timeline. In case you are not satisfied with the quality or the size you can return back the product or can exchange the same for the right size. It's time now to take a step forward to pay a visit to the online e commerce sites to make the shopping for your Crop top blouse. Look good and feel special while matching your Crop top blouse with the right outfit.