Fashion is all about evolution; tulip trousers walked on the runway at Milan Fashion Week in March and became one of the hottest trends in few days. The pants feature tulip petals with a skinny fit bottom. The trousers are quite excellent and have many varieties, depending on the style. Also, different embroidery, lace and pearls, and simple designs made these pants the trendiest attire of this year. So, here are some important things you need to know about this trend :-
The Style
The trend has evolved into various awesome styles; like for summer you can wear a cropped tulip trouser to beat the heat and stay cool. The cropped trousers provide you the airflow in sweating summers but you may need to shave your leg. Also, you can try flared tulip pants which are inspired from the late 90's fashion or you can go with the skinny fit leg. Bohemians and back beaches trousers have two designs, the wide leg, and the hi-lows. You can wear a crop top or a tank top which is perfect for your cropped tulip trousers or other designs as well. Mainly the attire depends on its fabric and cut, you can wear the trousers at the beach or even your office. There are so many different materials, shapes, and styles available and you just have to find what works for you.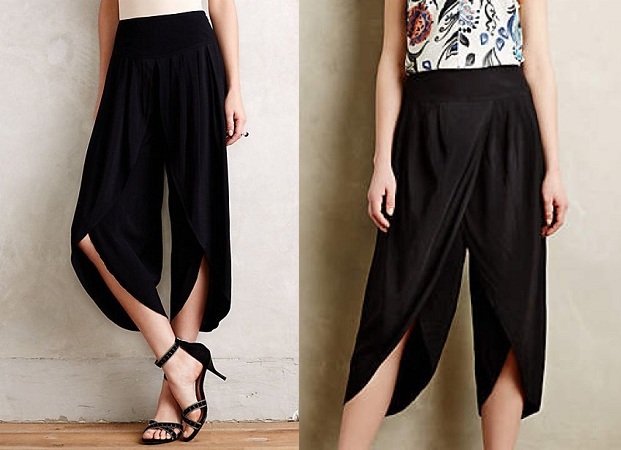 What to leave?
The skinny fit tulip trousers are quite nice at the bottom but it has wide hips which are problem for some women who want to show their curves. However, some women tend to love this thing and add an extra fabric to the hips but somewhere it doesn't look flattery. So, if you're trying cropped tulip trousers make sure those pants don't have such wide hips or maybe your legs will look quite shorter.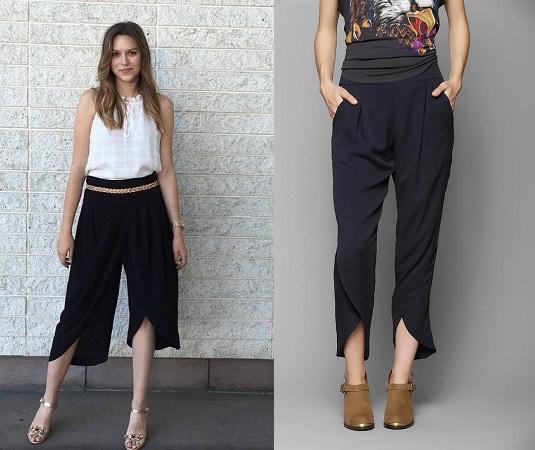 DIY Cropped Tulip Trousers:
The style has its color combinations of brilliant light and shades. However, you can make this attire by your own, which will look excellent. So get excited and follow the steps below to make your own DIY cropped tulip trousers –
Pick your fabric to make a beautiful tulip pant.
Now, fold the fabric into 2 pieces and the corners of the fabric too. Make sure that your folded corners have a little difference from the bottom.
You can see a cone shaped border which will be the upper side of the pant.
Now, start cutting the fabric from the top according to lines.
Stitch the 2 pieces to give it your favorite look and unfold the pieces.
Stitch the rest of the fabric.
Now you're ready to wear your favorite DIY cropped tulip trouser.
Modern Pants:
The creative minds are working really well and presented a design which is stylish, cool, and modern. This style is little different than the normal tulip trousers, inspired from the elegant and formal pants for women. The quality is excellent and looks really beautiful. These pants also made with different materials such as chiffon, silk, cotton, and lawn that make it look stunning. With magnificent fabrics and beautiful designs, cropped and full length, these beautiful pants are available in the stores.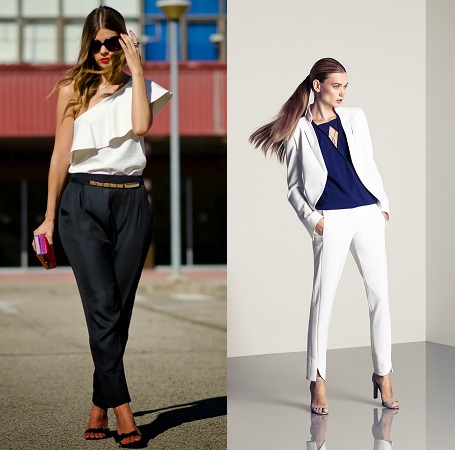 Top Designs of Cropped Tulip Trousers:
Here are the top 5 designs of cropped tulip trousers you need to look before you buy yourself one –
Black Cropped Tulip Trousers:
Inspired from old-lady skirts, this elegant tulip trouser is quite modern and elegant. You can simply wear this beautiful black trouser with a silk blouse and long strap-heels. This trouser also features –
Side zip
Fabric – Rayon and viscose
Available in 3 different sizes
Color – Black
Dry clean wash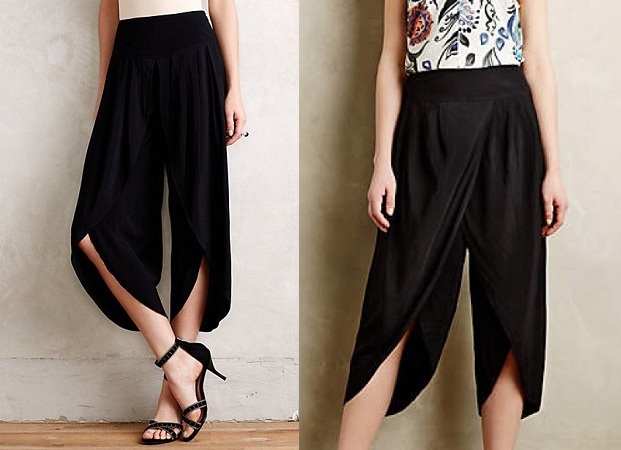 Cropped Velvety Wide-legs Trousers:
The awesome cropped velvet trousers with wide legs look great on a fair skin toned woman. You can wear this beautiful trouser with full sleeve wide round neck tops, it will look really fabulous on you. The cropped pant is available in 2 different colors, gray and dark turquoise. It features –
Fabric – Nylon and viscose
Front pockets
Available in 3 different sizes
Pull-on style
Dry clean wash recommended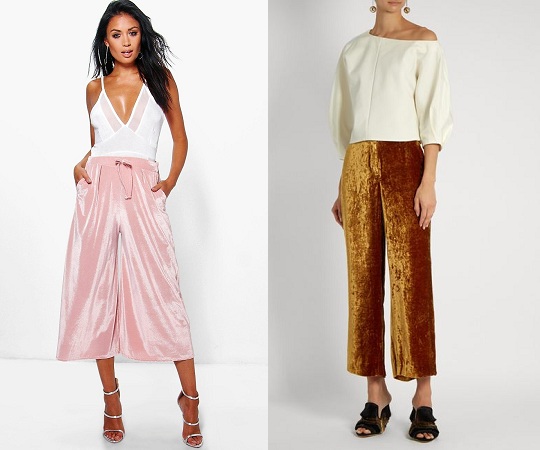 Cropped Mid-Rise Flare Trousers:
This cropped flare trouser is really a treat to eyes; the fabric is cotton so you don't get a chance to complain about comfort, you'll look really confident and gorgeous on this pair of trousers. The trouser is also slim fit so you don't have to think about wide hips and you can show your curves by wearing these pants. It features –
Fabric – Cotton and spandex
Cropped and slim flare fit
Available in 2 different colors; wine red and carbon
Available in 2 sizes; regular and petite
Front slash and back welt pockets available
Machine wash recommended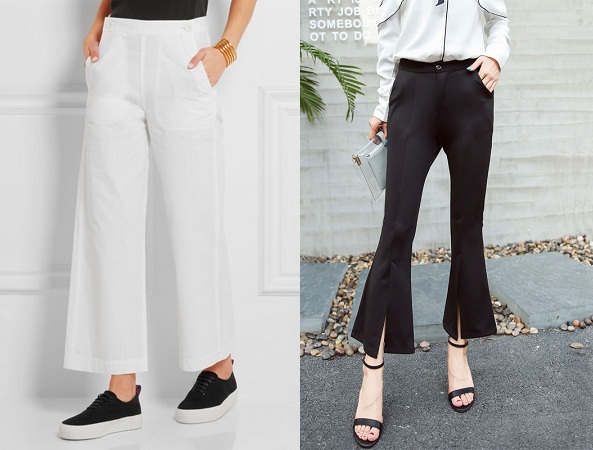 Cropped Sleep Trousers
The beautiful trouser has floral designs all over which makes it look really attractive. Though this is a sleep trouser but you can wear it outside. These are like 'pom pom' pants, perfect for beaches. The breezy fabric and light weight pants with awesome print are also easy to wash and great for any summer outings on the beach. You can wear it with a tee that goes perfectly well with the pants, also try a crop top to add a different flavor. It also features –
Fabric – Rayon
Pull-on style
Available in blue motif color with floral designs
Available in 2 different sizes; regular and petite
Machine wash recommended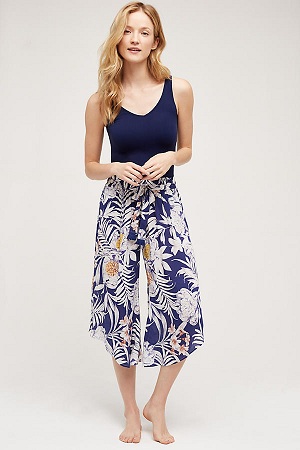 Cropped Camo Trousers
These awesome cropped camo tulip trousers are cool, undoubtedly. You can get unexpected compliments because of the design. With camouflage designs and ideas, this cool cropped trouser is perfect for any casual gatherings. You can wear it with a full black crop top or a sleeveless black top to make you look stunningly attractive. Also, you can add accessories to it, try a black aviator to complement the attire and your personality. This awesome cropped camo pant also features –
Fabric – Cotton and spandex
Relaxed fit
Tapered legs and tied cuffs
Front slash and flap pockets on back
Available in green motif color
Machine washable.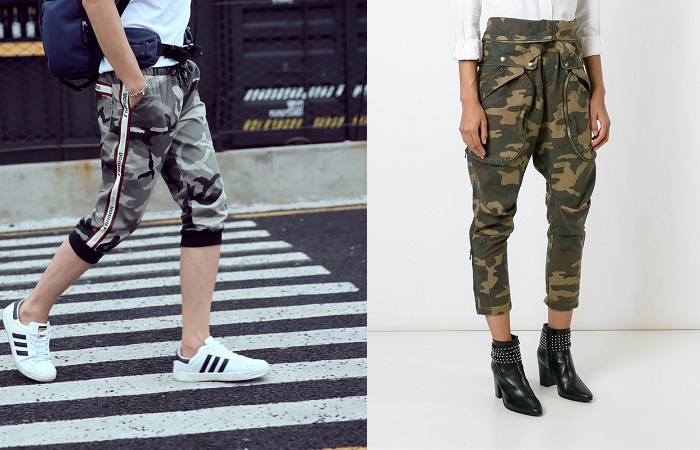 So, pick the right pant and flaunt your curves with tulip trousers!