When it is all about selecting a dress for a grand Indian Wedding, nothing can be more authentic and gorgeous than a Lehenga. From the bride-to-be to her cousins or friends, lehenga can be worn by everyone (of course female) as because it is an elegant lehenga which enhances your appearance adding a spark of sophistication. Further, the colors like vermilion, red, green, maroon or blue successfully add a soothing touch of festivity and joy. This, when complimented by jewelries, makes you more glamorous.
Introduction of lehengas in India
Lehengas which are now a bride's pride are in existence in India since the age of the Mughals. Courtesans and Royal ladies wore this attire usually on special functions. It is so believed that a lehenga choli possesses the ability to express the exquisiteness of a woman in its truest form. This legacy is still in existence where you get to see lehengas coming up as the most favorable attire for a bride. But at the same time, it needs to be mentioned that the traditional lehenga choli has undergone a myriad of changes over the years. Designers have come up with more amazing designs which resemble the true blend of both modernism and tradition. In this context, the most common and popularly preferred lehenga design is the jacket style lehenga.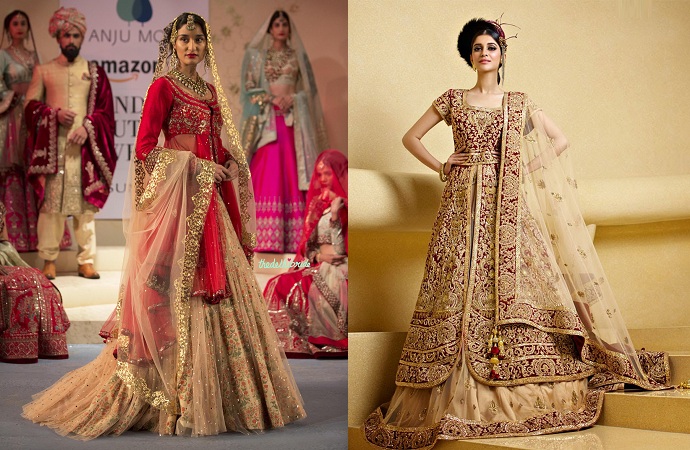 Origin of the Jacket lehengas
Jacket lehengas are inspired from the traditional lacha style lehengas which count among one of the highly preferred wedding attire in Pakistan and Punjab. While traditional lehengas come with a long flattering skirt perfectly teamed with a choli or a small blouse and dupatta revealing the back and belly, the lacha style lehengas comes with a blouse which is relatively longer and cover the back and belly. Usually, in this case, the blouse extends till the hip. This lacha styled lehengas are not only elegant and classic but also comfortable to wear for the bride to be for engagements, wedding, receptions and other festivities.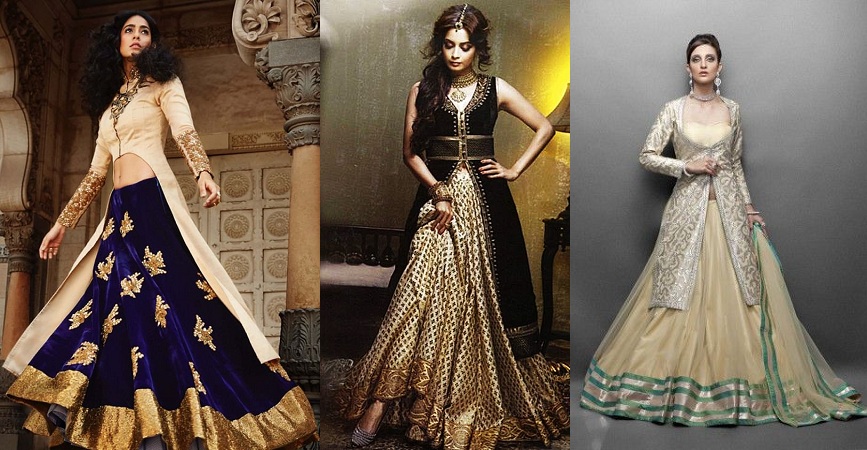 Features resembled by Jacket Lehengas
As time fled, new designs and styles have come into existence especially with the lacha lehengas that eventually led to the creation of another amazing bridal outfit-Jacket lehengas. Looking specifically into the features of this type of lehengas, the following have come into concern:
This lehenga type comes with a long flattering skirt along with contrasting or matching the open jacket. This jacket is made from silk, net or chiffon fabric and is embroidered exquisitely with sequins, zari, beads and stones.
Jacket lehengas are incomplete without matching juttis and pallu as well as stunning accessories like jhumkas and bangles.
If you are looking for embroidered jacket lehengas, you will come across a myriad of choices in vibrant colors like magenta, vermillion red, orange, green, maroon, violet and blue.
Long jacket lehengas are suitable for any body type as because it is the jacket which covers your body beautifully without letting any flaws to be recognized. Again it makes you look slim, sleek and tall too.
This attired is tagged as to be a multi-diversity one which can both be tailor made as well as availed readymade. However, in most cases, people go for the tailor-made ones as it offers them with the option of customization according to their preference. You can either keep this jacket simple and elegant or can deck it up using flashy adornments.
Not just in India, but jacket lehengas have gained immense popularity throughout the world and has been used in the fashion runway too. This is because of its sleek and stylish design as well as the comfort it renders.
For both wedding ceremony as well as reception party, you can adhere wearing a lehenga.
As mentioned, jacket lehengas are available in a myriad of fabrics to ensure that you feel comfortable wearing them. The range includes silk, georgette, net, crepe, brocade, chiffon, and satin. Hence you can select a fabric keeping into concern both your comfort zone as well as the prevailing weather condition.
Jacket Lehengas are looked upon as an epitome of fashion and convenience. It can be worn conveniently, managed simply as well as carried easily. Hence they gain the top most position in the must have attire list of a bride.
A look at the parts of the jacket lehenga
Now that you have grasped an idea about the features of the jacket lehenga, it is time to take a look at the designs and parts of this lehenga style. Alike the traditional lehenga, jacket lehenga too is a three piece attire consisting of a jacket, matching dupatta or veil and lehenga or the skirt. To help you understand better, here is a brief about all these three parts of the attire:
Jacket:  This is the topmost piece of the attire worn over the lehenga choli. The jacket is simply made from the fine net, chiffon, tissue or net fabric and features exquisite embellishments on both the sides. At the back, there is a zip closure to keep the jacket fixed. Some variants also come with a front closure.
Lehenga:  The lehenga is a long flattering skirt over which the jacket is worn. Usually, fabrics like georgette, silk, brocade and satin are used for making the lehenga.  As per your choice, you can avail either as mermaid or fishtail style lehenga, A-line lehenga, panel lehenga or straight cut lehenga.
Dupatta: The dupatta is made from chiffon or net fabric and comes with embellishments at the edges.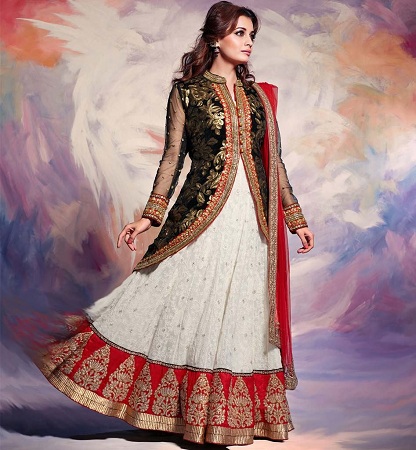 Selecting a jacket lehenga for yourself
As per your body size and shape, the sleeve and neck style of the jacket and be made. However, if you are getting a readymade one, then it can also be readily altered. You also enjoy the option of selecting jackets with boat neck, collar neck, keyhole neck, and halter neck. Coming to sleeves, you can select cap sleeves, three-quarter sleeves or can even go sleeveless. However, in this context, it is recommended to go with three-quarter or cap sleeves.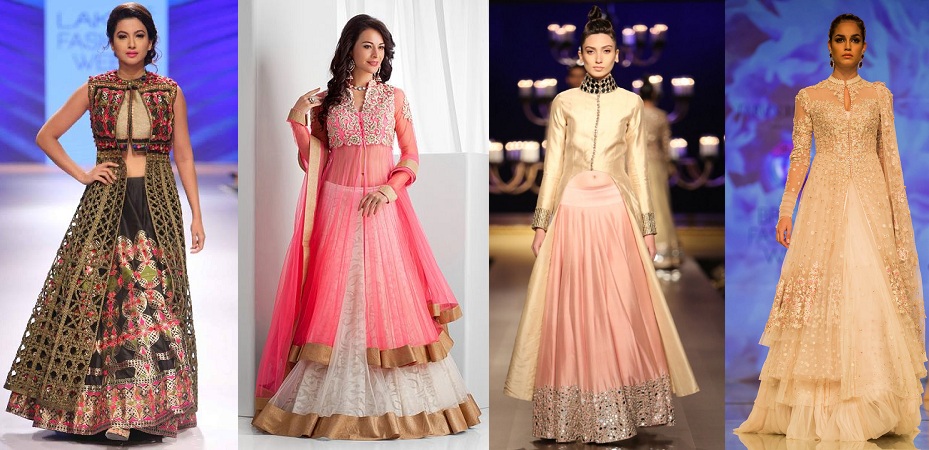 The enchanting jacket lehenga designs due to its smartness and elegance has become most popular in the bridal attire range. However, apart from the bride, anyone can wear it. But do remember that you go with don't overpower the bride:-D. So to stay simple yet elegant at any party, go with the jacket lehenga.