No matter what Indian women wear every day, they love to wear a sari or Indian dresses on a marriage or on a special occasion and if the woman is an NRI, the drive to wear a sari is simply irresistible. The urge comes from the fact that deep inside an Indian NRI woman there is always a longing to be with her friends, her family or if nothing else, be connected with them over photograph sharing through social networking sites like Facebook.
Sari plays a pivotal role in enhancing the femininity and sexuality of a woman. Be it a chiffon sari, a crepe sari or a silk sari, a blouse is the most important part of the entire ensemble. A sari covers the body of the woman and provides the beauty but the blouse brings out the sensuality of the woman and makes her desirable. A blouse is the part that makes the sari such a beautiful dress that it is known as, and a perfectly fitting blouse is one that moves with her body and that is the beauty of the blouse.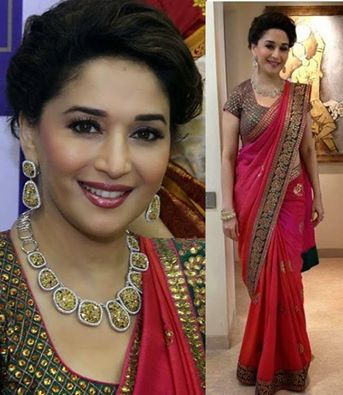 If you are an Indian and living in India, you may not quite understand the value of customized blouse concept because this is the only thing that you may have known all your life. Your mother, your grandmother and every other woman that you know must have told innumerable stories of their saris and their blouses with some good and some bad experiences. These could be about the improper fitting or delivery date or the blouse getting misplaced or it getting mixed up with someone else. However, for a woman living abroad that has no option of a tailor who will stitch a proper blouse for her, the customized blouse concept is quite a rage.
Why Customized Blouse Concept is so Popular with the NRIs
There are several reasons that can be attributed for making customized blouse concept quite a rage among NRIs from India. First and the foremost reason is that in most countries outside India the concept of customization is very rare due to the fact that labor there is very expensive and customization is the prerogative of the very rich. Middle class people just cannot afford their price. There are tailoring shops but these tailoring shops are more of designer boutiques than the usual tailoring shops that you have in India.
Another reason for the rage is that the blouse designs that Indian women wear are completely different from what is worn by western women and even if there are few tailors abroad, they are not trained to make blouses with Indian cut and Indian designs.
Every country has its own culture, systems and dressing. The clothing material that is used in different countries may differ slightly in some cases while the difference can be startling in some.  In cold countries like Russia, Canada and several parts of America and Europe the type of cloth that is used is very different from what is used in India, which is typically a hot country with mild to severe winters but restricted to certain areas only. So getting material and design that will make a blouse that can go with a sari will be entirely different from the material that they use for their blouses. Even if one uses part of a sari for blouse making as it happens sometimes in India, the comfort quotient that an Indian tailor can offer cannot be matched by a tailor from abroad.
Availability of Exclusive Work:
The rage for customized blouses among the NRIs is mostly for the formal sari blouses and these types of blouses are usually embroidered or embellished.  India is a place where you can get any kind of embroidery or embellishment done as these things are a part of the Indian culture and you have experts available that will do a single piece job for you. However, outside India people cannot get craftsmen to do these jobs for them. However, by chance even if you get any person to do the exclusive work on the blouse their prices are so exorbitant that they are simply not affordable.
Quality
One can contend that online shops are offering blouses for all kinds of materials so there is no need for customization but the fact is that no matter the number of shops on the internet and the number of sizes available on the internet, the fitting that you get when you get it stitched according to your size is simply unmatched. Even when you get them stitched from a tailor, there are always a few glitches here and there and more than often require a little alteration so that the blouse fits in properly. With an online blouse the scope for such fitment becomes zero and you have to accommodate with what you get.
More and more women are turning towards customization and more so in case of a blouse because after having tried blouses from online shops women have realized that although price of the online shops may be less at times, the quality of blouse that you get is far inferior than what you get when you get it customized.
Exclusivity
Online companies get blouses manufactured in bulk quantity of the same shape and design to reduce its cost but consequently it compromises on the quality of finish that is required for the blouse.  Also, when you buy a blouse from an online store or from a readymade shop, the design and shape of the blouse is common for so many people in the same city. Furthermore these online companies also manufacture the same design in all the sizes to cater to a large populace but in the process compromise on the exclusivity of the design. On the contrary, when you customize a design, it remains exclusive for you and made as per your instructions. Therefore chances of duplicity are very rare.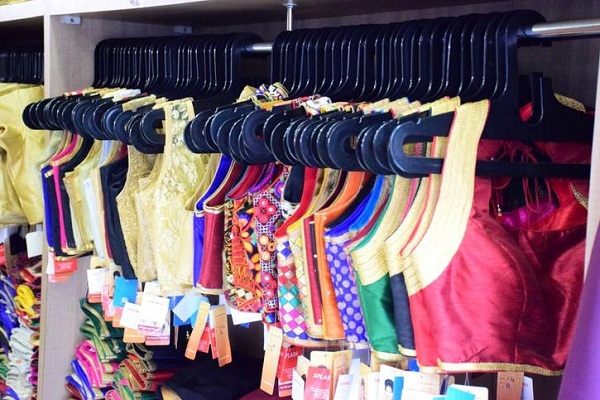 Alteration:
A very major issue in case of a blouse is the alteration that may be required at the time of wearing it. Since fancy and heavy sarees are usually worn in functions and festivals, there may be a chance that the blouse may require alteration. However, in case of a readymade blouse bought from a store or an online company does not have enough margin to loosen but in case of a customized blouse there is always enough margin for the blouse to be loosened at the time of need.
Secondly, customized blouses are stitched with the intention that the blouse may require alteration at a future date. The stitches are done such that they can be opened by the customer and stitched again at another position. However readymade blouses are stitched by machines and the stitches are such that they are very difficult to open and require a professional tailor only to open and stitch again.
Designing:
For some NRIs it is possible that money may not be a big issue as they might be earning well enough to afford foreign tailors to stitch their blouses, but the issue of designing is a major setback. As you are not living in India, you may not be able to know what designs are in fashion back in India. However, you can get customized blouses made by boutiques and tailoring stores that cater especially to the Indian NRIs that are looking for something Indian.
Every NRI has relatives in India to whom they can send their sample blouse along with the personalized design. The relative can then visit the tailor shop along with your desired blouse material and get it stitched according to your design and style. The other way out is that there are several tailors who have upgraded themselves into being computer literate and you send them your design and size on their email along with the desired material. The tailor on the other hand will click pictures of the blouse materials and send it you.  You can choose the blouse that suits you best and the tailor will custom-make the blouse for you and send the same to your address.
Customers have always been the kings and more so in the present time when there is so much competition. Every person running a business wants to wean away customers from his competitor. Therefore, it must not come as a surprise, if your tailor offers to provide you certain out-of-the-box services. You can rest assured about the quality of materials as no business owner would like to lose a customer for ever.
Some of these tailors have become professionals and have even come out with exclusive catalogues exhibiting very good quality photographs of a large number of designs. You can pick and choose a design of your choice and order the same to them saving you the trouble of designing the blouse without any help. From these catalogues you can the back design of one blouse, the sleeve of the other, neck of the third and embellishment or embroidery of the fourth thereby creating a completely new blouse for yourself.
So customization is the key to getting something unique and something personal and that is why the customized blouse concept is quite a rage among NRIs.