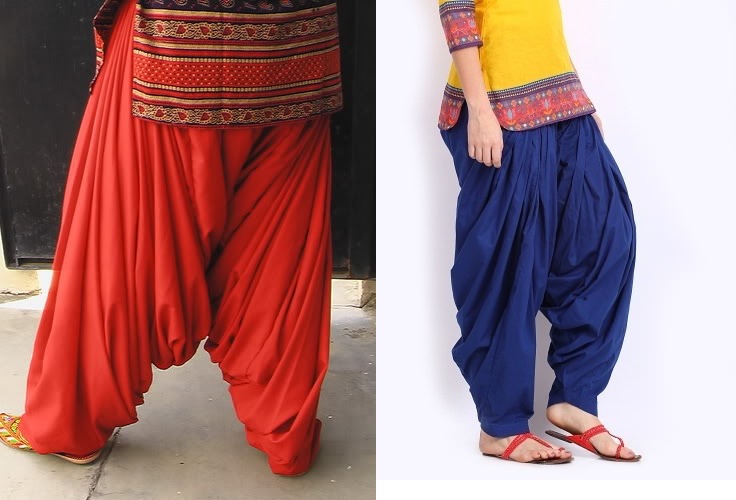 Every woman, irrespective of her caste, creed, religion or culture wants to look beautiful. She is born with the virtue to present herself in her best possible look and her dress is one of the most important things to make that possible.
Every country has its own dressing styles and women design their clothes in such a manner that they look presentable in the clothes that they wear. Women of different body shapes dress themselves in variations that suit their body shape and color so that they look good and presentable.
In the Indian subcontinent, especially India and Pakistan, salwar Kameez is worn by women both as a casual garment as well as a formal dress. It is also the national dress of Pakistan and Afghanistan where it is worn by both men and women with a slight difference in their cut. The male salwars are less voluminous as compared to women's and men salwars have a band at the bottom made from hard material to give a sturdy look.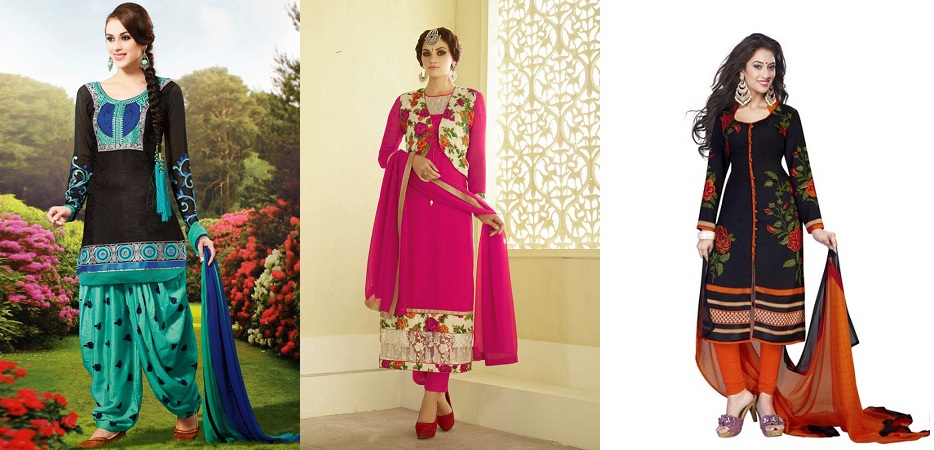 The upper garment or the 'kameez' as it usually known comes in a number of variations and can be almost interchanged with any variation of the lower garment or the 'salwar' to give a new look to the dress. Here, we are discussing more about the lower garment or the salwar and the kameez or upper garment will be mentioned to make you understand the dress better.
The Salwar
Salwars or the lowers play an equally important role in making you look beautiful as the uppers. These salwars come in a number of variations and most women have all the variations in their wardrobe. The variations include the Patiala salwar, churidar or the narrow salwar, Parallel salwar etc. All these salwars make a great impression when combined with the right kameez to give you the perfect look; a look that does not let the onlooker get his eyes away from you.
Fashion plays a great role in the choice of salwar that you will wear the most. However your body shape, skin texture and your preference for color plays are also vital aspects in your looks. Although you can wear all the salwars at any time, wear narrow salwars to make you look slimmer and beautiful. Usual salwars are made with the top portion of the salwar being voluminous and the lower part being narrow to give shape to the lower. The narrow salwar is cut either in pant style and is called pant style salwar or narrower than the usual at the top and almost clinging to the legs at the bottom, also known as churidar salwar.
Here are the different types of salwars
Churidar Salwar:
This type of salwar has been in the Indian culture since a very long time and there are several sculptures in various regions showing their presence centuries ago. In the recent times churidar salwar has been in great fashion especially in the northern part of India and in Pakistan. This type of salwar gives great shape to your body as it stays close to your legs to show their beauty. Churidar salwars are not only worn by women that are slightly on the heavier side but also by women that are slim and have great legs to show.
Today narrow salwars are in great demand and women want to wear these salwars with practically every top whether it is a short top, a long top or a choli.
Salwars for Women with Heavy Body:
If you are a woman that has a heavy lower body, you can wear churidar salwar with long tops made from flowing fabrics flowing like crepe, georgette, raw silk etc and avoid having heavy embroidery work on the top. Also you should get your churidar made from fabrics that are not very clingy but are sturdy as they give a slim look to your body and remain close to your legs.
Avoid wearing heavy tops with your churidar salwar. Choosing the right colors is important to give you the beautiful and slim look. You should go in for dark colors like blue, green and black but do not go in for colors that are very dark. If you have a color preference for lighter shades you can get them in pink, mauve, orange etc but first see for yourself whether the color suits you or not.
The next important thing about looking beautiful with narrow salwars is that you should give a good thought about the make-up that you wear and the kind of hair style that your wear with these salwars as all these combine to turn heads in the party.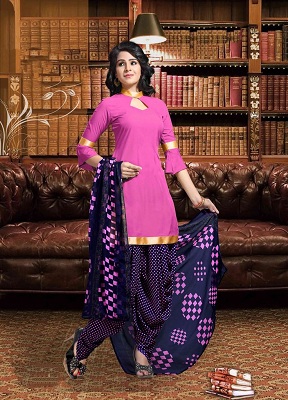 Now if you are a woman that has a heavy upper body, it is very important to understand that you need to be very careful about the tops that you choose to wear. Only the salwar will not give you the desired look, it has to be a combination of both the upper and the lower garments to give the desired effect. Therefore, you need to choose a long top with your salwar and never wear a short top. Secondly, never go in for heavy top suits as they will further enhance the volume of your body and make you look miserable. You should make it a point to wear your salwar over the naval as it will give the look of long legs and make you look attractive.
For Women with Slim Body:
Since it is a narrow salwar, if you are a woman with slim body structure you should be cautious enough to not get the salwars made so narrow that they cling to your legs and make them appear thinner than they actually are. You should go in for slightly loose salwars as they will add some volume to your body. You can also get your narrow salwars made from rich and heavier fabrics like brocade, silk etc that will not only give a richer look but also make you stand apart in the crowd.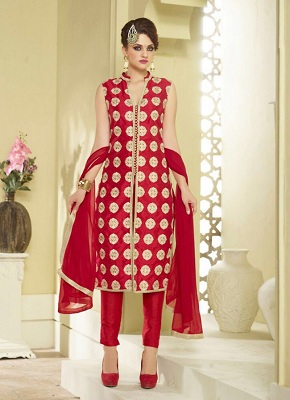 You should also team up your narrow salwars with tops that are heavy because they will give the desired look of slim and beautiful.
Parallel Narrow Salwar:
Narrow salwars have the magic of making your waist look a size or two smaller than it is. Parallel salwars are also a variation of narrow salwars as they are less voluminous than the regular salwars or the Patiala salwars. The basic feature of this type of salwar is that it is cut in the shape of a western pant and a woman wearing this salwar appears to be wearing a pant instead of a salwar.
With the advent of western dressing in the country and women's preference for western clothes, Indian designers have mixed the looks of western pants with the comfort of salwar to create a new narrow parallel salwar.
This type of salwar is the latest trend in the market as women want to wear this type not only for their casual clothing but also for their formal dressing. Biggest names in the fashion industry are today using this salwar in their designer collection wear and models and celebrities are wearing them in public functions and in their exclusive private functions.
The greatest benefit of this salwar is that it allows you to wear a short kurta, a long kurta with it or a western top with it. You can wear this salwar with the designer dresses and can be tailor made to your fitting.
Since the salwar is tailor made to fit you according to the shape of your body, there are very few chances of it being ill fitted as it can happen with any other salwar. Also this salwar can be made from almost any kind of material that you wish depending on your choice of material and color.
However, here again you have to be cautious about the kind of material that you choose to get this type of salwar stitched because your looks and the looks of your entire ensemble will be entirely dependent on the choice of color and material that you choose to get.
Cigarette Pants:
This is the closest cousin of the western pant as the name suggests and actually is the fusion of a western pant with our trendy and chic salwar. This salwar as the name suggests is very thin and is mostly preferred by women who have thin frame body and thin legs so that they can show off the beauty of their legs along with the beauty of their dress.
Cigarette pants are usually made from high quality fabrics like silk and raw silk and worn with kurtas, long tops or even shirts in both casual and formal wear. It is a very comfortable wear and you can wear them for even a complete day without any discomfort.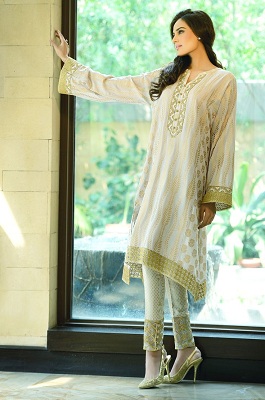 Cigarette pants are the designer's choice for their fusion creations as narrow make you look slimmer and beautiful in both Indian ethnic dresses and western dresses. These pants can be worn also with heavy designer dresses that have huge amounts of embroidery and other embellishments.
Now that you have a wide variety of salwars to choose from, you can go ahead and get one of each style to add to your wardrobe.