The fashion world is cyclic in nature and this is the time for the reinvention of traditional Pakistani and Pakistani juttis. Forever worn by royal ladies in Pakistan and India, these juttis are back in fashion with a change giving you a break from the shoe bites for which they were most known for apart from the style. Also known as mojris or khussas, they today have metamorphosed into unique, in trend and bespoke footwear. Designer juttis now boasts of their unifying art and style and have taken a must have accessory for all ladies. Apart from their shimmering design, what makes them more popular is that they can be worn in any season.
Modern juttis as defined by leading jutti store runners: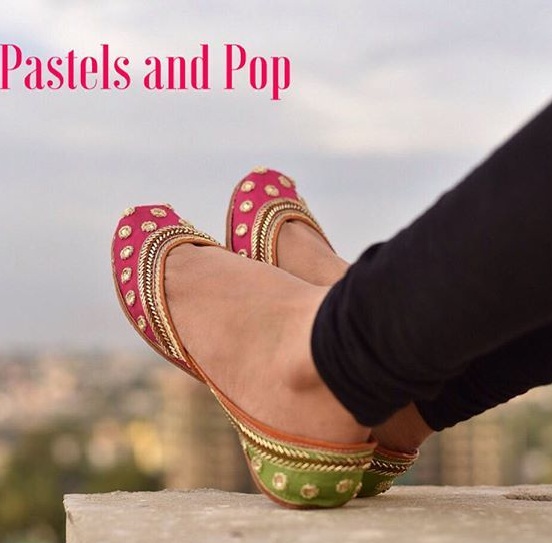 Juttis have gained popularity in the foreign countries as well. They are now an important shipping item highly in demand in European countries. Modern juttis are an expression of the ethnic design and cultural heritage of India says Pastels and Pop co-proprietor Akansha Chabbra.  She further defines it as a blend of modernity and tradition enhancing your feet. From wedding to casual occasions, you can put on a jutti and walk comfortably revealing your style. Besides creating a style for your and portraying India's heritage, Akansha says that juttis also helps the Indian craftsman to earn a handsome living.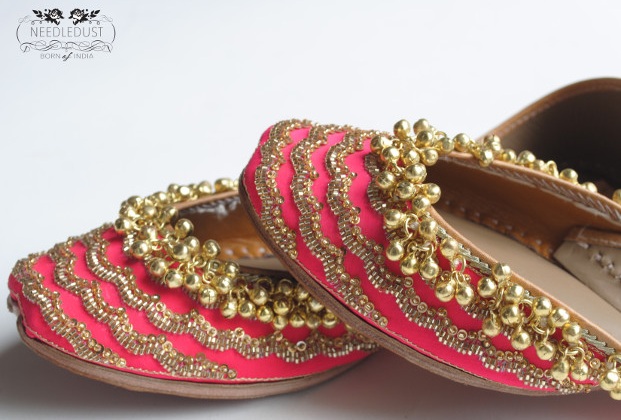 The brain working behind the success of Needledust– Delhi's leading designer jutti brand, Shairin Mann Sangha revealed how competition touched the jutti market saying that when Needledust came into being, there wasn't any other company or brand working on giving the traditional juttis in a modern style. Though juttis were available during that time on streets, but they were not capable enough to meet the fashion sense of the modern day customers. This is what made Needledust a success when it came up with tradition and modernity enriched juttis giving a new choice for the customers to explore. The juttis launched first from Needledust featured high leather quality, comfortable cushions and designs made using pop colors.
Modern juttis : A combo of comfort and panache
Modern juttis are also known for their combination of panache and comfort and goes with everything from shorts to jeans to palazzos, churidars, patialas, lehengas, shararas, dhoti pants, sarees and even jeans. They are a perfect one for bridal wear as well as cocktail party, sangeet and others says Akansha Chabra. She further adds that there is a bit of difference between the juttis available for each occasion. For instance, festive and wedding juttis come with katdana, zardosi work, ghungroos, mirrors and sequins. Usually juttis with heavy embellishments are meant specifically for special occasions where as printed juttis with certain embellishments like coins and pom-poms make a great choice for casual outings.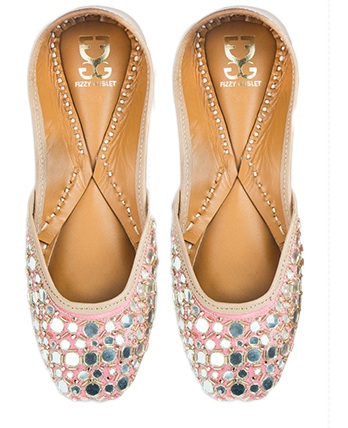 Coming to other brands such as Fizzy Goblet, they bring to you brogues juttis thus helping you to create a unique style statement. Also they are known for their ikkat pattern juttis. Brands like JuttiChoo and Vian Label are best known for their abstract designed juttis. Reena's brand Adahis yet another popular brand that brings to you jutties with eye-catching designs popular all throughout the country. Shirin says that for getting an ultra-feminine touch, you must go for pastel floral juttis. They highly compliment skater and maxi dresses. If you are willing to get the edgy look, just pair them with jumpsuits or high waist shorts. On the other hand, you can pair up juttis with geometric designs with chinos and white shirts to get a professional look.
5 famous types of juttis :
Here is a brief about the popular type of juttis which have become a hot topic when it comes to footwear.
Embroidered Juttis:
It is its round curved and sleek toe shape that makes this jutti a popular choice. They are made out of leather and come with heavy embroidered work done with zari and thread. To give a royal touch to your style statement, they come with a noke and ghoongroos attached. Usually they make a perfect choice for formal occasions. They come in various colors, patterns and sizes along with heavy silk thread and zari embroidery.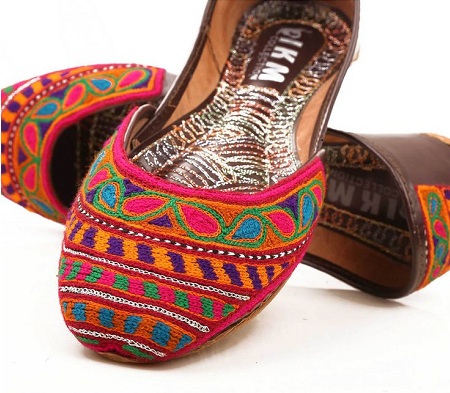 Punjabi Matching Suit Jutti:
They come with the traditional Punjabi touch. These juttis are embroidered not only with thread but with also sippi work. This design further enhances your feet adding colors and beauty to them. Made from soft leather, they are highly comfortable and help you to look elegant.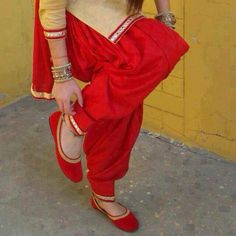 Queen Pakeeza Jutti:
They come with embroidery is done using salmon, sippi work, dabka and zari. Queen Pakeeza jutti are exclusively meant for festive occasions and parties. It is the elegant embroidery done on the soft light weighted leather which makes these juttis special.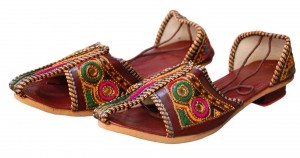 Veer Zaara Jutti:
It is the M shape of Veer Zaara jutti which makes it so special helping you to look elegant. These juttis are embroidered fully with multi-shaded silk threads. Since their introduction, they have become a popular choice throughout the country.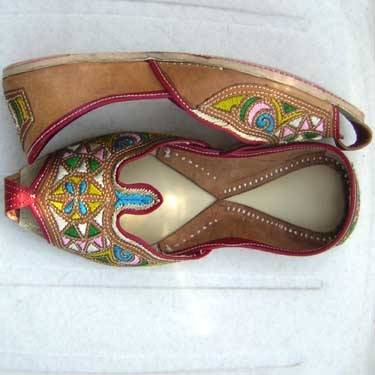 Bridal Jutti:
Sippi work and embroidery is given maximum preference in this juttis. The embroidery is done on silky clothes and then pasted on the fine quality leather used for making this shoe. Apart from their designs, they are also known for their weightlessness.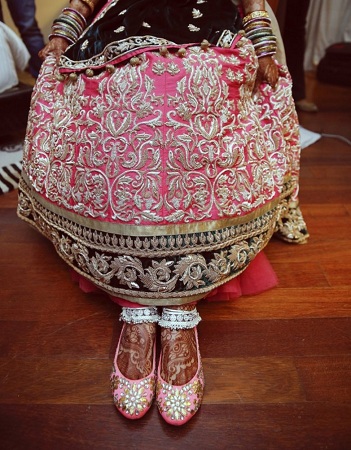 3 most popular jutti brands
Taking inspiration from these traditional juttis, designers have come up with their labels to give you a new style. Here is a brief about them:
Ansari Ladies:
Ansari ladies taking inspiration from the jutties available around the world have created juttis with a new design called Khussas which means shoe lovers delight. The specialty of this jutti is they are handmade from leather with a touch of fusion. Maximum emphasis in these shoes is given on sticker work, hand paint and embroidery. This brand is also known for their gul-e-gulabi juttis that are made from sequin fabric and resham thread coming with knotted flower being attached to enhance the style.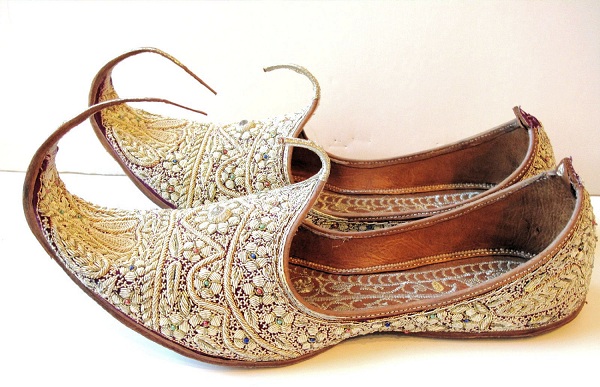 Needledust juttis:
Made from genuine leather, the juttis from Needledust are hand twisted giving your feet a soft and comfortable touch. They embroidery they come with is also done manually which makes them more special.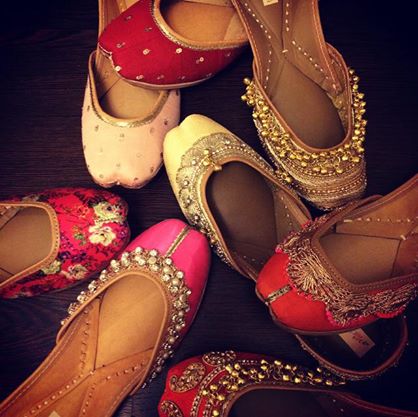 Xiostyle:
This brand brings to you designer khussa juttis, Punjabi juttis as well as mojaris from women.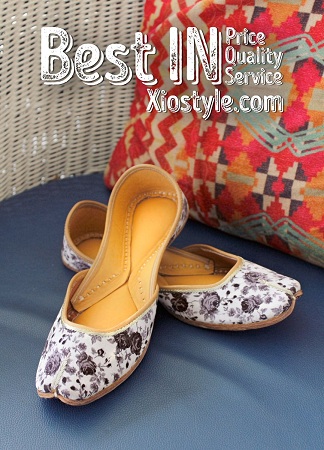 Knowing about the latest trend is something, while styling is another but what you need to follow with every trend is the dos and don'ts associated with them. Juttis definitely enhance your fashion but to help your juttis to have a long life, store them in muslin bags only. This will keep them away from dust and retain the shine for a long period. Upon exposure to moisture, get them died by keeping in the sun for about 2-3 hours. After they dries up completely, pack them in the muslin bag. Wearing juttis in rain can specially make them dirty. For getting them cleaned, take a brush or towel dipped in shampoo or mild soap and clean it. You can also adhere to dry cleaning. Make sure that you don't throw your juttis here and there as this might lead to the embellishments from coming out. Also don't rub them against one another or some other surface because the same too might bring off the embellishments. Make sure not to wash your embroidered juttis ever. So explore these juttis and create your own style.