Ethnicity is not about boasting about culture and backgrounds but to carry it properly after being passed by ancestors and pass the values to the next generation. Everyone looks the best in his or her ethnic wears. It is said that type of food is chosen as per self-taste but an attire is chosen as per latest trends and what people like to see. Similarly, a person will look best in his ethnic attire. The same stands true for footwear also. A pair of ethnic footwear just gives the outstanding finishing touch to the attire you want to adorn.
Top Ethnic Footwear Choices for Women:
It is true that a woman is deeply attached to her collection of shoes and desire to own a new pair is never ending. Below are the top choices for ethnic footwear that you must have this season to make your fellow life-forms jealous!
Jutti:
This stylish footwear has a deep root to the fertile soils of Punjab. The style appeared in Northern India. This one is a special flat type multicolored shoe that has a snout. The decorations are made in vibrant colors with stitches across the body. These stylish shoes have heels or back straps. Previously they were made of leather and the rich people adorn them but now everyone can afford them due to the fashionable yet long lasting and cheap material. This one goes best with ghaghras, bridal outfits and Anarkali.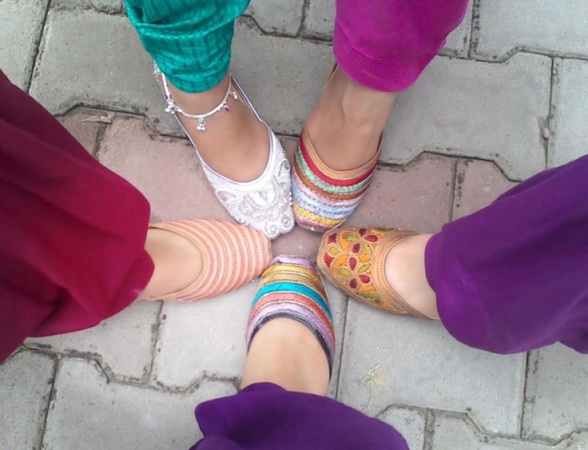 Khussa Shoes:
Once it was the style statement of the nawabs and zamindars, Khussa shoes created a princess like an outlook. The pairs were made of leather with vegetable colors. The shoes had shells, mirrors, bells and ceramic beads to make them look pretty.
The elite era is gone. Khussa is now a part of almost every ethnic loving girl's shoe cabinet. The colorful shoes bring out your aura very naturally when you adore them with salwar kameez, jeans with kurti on top, ethnic long skirts, jodhpuris, Patiala, and harems.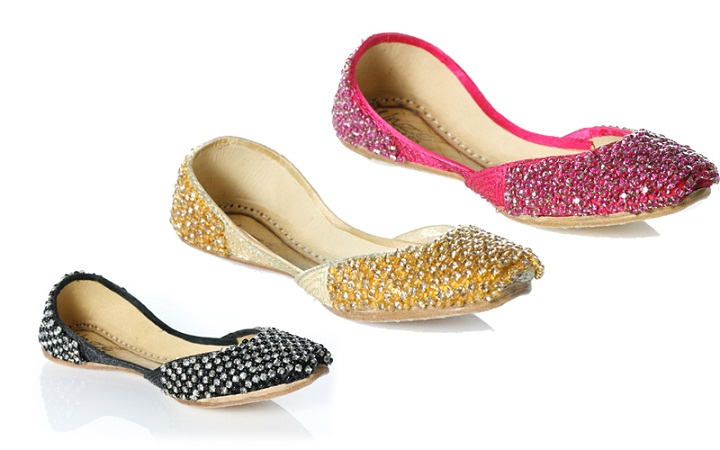 Kolhapuri:
When the word 'ethnic' strikes in your mind, you cannot resist Kolhapuris. These stylish handcrafted slippers are well famous across the world. The pairs are very popular among men as well as women. This ethnic footwear is known to exist since the 13th century. The name obviously was coined after the village where these chappals were made. The evolution of these chappals took a significant turn when the Saudagars enhanced them into thinner and lighter. The updated version had side flaps and was coined as 'Kaan Wali' or 'Ear Bearer'.
Since then 100 years passed but the original shape and styles of the chappals are preserved. Due to the fame, the original format was not changed at all. Women normally prefer the actual Kolhapuri color but recently many colors evolved and got popular. Metallic stripes add rhinestones make then even more beautiful. This chappal has become a brand image for students, creative artists, and social working professionals. Once you add a jhola with this ethnic chappal and attire, the intellectual look is complete. Try to add broadly framed goggles and look dashing.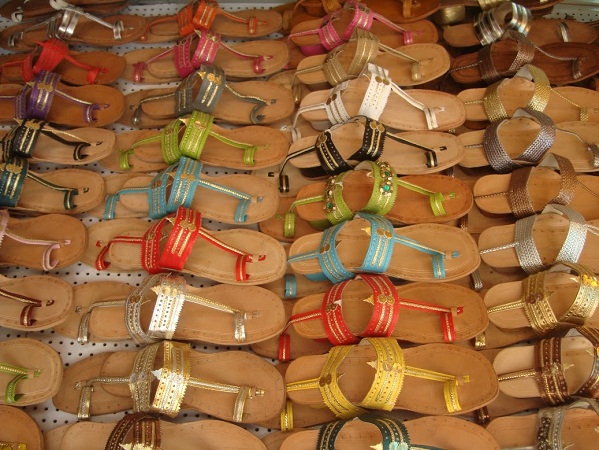 Mojaris:
Mojaris are somewhat like the Juttis. The Indian ethnic footwear is a must-own wardrobe part which has absolutely stunning embroidery works all over the skin. There are varieties of designs evolved with the technology and material.
When these pairs are a worn ethnic outfit, the style quotient will make you different from the crowd. The dazzling footwear will enhance your beauty to an eye-catching level that no one can ignore. Patiala, salwar kameez, and A-line traditional kurtas go very well with this style of shoes.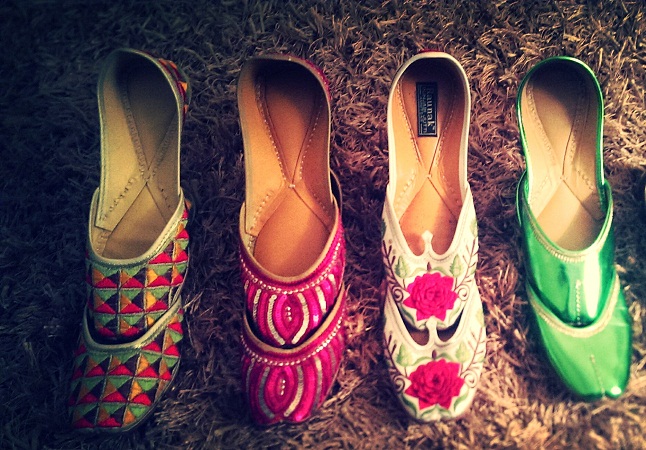 Paduka:
This footwear is quite open in design and is comfortable to wear. The latest innovations have taken the designs to a new level with the addition of top class material to make them even more convenient to wear all day long. Paduka goes well with western dresses as well.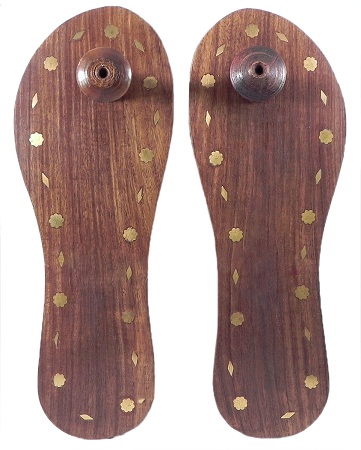 Top Ethnic Footwear Choices for Men
Men are not behind in the choices of ethnic footwear. The age may have advanced and a lot of different types of western dresses have invaded the current fashion industry but ethnic attraction will always manage to impress men. Following are the must-have ethnic styled footwear that men will like to own.
Juttis:
Same as women, ethnic Juttis are made for men who like to wear ethnic dresses in special occasions. These pairs are very comfortable and complete your ethnic attire from all direction.
The threading and embroidery decoration on the shoes go appropriately with the kurta and sherwanis.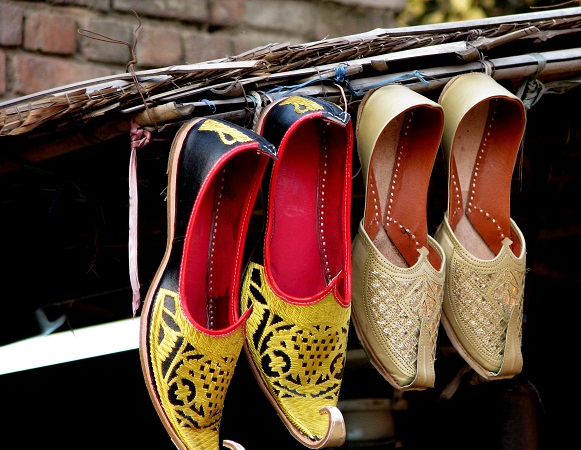 Traditional chappals:
Leathered made hand crafted simple chappals are deal makers for men. Every household man owns at least a pair. The designs vary from plain and humble to brilliantly painted designs. Ideal and comfortable for daily use, these chappals go with any type of wear making a classy statement.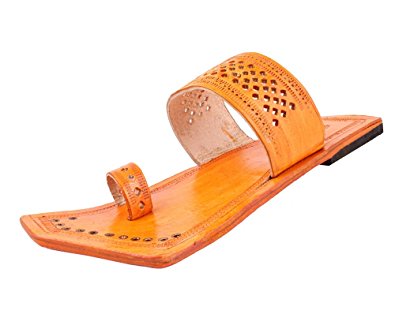 Mojaris:
Beautifully designed with dashing embroidery or plain flat ethnic footwear, Mojaris is a compelling design for those men who like to go ethnic in special occasions. These pairs match with dhotis, churidar, kurta pajamas and churidar like they are made for each other. The designs cost as per brand and impart a royal touch to the attire.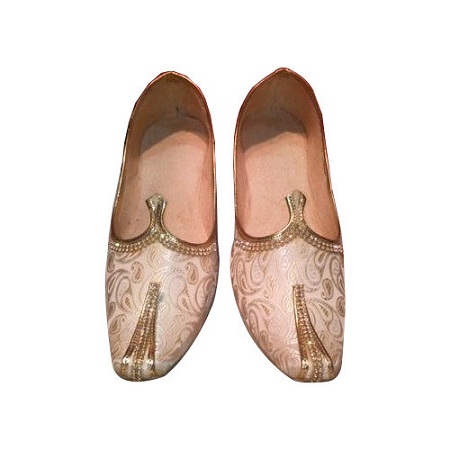 Kolhapuris:
These pairs are never getting out of market or old anytime soon. The traditional footwear is known to exist for centuries as mentioned earlier. Purely made of leather, the style and color are as old as 100 years and still manages to astonish ethnic loving dudes. The pairs go well with almost all ethnic wear and are great choices for traditional occasions.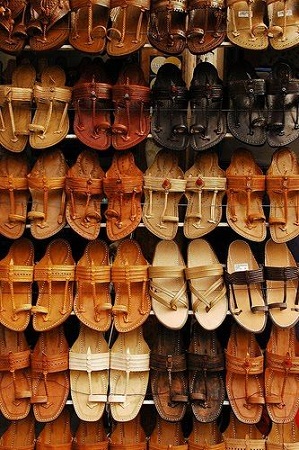 Paduka:
This type of ethnic footwear is almost open and has only one strap to hold it with the foot. Very comfortable to look, this design has varieties of colors. When matched with ethnic wear, paduka completes the look in a brilliant way.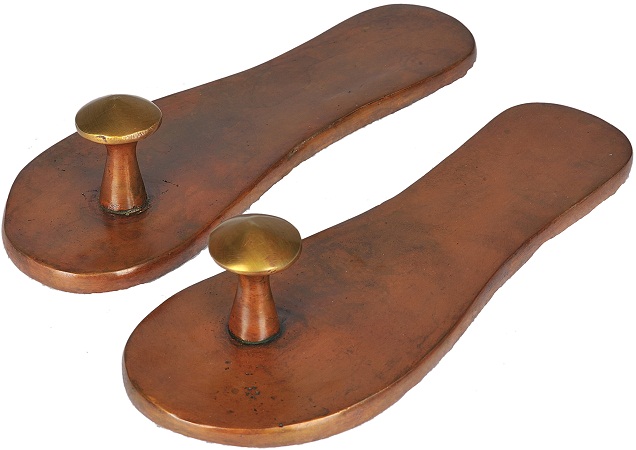 Peshawar Chappals:
Hailing from Pakistan, this style of ethnic chappals is made of brilliant leather and gives a rich look when adored. This is the era of fusion embraces this chappal with any dress but complies with kurtas and sherwanis the most.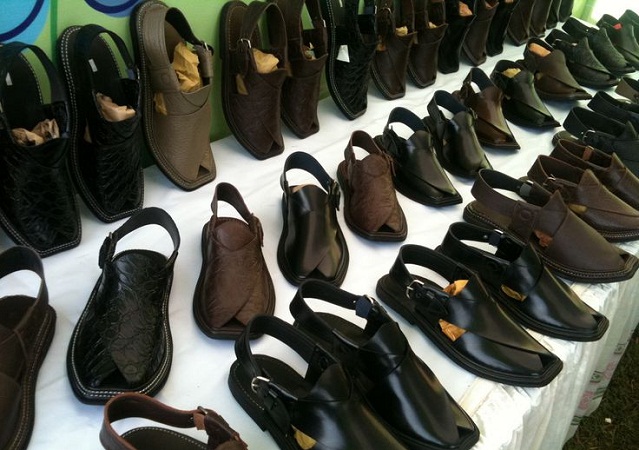 Jaipuri chappal:
Unlike Kolhapuris, Jaipuris are of a different genre in design and making. The shoe enthusiast will spot the difference and importance of this ethnic footwear in a glimpse. Rich embroidery and handcrafted designs make these pairs a must match with ethnic wears like dark colored kurtas and churidar.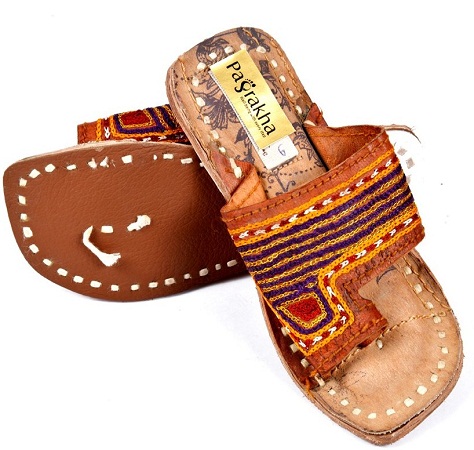 Khussa Multani:
Khussa is very famous among both the gender due to its classic looks and high-quality leather textured colors. The embroidery even makes it more desirable for men who like to go ethnic in occasions. The designs are normally are normally swirling that depicts the grand Multani touch of Maharajas and Nawabs.
All the ethnic footwear mentioned above have a specific history that reflects in their designs and formats. Needless to say, almost every style is flat which shows the age of the evolved footwear. Till date, the wear impresses both the gender. Men and women find their root and cherish the look with ethnic wears with the above-mentioned footwear. When adorned with perfect attire, the shoes can carry your taste in fashion loud and clear to the audience and you make an admirable style statement.