For more than 3 years now, the crop top is ruling fashion industry. No doubt that this pattern is inspired by 90's fashion but if you don't know the right way to wear crop top then certainly you have landed on the right page. The crop top can be worn in different styles may be with high waist jeans, pencil skirt, and also with a long maxi skirt. Crop top goes well with any body type so it should not be a concern for you whether you have a flat belly or have bulky fat at some portions. Anybody can look good in such style and to add elegance to this pattern, you can add some tricks which would make your personality look more enhancing.
Know More About Crop Top:
The crop top is worn above the waistline and can also be worn in different techniques such as tight fit right below the breast or above the navel area. The trend is so popular that you can find any pattern in this style; be it a cropped sweater, cropped tank top, and even the cropped cardigans. The only thing which has not yet come into fashion is the cropped jacket which soon will emerge provided there is some good bottom wear to go with it. This is an all-season garment and undoubtedly the most amazing fashionable clothes that can be worn as casual wear or even for some special party occasion.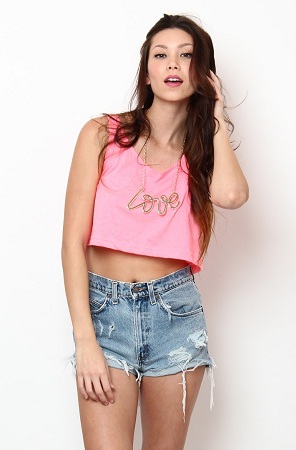 Pencil Skirt: The Most Comfortable Bottom Wear
There are so many different patterns of skirt such as A-line skirt, skater skirt, a maxi skirt that are quite trending these days. However, the pencil skirt is one of the old fashion statements whose place has still not been taking any other skirt concept. Pencil skirt can be worn as a casual wear or even in the office as a formal wear. It is one of the most comfortable attire that you can wear and undoubtedly the most fashionable as well. Talking of which, to pair it up usually high heels of bright color and the formal sleeveless top or tunic is worn. In case, you want to try something new then crop tops with a pencil skirt is definitely the best idea.
Style Your Crop Top In Unique Way:
Some of the most common ways in which a crop top is worn are either with shorts, pants, and even the skinny jeans. Undoubtedly such type of fashion gives a casual look. But if you want to wear something elegant that would look quite professional to be presented at the party or some meeting the crop top with a pencil skirt is definitely the right idea. It is extremely comfortable and surely the most awesome outfit. At first, you may hesitate to wear it but once you see your body getting a great shape in the attire, you will never regret it later.
Formal Look For Elegant Styling:
If you wish to wear a pencil skirt with a crop top for a formal look then you should opt for some dark color like blue and red and wear a good pair of heels of the same color. Your crop top can be a light color or printed pattern. Tunics go well with the pencil skirts and if it's in short length then your pencil skirt must be a high waist. Ideally, such type of design go well with the skinny people but if you want to try something really different for yourself this time then it is definitely the best idea to go with.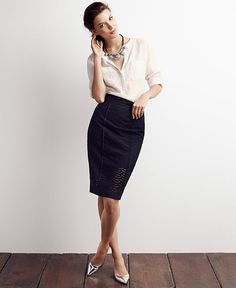 Go Casual This Summer:
If you check out some online collection on the crop top, don't be amazed to see how well it has been paired up with some cool bottom wear like a pencil skirt. For a casual look, you can go for the knee length yet high waist pencil skirt of the light color. To match it up with something comfortable, you can go for sports shoes. Mostly this look goes well for the people of all body type. Talking about the crop top, you can wear a casual cropped t-shirt to match with it. Grey, black, and white are some of the best colors that you should definitely try out.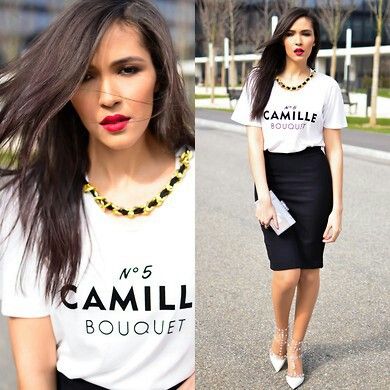 Get The Super Stylish Chic Look
You can accessorize yourself with a great combination of jewelry to have a chick look. For this, a black pencil skirt will definitely look amazing. You simply have to pair it up with the trendy crop tops which have fine visual detailing. It is necessary that the crop top you choose fits well to the waist. For better comfort, you can wear it with a pair of block heels or choose the color that goes well with the top. Usually, for this style, you should try a nice necklace with long earring that would go well with your top. Complete your look by carrying a shoulder bag and it would be great if you choose the one matching the color of your shoe.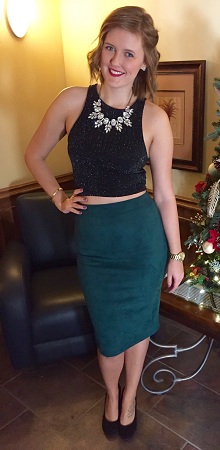 Planning For A Party: Get Cropped This Time
The party can always be super fun. You get a chance to meet new guys, have some fun with people around and if you want to look super hot on coming Friday party then you must not miss out this opportunity of trying an incredible fashion style. Go for the elegant spaghetti crop top or tube crop top with a high waist mini pencil skirt or high waist hot pants. This fashion is trending these days among many teenagers and undoubtedly it gives a great shape to your body as well. Try out this funky styling today and create an incredible fashion statement.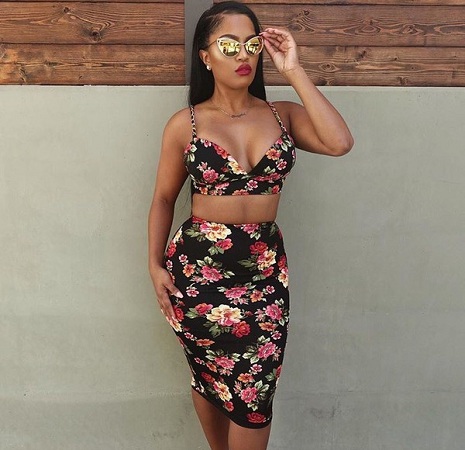 Colors Play An Important Role
Nail this season with the pattern of crop tops with a pencil skirt and show off your sex appeal with such sleek look. Colors also play an important role while wearing such type of attire. Black is all time favorite which can be worn on any occasion. However, many women usually wear black on some big yet special occasion like a cocktail party. Other than this, red, white, blue, and pink are some other fantastic colors that you would definitely not resist wearing out. Floral crop tops can also go well as it contains a variety of colors and textures that would make your attire look incredible and perfect.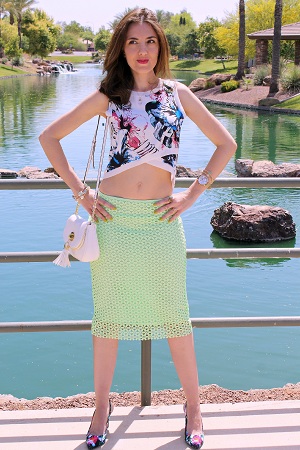 Fashion trends keep on changing and so do the patterns and styles that are worn by the people. So if you are looking for something elegant that would definitely give highlight your personality then crop tops are never ending style with which you can try new patterns. Right from pencil skirt till the maxi skirt, a crop top can go on anything. You simply have to decide with the right color combination and make it a point that you choose the perfect attire which you can flaunt among your friends and be one fashion icon among them. For better styling, other than long heels, you can also try out some good dark colored long boots which would definitely enhance the overall appeal.
Consider all the above styles and give yourself each day a new look with a crop top and a pencil skirt set and go stylish. If you are considering online shopping for this set, then try to grab the fashion tips of the model wearing it.