Organza is a popular fabric traditionally produced from silk. It is sometimes also manufactured using synthetic materials like nylon or polyester. The continuous and thin fiber filaments (natural or synthetic) are woven in a balanced fashion to create a plain-weave appearance. The threads used for weft and warp are the same in number and size in order to craft a stunning checker-board look. The touch and feel of organza depends on how finely the fabric has been woven. The finer the weaving, the softer is the resultant material. Fabrics made out of organza are usually used for extravagant occasions to create a luxurious style statement.
Organza Sarees
Sarees woven from organza are soft and thin. Unlike silk and other similar materials, sarees made out of organza are luster-free and have an elegant matte finish. Despite being delicate and thin in its appearance, organza is actually sturdy and used extensively in the production of sarees, evening dresses, bridal trousseaus, curtains, separators for spacious areas, and also linings in readymade dresses.The saree give the person wearing it a thinner appearance.
Just like other sarees, the variety of organza sarees available in any region depicts the cultural heritage of that region. For example, the Banarasi organza saree typically features patola leaf designs with a designer pallu and Banarasi border. The Maheshwari silk collection boasts vibrant colors with fancy prints, neon or dark borders, and attractive designer pallus.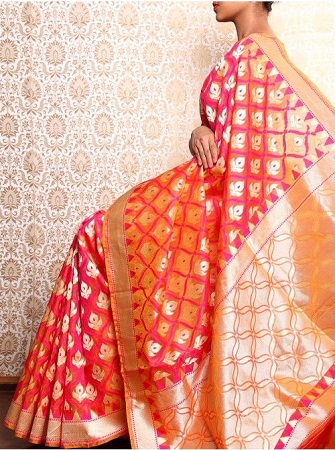 Variations in organza sarees based on color, tone, the fabric itself, design, border and other factors keeps growing bigger everyday with their increasing popularity. Thus, these sarees have gained immense recognition in the global market as well and many designs are customized to fit the international taste. There are sarees available with black prints over a plain background with light colored borders. Organza is sometimes woven into jacquard patterns to create an elegant and stylish appearance. There is also the crepe variation which uses attractive polka dots on a stunning fabric texture formed out of a combination of organza and crepe.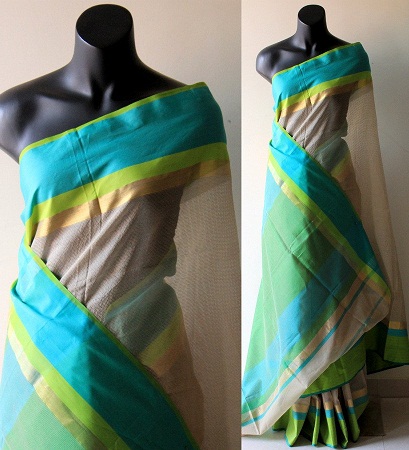 Some interesting benefits that make an organza saree different from other sarees are discussed below:
A huge advantage of this material is that it looks appealing in any kind of color or shade. Hence, today organza sarees are available in an impressive range of attractive tones and colors. You can easily choose one based on the occasion at hand and your personal preference.
Since the material is fine, it is possible to directly and easily transfer interesting digital designs from a computer onto the saree with the help of allied equipment. This technology helps fashion designers to achieve a splendid illusionary effect by superimposing several effects such as graphical images over an already printed or textured background of a saree.
Organza sarees are a great candidate for bridal wears. The unique fabric complimented with an exclusive design accentuates the elegance and beauty of the person wearing it, thereby making this saree perfect for an Indian bride. In fact, organza sarees make for a beautiful wardrobe collection for all pre-wedding and post-wedding functions to be attended by any woman. Guests attending an Indian wedding or celebrating a festival can opt for organza sarees with rich zari borders. These sarees also make for excellent wedding gifts.
In spite of their lavish appearance, the use of organza sarees is not limited to extravagant events. There are simpler and sober variations available that can be worn for semi-formal office events and small get-togethers. Today; you can easily find an organza saree for any occasion – bridal, formal, casual, corporate, party, and traditional events.
In recent times, designers have started combining the traditional organza saree designs with contemporary sophistication. Thus, this saree is no longer restricted to a particular age group or culture of society. Organza sarees nowadays are available in a beautiful range of stylish and elegant designs that can be confidently flaunted by young adults as well. Some of these feature unimaginable patterns like geometric designs that showcases the confidence and fashion sense of the person wearing it.
Some offline as well as online stores also offer the facility of getting an organza saree custom-made. You can choose your own fabric, sari pattern, pallu design, color, and border. For example, if you have a beautiful traditional blouse and want an organza saree to go with it, you can simply order one based on your preferred design and color.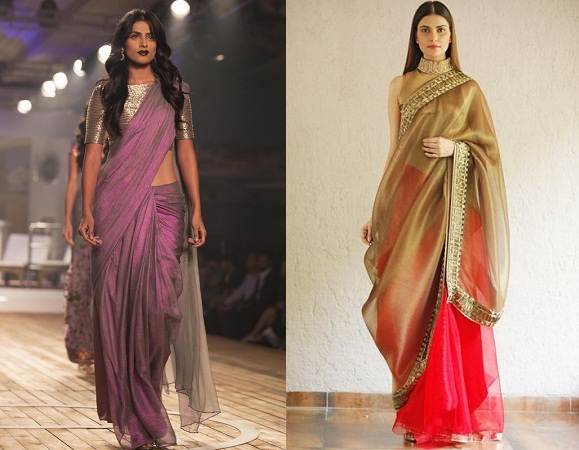 Buying Organza Sarees Online
Thanks to the advent of Internet and resultant e-commerce shopping, it is now possible to order a fancy organza saree with a simple click. All the famous ethnic brands of sarees are available online. Most of these online stores offer a range of beautiful organza sarees. Many online stores offer these sarees at much reasonable prices as compared to their offline counterparts. It is also possible to avail great discounts online, especially during festive seasons.
Best advantage of online shopping experience is getting to choose from a plethora of colors, designs, and patterns by simply scrolling your mouse and getting your order delivered right at your doorstop. You can also conveniently gift an organza saree to your loved ones in spite of sitting in a different corner of the world. Certain websites also offer the option of returning the saree in case you are not happy with the look or have changed your mind. The money is either credited to your bank account depending on the seller or in your website account so you can purchase something else with it.
If your wardrobe already has an organza saree, you know how pretty it looks on you and would be tempted to buy another one once you see the marvelous online collection of these sarees. Organza sarees from authentic websites have a beautiful fabric and are extremely comfortable to wear. Now looking traditional as well as glamourous is a piece of cake – all you need to do is own this fabulous piece of clothing and drape it like a fashionista.