Herodotus in one of his writings tell us that when Scythians were confronted by Greek soldiers in battle, Scythian women fighting alongside men on horseback amazed them, all were dressed up in pants and decorated armor. Theses women are immortal in the writings and paintings of these soldiers. They were looking both chic and fierce in those paintings. Those are some of the earliest Western paintings that show women in pants.
Although Scythians brought the custom of wearing pants in the West but it was not very popular among masses and people used to associate it with warfare. Perhaps because men always cherished the desire of dominating women, the thought of women wearing pants and using weapons scared them. For many centuries, women were not allowed to wear men's cloth by law and customs. But women have succeeded to make it anyway.
When did women start wearing pants?
A woman choosing to wear men's cloth has a long history. Sometimes it has to be worn by women in order escape from death. Because there was a time in history when unmarried, orphan women had no other options left apart from prostitution or starvation. Thus some women in order to escape this situation joined the British Navy as soldiers and worked there as a man. Hannah Snell is one of the examples. Army was the next option. Before the emergence of official ID, many times people were fooled into believing that a woman dressed in pant was actually a man.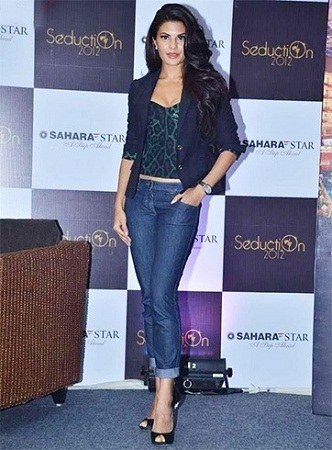 There are clues that many women went off the grid in the past. But there is evidence that many women served in the Army during the Civil war dressed as men. Many preferred the freedom that men's dress gave them and lived the rest of their lives as men.
Pants as fashion trends:
Though pants were worn by women before the 20th century but it did not come into fashion before that time. Victorian society was scandalized by Wigan Pit brow girls for wearing trousers for their dangerous work in coal mines. However, in the 20th century wearing pants was popularized among women by Marlene Dietrich and Katharine Hepburn. From that time trousers were made acceptable for women. During WWII on the demand of the work, women wore trousers. Pants as a fashion item were introduced by Andre Courreges, introducing long trouser she led the beginning of the era of pantsuit and designer jeans. Thus the prohibitions against girls and women wearing trousers in schools and the workplace were gradually eroded.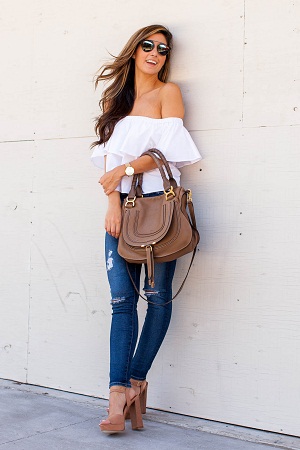 Evolution of the suits:
An air of confidence is conveyed by a sharp matching suit with a pristine blouse underneath. Coco Chanel, the Classic French lady, contributed a lot in freeing women from all those restrictions imposed on women's dress by giving us some room to actually move and breathe. Hollywood actress Marlene Dietrich popularized it with her stylish dressing way. Vogue says, in the 20th century the first wide shouldered suits for women were introduced by the house of Rochas. Man's suits can actually be quite feminine was showed to us by Katherine Hepburn. The suit was made iconic and a wardrobe staple for working women by her film Woman of the Year. The new fashion rage was the suits with the extreme shoulder. This trend became popular in 1977. Women have succeeded to prove their authority to the world.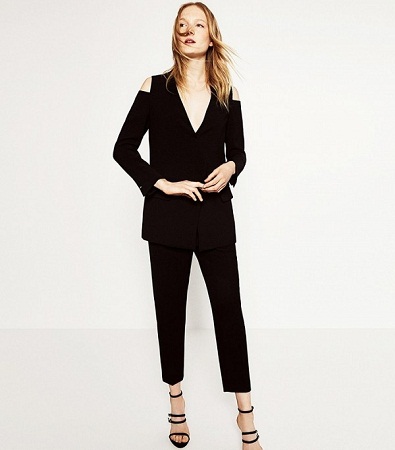 How did the tradition enter East?
The advent of "modern fashion" is the contribution of the Raj. Although both cultures had an impact on each other but Britishers contribution in bringing about changes in Indian fashion is vast. Their own cultural values and identity, fashion statement and clothing left Indians to admire the Gora Sahibs and the Memsahibs. The average Indians having a desire to look special imitated their styles. They were regarded as superior to the Indians who grew up under the awe of the white men. It was the aristocrats who initiated the change by adopting "western Fashion statement". So the new trend was to dress up like Britishers and look modern, speak and read English, and smoke pipe, eat with a fork. Western influence made Hindu women wear trousers, suits, skirts. Thus, penetration of this dressing style into Indian culture was the effect of colonization.
Jacqueline Fernandez Set Trends with Pantsuits
Millions across the world admire the celebrity fashion. Abundant trendsetting styles have been created by Indian celebrities; thus, ranking up the glamor quotient. All closets have designer outfit and attires, nowadays. Parties and gatherings witness different fashion radiations and style combinations. Recently, Jacqueline Fernandez was spotted wearing a funky multicolored suit with a stripe from Karn Malhotra.
The perfect outfit was beautifying her appearance. She paired that suit with heels in order to look slender. The pantsuit trend has already bewitched Bollywood. It seems that this trend is going to stay for some time. Not only this time but also on the promotion set of 'Flying Jatt' she amazed everyone by wearing a very stylish pantsuit from Sana Barreja's winter collection of 2016. The navy blue blazer was unique with shoulder cut out and geometrically placed golden embellishment. Being offbeat it adds a quirky quotient to the entire look. The pencil pants added chic to her look and were matching perfectly with the blazer's design.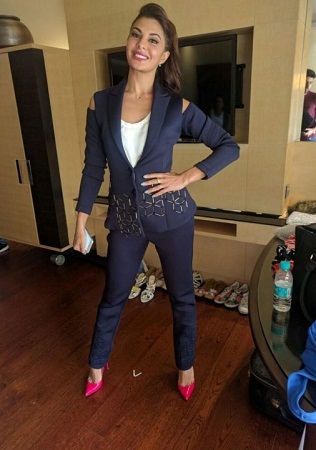 Jacqueline's fashion is getting better with time. Jacqueline knows how to impress her fans with her outfit.Her style avatar is making everyone go wow these days. So for all the women out there, try this dressing style once. You will surely be praised by everyone. Jacqueline's style avatar is making everyone go wow.