Fashion is indeed a fascinating word. There have been many changes and evolution in the history of fashion.India had contact with different cultures like Greece, Rome, Arab and Chinese since from the ancient period. These cultures by influencing Indian Fashion played a huge role in the evolution of Indian fashion.
Fashion covers a wide range of area, from your outfit to your behavior. The term fashion is basically a western origin; and Western influence in Indian fashion is hardly deniable. Thus the term 'traditional Indian fashion' is very conflicting in itself. However, recently it can be seen that Indian dressing styles have come into prominence. Here I am talking about the period of kings, at that time Maharajas and Ranis spent extravagantly on their clothing. Nowadays, this trend is back. Fashion designers are looking for ethnic designs. Recently, due to westernization and increase in exposure to the west, there is a reduction of western influence and people are trying to move back to the Indian ethnic style.
Indian fashion during the Victorian Era:
There are many ideas of decorum and modesty given to the Indians by the Raj. The ancient India represent women with minimal clothing because India being a hot climate people did what was suitable for this tropical climate.The sculptures from ancient India represents men and women  covering  the lower part of the body by rectangular pieces fabric and one on the upper part. But during Muslim period we see women covering themselves fully and wearing divided garments which later gave birth to salwar kameez, the national dress of India today. Again, during the Victorian era we see, many women going bare breasted. But Victorian principle was against it and implemented blouse as the norm.
"Blouse" and "petticoat" are the English made terms which are commonly used in Indian vocabulary and is also considered as "traditional". Although it is revealing but it has been considered decorous and has been associated with tradition. Different blouses with sleeve structure and various necklines began to penetrate Indian culture.
Indian Fashion Shows:
Trends tend to repeat themselves. They usually make a comeback after every year or two becoming a rage and talking point. Pastel Indian outfit has become one such hot topic nowadays. As mentioned earlier, western culture gave rise to a common form of Indian fashion. But from the post independent period many designers like Ritu Kumar and others wanted to revive the traditional fashion thus bringing back the traditional hand block printing technique of Bengal. She was the first to show case the Zardozi embroidery in her garments which originated in the Mughal era. The world of fashion did not have many boundaries, whatever little boundaries persisted vanished after the advent of the internet world. Ethnic fashion is creating a powerful buzz in the market today. Celebrities are welcoming Indian Ethnic Fashion with open hands, giving birth to unconventional style layered with ethnicity.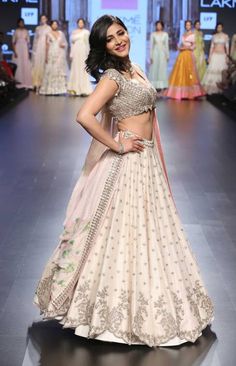 Be it Hollywood or Bollywood, the Indian ethnic fashion trends are acquiring maximum responses and demands. Ethnic salwar suit, traditional lehengas are in trend now; and are creating ripples of success in the fashion market.
Celebrity fashion trends are generally admired by millions all over the world. The Anarkalis worn by the Mughals is ruling the Indian ethnic circuit even in 2016.
Pastel Indian Outfits in Trend:
India is remembered as a country of symbolic colors by an outsider. These colors have various interpretations like deep orange symbolizing celebration to red commemorating the union between two people, to blue symbolizing happiness, new beginning. Nowadays, alongside bright colors, the elegant softer hues are also in trend. Celebrities are going subtle and ethnic in pastel Indian outfits. Dusky rose blooms, mint green and powder blues, earthly hues are in vogue now.
These colors can not only beat the heat but also makes you look unique, attractive and classy. A unique blend of Indian aesthetic with international can be found in today's fashion trend. Designers are displaying a fondness for subdued color in light tones. Lehengas in pastel hues are craving attention today. Today's generation prefer lightness and finesse. In case of bridal wears also this trend is quite prevalent. Anita Dongre, a popular designer, using cream and pastel shades designed bridal wears that were offset by a lot of computer embroidery and dazzling 'gotapatti' work.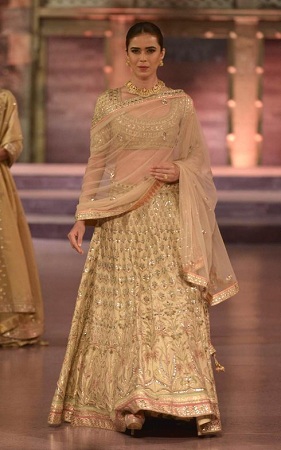 Why are the pastel shades so popular?
Color's silent language manipulates the viewers and evokes a visceral reaction that is antecedent to words. Colors have biological reactions ensuring survival, for example, it helps us to know when the food is ripe enough so that it can be eaten or it helps us recognizing the change of the seasons. We inherited from our ancestors a collective unconscious reaction to colors. Conscious symbolism is another aspect of color psychology. For example green representing trees, blue representing sky. Colors also have deep influence over our brain waves, our nervous system. Personal preference of color relating to ones state of mind, primal memories was always there. So this season you must try an unconventional color such as purple, orange or mint green with your pastel lehenga.
Colors like soft peach, beige, champagne, and rose pink are the trendiest colors for summer 2016. Candy colors are taking the Indian runways by storm as designers are busy creating ensembles in soft pastel shades that are made for hot summers. If the fear of being washed out in lighter hues is making you feel worried take a hint from Freida Pinto who for a night party went in a pastel gown and was looking stunning.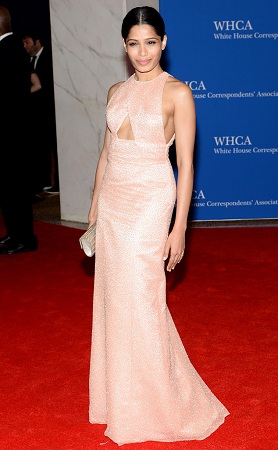 Look stunning by mixing more than two pastels in one look and add a contrast by adding a bright accessory. The color blocking pastel look will make you look unique and classy and is also very much in trend. Many loves pairing pastel with black or white, or with bright shades, this will show off your creativity and uniqueness.