Every girl in India would definitely have at least one pair of jhumkas. When you look at the range of jhumkas available in the market, you can find different types of varying price range from which you can choose the best one of your choice. You can find different patterns, sizes, length and material as well. So depending on your requirement you can choose either the small ones or heavy jhumkas based on your day or night occasion. With the increase in jewelry stores and their unique collection of jhumkas, you can categorize these based on the material with which they have been made with – whether it be gold, silver or any other material and the type of stones that it is embedded with. Based on your outfit you can choose any kind of jhumkas that would fit any of your traditional as well as modern chudidars.
Women of any age group would love to wear these beautiful jhumkas for any occasion which they need to attend. The jhumkas studded with diamonds are also a big hit as you can wear just these jhumkas without any necklace on any kind of attire. These would give you a stunning look that you have never experienced before. In most of the south Indian weddings we could actually see most of the women wearing different jhumkas which would add more beauty to them. These jhumkas are all time favorite for women of any age group. These are very easy to be worn and can be suitable on any kind of outfit that you wear whether it is with saree or ghagra or a salwar kameez. These can be worn on any attire unlike the other jewelry which you can find in the market.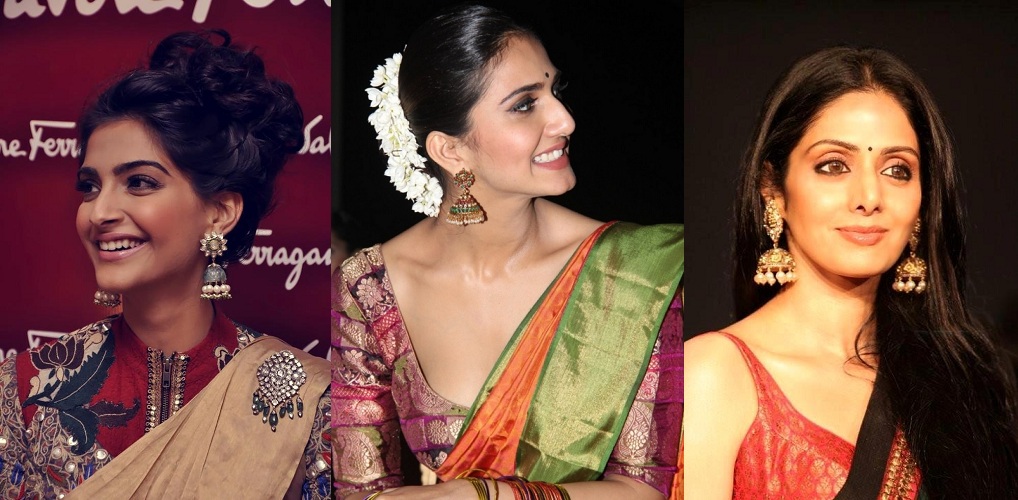 Know about jhumkas
Women always love to wear jewelry especially the jhumkas which change the entire look of your in which ever attire you might be in. Whichever occasion you might need to attend it would be incomplete to get ready without wearing these most attractive jhumkas. There are even several songs which have been made on jhumkas that add more beauty to women who wear them. These are the ageless jewelry which is loved by children as well as elders. In India you can find different patterns and designs of jhmkas which have been made so as to meet the varying needs of customers from different religions and cultures. When you look at the northern part of India the jhumkas are made up of polki and kundan, in south India these are made out of pure yellow gold and in Rajasthan you can find the jhumkas with the semi- precious stones and pearls.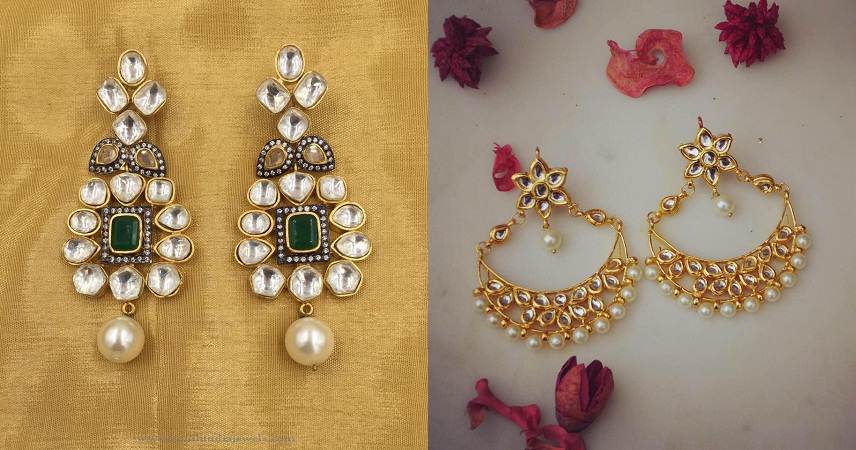 You can either wear the jhumkas over the tunic and jeans if you are looking for a casual look or you can even wear bangles along with them and a ring as well. The jhumkas are a piece of jewelry which you might never like to miss to have in your collection. These jhumka earrings come in vide variety and depending on your interest and affordability you can choose the best one of your choice. You can either go for the diamond jhumkas, kundan jhumkas, czed jhumkas, pear jhumkas or with any other type of precious or semi- precious stones. Now-a-days you can even find the stylish and most luxurious jhumkas as well. There are different professional and experienced craftsmen who can give the best to best designs and patterns of jhumkas that you would love to wear.
Benefit of wearing jhumkas
There are number of benefits of wearing the wide range of jhumkas which you can find in the market. Primarily these jhumkas activate the shakthi principle which is for women. When the jhumkas swing it creates and activates the Shakti principle and prevents women from getting any kind of negative energies. More over these jhumkas add beauty to those who wear these jhumkas irrespective of age group. This is the reason why this would definitely be the part of new brides wardrobe. Most of the women do wear the heavy set necklace along with the jhumkas in marriages. Depending on your requirement and feasibility you can buy the huge and heavy jhumkas or can even go for the simple jhumkas based on the occasion to which you are going. These jhumkas have been worn by people from several ages since the historical period by most of the princesses.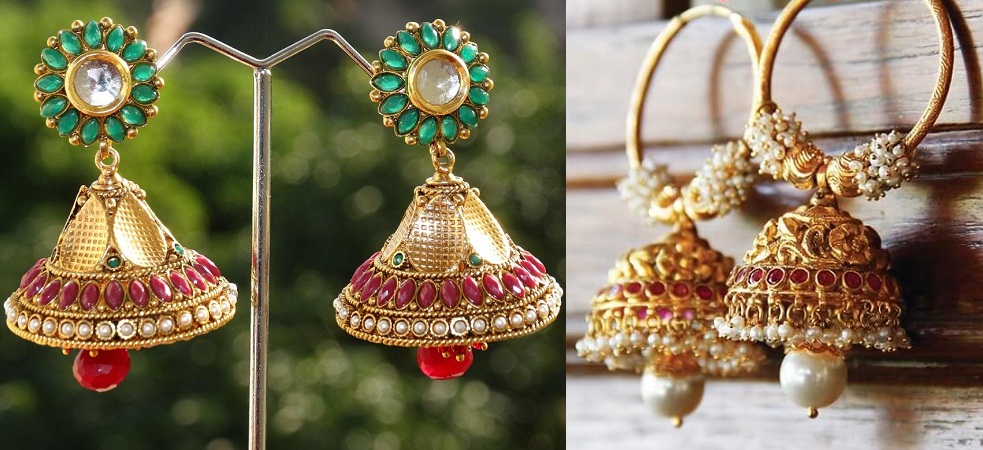 Another best way to wear these jhumkas is that you can wear them alone without any kind of necklace as these jhumkas alone are enough to add more elegant and stunning look to you whether you are wearing the saree or a dress. Just a pair of jhumkas is enough to make you perfect in any outfit. Even the Bollywood divas also love to wear the beautiful jhumkas for any occasion. These are not just for the old or young aged people but these would be suitable for women of any age group. You would definitely look stunning and much younger than your actual age with the best jhumkas which you can find in the market. If you cannot afford to buy the gold jhumkas you can even go for the imitation jhumkas which are just similar to that of gold ones. Over the jewelry stones you can find huge collection of jhumkas from which you can choose the one that you love the most.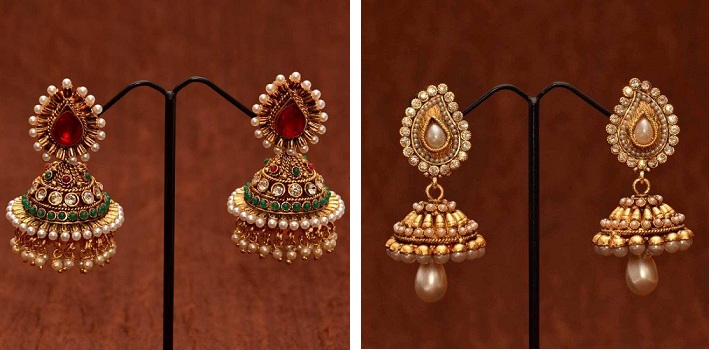 Where to find the right jhumkas
Now-a-days with the latest changes in technology people from all over the world has started their online business. So you can now find everything that you are looking for online at different stores from any part of the world. Through Internet it is now possible for you to find the best jhumkas and other jewelry that you are looking for. Over the Internet you can find number of online sites where you can check out the huge collection of jhumkas that are now available and choose the one that you like the most. In order to find a good online source it is very much essential for you to do some market research by spending some time so that you could manage to find a reliable online source. Once you are able to find a good online source then it would be very easy for you to choose the best one that would come within your budget.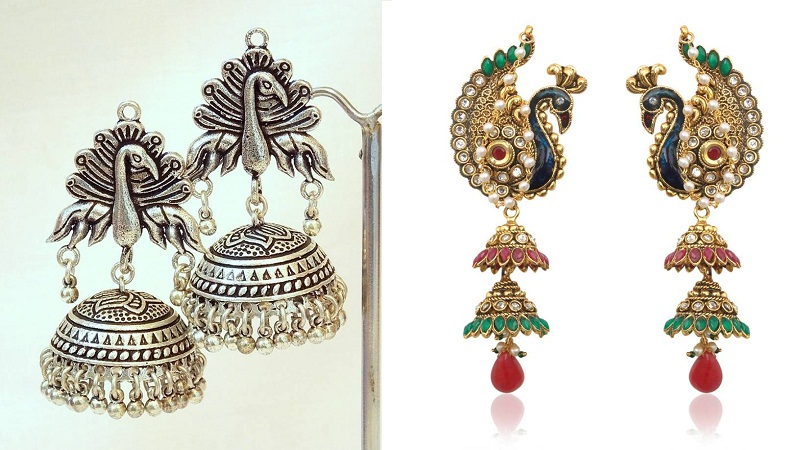 As you can find different types of jhumkas which have been made using different materials it is very essential for you to know your requirement primarily. Once you are able to decide what you are exactly looking for whether the gold jhumkas or the silver ones or any imitation jewelry it would be easy for you to find the right online source. Over the internet you can even compare the various sources and their respective prices for jhumkas and choose the one where you could get the best price with maximum discount and still maintaining the quality of jhumkas. You can even get to know more about these beautiful jhumkas by checking out the online sources that can provide you with huge collection of jhumkas of latest designs and patterns as well.
Conclusion
If you want to get a gorgeous look then it's the time for you to buy a beautiful pair of jhumkas. In India you can find most of the women wearing the attractive jhumkas. Usally the jhumkas are bell shaped. It just looks like a bell with an inner golden or pearl drop. These can either be made out of pure gold or can even contain different precious and non- precious stones as well. It all depends on you how you would like to have them. Based on your interest and likes you can choose any kind of jhumkas whether it be the gold jhumkas or the artificial and imitation jewelry. There are so many types of designs and patterns of jhumkas which you can find in the market that it would be very difficult for you to find the best one.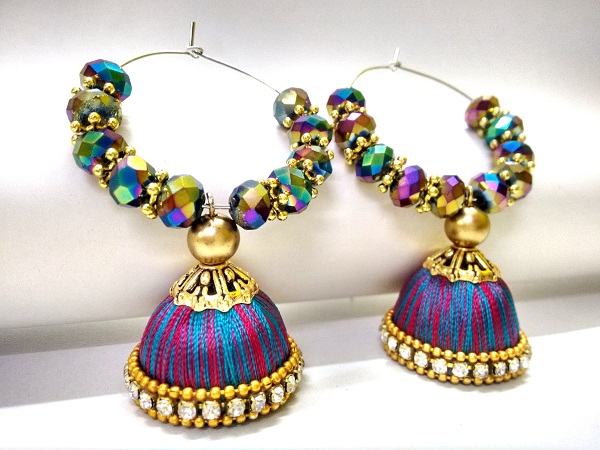 So before you think of buying a pair of jhumkas all you need to do is to check the various types of jhumkas that are available and choose the right kind of jhumkas based on your affordability and requirement. You can find the traditional golden yellow jhumkas that come with intricate filigree, the single or multi layered, the South Indian jhumkas, silver jhumkas, meenakari jhumkas, hoop jhumkas, crystal jhumkas, pearl jhumkas, Kashmiri jhumkas with various designs and much more. So you can check out the huge online collection which you have and buy the best and most suitable jhumkas wearing which you would look stunning as never before. Let everyone praise you and your beautiful jhumkas that you are wearing for your special occasion. Buy the latest trending jhumkas which would make you look like never before in which ever attire you are. If you want to know more about the range of jhumkas you can visit the relevant online source.