If you are a fan of beautiful conventional sarees of India, then you must have the kota sarees in your wardrobe. The kota sarees are created in such manners so that these can easily make the wearer the center of attraction in any formal or social gathering. The intricate weaving is the major attraction of these sarees and the weaving is therefore complimented by the zari woven borders, sequins or attached borders. Apart from highly eye catching, these sarees are very much lightweight and comfortable. So, one can feel fresh even after wearing these sarees for hours in the hot and humid summer days of India. Another great thing about these kota sarees is that these look just perfect as both day and evening wear and these also match perfectly with all types of complexions and body shapes.
Here are some more details about kota saree:
Origin of kota sarees:
Kota Sarees, also known as the Masuria Malmal is one of the most popular saree types in India. The term Masuria is used in the name as these sarees were earlier originated from Mysore. But these sarees were later brought to Rajasthan by a Mughal Army General in the late 17th century. From that period, the sarees were known as "Kota-Masuria". In other parts of Rajasthan and in rest of India, these sarees are known as "Kota-Doria", where Daria means threads. The uniqueness of these sarees mainly lies in the "khats" or chequered weaves, which are mainly incorporated into the weaving of this saree. Besides, the fine texture of these sarees makes these sarees completely feather light.
Kota fabric:
The fabric of these sarees is transparent and made of cotton silk weave. Here cotton offers the required strength to these sarees where silk offers the needed transparency. Besides, the absence of uniformity in weaving these sarees creates a graph like pattern from various thicknesses of fiber. These patterns are known as "Khat" and these are prominently visible. Apart from "Khat", there are some elaborate patterns, which are used to weave these sarees. Because of the designs, these sarees get a complete weightless feel. Here spinning, weaving and dying are mainly done by the professional artisans as weaving these sarees needs aesthetic knowledge of color combination as well as special skills. White is the basic color here and it is therefore dyed in several vibrant hues.
Types of Kota sarees:
Kota sarees can be of three types like as printed, plain and zari. The printed kota sarees mostly come with off-white and white background and these also come with sanganeri patterns. Commonly, these sarees either come with jalls or single motifs. The plain kota sarees mainly available in checks that are either formed by golden threads or coarse cotton. Last type is the zari kota in which the saree borders are embellished with zari work and sequences.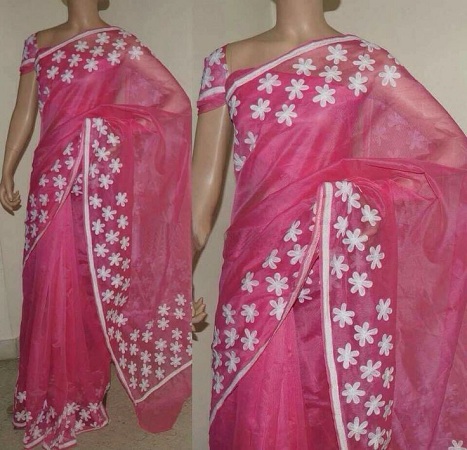 In terms of making, kota sarees can be classified into three types, known as supernet kota, silk kota and cotton kota. The supernet kota sarees are mainly made from a blend of fabric and the silk kota sarees are woven from silk. Both of these sarees are manufactured in Varanasi. Another type, the cotton kota sarees are woven in the Kota village in Rajasthan. The only similarity among all these three saree types is that all of these sarees come with mirror work, embroidery, block prints and mirror work.
Designer kota sarees:
These days, a number of designers work on these Kota sarees and their work feature a great mix of vibrantly shaded kota sarees to the more conventional styles with plain bodies and contrast pallu and border. Besides, some of these sarees also have designer elements, which flaunt conventional Indian hand crafts like as cutwork, block printing and embroidery.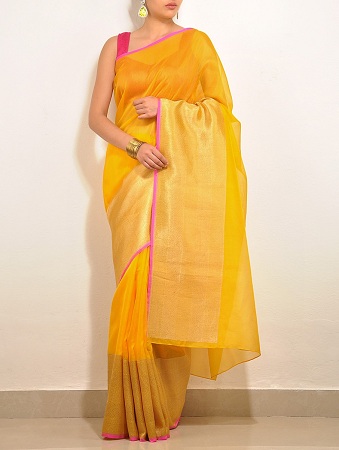 Some of the examples of designer kota sarees include: daily wear kota sarees with interesting borders in contrast prints such as kalamkari, richer tissue made kota sarees with attached benarasi borders or sequins, minimalist kota sarees with contrast borders and woven stripes, bright colored silk kota sarees with beautiful kundan work in the pallu and border and kota sarees in pastel hues with glittering silver sequins hand embroidered into the pallu and border for creating a great piece.
Kota sarees in the summer days:
Though kota sarees are mostly worn in the festivals, special occasions, cultural events, parties, wedding ceremonies or any other high events, but the rich look and less weight of these sarees also make these ideal for daily wear.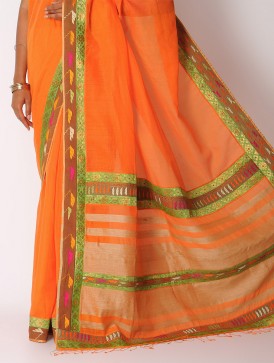 Kota is a well known place is Rajasthan, known for these Kota Darai or Kota Jali sarees. Being transparent and light weight and also being really airy in nature, these sarees are just perfect for the summer days and can drape one around perfectly. During the scorching summer days, these sarees can offer the users relief from extreme summer heat.
Kota sarees in the rainy season:
Though monsoon is considered to be the most romantic season of the weather, but at the same time it is also known as the most dreaded one as this season brings the perpetual issues of dressing in the proper manner in this splish and splash. So, the ideal fabric for women, who wear sarees in this season will be something airy and light, which doesn't weigh much as well as dries up easily if one gets wet. Besides, the saree needs to be colorful and vibrant so that it can break the gloominess of the monsoon. The kota sarees fulfill this requirement successfully.
Kota sarees for different occasions:
Competitively priced gorgeous kota sarees are just ideal for both corporate and casual wear. With the sheer looks, these sarees can accentuate the natural curves of the body of a woman in the best possible manner. Besides with a great sheen, these kota sarees offer an air of subtle sophistication. With the availability of beautiful embroideries, motifs and delicate checks, these sarees are known for adding a great elegance. Therefore, while being paired with the right kind of accessories like chunky earrings or colorful bangles, these sarees can be worn for both semi-formal and casual occasions.