Stole and Dupatta are two different concepts that women use for different occasions. Whereas a stole is basically an expensive shawl made from an expensive fabric to be taken around shoulders over a party dress, dupatta is kind of headscarf that can be made from different kinds of material as per one's personal choice.
An Indian dupatta has been in use for centuries amongst women of Hindu and Muslim faith as a veil to cover their face from people other than her husband or family. In earlier times wearing a dupatta was a compulsory measure before a woman could come out of her room but now the world has changed and Indian dupatta has entered the fashion scene.
Earlier dupattas were made very simple as it was only a veil to cover the face but now that it has become a part of every Indian woman ensemble, the style and fabric for dupatta has gone a major transformation.
Stoles on the other hand have been a part of western women ensemble for long and have been in use for as a fashion accessory. Today the style of stoles has also gone a sea change in the way they are made and draped and therefore needs to be discussed in length.
Choosing the right stole
Choosing the right stole is very important so that you get the desired look when you drape the stole. As a stole is usually draped for formal gatherings, it is important for you to pick the right stole while making the purchase.
Stoles come in a variety of fabrics but you should pick stole made from richer or warmer fabrics like a pashmina, wool, silk etc as you need to drape it on your shoulders. You should pick up stoles that are rich in texture and have good shine.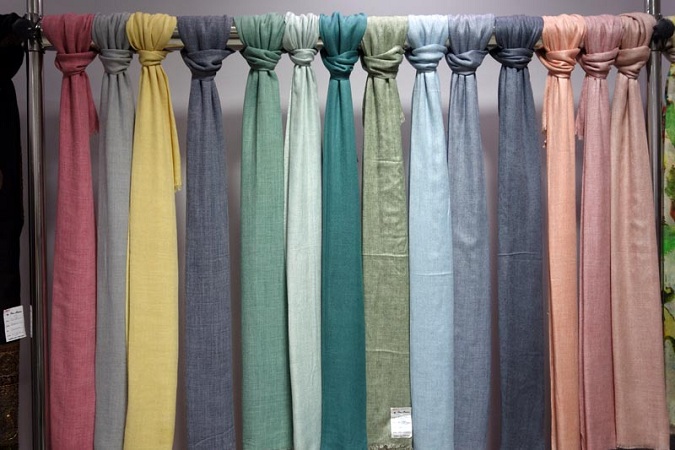 Your personality also plays an important part in deciding the right stole. A right stole for you may not be the right stole for somebody else. Therefore, right stole is a personal choice. If you like bright colors you can opt for colors like magenta, orange, peacock blue while if you prefer sober colors your can choose beige, nude, camel color.
Your personal choice is one thing but avoid buying a stole that is trendy because they are expensive and become redundant when they are out of fashion.
Draping a stole:
Draping a stole stylishly is as important for your personality as buying a correct one. Now that winters are around the corner, a quick review on various styles of draping your favorite stole will give you fresh ideas of draping a stole so that you look as beautiful as you really are.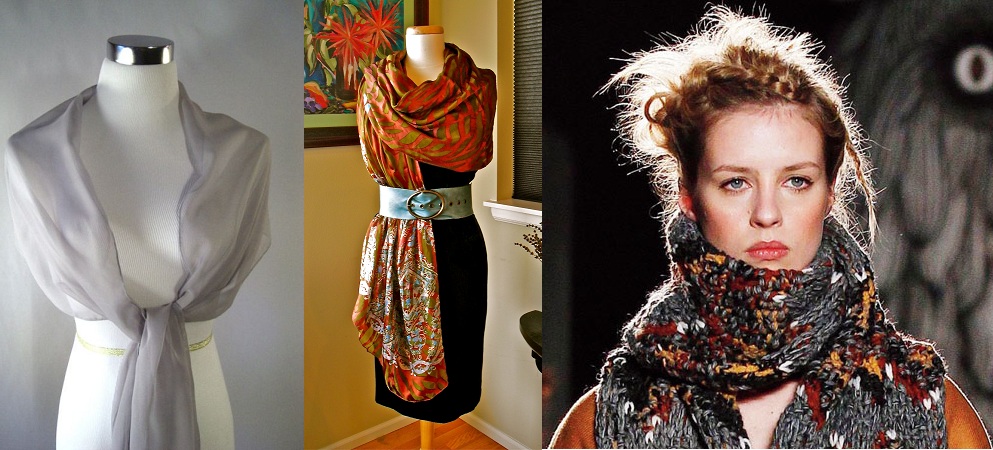 Traditional style drape:
This is the most fashionable way of draping a stole. You just drape the stole around your shoulders and tuck the loose edge inside the loop around your neck. You can wear this style with dresses like skirt, maxi or even trouser. For formal gatherings you can just pick up a stole that has some tassels or latkans.
Single Loop Style:
This is a casual way of draping a stole with your T-shirts and denims. In this style you just wrap the stole around your neck and loop it one. The style looks good if the two ends of the stole are of the same height when you finish draping it.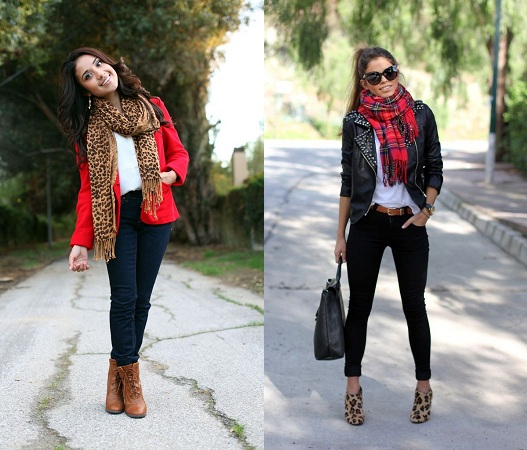 The Eight Loop Style:
This is the trendy way of draping a stole with all kinds of dresses especially the shorter ones. In this style of drape you just tie the two ends together and loop around your neck until the entire stole is draped. The only caution to take in this style is not to take a stole with fabric that creases very easily.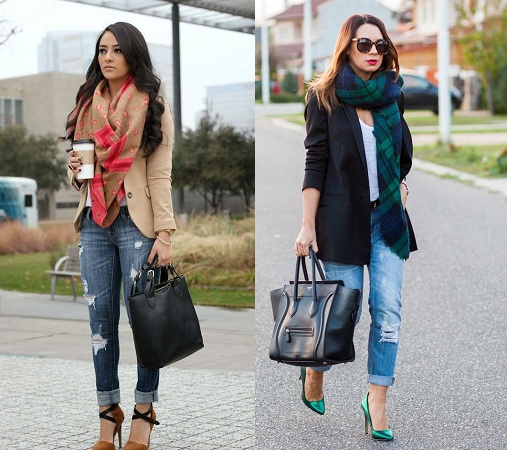 Western Style Loop:
This style of loop is used by both men and women. The style started off in Europe and is perfect for chilly weather. The drape gives a layered look and starts by folding the stole in half and looping around your neck. When the stole is about to finish, put the lose end through the loop and bring it out to give a sleek design.
You can wear this style with both casual and formal clothes.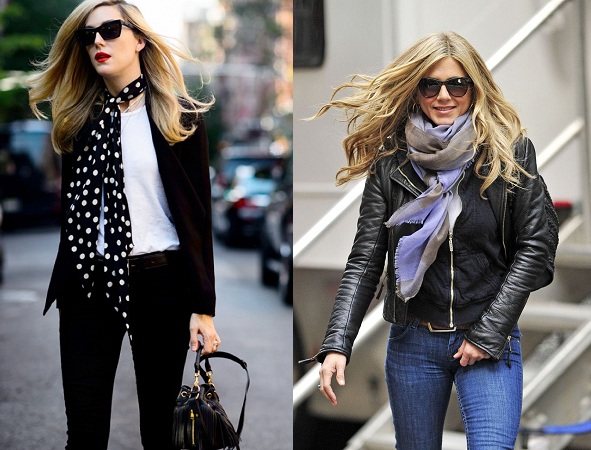 Choosing the right Dupatta and wearing them
Indian dupattas come in a wide variety of fabrics starting from synthetic and ending with the most exclusive silk varieties.  The concept of right dupatta is entirely your personal choice because every individual is different so is their taste. Therefore a dupatta that you may love may not appeal to some other and vice a versa.
However, since dupattas are becoming increasingly expensive with every passing year, it is better to buy dupattas made from pure fabrics instead of mixed or synthetic fabrics.
Pure fabrics can be dyed to any color of your choice over and over again, while synthetic fabrics cannot dye. Secondly pure fabrics exude richness while synthetic fabrics only have shine that too does not long very last.
Indian dupattas come in a variety of fabrics such as cotton, georgette, silk, net, chiffon etc. The choice of dupatta to drape depends largely on the occasion and place. If you wish to wear the dupattas for normal casual wear, you can choose pure cotton dupatta as it is a very soothing material that allows free flow of air while if you wish to drape a dupatta for a formal gathering, you choose a fabric that goes best with the kind of dress that you choose to wear.
Hereunder are some dupatta fabrics that are most popular with women:
Net Dupatta:
Net dupattas are extremely popular with women from all walks of life. The best thing about this dupatta is that the fabric allows certain amount of visibility while at the same time it covers the portion you intend to cover.
Net dupattas are very light weight and they look very pretty when used with or without embroidery. If you wear this dupatta on your head, you can show off the style of bun on your head and also the beautiful accessories that you have used.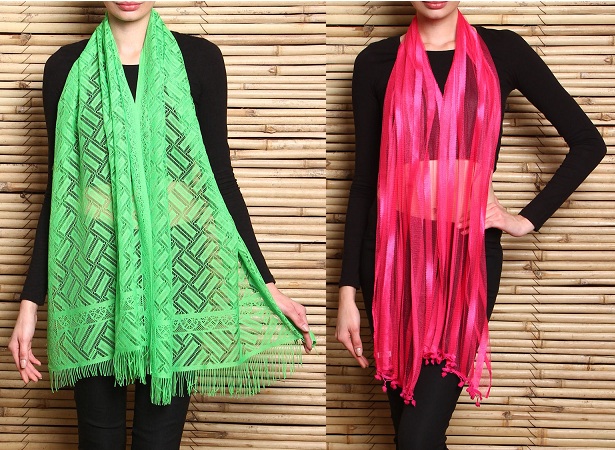 In case you drape the dupatta on your chest, you must take an embroidered piece of the same so that your chest is not visible. However, if you are comfortable in some body show, net dupattas look very beautiful with all kinds of dresses.
Georgette Dupatta:
Georgette is the second most popular fabric that women love to use for a dupatta. The fabric is opaque and also heavier than net therefore women that are conscious about skin show use it more frequently.
Georgette is a very good fabric with a very good texture. Almost all dress designers around the globe use the fabric for their creations whether it is gown, a single piece dress, a stole or Indian dresses like suits, Anarkali suits, lehnga or a dupatta.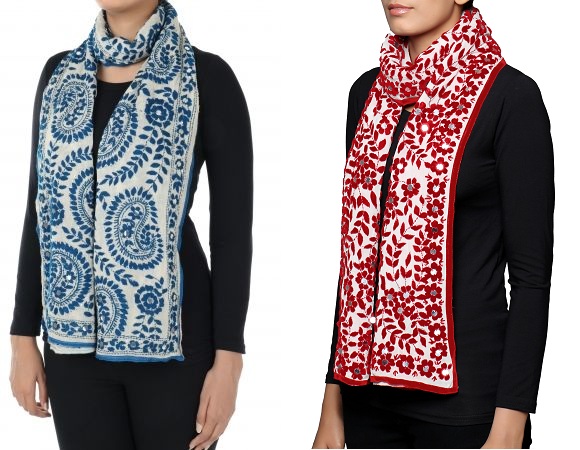 The best thing about the fabric is that it looks pretty even if you wear the dress or dupatta with or without any embroidery or embellishment. A pure georgette fabric can be dyed a number of times therefore you can re use the same fabric after some time.
You can use georgette dupattas both with casual dresses as well as formal dresses.