India is the home of different types of sarees. In fact, each province of India has its own sarees, which have unique designs, materials and weaving styles. But while it comes to sarees, every woman requires some daily wear outfits that fit in every occasion like shopping, office, kitty parties etc. The comfort is considered to be the latest trend and viscose is one such fabric that fills this requirement successfully.
Viscose sarees are considered as one of the most preferred types among all the Indian saree types. These sarees are well known around the globe for their sensational look. Besides, these look stylish and different because of soft feel fabric, good elasticity, intricate embroidery and design, attractive colors, graceful appearance, easy maintenance and affordable price.
Viscose sarees have silky texture and appearance, though these are soft like cotton and breathable and have amazing drapes. These affordability and versatility of these sarees combined with various desirable qualities make these a highly popular saree type.
But before we learn more about the viscose sarees, let's get some details about the material viscose.
What is Viscose?
Viscose is considered as one of the most popular fabrics at the present time because of the regal look and the soft, velvety feel. Basically, this is an artificial fabric with a silky texture and appearance. But at the same time, this material is soft like cotton and breathable and also has a good drape. Besides, this material is ideal for absorbing moisture and therefore it is lauded for the lightness and moisture wicking ability.
The fabric is also comparatively light and this is why it is highly favored for every day wear casual clothes, though a number of people also prefer this fabric as a pretty and comfortable textile for formal attire. Both the affordability and versatility of this fabric along with various desirable qualities have made it highly popular. The best part of this fabric is that this doesn't take abrasions, look shiny and when this material is embellished with various embroideries, this fabric works as a great evening wear.
Apart from being pliable than silk as well as softer and lighter than cotton, this fabric is also used popularly in manufacturing summer clothes. The latest forms of viscose are designed to be crease and wrinkle free.
Why do people prefer these sarees so much?
The viscose sarees are known to be the perfect balance of elegant apache and sensual appeal. Additionally, the embellishments and thread works on these sarees make these ideal for both special days and functions as well as for daily needs.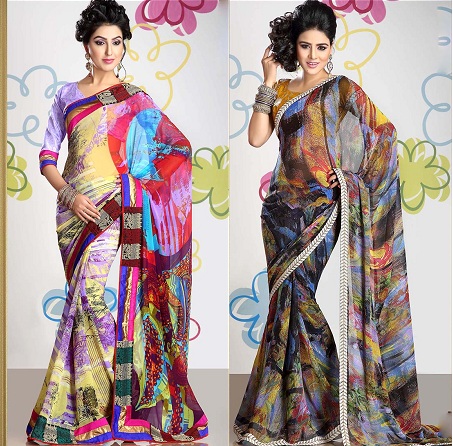 Comfort and style all blended in one….
The weaving of viscose sarees makes it really comfortable to carry off and wear. In fact, the open pores of this fabric make these sarees totally breezy. This is one of the reasons why the viscose sarees are considered to be the best buy for the humid Indian weather. Another great thing about these sarees is that these dry effortlessly and retain the color for a long time. This is the reason why these sarees are preferred for preparing printed outfits. Because of the strong ability of these sarees to retain shades, these sarees are dyed in the richest and brightest shades possible. The main strength of viscose sarees is the ability to blend with many other fibers or you can say its versatility. Often this step is followed to bring softness, comfort and luster in the sarees as well as to reduce manufacturing cost.
Designed using the best quality viscose fabric, the viscose sarees have high demands among people across the globe for high fabric strength. The sarees are also appreciated by users for the quality and some other unmatched features like: colorfastness, fine stitching, shrink-resistance etc. Moreover, the texture of this fabric allows perfect air passage due to the availability of pores. Apart from that, these sarees also feature beautiful patterns that are influenced by both Western and Indian motifs.
Different types of viscose sarees…
As it is mentioned before, different types of materials are often combined with viscose to create different varieties. So, the users can choose from different types of viscose sarees. One of the popular types is the cotton viscose sarees, which is ideal for regular wear.
Linen viscose saree is another type, which is mainly used to create printed and stylish sarees and sometimes embroidered sarees for regular wear. But many people also prefer these pretty and comfortable sarees for formal clothing.
More about the material…
Polyester viscose is another popular type of viscose sarees that comes with a different sheen. These sarees have a great demand for the chic look and therefore polyester viscose is mostly used to create beautiful and stylish sarees, especially bridal and party wear outfits. Besides, this fabric is also really functional, therefore the polyester viscose sarees never feel stretchy or shrink.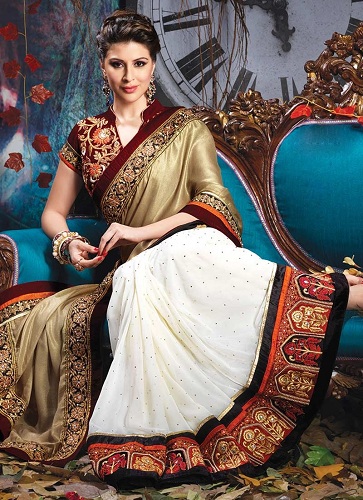 There is another variation of viscose sarees, known as the bamboo viscose sarees. These sarees come with a coarse look, are really distinctive and therefore these sarees bring a bohemian and artistic look.
Caring for viscose sarees:
Caring for viscose sarees is also pretty simple and stress free. The users just need to follow some rules. While washing viscose sarees, it is required to use lukewarm water. The sarees should be washed with hands separately without excessive wringing or twisting as this can lead to the fabric to rip. In case you want to wash it in washing machine, then wash only with delicate settings. While ironing these sarees to remove wrinkle, use only medium settings with steam.
Conclusion:
So, if you are in search of a great saree for a party or wedding, then opting for the viscose sarees will be the best option. Besides, these sarees are also the ideal choice in case you prefer something simple, which perfectly drapes around your body. These sarees come with really enchanting and classy feels and therefore these are ideal for almost every occasion. So, by choosing these sarees, you can be the trendsetter among your family members and friends.