The wedding is a most important event that happens once in a lifetime in the lives of every individual woman. All women want to look the best on a special day. It is on this very day, all eyes are on the bride. You might be getting married soon and is wondering what lehenga will be the perfect for you on your wedding day. Your attire for the wedding day must be so chosen that it must be a designer lehenga and should be trendy.  Here goes the list of top wedding lehenga designs of 2017 by famous designers which you can consider when it comes to buying lehenga for your wedding.
Lehenga With A Trail
The number one trend in bridal lehenga design is a trail. It gives a royal and classy look, to be precise; the royal look of the west is render by this lehenga to the Indian bride. Trail adds richness and glamor to the designer lehenga and indeed it makes the lehenga look like couture lehenga. As the wedding season is approaching, you can try this long trail lehenga.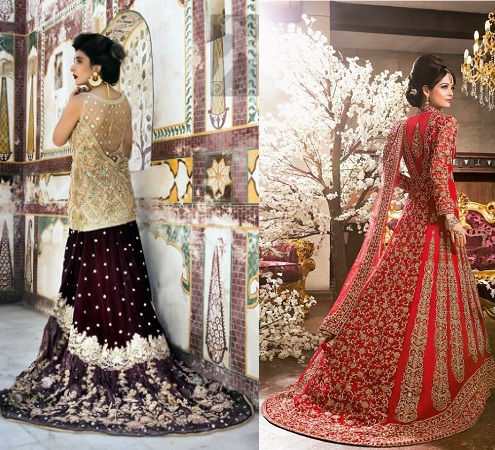 Ombre Lehenga
Ombre is in vogue this wedding season. You can change your hair color matching with the lehenga and nail polish and lipstick matched with the lehenga will enhance your look. This is considered to be the perfect and best for the bride with fair complexion.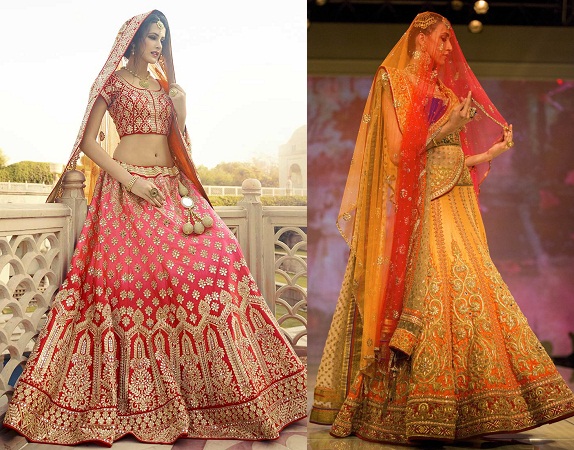 Anarkali Lehenga
Anarkali salwar suit is already popular among the women and now Anarkali lehenga is the latest addition to a wide array of lehenga designs.  In Anarkali lehenga, the choli gets sewn with the long Anarkali which goes down with the lehenga length. You can pair it with Anarkali top which ends above the floor length.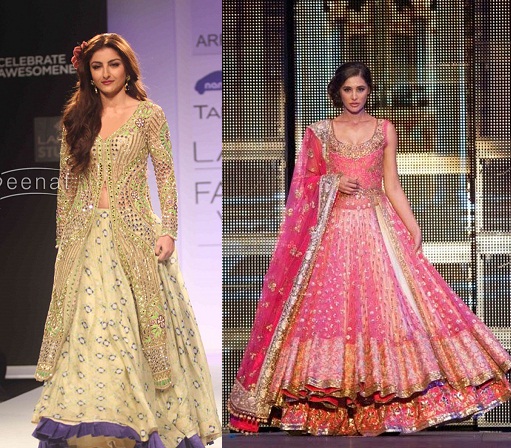 Jacket Lehenga
Renowned internationally acclaimed designers now have in their collection long and ankle-length jackets over lehengas. The jacket can be made with crepe or silk and will be full length, only certain part of the choli can be seen.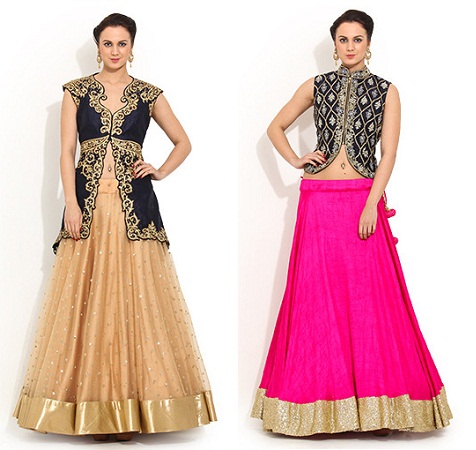 Lehengas With Crystal And Mirror Work
If embroidery in dori or zori becomes too heavy for you to carry then you can opt for lehengas that have crystal and mirror work all over.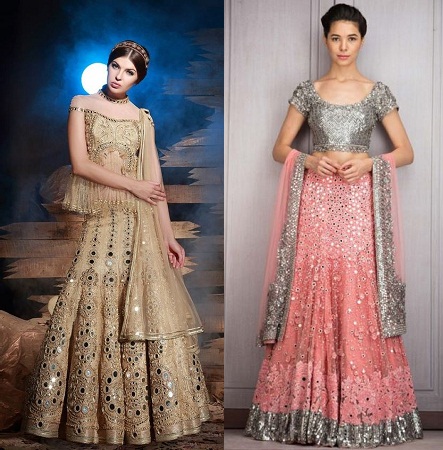 Gota Patti Border
Gota border in lehenga is in vogue since 2014 and in 2017 it has been seen that designers have given a new look by using embroidery gold borders in the lehengas. Both narrow and wide borders are being used in designing the lehengas. To make it look more stunning, you can customize it by stitching heavy tassels at the corner of your dupatta.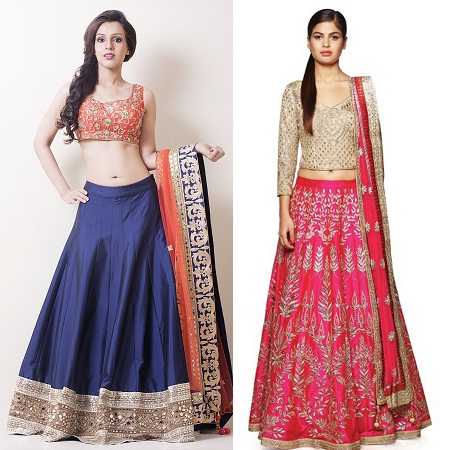 Long Sleeves
Wedding during the winter months is quite difficult for the bride because of the chilly winds that blow making the bride feel cold. Long sleeves here come as a savior for the bride. If your wedding is scheduled during the winter months, then long sleeves will be of immense help to you. Long sleeves look trendy and are perfect for a destination wedding as well as for wedding during the winter months. You can try long sleeves either with long cholis or with gowns.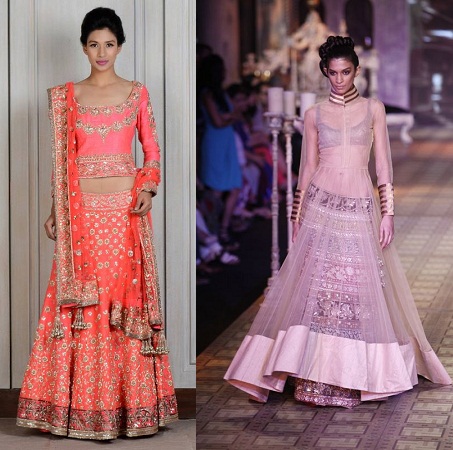 Kurta Lehenga And Bandhgala Choli
This is another great option for a winter wedding. You can try kurta style tops or cropped bandh gala cholis. This uniquely designed lehenga will surely make you look stunning on your wedding day and you will be the perfect show stopper. All eyes will be on you and your peers will envy you on your wedding day. A classy, sophisticated, as well as contemporary look, is what you will get wearing this lehenga on your wedding day.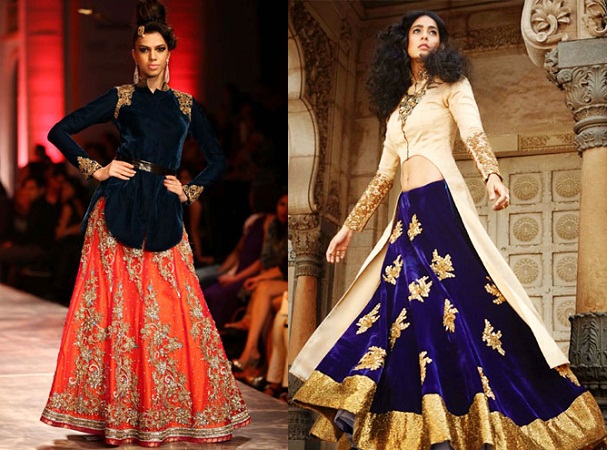 Velvet
Velvet is never out of fashion. It was popular among the brides in the past and still dominates the present wedding season. In a wedding, velvet is still popular. If you feel that the velvet lehenga will be very heavy for you to carry on the wedding day then try silk lehenga with velvet cholis or you can go for patchwork done with velvet. A perfect royal look is what you want on the d-day then it is the velvet lehenga that will give you this look.   So what are you waiting for? Choose a maroon or red velvet lehenga and look simply beautiful on the d-day.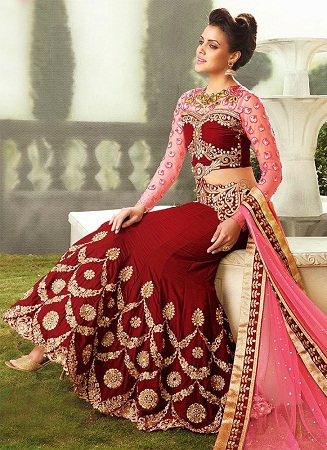 Contrast Border
Double color lehengas are in trend for many days and for 2016 wedding season it has become a must for the brides. If you have already bought a lehenga for the final day, then this contrast border lehenga you can wear in pre-wedding rituals or on your reception day. Unconventional color like mint green, olive green, and yellow color border can be tried in your double color lehenga. It will be an exclusive collection and you will steal the show. Something extraordinary is what you must do for your wedding and the dress plays the pivotal role in the wedding. With this somewhat differently designed lehenga, you will be stunning.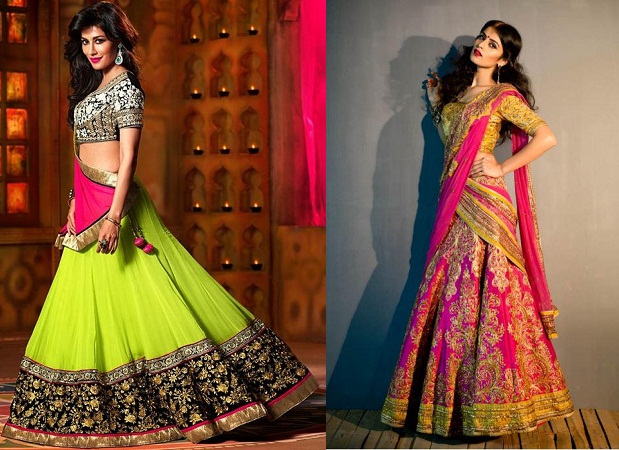 The Hot Red
Red is never out of fashion and it is the color of love. Wedding means the union of two people who are deeply in love with each other and want to spend the rest of the lives together. A wide variety of style in wedding dresses is now available. You can go for indo-western gowns in red color or can try the latest saree lehenga. Layered gowns in red also look trendy on brides on the wedding day.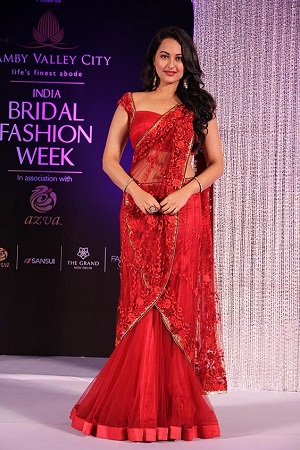 Other Related Information 
When it comes to buying lehengas for your wedding in 2017 then here goes the few more information for your on the type of fabrics, color and work. The best colors for wedding lehengas are gold, classic red, wine, rose pink and orange. As far as the work is concerned, patchwork, crystal, dori, mirror work and zardozi work is in vogue. The latest wedding lehengas fabrics include raw silk and silk, satin, net, crepe, and velvet. For the cholis, silk and velvet are immensely popular and for dupattas net and georgette are very popular.
This article will immensely help you in buying the best and in vogue designer lehenga for your wedding. Look at your best and be a show stopper on your wedding.