Halter neck blouses are one of the most popular blouse styles available for modern women, who like to flaunt their beautiful back in the most elegant manner. Actually, these blouses give the sarees a modern twist, while exuding the beauty. Besides, these blouses are also considered as one of the most appealing methods of giving a saree a sophisticated look. So, if you are convinced to try out this blouse style, then here are some points that you must know beforehand.
Origin of halter neck blouses:
Originated mainly from the western wear tops, the halter neck style has therefore been adopted beautifully in India as part of the Indian attire. At present, this style of the blouse has become a must have in the wardrobe of many fashion conscious women. The best thing about these blouses is that these can perfectly accentuate even the simple looking sarees as in most of the cases; these blouses do the trick of turning people's heads.
Why are halter neck blouses so popular?
The only thing that makes the halter neck blouses really popular among the fashionistas is that these allow them to show off their beautiful back smartly even after wearing sarees. So, with this blouse, you can actually turn heads while transforming yourself into a diva without much effort.
Definitely, this blouse is not meant for women, who prefer to look beautiful in a traditional way. Being really trendy and bold, the designers prefer this blouse style and therefore they work on it to come up with different looks and patterns. Therefore, these blouses can add elegance and sleek look to almost every saree type. So, if you are ready to show off your sexy avatar in the casual events or parties even after wearing sarees, then nothing can be a better option than the halter neck blouses. By choosing these blouses, you will be able to make a great impression wherever you go.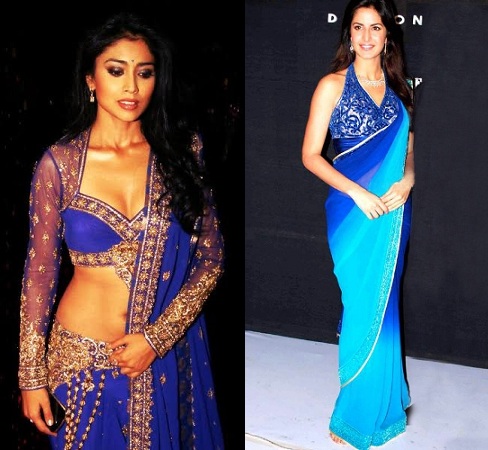 But this doesn't mean that you should choose these blouses randomly to look good. There are some guides that you need to follow to look perfect in the halter neck blouses. Read on to know more:
Guide to wear the halter neck blouses in a perfect manner:
The halter neck blouses mainly focus on the upper part of the wearer's body, which includes: face, bust, blades and shoulders. Therefore, before choosing this blouse, you have to check your body structure means whether you have the perfect figure to flaunt this blouse style or not.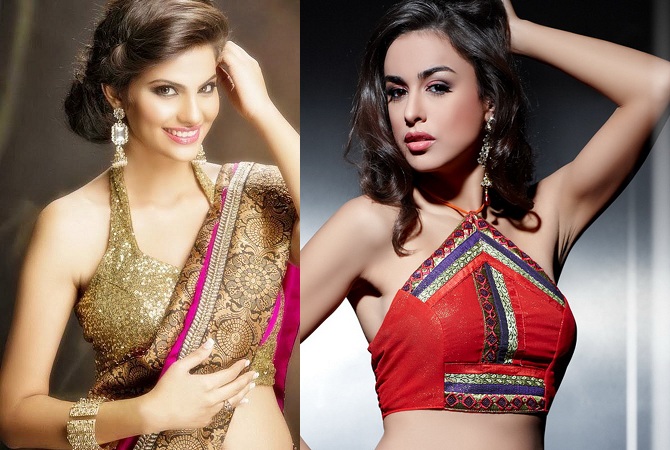 Halter neck blouses are ideal for casual events. So, never wear this blouse in your workplace or in any non-casual events.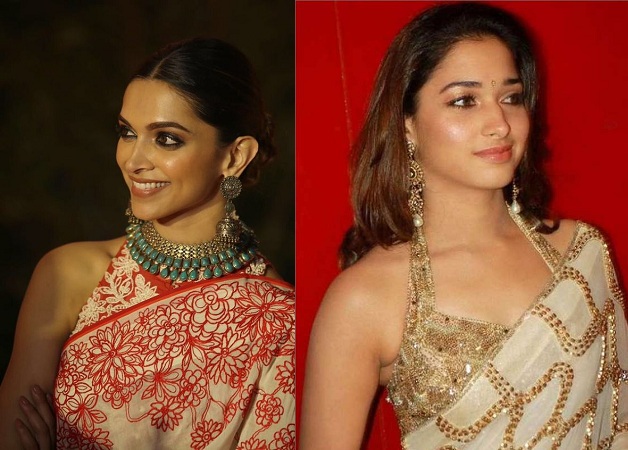 The halter neck blouses are perfect for women with large hips and small busts. It means, these are not meant for women with big busts as this style highlights the bust area.
The best times to wear these blouses are during the spring or summer days as these are the times when we need to choose clothes through which our skin can breathe.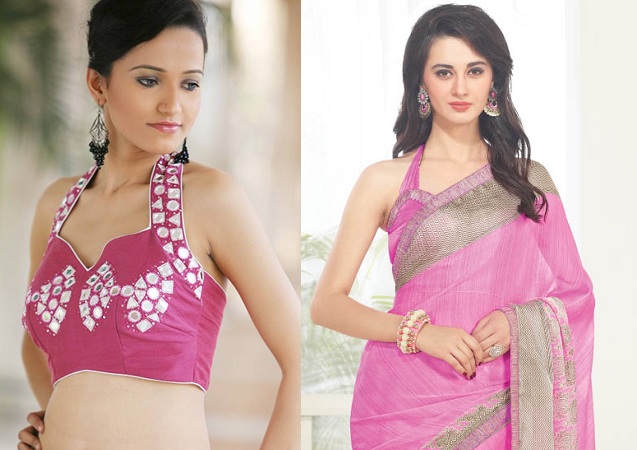 In case you are not comfortable wearing the conventional halter neck design blouses, then you can also customize the style like front high neck blouse with halter neck style or halter neck blouse with fully covered chest and front neck.

Celebrities flaunting halter neck blouses:
As the halter neck blouses are glamorous enough, therefore these are highly preferred by the Bollywood divas. There are a number of instances when these beauties are spotted in halter neck blouses of some beautiful designs. Some of these names are Tamanna Bhatia, Rani Mukherjee, Aishwarya Rai, Geeta Basra, Katrina Kaif, Malaika Arora Khan etc.