Fashion trends especially in the world of women are ever changing. It is definitely a dynamics that women like to experiment with each passing season. The trend of fashion change does not restrict itself to clothes only and extends to hair, makeup, shoes and accessories. While clothes remain the main trend setter it has been seen that different accessories have added a new twist to the clothes making them the new trendsetter. We all love pom-poms. But they are mainly used in baby caps and socks. But have you ever thought that multi coloured pom-poms can ooze out colours in your dress too? Well, if you haven't then here are a few tips on how you can look cool and quirky with the pom-poms.
What is a pom-pom trend?
Recently pom-poms have become a rave in the fashion world. These little balls of colours are the hottest trend and are catching up quite high in the market. The fashion designers from all around the world are using colourful balls in their creation giving each of their creation a new and quirky look. Especially for the coming summers pom-poms would be a great addition to your dress, bags, shoes and tops. Colourful pom-poms along with tussles would look vibrant as well as very trendy this season. So if you are wondering what it would be like to try these colour balls on your dresses then you have come to the right place.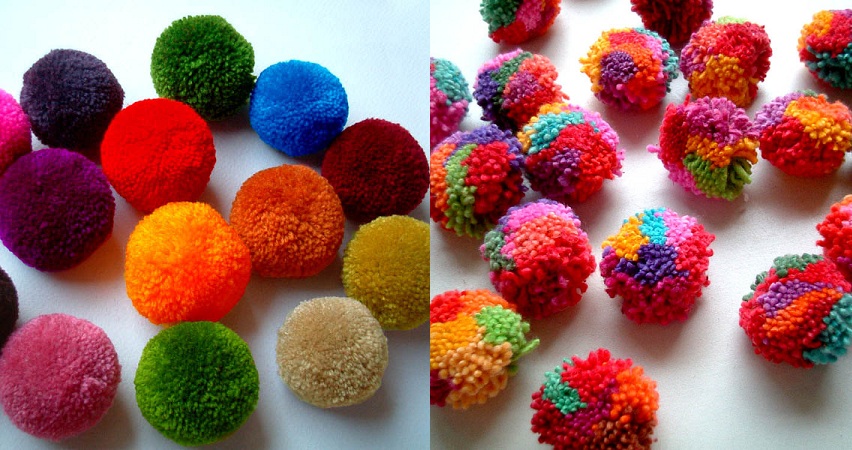 Pom-pom Dress
The fashion designers are geared up with their collection of dress that has been adorned with pom-poms. Pom-poms can be used creatively on your dress and it looks absolutely trendy and chic. You can wear a white dress with pom-poms stitched in your sleeves. This will give you a cool BOHO style. Pom-poms would look best on white dresses. This will help you use different colours on the pom-poms to make it look cheerful and pretty. The designers are coming up with jumpsuits that have been stylized with pom-poms. Jumpsuits look quite feminine and when you add pom-poms to it the dress becomes unique and very stylish.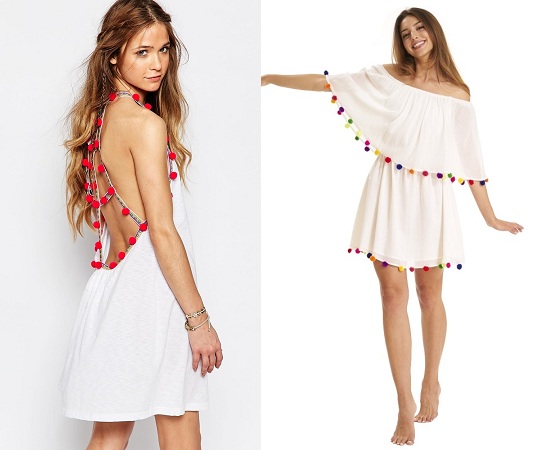 Pom-pom Bags
If you are one of those girls who loves to carry bags made from natural fibres then you must try the latest pom-poms on the bags. Stylish bags made from jute, silk, cotton and rayon with pom-poms on them are very trendy these days. Handles made from pom-poms or tussles with pom-poms on them look cool and chic in the summer time. A lot of fashion brands are coming up with their collection of beach bags that have pom-poms on. You can have a matching hat rimmed with colourful pom-poms too. That would make a great beach accessory this summer too.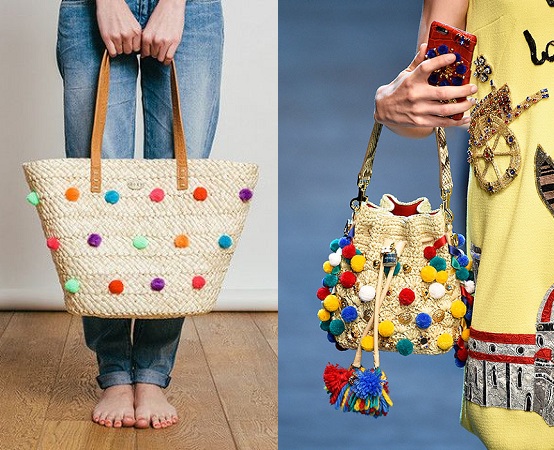 Pom-Pom Tops
Trendy tops for women are quite in these days and if you planning for a collection for the coming summer then you must add a dash of pretty colours in your tops. The summer colours generally come in pastels. You can choose linen or cotton in pastel shades and add some pompoms on the sleeves, around the neck or on the hemline and it would look super cool in the hot summer months. Tops with laces and tussles can also be fitted with pom-poms to make them look girlie and pretty.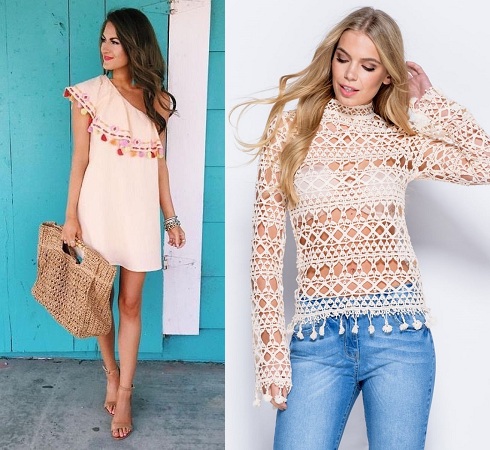 Pom-Pom shoes
Do you know you can wear pom-poms on your shoes too? Well yes, you can wear trendy sandals that come with pom-poms. A flat sandal with tussled straps looks cool in summers. Designers are coming up with colourful pom-poms strewn all over the tussles to give a bright new look to an otherwise regular sandal.