Tassels and latkans are a kind of accessory for suits, lehngas, saris, blouses and many other items. Their history can be traced from the Mughal era when these tassels or latkans were an integral part of their attire and decorations. In the Mughal era these tassels or latkans, apart from being used as decorative in their attire, they were also used to decorate their private areas and homes.
Tassels for Various Items
Latkans are also known as Tassels in the west and they are extensively used by women all over the globe in their attire and other things. Biggest designers in the world are using these tassels to enhance the beauty of their items such as a simple top, an evening gown or high end fancy bags.
Designers like Gucci, Louis Vuitton, and Burberry are extensively using tassels of various kinds to give a special character to their creations. Some are using tassels with the zips, some with the holder while some are attaching tassels to the product itself.
Tassels or its Indian version Latkans have been popular for centuries and women have used them for varied purposes in varied designs in India. Latkans have been in use in sarees, suits, blouses, hairstyle, women slippers and sandals, bags and every conceivable item used by women, for their personal purposes.
Different Types of Tassels
These tassels or latkans come in different designs, shapes and sizes made from a variety of different items. They can be made from sequins, metal, pearls, wool, feather, beads, crystal, cloth etc and are available in the market from a mere Rs 10/- a piece to Rs 5000/- a piece depending on their quality and the place from where you purchase.
Latkans have become an integral part of Indian dresses whether it is a Lehnga, a sari, a suit, a choli, a blouse or dupatta everything is embellished with latkans. They have become a rage ever since anarkali suits have taken the Indian formal wear by storm. They are being used more and more and in designs and shapes never seen before. Designers are running their imaginations wild to create new type of latkans that can catch the imagination of women to sell their designer blouses.
Latkans for Indian Wear
A sari is the gorgeous Indian attire that is popular around the globe and top socialites, politicians and women industrialists wear this attire for its looks and appeal that it creates in the public. It accentuates a woman's body to make it look stunning and an important component of this attire is a blouse.
A blouse is an Indian version of crop top worn with a sari, a Ghagra, a lehnga or an anarkali suit. Most women wear a plain sari with a blouse in their regular use but to make the sari a little different and interesting; women use their imagination with different types of tassels and latkans to add grace to the blouse.
If you really want to gauge the impact of tassels and latkans on a blouse just run your imagination wild and try anything that comes to your mind as a latkan on the blouse and you will be a witness to a complete transformation of a normal looking blouse to a party blouse.
Today top designers like Manish Malhotra, Ritu Kumar, and Tarun Tahiliani are using tassels in their latest formal wear design collections to catch the imagination of the most fashion conscious women of the society. Top Bollywood actresses like Kajol, Sri Devi, Madhuri Dixit, and Kareena Kapoor Khan all extensively wear these tassel blouses in their movies and off screen functions.
Today more and more women are getting their blouses made with different style of tassels because tassels have gone on to become a rage from a mere design on the blouse. Tassels have become popular due to several reasons such as:
Availability in a variety of designs
Unlike many other embellishments that come in specific and limited designs, tassels or latkans come in a variety of designs. You can make these latkans yourself, get them made by the designer or tailor making the blouse or you can even buy the same from an off line or an online store.
These latkans are available in common stores near your house where you get embellishments or women use items. Although you don't get to see a lot of variety in local stores, you can get huge variety of these if you visit any of the online stores.
These online stores have almost unlimited variety of latkans in their catalogues with an equal number of color options for them. You can choose any of the available latkans and get it delivered to your door step.
Since latkans do not come in a fixed design and do not have a fixed material to be made from, latkans come in a host of materials and you can choose a design and material of your latkan.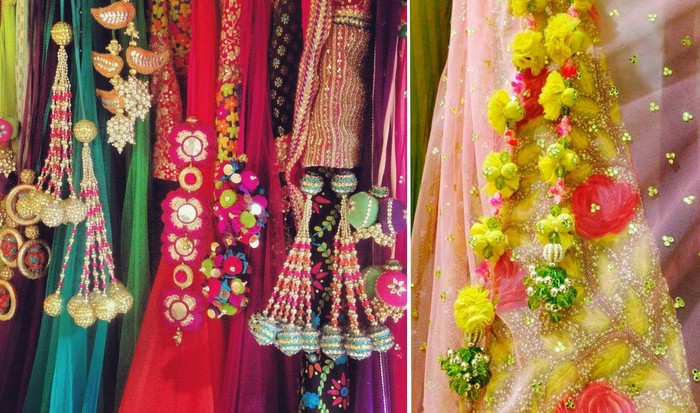 Costs very less
Since latkans can be made from any material or metal, their cost is very less as compared to any other embellishment to use for a blouse. Also you can get a latkan for almost free if you want to use any artificial jewellery like an earring, a ring, a beautiful hair clip for your latkan.
On the other hand, if you use any other kind of embellishment to enhance the beauty of your blouse, not only will the embellishment cost be more but the designer or the tailor will also charge more for the job.
Two in One Look
When you use other embellishments to your blouse, the look of the blouse becomes very heavy and it can only be worn in formal functions. On the other hand, if you decide to enhance the beauty of your blouse with a latkan, the look of the blouse gets enhanced and can be worn in casual wear as well as formal wear.
Trendy Wear
Blouse with tassels or latkans is in fashion and as a woman that is aware of latest fashion you should go in for latkan of different types in your different blouses. This will not only add glamour to your existing blouses but you will be looked upon like a woman who is abreast with the latest trend.
Latkan alter you looks to the extent that you look at least 10 years younger to your real age.
Easy Maintenance
Latkan or tassels come in all kinds of material that are mostly washable hence do not require much maintenance. Also the latkan or the tassels are such that even if they are damaged they can be replaced with a new one of the same or different style without altering much of the design.
Great Looks
Tassels or latkans are great to look and can enhance the looks of anything.  Branded shoe companies manufacturing girl and women sandals have come out with latkans of various kinds and these sandals are in great demand. Apart from being worn with a blouse latkans can be used as earrings for girl parties or you can tassel your pendants even.
Normally you can wear tassels as an accessory but you cannot cover yourself with them. They are meant to add that tinge of spice to your outfit and give them a complete look like many women are doing with anarkali suits by hanging tassels in the bare gaps on the back of their anarkali suits to give a sensuous look.
No Age Bar
Latkans can add grace to the blouse of women irrespective of their color, creed or nationality. Women from various countries wear latkans which they call tassels or other names to their dresses and blouses. Women in the west also wear latkans to their crop tops that they wear with their skirts and other dresses. Latkans are also as popular in Pakistan as in India and women there wear these with their formal and party dresses like the anarkali suits and the sharara in marriages.
Latkans are very popular among small girls and people love to dress their little ones in Indian lehnga and blouse with latkans. They are also very famous in some religious cities where small girls wear lehnga and blouse as goddesses and people worship them.
Although women of older age do not wear much of it in urban areas, in the rural areas you can find even a grandmother wearing a latkan blouse with her sari.
Easy to Make
If you want to add spice to your blouse with your imagination and creativity tassels or latkans are the best things to do. You may be having many things that you like a lot but have no idea about the way to use. You generally have clothes that are almost new but have outgrown them or you have small things of household utility that are of very less or no use to you or you can have beads that you would have bought for a dress and are lying useless.
You can use your creativity to make latkans at home.