Blouse is an integral part of the ensemble of any Indian woman wearing a sari for a casual or formal party. There is no Indian woman whose wardrobe does not have a mix of different types of sarees for different types of parties or functions.  Women love to interchange one saree with a blouse of some other saree to give a new look with their existing stock and therefore they have blouses of different styles and fabrics.
Style of sari and blouse reflect the culture and society at a certain period of time and the fabric tells us the type of cloth in fashion at that time. Initially blouses that were prevalent had simple round necks with full sleeves and were usually made from fabric that was thick enough to show any signs of body or body shape. However, just as society has evolved over a period of time there has been a similar change in the style of blouses and the fabric used to make them.
Today we have a multitude of styles and designs of sarees as well as blouses. You can buy or get a sari designed by a designer and then choose a style of blouse from the catalogue of the designer and get that made from him or her.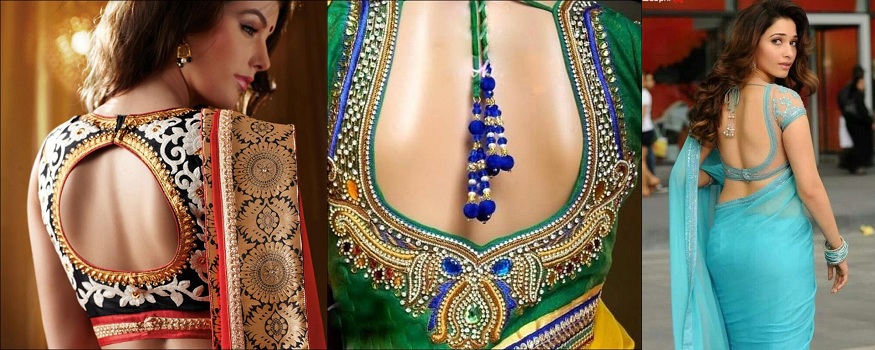 Most styles of blouses can be made in various kinds of fabrics and you cannot allot a fabric for a certain style. The choice of style and fabric to be used depends largely on you as you are the one who is going to pay for it.  The choice also depends, to a small extent on the designer, as he can influence your choice with his understanding of designs and styles. However, there are certain do's and don'ts in fashion for you to take care if you are to look good as they are based on survey of many people and that relates also to the fabric to be used for blouses.
Today, backless blouses are in fashion and all women irrespective of her status, caste, creed or color wants to wear the blouse. The blouse has mass appeal and a woman wearing a backless blouse is considered knowledgeable of the current trends and fashion. There are several designs for backless blouses that you can get made for yourself like the high neck backless with full sleeves, high neck backless sleeveless, round neck sleeveless, round neck cut sleeve or full sleeve, sheer backless blouse and many others.
Usually you can get all these designs made in any fabric of your choice but mostly these blouses are made in rich fabrics like brocade, silk, raw silk, crepe, georgette etc. Today, great emphasis is placed also on the bare portion of the back of the blouse apart from the front. You can use a variety of Latkans or tassels, beads, embroidery, mirror work at the back to decorate and get yourself noticed from the back as well.
The choice of fabric to be used for a blouse depends on many factors that include the shape of your body, your body color, your height, your neck, your upper body structure and last but not the least, the current fashion amongst women.
Fabric according to the body shape
The choice of fabric to be used for your blouse depends largely on your body shape. Each and every type of fabric is not suitable for all types of body shapes for every fabric has its own characteristics that reflect on the person wearing the fabric. Therefore utmost care should be taken in choosing the fabric for the blouse.
Pear shaped body
Most women in the Indian sub continent have pear shaped body. This means that most women have a heavier bottom as compared to the upper body. This indicates that the flaw of the body lies at the bottom and you need to divert the attention to the top. You can do this by wearing a backless blouse made of heavy material like brocade that is heavy.  By doing this you will not only balance the looks of your body but this will also enhance the beauty of the upper body. You can further embellish the blouse by embroidery, tassels, mirror work and other decorative items.
As for the back portion of the blouse you can get the same work done or choose a design from the catalogue that meets your expectations.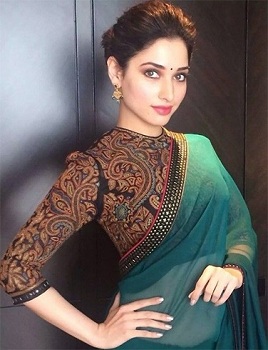 Heavy chest body
This body type is very common in north India. If you are a woman with a heavy upper body, you need to wear a blouse made with light weight materials like crepe, georgette, silk that, are rich in quality and have a good fall. They will make your chest appear lighter and be comfortable on the back. The light weight materials have better elasticity than the heavier materials so they can stretch better and give a very good appearance to your back.
Also these rich materials never go out of fashion and are always good to see. Because you wish to divert the attention from the front to the back you can focus on the back by wearing a backless blouse that does not have much work on it and exposes quite a part of your back.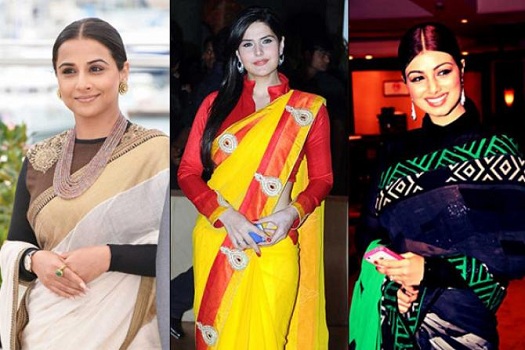 Long Neck Body
If you are a woman with a long neck, you are blessed as you can wear any design of a backless blouse and almost every style of backless will look great on you. Most women cannot wear high neck blouses that look so beautiful but with your long neck, this design is absolutely brilliant for you. You can wear a high neck backless blouse with cut sleeves if you have well toned hands or else you can opt for short sleeve or full sleeve blouse backless blouse. You can even try some embellishment or embroidery on the neck and on the back.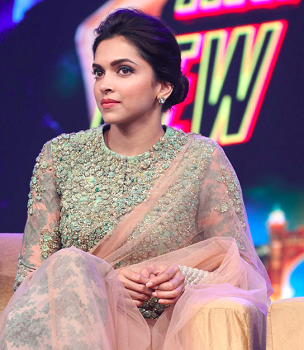 Short Neck Body
Since blouse is an upper wear garment, you, as a woman with short neck should avoid wearing any kind of neck blouse or a blouse that has embellishment on the neck portion as it will give a look of shorter neck for you. You should opt for light weight materials for your blouses as heavy weight materials will make your upper body look heavier and you will look shorter than your actual height.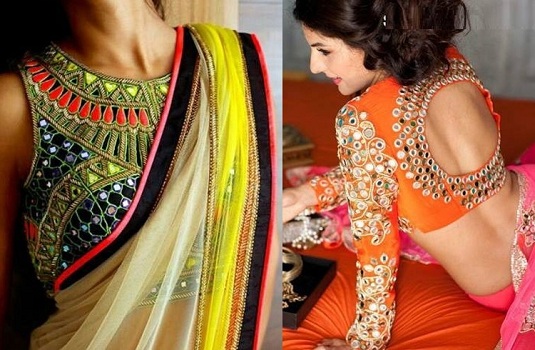 Athletic Body Type
If you are woman that has a well toned athletic type body you are blessed as you can wear and carry any type of blouse made of any material. While a thicker material will enhance your body contours and curves to look sexy and attractive, the backless will scintillate your body to become eye catching and desirable. You can try sheer or net material because these types of materials are for women just like you where the material will adjust according to your body curves. These not-so-transparent and light weight materials cling to your body and make you look younger than your actual age.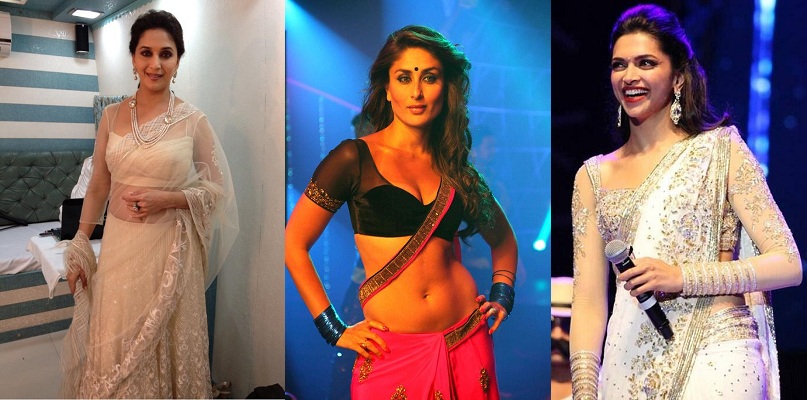 Slim Body Type
If you are a woman that has a slim body, you are a designer's dream girl because designers design their dresses keeping in mind a slim woman with perfect athletic body, beautiful contours and curves. A backless blouse is just the right blouse for you as you have the body structure to carry off this blouse with style. You can try backless blouse with no sleeve or cut sleeves to show the beautiful body that you possess. You can try blouse made from net, sheer, silk, crepe, georgette, raw silk, brocade and any other rich material that impresses you.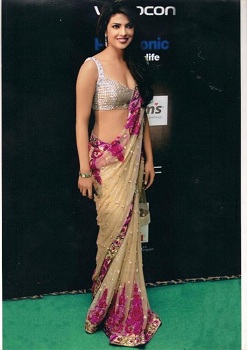 Tall Body
Women with tall body structure are favorites to wear backless blouse as they have the length to show the beauty and cut of the blouse. You can actually wear a long blouse that is well embellished in the front made from a fabric like net with absolutely very little back. You can try a halter neck backless blouse without sleeve or a blouse that can be made long.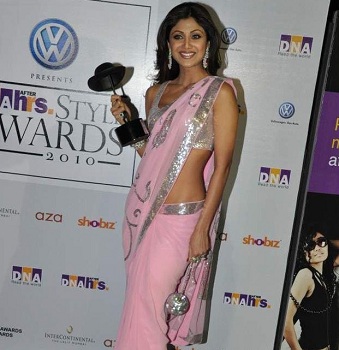 Short Upper Body
Since you have a short upper body, you should go in for short blouses with less of sleeves to show a little of your body. You should also avoid heavy weight materials as they will give you a look of shorter height than your actual. You should also try to avoid embellishments and embroidery on your blouse and instead go for plain yet stylish backless blouses.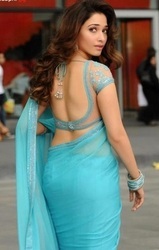 Fabric in fashion
These days most women prefer to wear light weight blouses without much of embellishments or embroidery and yet a stylish one that makes them look different from the others. Women prefer to wear a material that gives a cooler look and is comfortable.
Since India is a hot country and women have to wear a saree for a long time at a party, instead of going in for a heavy and richer material women today prefer to wear a backless blouse made from light weight material like crepe, georgette, silk, raw silk, net, sheer etc and get them designed to look like a party blouse.