A mother-daughter bonding is beyond any kind of expression by words or imagination. It is a natural gift from God to both of them. Most of them are very similar in looks, nature, likes and dislikes and they share a kind of bond that no other relationship can ever experience. The relationship is celebration of life in the truest form.
A daughter is a reflection of her mother right from her early age and often so similar that the saying becomes true that when a woman gives birth to a girl, she can see herself growing up once again. This is why many mothers want to dress up their daughters in the style and manner that fascinates her most. She can be seen looking for dresses and accessories that she loves or used to love in her childhood, looking for all the kind of toys and games that she used to play and all the naughty things that she used to do while growing up.
Some years ago there was a huge gap in the kind of dresses that mothers and daughters would wear. As a result there was never any kind of similarity in their style of dressing. However, now mother-daughter dresses are a huge rage all around the world and you can see mothers and daughters wearing same or identical dresses so that they can celebrate and share their love and bonding.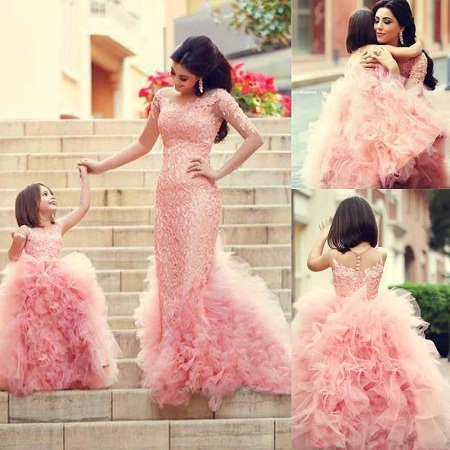 Mother-daughter collections are not much known in India as the concept has not caught the imagination of manufacturers and dress designers. However, some manufacturers have recently introduced the concept in Indian market with some western and Indian wear.
Some saree manufacturers have felt the need to introduce the concept. Therefore, they have come up unique mother-daughter saree collections.
India is a land of many states with each state having its own distinct style of dressing and accessories. Therefore, India has many more choices to offer to women as compared to their western counterparts. Women in India have the option to try dresses from any of the state and style it with their sarees to be worn by the daughter or else try western outfits with their sarees.
Need for mother-daughter saree collection
It is a natural phenomenon for boys to dress and look like their father and for the daughters to look like their mother. The system has been there for ages but has never been prominent or promoted in the society. However, mothers especially in India, where the bonding and interaction between the two is very strong, have always wanted that their daughters look just like them so that they can relive their young age with them.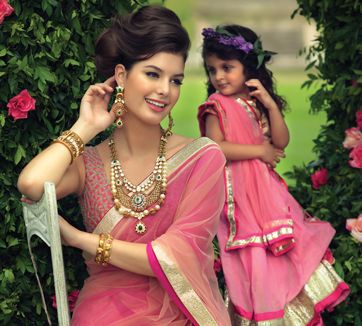 It is common knowledge that women love to dress and share the same with their daughter. A mother wants to dress like the daughter and the daughter wants to dress like her mother. Therefore, the best and the most convenient way is to design a dress that the mother-daughter duo can share in their own respective sizes.
Another great need for mother-daughter duo dresses arise from the fact that today dresses are no longer tailor made, but come readymade making all the dresses common and all children looking the same except their physicality. Therefore, the strongest urge of a woman to look different and unique has created the need to design such dresses that can be worn by both mother and daughter in their respective sizes.
Outfits for mother daughter saree collection
Love for saree starts from an early age for most girls as they see their mothers drape beautiful saree with jewelry and makeup. Most girls can be seen playing mother and child or mother and father with their siblings to replicate the dressing of their parents.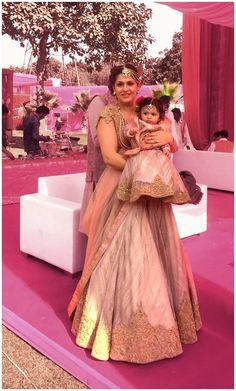 Most mothers understand their daughter's passion and wish to fulfill their desire by allowing them to drape their old saree while playing. This has been continuing for ages but with companies launching several options of mother-daughter saree collections, mothers can easily drape beautiful sarees and other style of dresses that are similar to theirs.
Mother – Daughter Sarees
These days it is not hard to get a similar saree like yours for your daughter because many saree manufacturers have realized the demand from customers for such sarees. Today you can get a saree of the same style, design, print, embellishment and material in a miniature form for your daughter from any of the saree stores that keep such sarees.
There are even dress designers that are aggressively pursuing this option as the fad for mother-daughter sarees and dresses is on the high. Today you can go to any dress designer and get any kind of saree made for yourself and a similar saree or dress with same style of material or color combination made for your daughter.
Apart from custom-made mother-daughter saree collection, today you can get readymade options for various sarees in saree stores as well. If you want to dress your daughter in a saree you can buy a saree, if you wish to see her in Lehenga, it is available and if you wish to see her in other Indian dresses, some other dress options may also be available over the counter.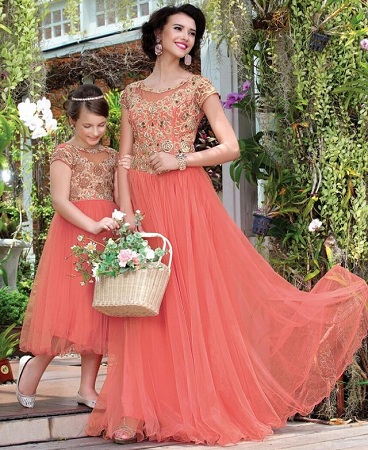 Mother Daughter saree collection on the internet
Online shopping is becoming a big source of shopping for consumers worldwide. Experts opine that online shopping will overtake offline shopping by consumers in very a short time. This is a very accurate assessment because online shopping offers you an unparallel shopping experience in terms of discounts, range, variety and availability of number of brands. Furthermore there are many options that are only available on the internet especially for people living in small towns and cities.
Mother and daughter saree collection is also one of the kinds of options that are available only on the internet. You can find a host of websites selling various options of mother-daughter dress and saree collection. Here you can view many options for your daughter with a single saree and also many color and design options for the same.
A great advantage of buying your mother-daughter saree collection online is that you don't need to ask for the price off the product as price for each product on display is given along with it. Therefore, you can select a product of your choice and pocket.