Sarees are sexy! Sarees are timeless and most importantly, sarees are versatile! To a certain extent, this versatility is rendered by the blouse that you decide to team up with your saree. What is your look for today? A gorgeous chiffon saree with a naughty bra style saree blouse! Or, a simple cotton "belted" saree draped around a cute short jacket blouse? Or, did you just decide to turn heads with a jewelled neck blouse (our focus today)?
Saree – the single attire can complement so many facets of women – when sported in so many different ways. So, why stick to one? Let's find out what the jewelled neck blouses are all about before picking them up.
Opulence isn't always nasty!
Now, quite obviously – these blouses are unmistakably associated with opulence and glamour – thanks to the touch of jewellery on them. One can easily wear them at the grandest of stages – including wedding parties, company bashes, parties thrown by celebrity friends among others. However, it would be prudent on your end – not to sport them at more intimate events like casual meet-ups with friends, or an informal housewarming party or for that matter a traditional puja at home. Let grandeur be reserved for the grand itself.
Scan the blouse designs right from the comfort of your home! You're set!
You can look up the blouse designs online and the most prominent ones you will come across are the ones with deep cut backs embellished with stones and bead chains. Needless to say, some of the most well-known ethnic wear stores all across India offer them – both online and offline.
Needless to say, the blouses are available with deep-cut be jewelled backs. Perhaps – this is the only thing common among these pieces. The commonality, however, doesn't really take away anything from the versatility of the patterns.
What's your choice? Nail it with versatility!
As per your sartorial preferences and your level of comfort, you can choose patterns that are defined by V-shaped cuts, U-shaped or O-shaped cuts. The pieces thus made available will reveal your back in different ways—while some of them will reveal them more, other will end up revealing much less than the other. And, here's where the question of "comfort" comes in. You should always go on to scan all the choices made available by different companies before picking one up. The internet helps you conduct thorough research right from the comfort of your home. So, you actually have the liberty to conduct as much survey as possible. Picking up the right blouse for the next happening party in town shouldn't really be that difficult!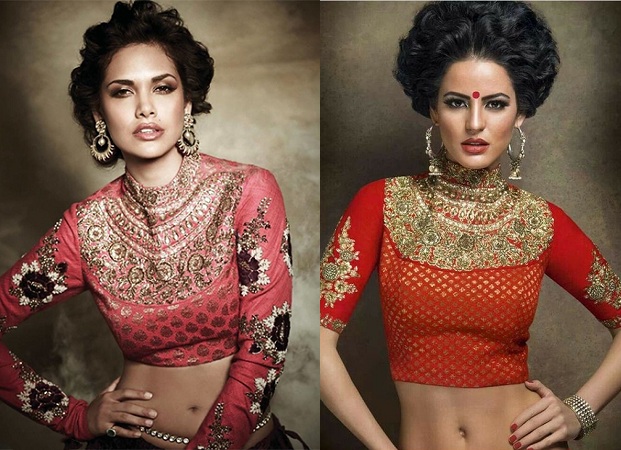 The unprecedented popularity of these blouses!
The jewelled neck blouses are as popular in Bollywood as they are on the fashion runways – Thanks to their ability to add the right amount of bling to ones look. Bollywood A-listers like Kareena Kapoor Khan, Priyanka Chopra and other leading ladies have flaunted these pieces with aplomb on different occasions.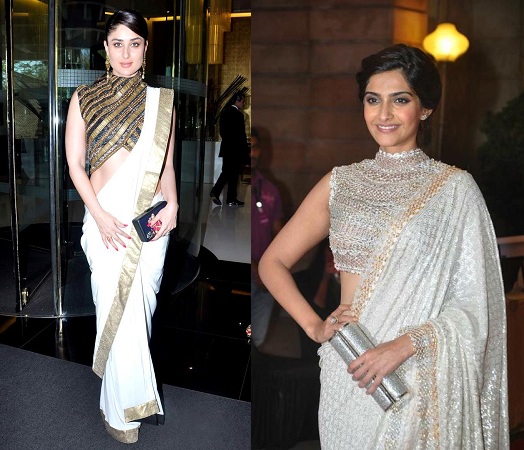 Flaunt your flawless back!
Make sure you've a well-toned and clean back to flaunt at the first place! Kindly do not commit the mistake of leaving your hair open when you are wearing these blouses. That will hardly do anything to your look to start off with. If you're reluctant to experiment too much with your hair, just resort to a clean bun to save the day for you!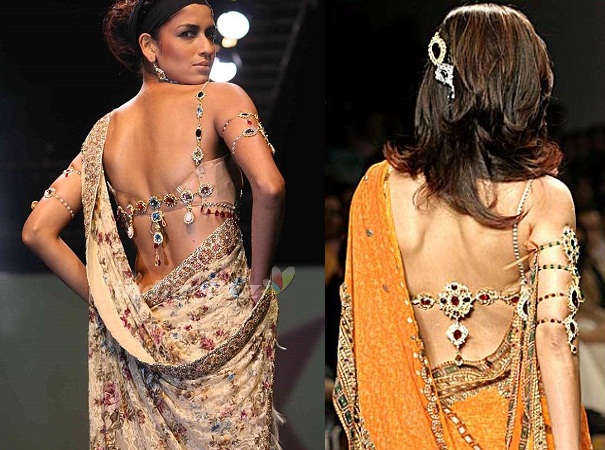 Accessorize your entire look properly. For help you can always turn to a fashion-conscious friend for suggestions.
Everything said – do not forget to sport that brilliant smile of yours to win hearts. Wear that confidence which has always earned you praises from the domestic and professional quarters!