Gone are the days when Indian women could afford to be bulky or look bulky. In today's world no woman wants to look on the heavier side. Women are going all out with exercise, diet cut, yoga and everything else just to look fit and slim. However, there are some that just cannot shed the weight off their body even after going all through the pain and regimen. Alas! The world is not lost as yet because if you cannot get slim, you can at least look slim with the clothes that you wear and the colors and designs that you decide to wear.
There is no woman in India whose wardrobe does not have an ethnic dress. This is because no matter what we wear, on the special occasions and festivals women want and love to wear only Indian dresses. Indian dresses are designed to suit Indian women and their structure which is typically heavy both at the top and the bottom.
There are dresses like salwar suits that can conceal some of your heavy part but there are dresses like sari, ghagra choli, anarkali suits that are formal dresses and are heavily designed for special occasions. Most of these dresses are made heavy with embroidery and embellishments so that you look pretty but many women look heavier than they actually are, due to these heavy dresses.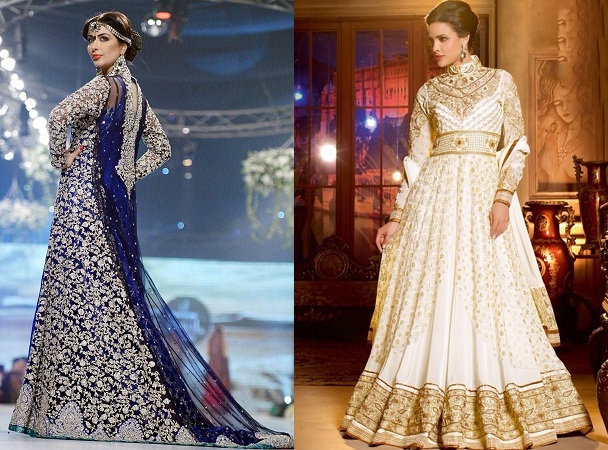 It is here that you have to device ideas that can make you look slimmer than you actually are. The idea can be to modify the dress in such a manner that you appear slim and designers have their ways and cuts that impart a slimmer look.
Most of the Indian dresses like sari, ghagra choli, lehnga, anarkali etc are made in two parts – a blouse and the lower part as a drape or a skirt. Usually both the blouse and the lower part of the dress are made heavy to give the look of a formal and heavy dress but you can modify to suit yourself.
For Women with Heavy Upper Body:
If you are an Indian woman that has a heavy upper body, all these formal dresses are a big problem because they look beautiful with women that have a perfect body or at least women having a slim upper body. However, if you desire to wear these dresses and look good, you will need to modify your dress to a certain level to look beautiful. In the first place you need to avoid embroidery and for this you have choices in prints, self, plain and others. If you cannot avoid, then you at least have to lessen the embroidery or embellishments that you have on the bottom.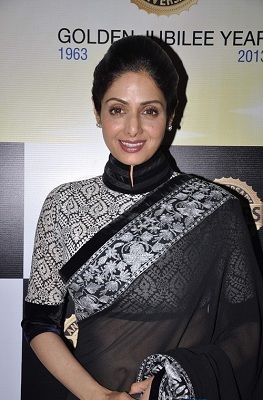 As far as the top is concerned embellishments and embroidery are a complete no-no. You can either go in for a self blouse, a printed blouse or a plain blouse. Printed blouses are a fashion trend today. The top designers in the country have already come out with their exclusive range of printed blouses and a mix of different set of lowers ranging from embroidered to embellish to plain showcasing the compatibility of printed blouses with other styles. Bollywood actresses like Rekha, Sonakshi Sinha etc that have heavy upper body prefer printed blouses over embroidered ones to impart slimmer look. Apart from these actresses those that have slim figure like prity Zinta, Madhuri Dixit Nene, Sonam Kapoor etc can also be seen wearing a printed blouse instead of an embroidered one in their movies, award functions and other shoots.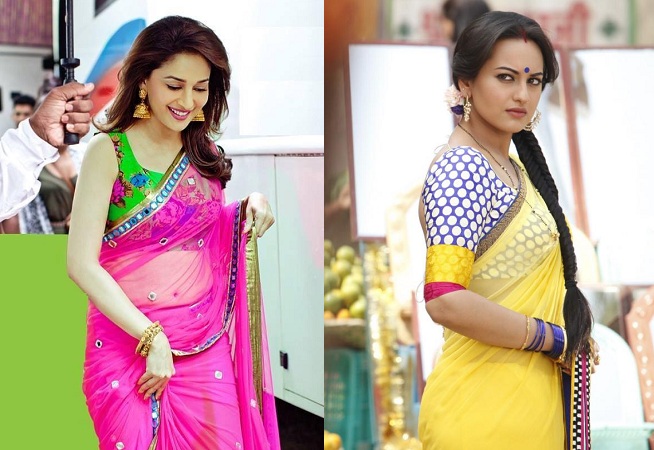 Fashion Statement:
Printed blouses are in vogue. They are a fashion statement amongst the rich and the famous. Today in the upper class society and in the official circles most ladies prefer printed blouses over embroidered ones to impart slimmer look as they are not only the most fashion conscious but also the ambassadors of fashion. People do what they do and wear what they wear so they have to be the first ones to start a new trend and the trend has already started. Fashion shows have happened and are also going on with models firing the ramps wearing printed blouses instead of embroidered ones complementing the saris, suits, lehngas, skirts to exhibit what and how printed blouses can look with Indian as well as western outfits.  Printed sarees with printed and plain blouses are in fashion with all kinds of colors and themes and they look cool, trendy and comfortable.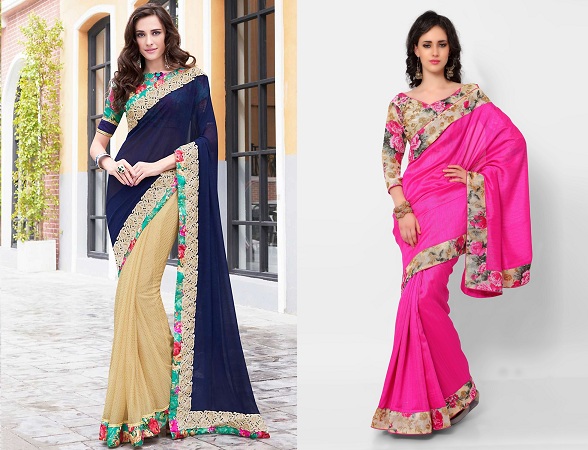 As the summers have begun and temperatures are soaring, so have the eyes started looking for simpler and cooler clothes with soothing colors. India is a warm country and we have different colors for summers and winters. Most formal and embroidered clothes including blouses come usually in dark colors like red, maroon, black etc but in such scorching heat you just don't want to wear such dark colors. Therefore, prefer printed blouses over embroidered ones to impart slimmer look and stay cool.
It is becoming more and more difficult for women to wear heavy embroidered dresses due to the summers, also these heavy dresses look so out of place but parties and functions are unavoidable. So, you have to wear something formal and in India western dresses for women are never formal. Therefore, the choice is only sari or other Indian dresses and the best you can do is to combine your sari with some comfortable and light blouse that will give the desired look and allow you to stay comfortable.
Today you can find blouses with almost any color of your choice and print. You can wear a blouse with exactly the same color as your sari or if you want to wear a contrast you can choose a print and color of your choice and get it made from the designer.
Easy Availability:
One of the most compelling reasons for you to prefer printed blouses over embroidered ones to impart slimmer look is the fact that printed blouses are easily available in the offline as well as the online market. If you belong to the category of people that cannot trust quality without actually holding it in your hands, you can go to any of the hundreds of offline stores and pick the blouse that appeals you the most or if you can trust the quality of the online stores, you can also buy the blouse of your choice from the collection of any of the designers or the online stores selling printed blouses.
You can also buy printed material of your choice from your local market and have a printed blouse made from a tailor close to your house or from a designer.
Cost Effective:
Another big reason for you to go for a printed blouse over an embroidered one is the cost of the blouse. Many designer saris come with the blouse piece of the same cloth and embroidery but there are designer saris that do not come with a blouse piece. If you buy a sari that does not have a blouse piece then getting a blouse made of the same or similar design will become a big task and mix matching the blouse with the sari will not match unlike a printed blouse where the print of the blouse does not matter as much as in case of an embroidered blouse.
One of the big benefits of a printed blouse is that with a printed blouse you only need to match the theme of the sari and it will gel so the cost of buying the blouse gets very effective. Also if you have to get a blouse embroidered in the same manner as the sari, the embroiderer will demand much more money than a designer making a printed blouse. Using the best of best of materials, you can get many different printed blouses at the cost of just one embroidered blouse.
Comfort:
It is very difficult to match the comfort of both the blouses. While an embroidered blouse may look richer to the onlooker, but for a woman wearing the blouse the amount of comfort that she will achieve from wearing a printed one cannot be matched in any manner by the embroidered blouse. An embroidered sari is heavier than the printed sari and on top of it the weight of an embroidered blouse becomes too much of a hassle rather than comfort for the woman. On the other hand, a printed sari is so light weight that a woman can actually run while wearing it and the blouse of a printed sari is of almost negligible weight.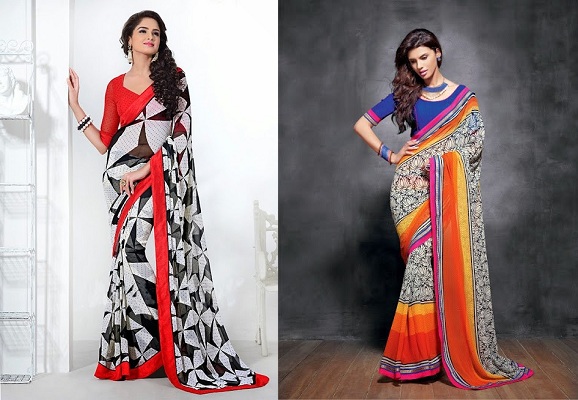 People often contest that the printed blouse can never bring about the exclusivity of an embroidered blouse. That may be true to the extent that you buy a good embroidered blouse while you don't buy a good printed blouse. That's it, otherwise ask women wearing printed blouses and you will know for yourself that most will prefer printed blouses over embroidered ones to impart slimmer look.
Now with the choice of blouses clearly discussed, you can find the right type of blouse that suits your body type.