Saree and blouse are as much a part of the Indian culture as its people. It is actually difficult to determine the time when saree and blouse were invented as a dress but we can safely assume the attire to be as old as we can imagine. While a saree is draped over a woman's body, the beauty of her body is brought out by the blouse that adjusts with the shape of the body.
Blouse is the integral part of saree therefore women give more importance to the blouse design rather than the saree. This is not to say that saree is not important and you can wear any saree with a good blouse to look good, but this is just to imply that the importance of a blouse is more than that of a saree.
Blouses and their Importance
Blouses are being worn by women in India for long, but with fashion coming in, things have started to change at higher speed than ever before and same goes for saree and blouse fashion. The blouses that we see in movies of the early 1950's and 1960's are more or less regular without much change but with the increased influence of western culture in the country, we can see different designs of blouses coming in for Indian women from outside.
Puff Blouses are Back
Puff blouses made their presence during the times of kings and queens and were worn mainly by the women of royal family. The puff blouse fashion came into reckoning during 1960's and 1970's and is believed to be a gift from the Bengal region. The puffed sleeves fashion ruled the Indian cinema and the hearts of Indian women till late 2000 after which the taste for it declined.
The taste for puff sleeves never came to an end as it was kept alive in Bengal where women could be seen sporting the fashion in their daily life and especially during the Durga Puja festivities where you can see most women wearing a white saree with red border and white puffed blouse.  Puff blouses hold a special place with fashion designers as the style relates to one followed by royal families, therefore have worked overtime to revive the liking for this blouse with the elite as well as the masses.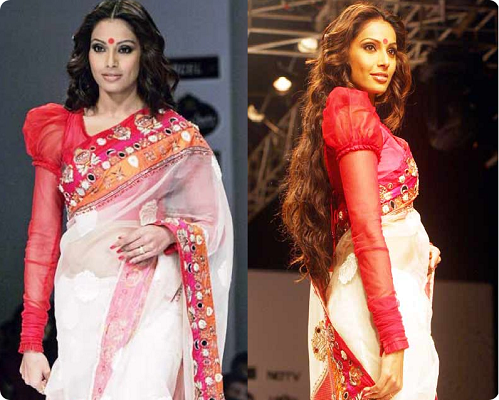 Puff blouses have come back to reckoning in the Indian fashion scene with a thunder along with undiluted support from all the sari and dress designers in India. This style is being promoted along with other dress and blouse styles with a special emphasis. Puff blouses have been liked so much by the Bollywood celebrities that you can see many of them donning different dresses with the style at various red carpet and other functions. There are television serials and movies that show actresses wearing puff blouses and puff sleeve dresses as well. Vidya Balan has worn puff sleeve blouse in some of her movies while Madhuri Dixit Nene has worn this style in one of the reality shows on television.
Puff sleeve style is a multi dimensional style and can be used in various different dresses to make them look beautiful and royal. It can also be used with various different kinds of materials to give the look that you want for your blouse or dress.  Today Puff sleeve blouses have become a huge rage amongst the fashion conscious women and all the women want to have some puff sleeve blouses in their wardrobe.
There is multitude of designs in puff sleeve blouses that you can use to create a style for yourself. Here are some of the puff sleeve blouse designs for South Indian wedding sari that you should try to make your sari look gorgeous.
Basic Capped Puff Sleeved Blouse Design
This is the very basic puff sleeve design and can be seen worn by people in south in their functions and parties. This style involves making a capped puff out of your sleeves and leaving it with a thin border, just enough to make a puff sleeve. The style looks great if the puff is stitched carefully. You can wear this style with any of south Indian sarees like Silk and Kanjeevaram.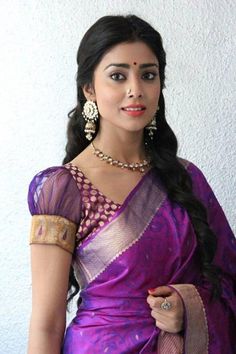 Thick Border Puff Sleeves
Puff sleeves look best with a thick border and if you can add a border made out of silk, it will greatly enhance the beauty of the puff and the blouse. You can use an embroidered silk border available as a readymade design from the store or get a silk piece embroidered for the purpose.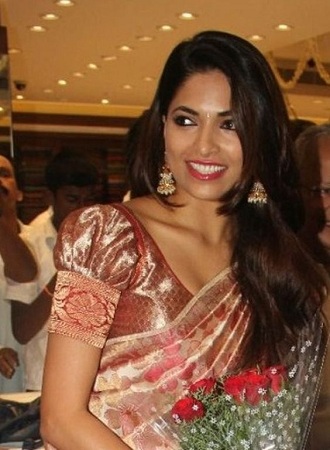 Elbow Length Puff Sleeve Blouse
This was the original style of the puff sleeve blouse that was worn by the royal women when the fashion first came in India. Since India is a hot country and women cannot bare their hands fully, a via media could have been created to satisfy the needs of the women and also take care of the sensitivities of people during the time. However, today wearing an elbow length puff sleeve blouse is a huge fashion statement as not only the Bollywood actresses are wearing this style, but is also followed immensely by the elite that are the most fashion conscious and the middle class that surely wants and knows the way to follow latest fashion trends.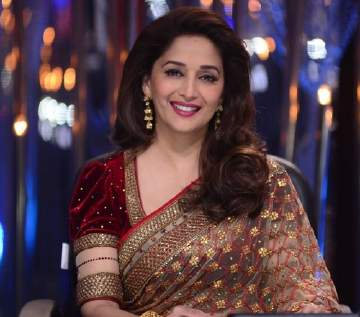 This is one of the most largely followed designs in the puff blouse designs with innumerable number of variations to suit the style and preference of the women wearing the style. There are many styles of puffs that you can create both at home by stitching yourself or getting them made by professional designers or tailors. Furthermore there is a wide variety of fabrics that you can use for wedding blouse making; you can easily combine any of the puff style with any fabric to create a new style that will match your style and preference.
Full Sleeve Puff Blouse Pattern
Wedding is the most formal function in India where women try to wear their best sarees or lehngas. This style is perfect for the occasion because a full sleeve blouse is not one that you can wear every day. It has its own class and aura that comes to life when you team it with matching ensemble. With a full sleeve puff blouse you also need to wear a rich and heavy sari or lehnga because this is what completes the full dress.
There are a number of things that you can try with this style, like you can wear a plain sleeve with puff or you can add a border both at the top and at the bottom of the same material as the sari or lehnga, or you can try sleeves of sheer material or net to get a transparent look with or without embroidery or some design on the net to make it look royal.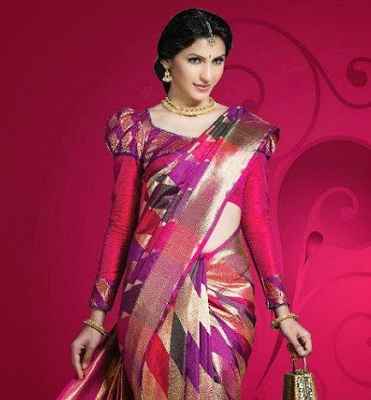 A Light Puff Blouse Design
Not everyone likes to wear a heavy puff on their sleeves. The reason could be the personal choice or an already heavy shoulder or hand that will look even heavier with a big puff, whatever the reason; this is the right style of blouse for you. You can get a very light puff made on the sleeve and team up with a designer crepe or chiffon saree that is light weight to give you a slimmer look with the blouse and create a style of your own. You have a multitude of choice regarding the fabrics to use with this style like you can use the same fabric for the sleeve as well as the blouse or choose a different fabric like net to give it a different look.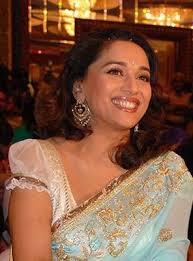 Sheer or Net Puff Sleeve Blouse Design
Sheer or Net sleeves are the latest additions in designer blouse styling. Women from all walks of life are changing their preference from one fabric blouse to two fabric blouse design. This change is across all blouse designs and includes puff blouse design as well. In this design the blouse is made from one fabric that could be anything from georgette, crepe, chiffon, silk to brocade with various different sleeve lengths made of sheer or net fabric. Here also there are many variations regarding the quality and color of net with plain or embroidered or embellished sleeve.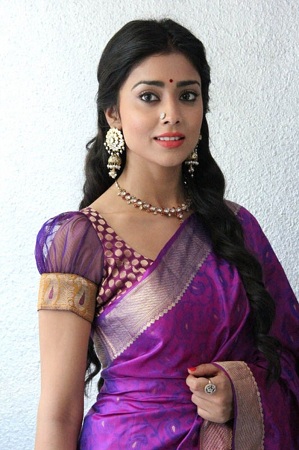 Puff Blouse Design with High Neck Collar
This style of blouse gives you the royal look. High neck collar always gives you an aristocratic look that no other collar offers. An embroidered blouse with an embroidered high collar is the ultimate style of blouse to wear for a wedding party. This style of blouse is sure to get you all the attention in the party.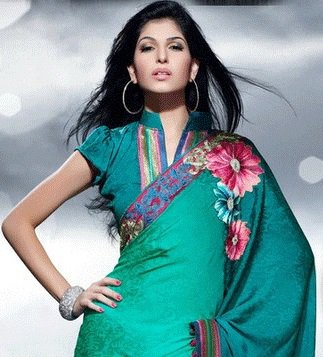 Puff Sleeve Blouse Design with Sheer Boat Neck
This is a very modern style of blouse to wear for a south Indian wedding saree. The blouse looks very elegant and sexy. The sheer fabric on the neck looks very sophisticate along with puff sleeves made from sheer or net fabric. If you try a rich fabric like silk or brocade it will give you a very gorgeous look in the party.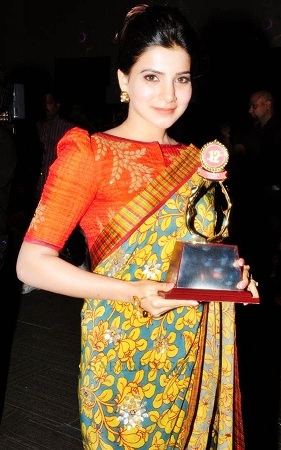 So, with the different variations of the puff sleeve blouse, you can team up a nice wedding sari and be the center of attraction.