Get fashionable with the rocking style of the 70's – the incredible, flowy palazzo pants. They are quite cool and chic and accentuate all kinds of body frames.
Palazzos- The Flattering Indo- Western Bottom
The palazzo pants are super wide- led loose, flowing pants that were popular in the 60's and 70's. They flare out from the waist and are very trendy and comfortable. They are fit for every body shape. If you are bored of wearing your normal pants and jeans, it's time to add some chic palazzos to your wardrobe. They are a huge fashion statement at the moment. Look everywhere, at the beach, streets, parties, office, casual outings, you will find palazzos all over!
Styling Tips- The Eye Catching Palazzo Trends
Regular Palazzos- They have regular flare and are found in pastel colours. They have almost no pleats and so are quite comfortable. They go well with firm tops like straight cut kurti or fitted short top.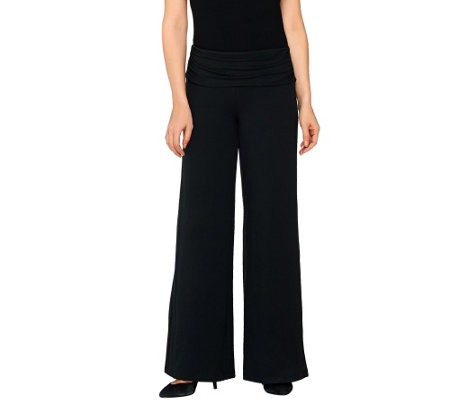 Layered Palazzos– It is like a flared dhoti with pant like structure. They have very few layers and end at the ankle line unlike the other lengthy ones. They look good with high collared shirts or blouses.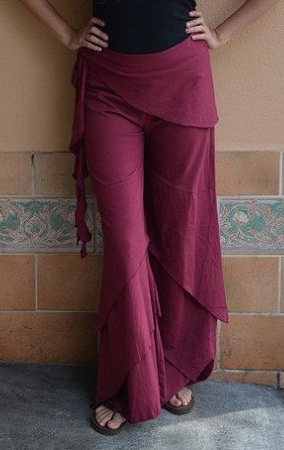 Trouser Style- As the name suggests, they have a firm structure like a trouser but have a little amount of flare. They have buttons on the waist. It looks perfect with short tunic.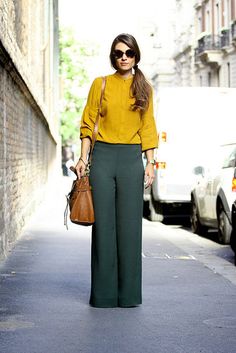 Pleated Palazzos- They have the most beautiful pleats like a saree. It has the widest flare which looks like a traditional skirt. They go well with A line kurtis and short kurtis.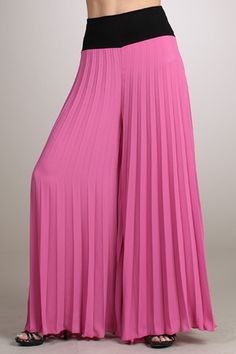 Side slit Palazzos- Quite new in trend the side slit palazzos look wonderful and different. The length of the slit varies according to what you like to wear. The most popular fabrics are chiffon and georgette. It looks perfect with long kurtis.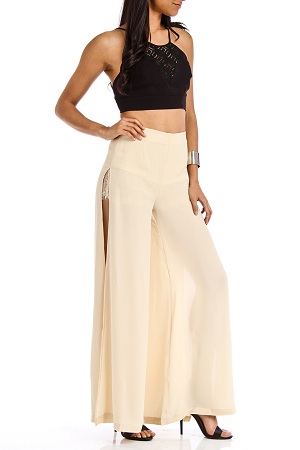 Wrap Palazzos – You might have heard about wrap skirts. Wrap palazzos are somewhat similar to it. They look like pants with leg sleeves which wrap your legs fashionably. Try with tucked in T- shirts or asymmetric kurtis.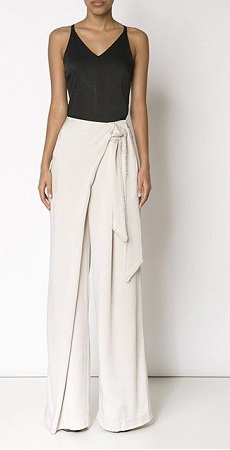 Dhoti Palazzos – Similar to dhotis, the palazzos have U shaped pleats going upwards. Complete your look with jacket kurtis, draped kurtis and shirt style kurtis.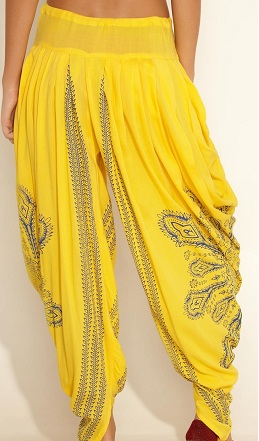 The Cool, Feminine and Chic Pants
Easy to wear, they provide balance and flatter your figure. They look like a maxi skirt with the comfort of pants. They can be worn on anything and on any occasion. They are best suited for summer and spring season since they are light and easy to run in and around.
Attention to Detail- The Right Fabric
Style up your personality with the right fabrics! If you are petite and heavy, go for cotton or crepe fits perfectly according to your body frame. Choose light fabrics like chiffon and georgette for that free flowy look. Also, they do not stick or cling to your body giving you a decent look.
Quirky Prints and Vibrant Shades
The vibrant prints and patterns are quite popular in trend. For instance, you can wear big prints with crop top for a casual look. For a more professional look, choose plain, bright colours. You can also wear designer palazzos of heavy fabrics for weddings and parties. If you are bottom heavy, a loud print is a big no. Likewise, choose a dark pattern for a less bottom.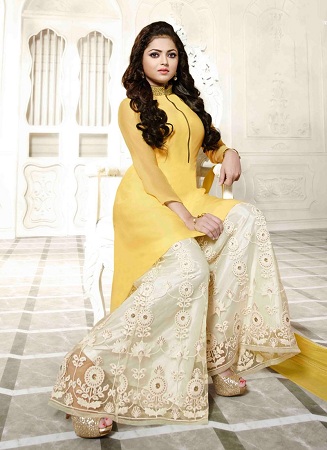 Free Flares for a Comfortable Look
Palazzos have a wide range of flares at the bottom. Go for wide flares if you have a heavy body frame below the waist to hide that extra bulge. If you are tall, go for straight ones that give a chic look. Skinny women should not wear too straight or even too much flare. Also length is a key factor. Too short will make you look chunky and too long will give a sloppy look. Keep a balance!
If you love wearing pastels, go for the prints that resemble to palazzo colour. When opting for a professional look, pick the colours that look stunning and classy. Blazing silver, black, white and beige look impressive!
Stunning Tops to Complement Your Palazzos
Plain Top with Printed Palazzos- It gives a simplistic, stylish look. A plain colour top be it crop top or tank top goes well with printed palazzos. It gives a balanced combination to the outfit. To add more elements, you can put on a stylish belt. For a slimmer look, you can tuck the top in.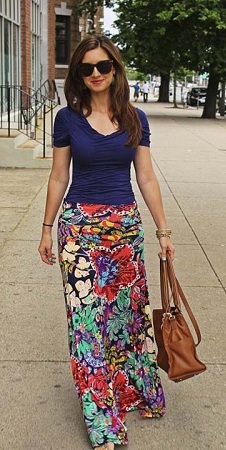 Floral Palazzos with Cotton Tops- For a classy summer look, put on a cotton top with floral printed palazzo. You can choose in beautiful colours like pink, blue, orange and green. Match the top with the colour of the floral print.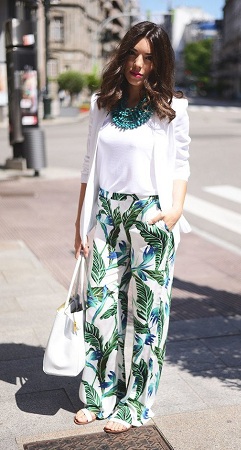 Formal Look with a Shirt – Wear your palazzo with a normal office shirt for a casual look. Pair a light coloured plain shirt with a printed palazzo or wear whites and blacks with any formal shirt for a formal appeal. You can also wear a printed jacket for a trendier, formal look.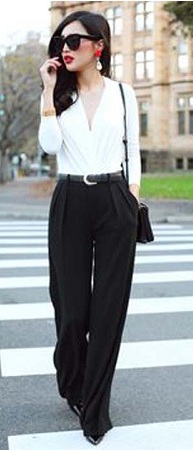 Experiment with Blazers- If you want to experiment in formal looks, try a blazer. Choose any palazzo with a good combination shirt and complete your look with a black or a grey blazer. It is perfect for the winter season.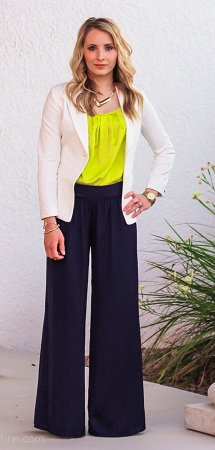 Ethnic Look with Tunics or Kurtas – Wearing a palazzo with tunics looks sophisticated and elegant. Perfect for weddings and festivals, a bright coloured palazzo with a matching tunic adds to the glamour. Try long kurtas or asymmetric kurtas for a complete ethnic feel.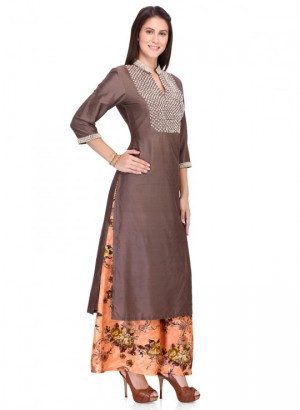 Asymmetric and Geometric Patterns- This is another hot favourite trend this fall season. Mix and match your patterns to get that funky look. Don't go for too flashy or bold colours. It looks best on small body frame.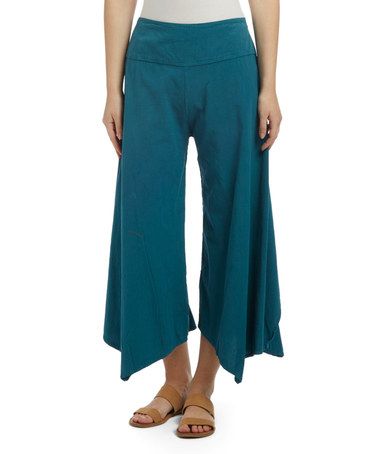 Choosing the Right Accessory
Accessorising your look adds to a lot of character. Wear wedges and heels to add height if you are wearing a full flared palazzos! Canvas shoes and loafers look best on straight cut palazzos. Wear metal jewellery on plain top or simply a beautiful pair of danglers.
The palazzo trend is elegant and feminine and the wide length and light fabric is perfect for a cool, casual look on a sunny day.